135 Reviews
Recommended by 100% of couples
Quality of service

5 out of 5 rating

Average response time

5 out of 5 rating

Professionalism

5 out of 5 rating

Value

5 out of 5 rating

Flexibility

5 out of 5 rating
35 User photos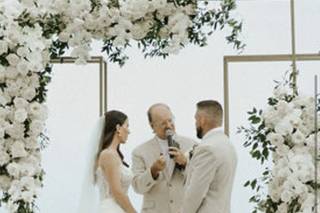 + 31

photos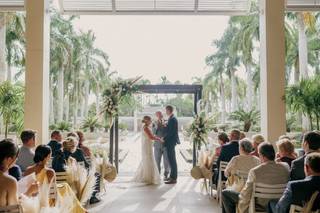 Amanda R.

Married on 01/21/2023

Excellent!

Dr. Dan is an absolute gem of a human being. He is so kind, patient and supportive during the entire process. He met with us several times to discuss the ceremony. We were not sure exactly what we wanted so he talked us through many options and helped us customize it to fit us!

During wedding week he even met with us in person. He walks you through the process of getting a marriage license and ensures the certificate gets to you if you live out of town!

Our ceremony was perfect. We could not have wished for a better officiant!

Kim S.

Married on 10/01/2022

Ian can't stop Dr. Dan!

Eventhough Ian affected the how and where my son Clayton and his fiance Ashley were married, you can count on Dr. Dan to be there! Dr. Dan performed a very warm, personable wedding service with a touch of humor. Thank you so much Dr. Dan.

Stephanie A.

Married on 05/05/2022

Wedding 5/5/2022

Dr Dan was very accommodating out of all the vendors I have spoke with. He worked with me on everything I needed and always responded to all my text messages and calls quickly. He was great at the ceremony and included humor as well which my family loved. I would highly recommend!

Are you interested?

Send a message

Kait

Married on 04/02/2022

Amazing and kind

Could not have asked for anyone better. Dr. Dan was so kind and walked me through everything and made me feel so calm leading up to the day. EVERYONE at my wedding literally everyone said he was amazing and different than anyone other officiant as he is unlike any other. I particularly loved that he popped my room the day of and made me feel at peace! We also chated a few times before the wedding. He is just awesome! He also kept my dad calm lol. I recommend him to anyone! He knows what us women what as he has so many daughters!!

Shikara L.

Married on 03/18/2022

Wonderful officiant

Dr. Dan Lamey was simply phenomenal. I felt like he was a family member and from day one was so kind and helpful. He is so easy to talk to and made our wedding ceremony intimate and perfect. Our guests are still talking about the ceremony and what Dr. Lamey said stuck with them as it did for my now husband and I. Thank you for the beautiful words and making our day special!

Maria H.

Married on 11/14/2021

Pastor Dan

He did an amazing job with the ceremony. Thank you

Erica

Married on 10/10/2021

Most wonderful officiant

Dr. Dan was amazing....it felt like we had known him forever and he was like a father figure to us! He helped us during a rain delay; shielded us from guests seeing us before we were walking down the aisle, and he was SO in tune to our personalities and style of love during our ceremony. He 100% made our ceremony so beautiful and the most perfect day ever!

Gabi S.

Married on 06/19/2021

Awesome experience!

Dr. Dan was an excellent addition to our big day! We had a great time throughout the wedding process with him and he truly provided such a special experience for our guests and us at our ceremony. His unique style is so memorable and we are so glad we chose him for our wedding day!

Christina

Married on 04/29/2021

Amazing, best choice we made

WOW, Dr. Dan truly defines what it means to be an amazing officiant. Our wedding was April 29, 2021 (we had to reschedule a few times due to COVID and he was very understanding) and he delivered everything we could have imagined for our ceremony. He took time to get to know us these past two years. We are from NY so were initially worried about our officiant knowing us as a couple. But when we meet with Dr. Dan during our first visit we knew right away that we all had a connection! He really takes time to get to know us and our story and what love and marriage means to us. He speaks beautifully so the ceremony felt very natural, as if our family member that we had known forever was speaking. He made sure everything went smoothly and made amazing suggestions to make it everything we wanted and more! Since we live in NY we were also able to FaceTime each other which was very helpful in staying on contact. Dr. Dan had our small list of guest laughing and crying of joy the entire ceremony. He also made the marriage license process as smooth as possible. We would recommend him to anyone getting married in the Florida area! We can't wait to see you again in Florida in the future! XOXO Tina & Shaun

Courtney T.

Married on 04/16/2021

Amazing officiant!

Dr Dan was fantastic to work with from start to finish. Every phone call was personal and he really got to know my husband and I as a couple and individual. He was able to tie our favorite things into our vows. He allowed us to incorporate The Office into our vows!

Caitlin V.

Married on 04/12/2021

Best officiant ever

Dr. Dan was the best officiant ever!!!

I am soooo happy that I found someone like him. Dr. Dan takes the time to get to know you before the wedding and is a really nice guy. He is sooo fun to hang out with and my guests LOVED him!

Dr. Dan made my wedding extra special and took a lot of time to help me plan the ceremony. Something that stood out about Dr. Dan is that he genuinely cares. I have a lot of anxiety when it comes to public speaking and especiallyyyy stuff like weddings. Dr. Dan was the best at making me more relaxed during the event.

I STRONGLY recommend Dr. Dan if you are looking for someone in the Florida area. He will make your event really amazing.

Thank you for a great wedding Dr. Dan and hope to see you again one day!

Caitlin Vitale

Anna L.

Married on 04/10/2021

Very kind gentleman!

Dr. Lamey has made Andy & I feel comfortable from the start. Such a very nice man and I couldn't have asked for a better ceremony!

Elisabeth W.

Married on 04/10/2021

Absolutely wonderful!

Dr. Dan is experienced, kind, and absolutely wonderful to work with. He maintains communication through phone calls and FaceTime and really gets to know the couple well ahead of time. He made us feel more at ease for our wedding. I was so nervous, but standing up there with my then fiancé and Dr. Dan made it so much easier and put my mind at ease. I would definitely recommend him for your wedding.

Rachel D.

Married on 03/13/2021

Amazing Officiant!

We were planning our destination wedding remotely, and Dr.Lamey made it so easy! He is so kind, and we actually didn't meet him in person until about 1.5 months before our wedding. Before that, we completely corresponded by phone, e-mail, and zoom! Even through that, Dr.Lamey made it a point to really get to know us before the big day. We had several phone conversations together, and he even gave us a couple of homework assignments to help him get to know us, but also to help us understand more about each other! All of our guests thought he performed a great ceremony that was reflective and engaging, and I'd definitely recommend him!

Tiffeny

Married on 02/27/2021

Highly recommend

Dr Dan was such a delight. He made our ceremony so special! Our guests raved about him after the wedding! We really enjoyed working with him and couldn't have asked for anyone better to marry us!

Keri W.

Married on 02/21/2021

Such a great guy!

Dr. Dan is hands down the best officiant for any wedding. Throughout the whole planning process and Facetime calls, he made us feel comfortable and at ease with how the ceremony would go. It was honestly like talking to a family member. The day of the wedding came and he was an absolute hit with our guests. The highlight (which I was not able to witness) was him graciously asking a group of people watching the sunset at our private beach ceremony, to turn and face the bride and remain silent guests, which they were happy to oblige. He included everything we asked for in our ceremony, vows and readings and did it all with humor, grace and personality. He was also a hit at the cocktail hour, talking with our guests. Many of them have told us how fun he was and how they enjoyed speaking with him. I highly recommend him to any bride. Ladies, this man has 6 daughters, so he knows how to deal with us! Don't look any further for an officiant in the Naples area!

Jenny

Married on 01/16/2021

You need to hire Dr. Dan!

Dr. Dan is the most incredible officiant! He spoke with us several times before our wedding, helped counsel us, helped us write our vows, and created the most beautiful ceremony. We were told by every single guest that he was the best officiant they have ever seen. He was kind, genuine, funny, and touching all at the same time. He did a special blessing of a wine bottle and made all of our parents tear up. He made our ceremony the most special part of the day and we cannot recommend him more. Each vendor we worked with also commented that Dr. Dan is the best officiant in SW Florida! You need to hire Dr. Dan!

Melanie S.

Married on 12/19/2020

Best officiant ever

Dr. Dan was absolutely amazing! He went above and beyond in getting to know Eddie and myself. We let him know exactly what we wanted in terms of our ceremony and he made it so memorable. He was so friendly and is a great speaker. All of our guests said he was the best officiant they've seen. We wanted to do a non religious ceremony but still incorporate some traditions for our Jewish and Catholic parents. He was so amazing at bringing in those elements while leaving the ceremony non religious and only using love language. Highly recommend using Dr. Dan! He will not disappoint!

Susan C.

Married on 07/05/2020

Delightful!

Dr. Dan created the most lovely, spiritual ceremony that I have ever witnessed. In the weeks leading to our wedding, he took the time to get to know us, which in turn made for a personal, caring experience. In the end, he even sang "The Prayer", as a special favor to us. It was a touching, final moment to end a beautiful day. Thank you, Dr. Dan!!

Christina H.

Married on 06/18/2020

An unforgettable and beautiful wedding!

Thank you Dan for making our intimate wedding ceremony so special. He was gracious and flexible to switch our date at the last minute due to possible weather issues. I highly recommend Dan!

Shayna B.

Married on 05/01/2020

Where do I begin? Best decision!

Thank you Dr Lamey for getting to know my husband and I as a couple and truly making the ceremony one of a kind. Dr Lamey was so helpful with the organization of the ceremony and helping us lay out the order based on what we liked and wanted to incorporate. He was very flexible when it came to Covid and the rescheduling of the wedding which is a stressful for both the bride and vendors. He brings his experience from all his weddings to help with fine details and preparations of the ring, vows, and making sure bridesmaids know when to fix their hair! We were married Nov 5,2021 at La Playa beach and Golf resort. Thank you again Dr Lamey!

Allison C.

Married on 03/28/2020

Perfect Service!!

Dr Dan officiated our wedding, and he did a FANTASTIC job! He listened to our needs and incorporated everything we asked for in the service. He's engaging, funny, and very nice. I would HIGHLY recommend choosing Dr Dan for your wedding, you will not regret it!!!!

Taylor D.

Married on 03/21/2020

Dr. Dan the man

Dr. Dan was soooo awesome. He met with us multiple times and was so friendly and helpful. He really gets to know you and wants to to spend forever with your best friend. He was so flexible in helping us when we had to change venues 3 days before our wedding because of the covid-19 virus. He is very professional and our ceremony was beautiful.

Kristen F.

Married on 02/22/2020

Absolutely perfect!

He was so personal and professional. He helped so much throughout the whole process and I can't imagine anyone else doing it.

Jennifer R.

Married on 12/28/2019

He made our ceremony perfect!

Dr. Dan made our ceremony perfect and unforgettable. He took the time to make it personalized to us and guests were asking if he knew us our whole lives. Not only did he make the ceremony fun and entertaining, he organized the ceremony and made sure everyone knew where to go. Everyone at the wedding was blown away and couldn't stop talking about how amazing he made our ceremony! It was perfect! We can't thank him enough and know we made the best choice for our officiant!
Are you interested?
Send a message