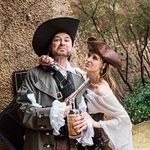 Pirate & 60s Bride
I'm an offbeat 40+ bride! My hubby & I designed an upscale DIY Pirates of the Caribbean inspired wedding in a Napa wine cave (then a 1960s "Rat Pack"... View More
I'm an offbeat 40+ bride! My hubby & I designed an upscale DIY Pirates of the Caribbean inspired wedding in a Napa wine cave (then a 1960s "Rat Pack" reception in Temecula two months later). Amazing. Worth the wait to meet the right match; our wedding was way more creative than I could have ever dreamed. Happy newlyweds.
Happily married 🎉
March 20, 2017

Where are all the print wedding magazines?
I'm so sad! I was going to get a print magazine subscription for my soon-to-be SIL. I LOVED flipping through magazines when I was engaged. Martha Stewart only printing 1x/year. I couldn't even find...