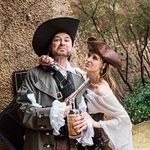 Pirate & 60s Bride
I'm an offbeat 40+ bride! My hubby & I designed an upscale DIY Pirates of the Caribbean inspired wedding in a Napa wine cave (then a 1960s "Rat Pack"... View More
I'm an offbeat 40+ bride! My hubby & I designed an upscale DIY Pirates of the Caribbean inspired wedding in a Napa wine cave (then a 1960s "Rat Pack" reception in Temecula two months later). Amazing. Worth the wait to meet the right match; our wedding was way more creative than I could have ever dreamed. Happy newlyweds.
Happily married 🎉
March 20, 2017
Demands to make a birthday "party" at our wedding
Maria
, on June 6, 2022 at 11:23 AM
We are having small, intimate ceremony, only 40 closest people. It happens to be day after my future SIL birthday (not a milestone one, I don't know if it matters). I already planned for sending her a...