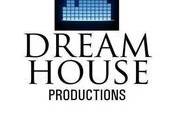 About
DJ Ruki Dole has been an integral part of the DJ'ing scene for the past 17 years. Multiple Radio Personality, Mobile DJ and Club DJ positions line his resume and he has had the amazing opportunity to have worked alongside celebrities, including: Snoop Dog, Mike Epps, DMC (From Run DMC), Lloyd Banks (G Unit), RhymeFest and Tony Touch (Rock Steady Crew). He even shared a DJ booth with Spindarella from Salt N Pepper allowing him to spin alongside one of the most respected DJs in the industry.

Since 2007, DJ Ruki Dole has held residency at the Kerryman Bar, one of Chicago's top-notch Irish bars ( www.thekerrymanchicago.com). For the past eight years, he's also owned and operated multiple Mobile DJ businesses that focus on weddings. In 2009, with a unique outlook and over 300 weddings under his belt, he could see what the industry was lacking and decided to create Dream House Productions.

Living in the Chicagoland area has given him the opportunity to religiously research and study all of the local Chicago Wedding & Corporate Event DJ companies. What he found was interesting and, moreover, shocking. More than half of the companies employed individuals that had not earned the right to be called a DJ. These company owners were music enthusiasts and entrepreneurs with a great business plan and grew their businesses at the cost of uninformed couples. Higher demand meant converting another average Joe that owned a tuxedo to the rank and title of "Wedding DJ." These guys stood behind some cheap DJ equipment with a playlist in hand and simply pushed play. Once a song was coming to an end, they faded out one song and started another (over and over again). They boasted about having 100,000 songs in their library when playing a simple request made them uncomfortable because they had to steer away from the infamous "wedding playlist." Don't believe me? Here's some homework for you: go to two weddings by the same DJ and I bet you if you paid close enough attention at the first wedding you would be able to predict the entire playlist at the second wedding.

Okay, I'm sure you could care less about the terrible transitions and the fact that a "DJ" can't blend two songs together. Maybe you don't mind that the guy has an outdated playlist and plays the same song rotation at every wedding. The fact that he is a new breed of the microwave age and uses a computer to DJ along with his inexperience and old, outdated equipment doesn't bother you one bit. I agree why this might not be as appalling to you as it is to me. You got a good deal right? Everybody agrees that $600 is a steal for a DJ. I hate to say this, but you've been robbed. This would sound like a great deal to an uninformed and mislead consumer who's been tarnished by an industry that has hood winked you all of this time. However, let's analyze why it is important to have someone who knows what he/she is doing and has owned the right to be called a "Wedding DJ."

First and foremost, everybody has to recognize the fact that a wedding is a collection of guests of all ages. The preferred genres and tastes of your guest might range from Big Band to Today's Top 40 and from Motown to Dubstep. With such an eclectic group of people, how could an untrained DJ navigate though the genres and keep your guests satiated and dancing all night? If the DJ hasn't studied his audience and doesn't have a game plan by the time everyone sits down for dinner, he is heading straight into a concrete wall at 100 mph speed. A trained DJ would see this experience as a walk in the park and would be excited with the challenge at hand. He would prepare himself to start the dance portion of the night by catering to the older folks who are eager to cut a rug while the younger crowd makes a dash towards the open bar. The DJ would take his audience on a journey of good times and memories of the yesteryear without hiccups or abrupt stops in music. An experienced DJ would take all of the important requests from guests and would make sure the transitions between songs didn't sound like a train wreck.

This might be an extreme example, but would you rather visit a doctor who has actually gone through med school, done his residency and is board certified or go to someone that calls himself a "doctor" and opened a clinic because doctors make good money? With the real doctor you have piece of mind, relief that you are in good hands and advice you can trust. On the other hand, "Dr. Business" might get lucky and prescribe you a Tylenol for your headache, but nine times out of 10, you are taking a gamble with your health.

Are you really comfortable taking a gamble on one of the most important days of your life? It's every bride and groom's worst nightmare to have their guests go home saying: "The couple looked amazing, the banquet hall was breathtaking, but the reception itself was kind of boring. We left as soon as they cut the cake." How many times in your life have you heard people complain about how much the DJ sucked and ruined the wedding? More times than you can probably count on both hands.

Would you hire a photographer for that important day equipped with a disposable camera? Wouldn't you be more comfortable with someone who is well versed and knows how to operate the bag full of Digital SLR cameras and possesses the talent to turn those images into lifelong memories? We know the difference right off the bat. You might get a few good shots with the disposable camera but 90 percent of the memories that you would eventually like to share with your grandchildren will be, at best, an amateur attempt. This theory applies to the equipment and quality of your DJ. Breaks in sound due to cheap, off the shelf gear ruins sound quality and can cost you your whole night!
At Dream House Productions, we take all of this into consideration and give our clients a stress-free night where they can enjoy the momentous occasion. We aren't the cheapest on the street because we stand behind our work. More and more customers book Dream House Productions for destination weddings because they are guaranteed a successful evening by booking us.

DJ Ruki Dole has traveled and worked as a Wedding DJ and Corporate Events DJ all over the country, including:
· Chicago, IL (and all surrounding suburbs)
· Fort Myers, FL
· Jackson Hole, WY
· Garfield, NJ
· New York, NY
· Staten Island, NY
· The Meadowlands Stadium, NJ
· Palm Springs, CA
· Benton Harbor, MI
· Mansfield, OH
· Newport, RI
· Indianapolis, IN
· Milwaukee, WI

Call us today (312-841-1081) and get the same service over 300 clients have raved about. Remember that you always get what you pay for. Don't put the most important day of your life in the hands of someone that has the potential to ruin your memories. We wish you all the best in your search.

www.dreamhouseprod.com
Recommended by 99% of couples
Quality of service

4.9 out of 5 rating

Average response time

4.9 out of 5 rating

Professionalism

4.9 out of 5 rating

Value

4.9 out of 5 rating

Flexibility

4.9 out of 5 rating
7 User photos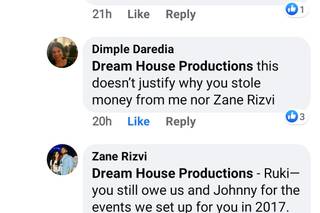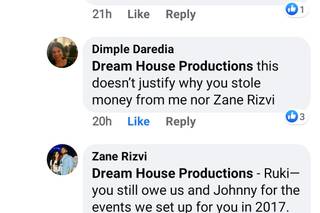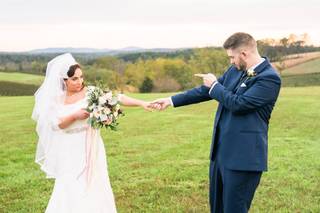 + 3

photos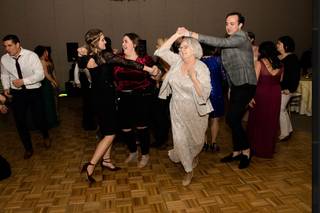 Abbas K.

Married on 12/03/2022

Amazing music!

Ruki was amazing. We had music and dance over 2 days and Ruki made sure the dance floor rocked. The guests loved the music.

Mihir P.

Married on 11/28/2022

Absolutely Amazing

Ruki exceeded our expectations as a DJ for our wedding. Despite having another event right before ours, he made everything incredibly easy for us and expertly crafted a playlist based on a short list of our favorite songs. He had a great understanding of the energy of the crowd and played to it perfectly, with everyone at the wedding loving every moment. His freestyle scratching was particularly electrifying. We highly recommend Ruki for any DJ needs - he truly went above and beyond to make our special day perfect.

Jaime

Married on 09/30/2022

Best DJ Ever

From the beginning of planning our wedding to the day of, DJ Ruki was awesome to work with. Very professional and kept us updated during our reception of what to expect next (grand entrances, speeches, special dances, etc.). He also kept the dance floor packed the entire night. We had a wide range of ages from 2 -80 and everyone enjoyed the atmosphere and the dance floor. DJ Ruki also perfectly blended our Filipino and Mexican heritages, which we greatly appreciated. People are still telling us how great the music/DJ was at our wedding and it was the best wedding they have attended. You will not regret booking Dream House Productions for your next event!

Are you interested?

Message vendor
Awards
Map
3950 N Lake Shore Drive, Suite 2321D Chicago, 60613