10 Trendy Bridesmaid Dresses for the Fashion-Forward Squad
From sequined gowns to asymmetrical looks, these trendy bridesmaid dresses are the perfect complement to a contemporary wedding theme.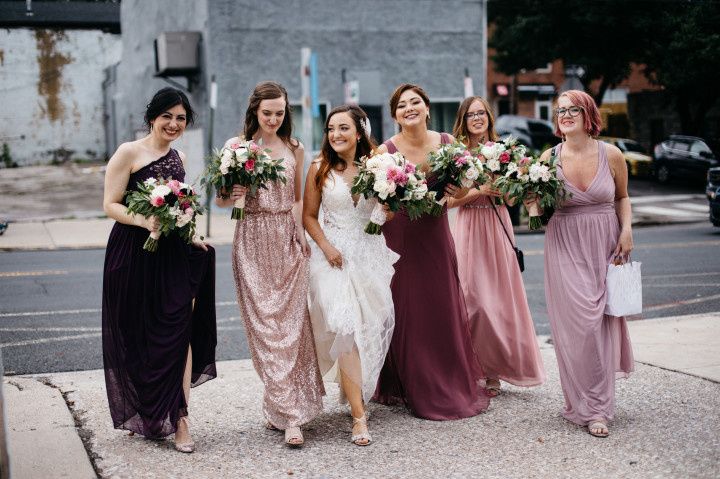 Sponsored by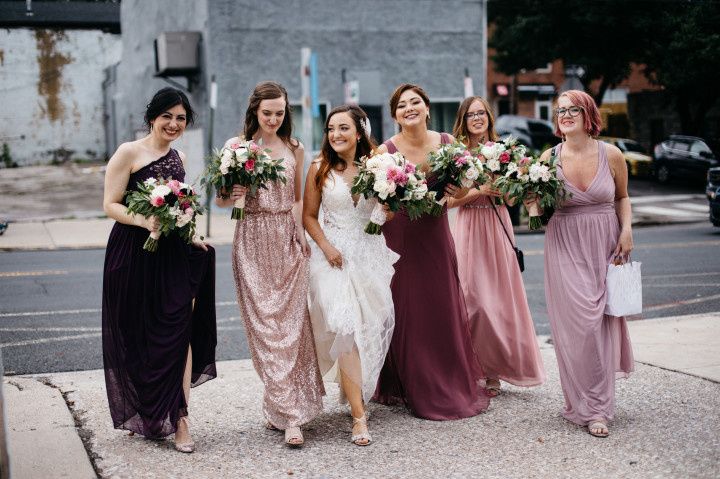 Want to give your 'maids a high-fashion look for your big day? Trendy bridesmaid dresses feature eye-catching designs, like textured fabric and revealing slits, making them ideal for those throwing a stylish ceremony and reception. These types of dresses can play off of luxe or modern venues because of their exquisite detailing and statement-making silhouettes and necklines; they can also be mixed and matched for an even fresher look. For those who think their bridal squad should done a look that's insta-worthy, we've got you covered. Here are our favorite trendy bridesmaid dresses from David's Bridal.
Your 'maids will feel like total fashionistas when they wear one of these trendy bridesmaid dresses.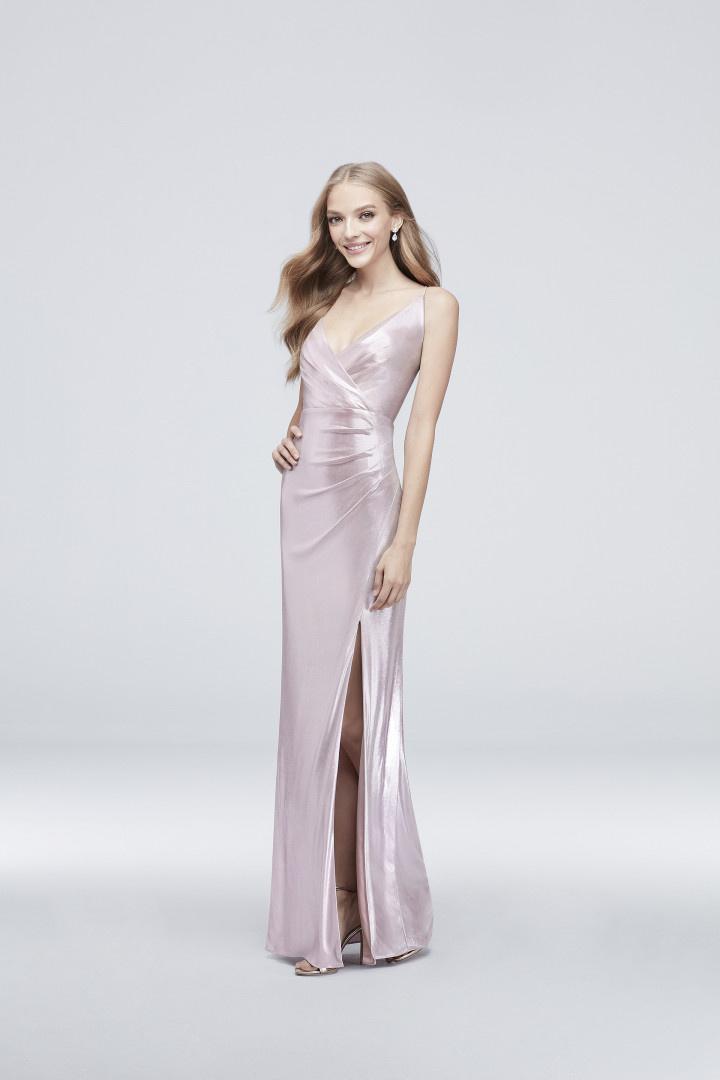 Dress Style: AP2E205031
Your 'maids can totally glow up in this trendy bridesmaid dress. The iridescent fabric and sassy front slit creates a statement-worthy look that's fit for any fashionable event. $130, David's Bridal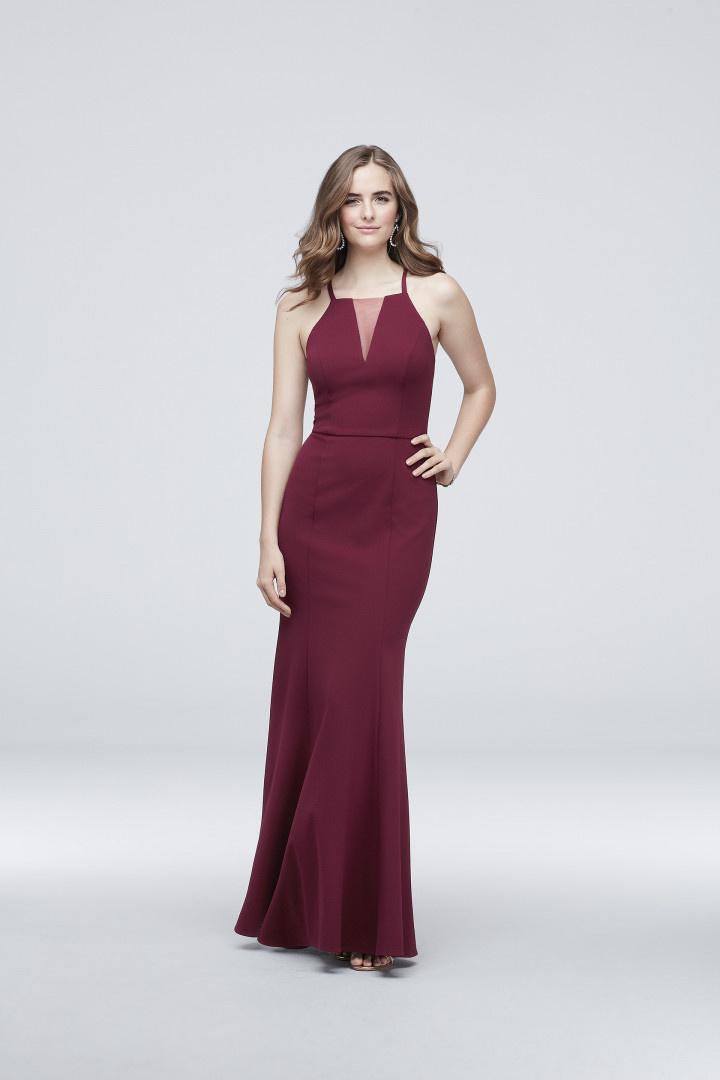 Dress Style: DS270008
The sleek fit-n-flare silhouette paired with a modern illusion V-neck definitely makes this bridesmaid gown feel like it came straight off the catwalk. $100, David's Bridal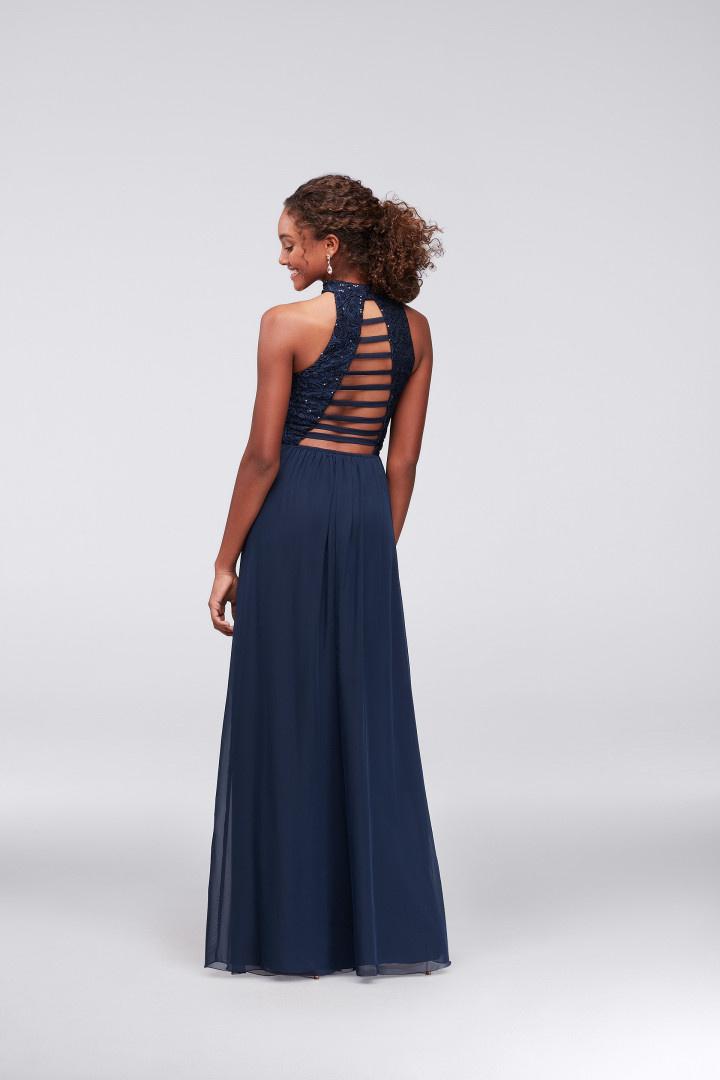 Dress Style: X35241DH232
If you're searching for a gown that has a surprise factor, then you'll love this trendy bridesmaid dress. The ladder back detailing not only gives your 'maids #backgoals, but also creates a wow-worthy look that will have everyone asking where you found this number. $130, David's Bridal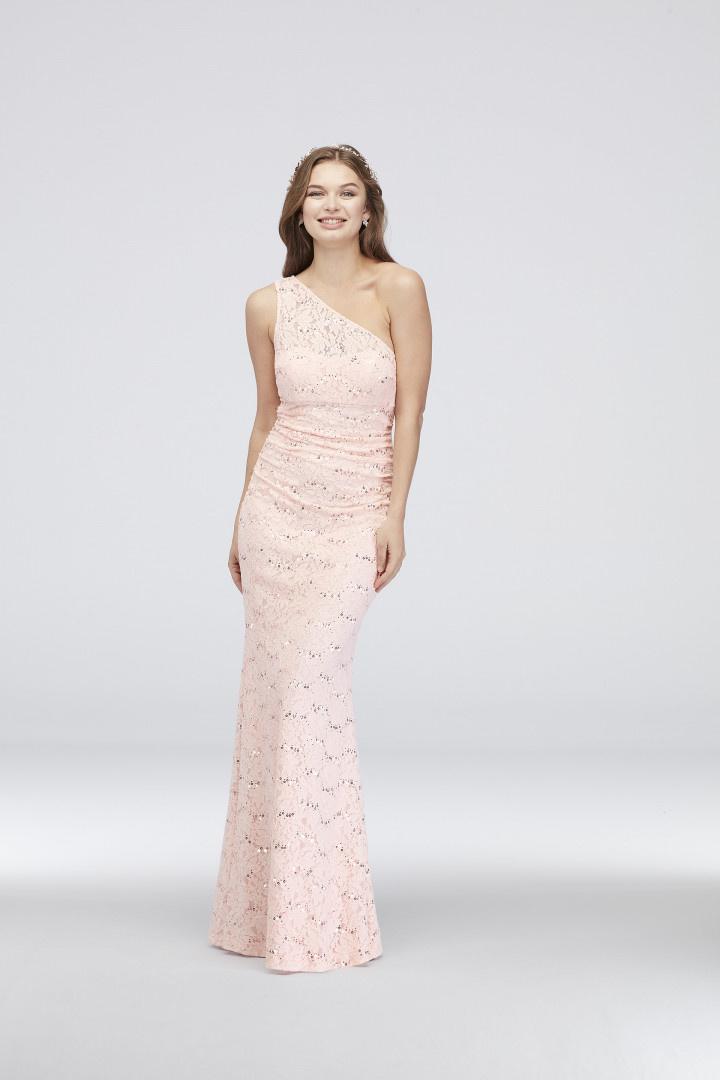 Dress Style: DS270016
Asymmetrical designs have been taking over the bridal fashion world, so why not have your bridesmaids join in? This sequined blush gown features a gorgeous one-shoulder neckline and is definitely one of our favorite trendy bridesmaid dresses. $130, David's Bridal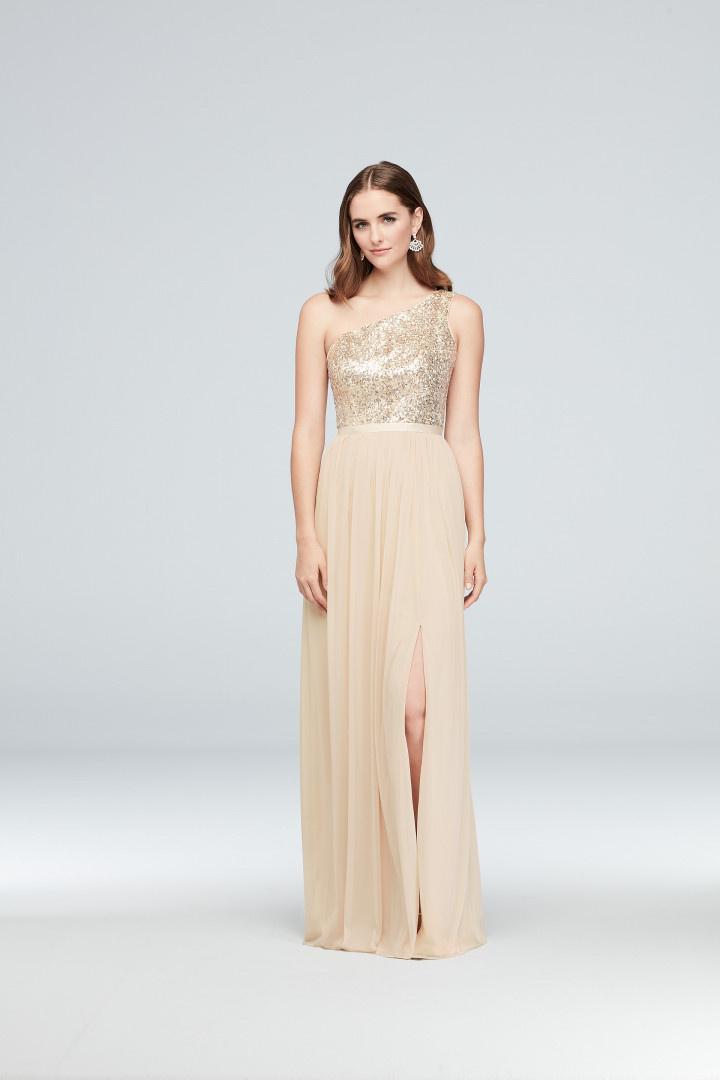 Dress Style: F17063S
This asymmetrical gold sequined gown is a totally killer look. It even includes a sexy front slit for your 'maids to rock some leg as they make their way down the aisle. $150, David's Bridal
Dress Style: DS270021
Is a trendy neckline a must for your 'maids? Opt for a gown with a keyhole bodice! This neckline easily adds a modern flair to your bridesmaid dress style. $120, David's Bridal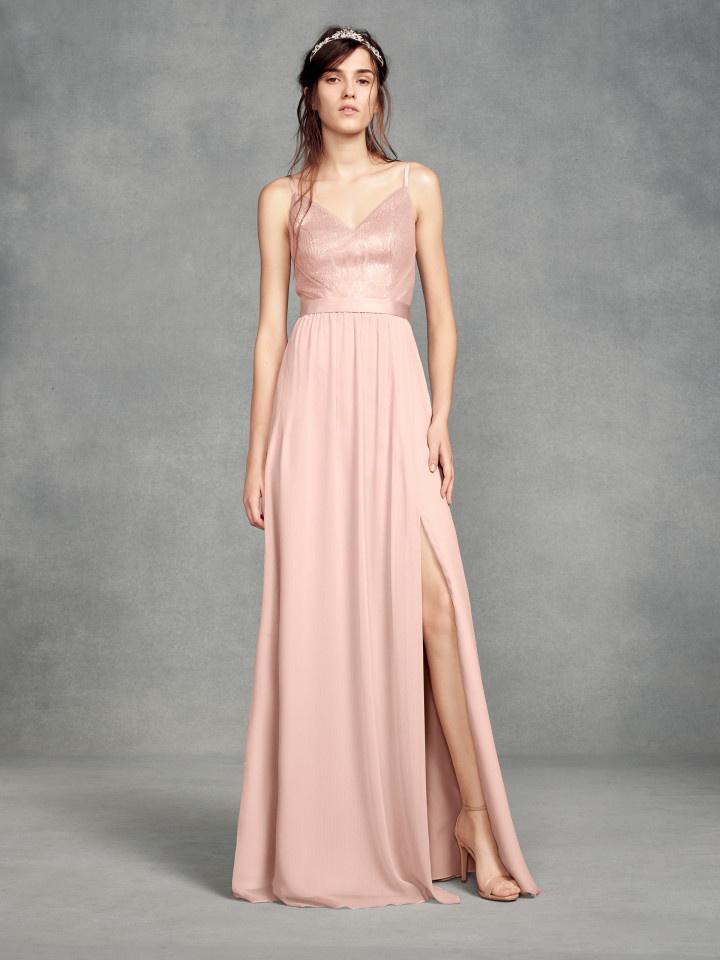 Dress Style: VW360345S
Featuring a millennial pink hue, spaghetti straps, and a sequined bodice, this look proves that styles from the early 2000s (think Gwyneth Paltrow's bubblegum pink Oscars gown) are making a comeback for bridesmaids. $200, White by Vera Wang at David's Bridal
Dress Style: VW360214
If you want your 'maids to wear a classic look that also feels current, opt for this olive green gown. The halter neckline and chic ribbon sash are paired with a revealing side slit to add a 2019 spin to a timeless bridesmaid dress style. $200, White by Vera Wang at David's Bridal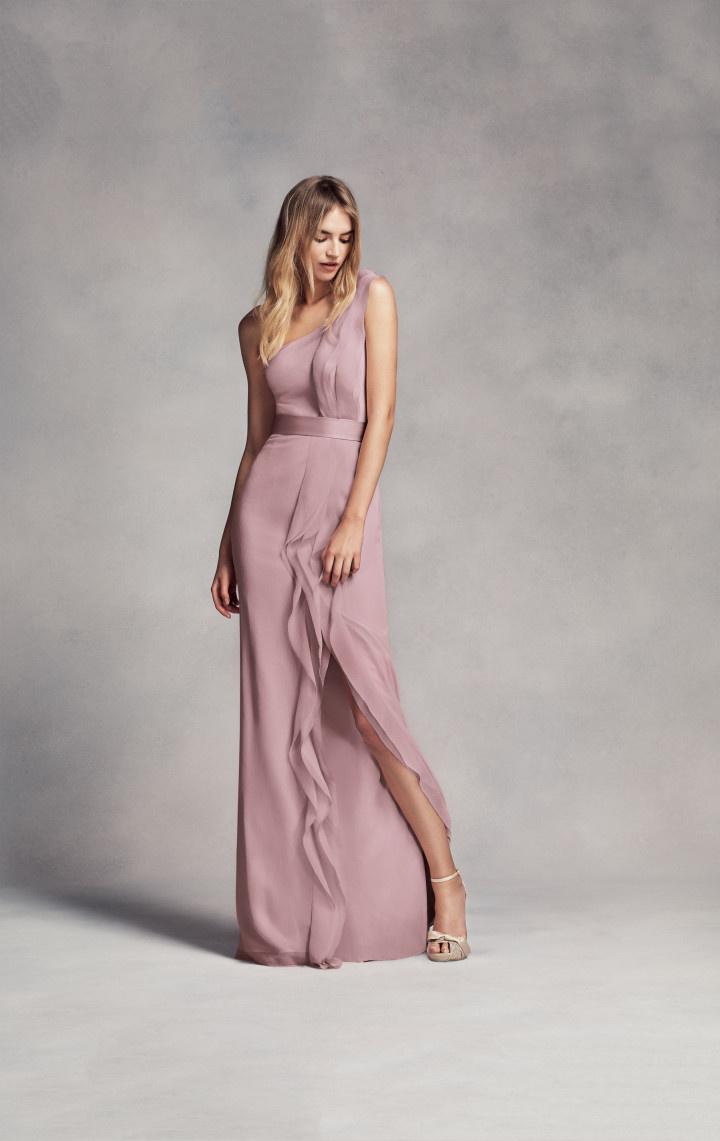 Dress Style: VW360274
The ruffled detailing along the side slit of this one-shoulder gown creates a unique wavelike appearance that's totally made for trendsetters (or beach weddings!). $200, White by Vera Wang at David's Bridal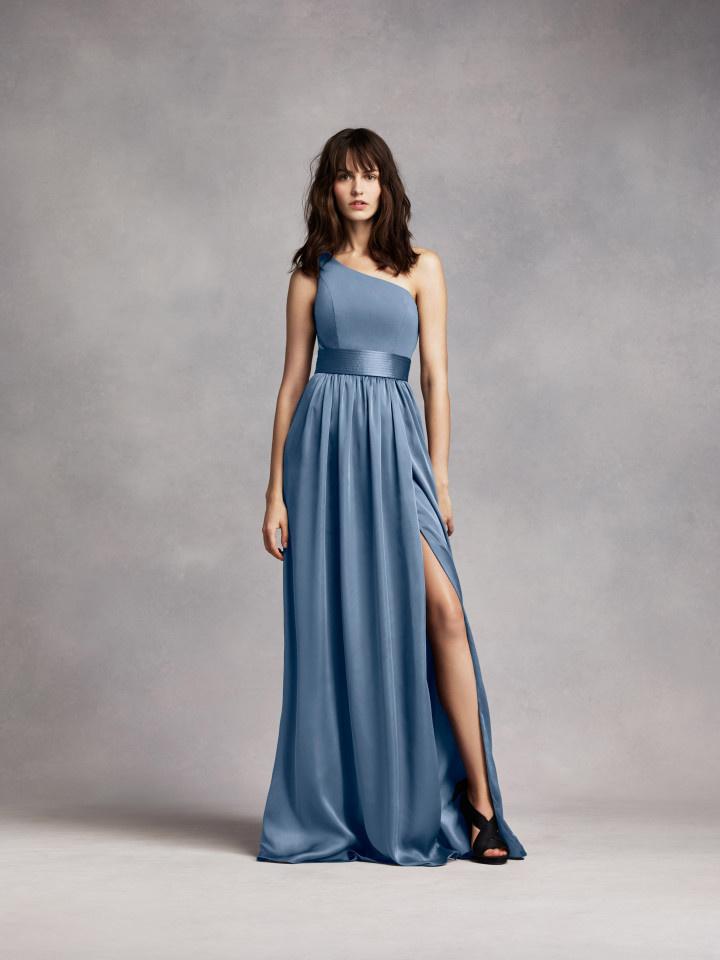 Dress Style: VW360215
This one-shoulder silk charmeuse gown will give your bridal crew a red carpet-inspired look on your wedding day. $200, White by Vera Wang at David's Bridal