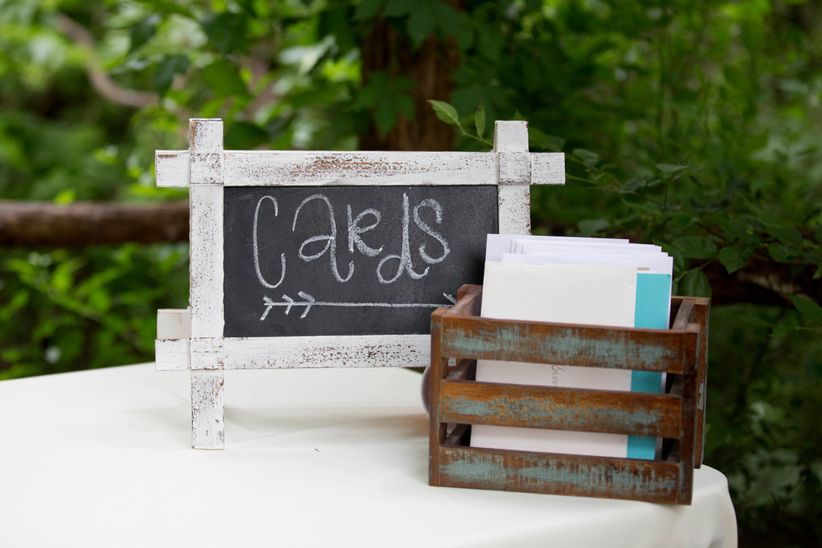 Photo: Cynthia Whiteside Photography

DO:

Give your gift within one year of the wedding date (but ideally before that).
Yes, this age-old etiquette rule still stands. In our opinion, however, it's best to give your gift sooner rather than later. We recommend aiming for within three to six months after the big day if possible. Even better, send a gift before the wedding so you don't forget after the fact.

Consult the registry first.
When choosing a gift, the couple's wedding registry is the best place to start (usually you can find registry information on a couple's wedding website). The couple set up a registry for a reason—these are the items they truly want or need! If nothing on the registry speaks to you, a gift card to wherever the couple is registered is always a nice choice. The couple can always use it later to buy a registry item they didn't receive, or to treat themselves to something they didn't think to register for.

Mark your gift as "fulfilled" or "completed" on the registry.
After you purchase a gift, either online or in person, always double check that it has been marked off of the registry—usually this is done automatically but it's best to make sure. Otherwise, the couple might wind up with multiple versions of the same gift. By the same token, make sure you choose a gift that hasn't already been purchased by someone else.

Include a card.
Make sure to enclose at least a small card with a brief message of well-wishes and your name clearly printed. The couple will want to know who you are so they can thank you! The typed gift note that most online registries offer during checkout is perfectly acceptable.

Include a gift receipt.
Even if you're sure the couple will love the gift (and they probably will), it can never hurt to enclose a gift receipt just in case!

Double check the address.
If you're shipping your gift, make sure you're sending it to the correct address. The couple will decide where they want their wedding gifts delivered, and it's not necessarily the same as what's listed on the wedding invitation return address. It's not uncommon for engaged couples to plan a move or even temporarily store gifts with a family member until they get a place with more space. If you purchase a gift directly through the registry, it will automatically be sent to the correct place (or at least to whatever address the couple has on file). If not, ask the couple directly or inquire with an in-the-know family member or wedding party member.

DON'T:

Bring the gift to the wedding.
The couple (and their families, wedding party members, and vendors) will already have plenty to transport and keep track of on the big day, and you wouldn't want to risk your gift getting damaged or lost in the shuffle. It's best to ship gifts directly to the couple or even deliver them in person, either before or after the big day itself.

Go delinquent on group gifts.
With group gifts, it's common for one group member to offer to pay the total amount upfront and then have each of the other group members pay him or her back an agreed upon amount. If you've committed to pitching in for a group gift and, it's your responsibility to pay your portion in a timely manner. If you don't follow through, you're just taking credit for a gift you didn't actually give. Don't make the group gift organizer hound you for the money!

Stress too hard about it.
While putting thought into your gift choice is obviously encouraged, there's no need to agonize over the perfect gift. When in doubt, choose an item off the registry at a price point you're comfortable with or mix and match a few items. The couple will be elated to receive any item they registered for—we promise!

Tread Carefully When:

Monogramming.
If you monogram your gift, the couple can't return it. Before stamping an initial on it, ask yourself if it's something the couple really wants. Of course, if they've registered for a monogrammed item, go for it! Just be sure to mark it off the registry, or the couple could wind up with duplicates they can't take back.

Going off the registry.
If you have a special gift in mind, there's no harm in going off the registry. Just make sure it's really something you think they'll love—something that aligns with their style, has sentimental value, or both! If possible, always include a gift receipt just in case.

Dropping off a gift in person.
Hand-delivering a gift to the couple's home can be a nice gesture—just be mindful of your timing. Avoid dropping a gift (unannounced) within a day or two of the actual wedding. Those final days leading up to the wedding can be frantic, and the couple will likely be running around, busy and distracted with last-minute details. If you want to drop off a gift in person, we recommend doing so at least a week in advance of the wedding—or waiting until the couple has returned from their honeymoon.