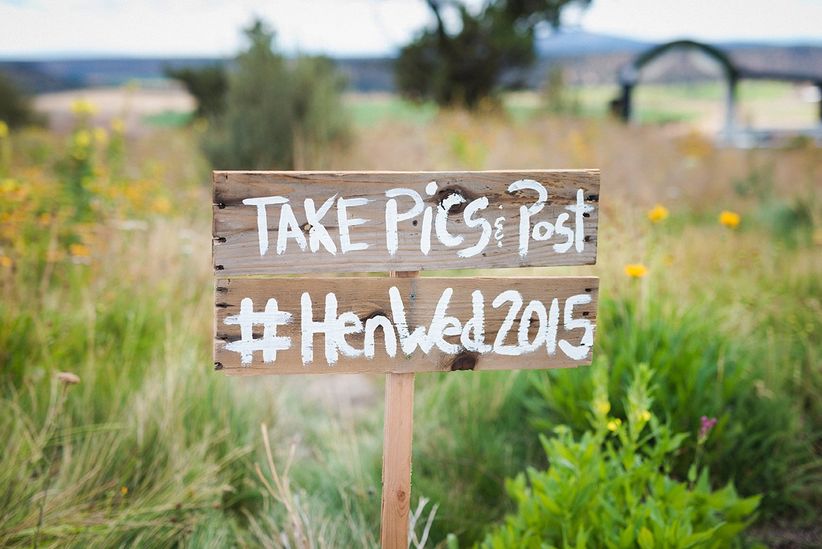 Photo: Tony Gambino Photography
Want to make sure your wedding stays trending all the way from your #justsaidyes moment to the big day? Be sure to post on Instagram using popular hashtags! Unsure which phrases are the most viral?


Here are the top trending hashtags that you can relate to your wedding. Just make sure to upload each photo with the proper hashtag, so your big day can fill everyone's newsfeeds.
#justsaidyes
Share the news with everyone right after you get engaged by posting your
#justsaiddyes
moment on Instagram or Facebook! Whether you opt to take a ring selfie or perhaps include your favorite pet in your engagement pic, you should definitely include this hashtag with your proposal photo. Not only will this help with sharing the exciting news, but also you can have a chance to win our
#justsaidyes
contest!
#blessed
As soon as you check something big off of your wedding to-do list, you're going to feel immediate relief as well as grateful for having an awesome group of vendors helping you out. Therefore, you should give your vendors some love with the help of the #blessed hashtag. Let them know how thankful you are that they are tackling some not-so-fun wedding tasks. The hashtag will not only share how happy you are that you finally finished that grueling seating chart of yours, but also let your friends and followers know about your highly skilled experts!
#tbt
Throwback Thursdays are always a fun way to timehop to one of the first photos you took with you and your beau. To mix up the photos of wedding planning, post an old gem of you and your future spouse. Maybe you two met in high school or at your alma mater and you're sporting quite a different hairstyle then you had back then. Sharing these old memories is a fun way to get excited about the big day and to remind everyone how you two met!
#yourbachhashtag
While celebrating your last fling before the ring, don't forget to gram a photo of you and your 'maids hitting the town! You and your wedding party can include this tongue-in-cheek hashtag with every photo you upload from the trip. If you need some help creating an unique bach-hashtag, don't fret! Just check out our
bachelor and bachelorette hashtag generator
for some ideas.
#weddingcountdown
As the wedding date gets closer you can easily post this hashtag to let everyone know that your special day is just around the corner! This can either include a photo of you and your future spouse finalizing wedding plans or maybe it is a shot from one of your bridal showers. This post gets the clock ticking and lets your guests know that the celebration is now a month away!
#nofilter
Let everyone know how swoon-worthy your venue's backdrop is by uploading a photo of the property. Whether it is a scenic view of the mountains or a picturesque shot of the ocean, adding the #nofilter hashtag will get everyone pumped for your romantic wedding location. Just remember to not use any filters, instead let the venue speak for itself!
#instagood
Announce to everyone that the big day has finally arrived with this popular hashtag. Choose a photo that shows how happy you are to be marrying the love of your life, such as a photo of you two from the rehearsal dinner or even a snap from your first look!
#ootd
If you want to really show off your gorgeous wedding attire, then upload your dress or suit photo with this hashtag. Get one of your wedding party members to snap a pic of you all dolled up because this is one "outfit of the day" that everyone really wants to see! Wait to post the photo until after your future spouse has seen you on your wedding day—no need to ruin the surprise!
#yourweddinghashtag
Make sure you tag your wedding photos with your
personalized wedding hashtag
so you can have all of your photos in one place! You can also get your guests to use the hashtag, too—be sure to post some signage around your wedding venue to remind them. This will help you keep track of all your photos throughout the big day, from the grand entrance all the way to your sparkler send-off!
#regram
If one of your bridesmaids or someone else from your wedding day posted an awesome photo, don't be afraid to regram it. Then not only will all of your followers and friends get to see the adorable photo of you and your maid of honor getting ready together, but you can have the photo on your feed too!
#selfiesunday
After the celebration, you can easily snap of photo a you and your newly spouse getting ready for the honeymoon. Some of our favorites include a morning selfie with a cup of coffee or even a photo with your passports as you head off to your romantic getaway together!