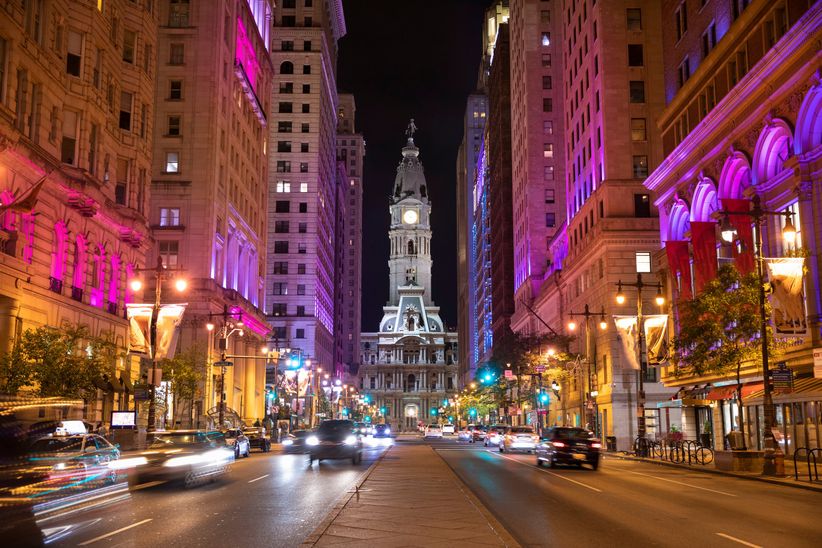 A Philadelphia bachelorette party truly has it all. Why limit yourself to casinos and nightclubs when you can have those plus fine dining, upscale spas, luxe accommodations, yoga, and shopping at your disposal? Your biggest decision when it comes to your Philadelphia bachelorette party won't be what to do, but rather how to fit it all in!
There's something for everyone at a Philadelphia bachelorette party, so we've mapped out a two-night stay with some of the city's hottest spots and best attractions.
What to Do
If you arrive in Philly with a taste for some local history, you're in luck! Once you check in to your hotel, it's time to gather your squad, lace up those sneakers and take a tour of the infamous (and super creepy!) Eastern State Penitentiary. Spend a few hours touring ruins of the cell blocks that once housed notorious criminals like Al Capone. From there, it's just a 10-minute Uber ride to the Liberty Bell; the other famous historical site in Philly.
Once you've had your fill of history, it's time to turn your attention to the task at hand: a fun-filled, relaxing weekend to remember! Head back to your hotel for a quick shower, then hit up Drybar for a fabulous blowout. Don't forget to snap some Insta-worthy pics! Follow it up with a girls-only dinner at any one of the many amazing restaurants in Center City (more on that later).
Did someone say nightlife? There's no shortage here, so your Philadelphia bachelorette party won't disappoint. The city is chock full of swanky rooftop bars and trendy beer gardens, both of which are great ways to kick things off and get everyone in the mood to party. After that, take a bike ride on one of the city's famous Red Pedal Bike Tours—where else can you ride a bike and drink a beer at the same time? Or, head over to Philly hot spot Howl at the Moon—the best piano bar east of the Mississippi. There, dueling pianists bang out your favorite tunes while you and your squad dance the night away.
In the morning, after an indulgent breakfast at chic, upscale eatery Parc on Rittenhouse Square, the day is wide open. You and your girls might decide to start with a group yoga class, or perhaps stick around the Rittenhouse for a luxurious spa day complete with full-body exfoliation, massage and hot oil scalp treatment. Follow it up with high tea fit for a queen. For a more budget-friendly Philadelphia bachelorette party experience, enjoy a cruise on the lively Spirit of Philadelphia or strike up some fun at one of several bowling alleys the city boasts.
Where to Eat
No matter what time of the day (or night!) hunger strikes, you're sure to find a great place to dine in Philly. El Vez is a lively, colorful joint with upscale offerings in the form of surprising twists on your favorite Mexican dishes. Not only that? El Vez boasts the best margarita in Philadelphia.
Fresh, seasonal food in a cozy, farmhouse-style setting? Count us in! You and your crew will love the unique farm-to-table offerings at Talula's Garden.
And if dinner on the deck of a historical tall ship appeals to you, then the Moshulu, one of Philly's finest (and certainly most unique!) dining establishments is for you! Climb aboard this old coal freighter and experience a full menu of mouth-wateringly delicious seafood offerings, like chorizo-crusted swordfish or scallop ceviche.
Where to Stay
Like everything else the city offers, hotels in Philadelphia aren't in limited supply. There's a great place to stay no matter what price point you're looking for. From city staples like The Rittenhouse, to more basic chains like Hampton Inn and the Holiday Inn Express, there's something for everyone.
Located in the heart of Center City, The Ritz-Carlton in Philadelphia is worth every penny of its upscale price tag, with marble bathrooms and spacious guest rooms adorned with fine linens and fluffy bathrobes.
The stately Rittenhouse Hotel is arguably the most famous hotel in Philadelphia. Boasting a full-service spa, luxurious guest rooms and even a tea room, this hotel is pretty much a vacation all by itself.
With prices clocking in at about a third of the Ritz and the Rittenhouse, the quirky, colorful Kimpton Hotel Monaco is a fabulous hotel for a Philadelphia bachelorette party in its own right. A warm, cozy living room serves as shared space for guests to mingle and hang out, while guest rooms are spacious and well appointed.