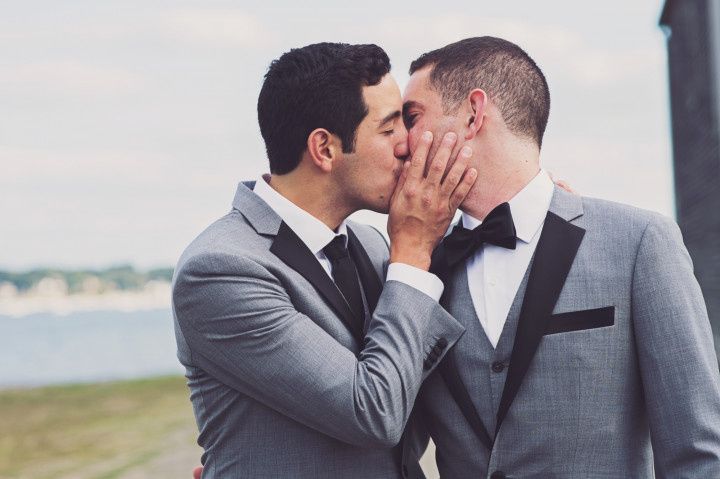 Photo: The Harris Company, Photo and Cinema
We asked WeddingWire Education Expert, Kathryn Hamm of GayWeddings.com, to share her insight on same-sex weddings in honor of Pride Month.

What was your inspiration behind GayWeddings.com?

My straight mom founded our business not long after my own wedding in 1999, during the first dot-com boom. She had been searching for a lesbian wedding album for us — even going down to Crossroads Market, the gay bookstore in Dallas looking for one. She found nothing, and while lamenting that fact at our wedding shower, a friend said, "Well, why don't you start 'TwoBrides.com!'" So, she did! We added 'TwoGrooms.com' to complete the pair and later, in 2005, acquired GayWeddings.com.

How have gay and lesbian weddings evolved due to the recent marriage equality laws?

The small, intimate, highly-personalized and largely private ceremonies, while not yet extinct for us, are certainly an endangered species. With the advent of the blogosphere, the acceptance of the wedding industry, and our freedom to live more open lives as out LGBT persons, assimilation has taken hold. The good news is that this has been a two-way street. As a result of experiencing our ceremonies, more heterosexual couples have come to reject ill-fitting traditions in favor of more personalized rituals; likewise, our weddings have started to follow the arc and narrative of the many weddings we see around us. For example, ten years ago, fewer same-sex couples were booking engagement sessions with a photographer and hosting weddings with large wedding parties and legal in-state recognition of their unions. These days, more than ever, this is the norm.

What is trending in gay weddings?

1. "The reveal" (where the couple is photographed seeing each other for the first time)
2. Engagement photo sessions
3. Viral videos with amazing wedding choreography
4. During the ceremony, reading an excerpt from the Massachusetts decision in 2004, which is where marriage was first legalized.


What can straight couples learn from gay couples about making the wedding more about YOU?

You probably won't be surprised to know that I have iterations on this conversation quite often as I talk with straight couples who have just married or are about to get married. They are generally relieved by my open-minded approach of asking them about their wedding planning or in how I brainstorm planning solutions with them.
When I have these conversations, most straight couples are floored because no one has asked them what they want or what it means to them. We, gay and lesbian couples, have had no choice but to start at this place. We have planned outside of the agenda of laws, parents, friends, and the industry, and this has enriched our experience and our rituals. Most straight couples have not enjoyed that blessing and some, like you, have had fights that have astounded, exasperated, and exhausted them.
So, when I talk with most straight couples, at the end of the conversation, we generally all agree, they would have preferred to work with a planner who specializes in same-sex weddings because the process and end result would have been a more peaceful representation of what best represents them as a couple rather than a result of an industry's auto-pilot.

What advice do you have for gay-friendly wedding vendors?

These days, being gay-friendly isn't enough. Marriage equality has arrived, and to win the business of engaged couples who care about marriage equality (LGBT and straight), you need to be gay wedding competent, and demonstrate that you are aware of what same-sex couples need and combine those skills with outstanding service. It's a competitive market and now, more than ever, same-sex couples have a choice of wedding pros; not just the only ones who would take the call.

What advice do you have for same-sex couples planning their wedding?

Time and again, the couples we interview emphasize how important it is to think about your relationship and what you want the wedding and celebrate to about. They say, "Do what you want for you and don't worry about what everyone else thinks." As one bride said, "Don't get so caught up with the stress of planning that you lose sight of what the day is about." The advice is probably not far off from what many heterosexual couples might share, which really goes to show how much things have changed since my mom was first inspired to start our company, and couples were worrying more about how to find legal protections for their relationships and whether or not their parents might attend the wedding!