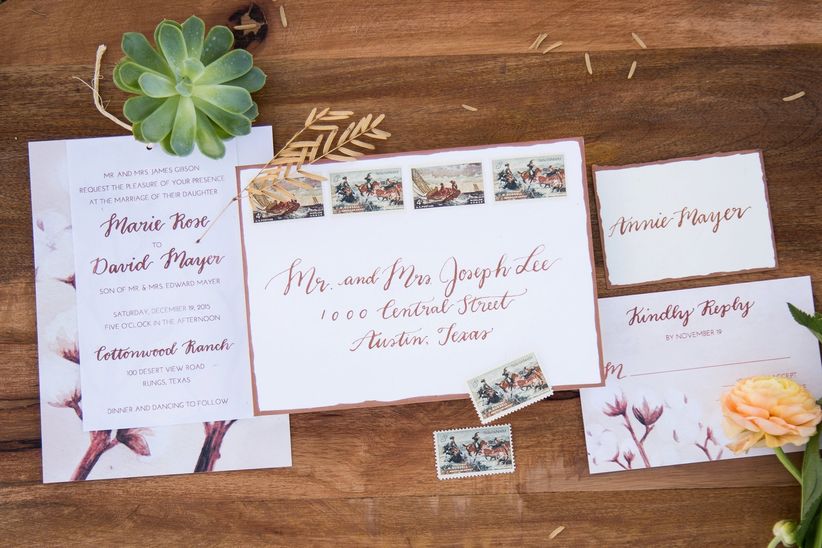 Photo: Dawn Elizabeth Studios
Your wedding invitation (which should be sent out six to eight weeks before your wedding) is the key source of communicating important information to your guests. Inside your invitation will include the final details of your big day, so guests can know the proper time, date, etc. Still not exactly sure what your invitation should include?


Here are some major details that you definitely shouldn't forget!
The Host
You must include who is hosting (read: paying for) your wedding. This can be your and/or your spouse's parents, other relatives, or, if you and your spouse are paying for the wedding yourselves, just your names. If you're paying for the majority of your wedding but your parents are paying for a few elements, you can say "Together with their families, Jordan and Blake request the pleasure of your company…" Just remember that if your parents are paying for your wedding, you should include them on the invitation in some way—or risk offending your families.
The Couple
Following the request line, you should include you and your S.O.'s names. For opposite-sex weddings, the bride's name will go before the groom's. Same-sex couples' names should be listed in alphabetical order. Your names will probably be the most prominent on your invitation, where you can add some personalization by using modern
calligraphy
and more.
The Date
The date is key in making sure your guests know exactly when your wedding will take place. This usually is placed right after you and your fiancé(e)'s name. Be sure to include the day of the week, date, month, and year to ensure that everything is extra clear.
The Time
You have to indicate the time of your ceremony, so guests can know when to arrive. Therefore, to avoid an unnecessary phone calls of guests asking when your ceremony starts, list the time next.
The Location
Below the date and the time, include the full location of your ceremony venue—the name of the venue and its full address. If your reception is being held at the same location as your ceremony, you can simply say "Reception to Follow" on the invitation, which will let guests know that the reception will be held in the same place. If your reception is in a different location, you should include a reception card with all of the details of that event (time, venue name and address, in particular)—like a separate invitation.
The Attire (Optional)
If your wedding has a
dress code
(meaning you want all of your guests to wear a certain formality of attire), you can list it on your invitation. While this can be helpful for guests it's not entirely necessary, especially if you're a bit more flexible about what your guests are wearing to your event. It's up to you to decide if including a dress code is necessary.
The Wedding Website
Some couples choose to list their
wedding website
on their actual invitation, but it may cause the invitation to look a bit cluttered. We recommend including a separate insert with wedding website information on it, rather than printing the site's address on the actual invitation. Here's a list of other
wedding invitation enclosures you might need
.