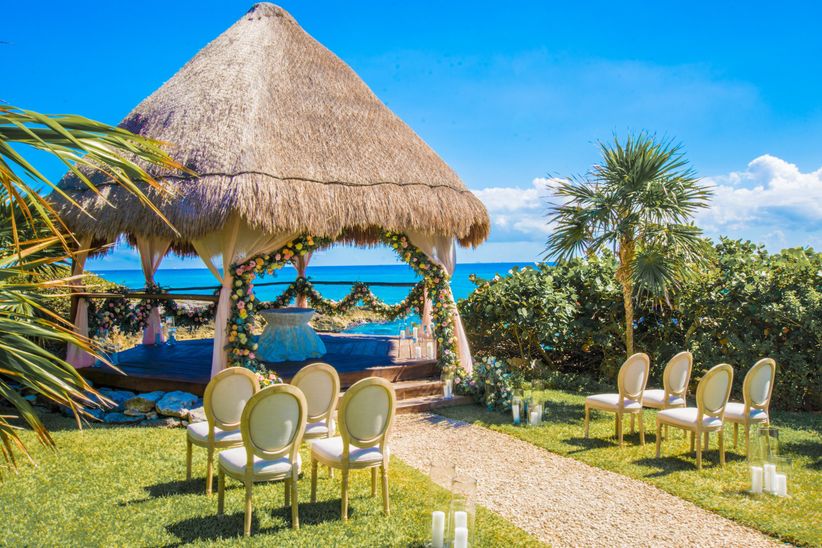 Your destination wedding is an excellent opportunity to make new memories with your closest friends and family. The wedding might only be one day, but the party doesn't have to end there! Since your guests will likely be in town for several days before or after the wedding, it's nice to consider ways to keep them entertained during their downtime. And while you'll have a few built-in events, such as your welcome dinner, reception dinner, or newlywed brunch, choosing the right resort for your destination wedding can make all the difference. Consider your wedding style and the dynamics of your guest list (ages, interests, etc.) to help you decide on a resort that will appeal to everyone and create the most memorable experience.
Follow these tips to plan a fun-filled destination wedding.
Choose an All-Inclusive Resort
You and your guests will have traveled a long way to reach your destination wedding, and getting married at an all-inclusive resort will make things easier for everyone. All-inclusive wedding packages will eliminate the hard work of your planning process, and resort packages will help your guests have a better experience by giving them the most for their time and money. All-inclusive resort packages include all meals and snacks, unlimited drinks, and access to various perks, such as daily and nightly entertainment, non-motorized water sports, and other activities. The benefit? Guests won't have to worry about spending money or keeping track of their wallets during their stay, leaving more time for everyone to have fun and relax!
Look for Family-Friendly Perks
A resort with kid-friendly activities will appease parents (and let them relax, worry-free) if you're inviting children to your destination wedding. The all-inclusive Barceló Bávaro Palace, part of the Barcelo Bavaro Grand Resort in Punta Cana, Dominican Republic, has plenty of age-appropriate activities to keep little ones (or teens) busy. Kids can play at two different water parks, ride slides at the wave pool, or watch a show at the resort theater. The resort also arranges a variety of family-friendly excursions, like swimming with dolphins, visiting an aquarium, boat tours, and zip lining. At the all-inclusive Barceló Maya Grand Resort in Riviera Maya, Mexico, you'll find similar kid-friendly options. This resort has an impressive water park, miniature golf course, video game arcade, and a "kids club" offering supervised activities.
Pick a Hotel With Amazing Scenery
When it comes to choosing the perfect destination wedding venue, you can't go wrong with a location that is surrounded by amazing scenery. Situated on Mexico's Riviera Maya next to an eco-archaeological park, the all-inclusive Occidental at Xcaret Destination has incredible views everywhere you turn, leaving your guests with plenty of opportunities for unforgettable vacation selfies. When they're not attending the wedding, your guests can spend their free time outdoors taking advantage of all the resort's amenities. Occidental at Xcaret Destination is an adventurer's paradise, dotted with clusters of lush trees, hidden coves and Mayan ruins. Guests can swim with tropical fish, take a dip in a saltwater pool, get up close and personal with dolphins, or spot local wildlife like macaws, monkeys, and sea turtles.
Spring for Luxury Amenities
Whether you're excluding kids from your invite list or already know that some of your guests will want to relax without children, the all-inclusive Barceló Bávaro Beach in the Dominican Republic is our top pick for an adults-only getaway. As part of the Barceló Bávaro Grand Resort, the adults-only section features its own swimming pool, private beach, restaurants, upgraded rooms, and a spa. A stay in one of the spacious Premium Level oceanfront suites includes dozens of perks, such as a free round of golf, access to the Premium Level lounge with concierge services, spa discounts, 24-hour room service, complimentary wifi, and more. Barceló Bávaro Beach includes access to the rest of the Barceló Bávaro Grand Resort — perfect if you have guests staying on both sides of the property and need to coordinate group outings (rehearsal dinner, brunch, etc.).
Give Guests Time to Relax
Your guests will be thrilled that you've chosen a venue in a beautiful place where they can put their feet up and unwind completely — when they're not partying at your wedding, that is! Barceló Aruba is a gorgeous all-inclusive resort in Palm Beach — one of Aruba's most sought-after areas — with over 370 guest rooms, each featuring its own private balcony. Guests can spend lazy days by the pool or on the beach, relaxing in Aruba's calm waters and warm ocean breeze. After they've spent the day catching rays (and maybe some zzz's), guests can enjoy dinner at one of the resort's six restaurants before heading to the casino or checking out live entertainment in the lobby bar. Those who want a break from the beach can sip on a cocktail while lounging poolside or play a round of golf at the nearby course. For the adventure-seekers, Barceló Aruba also offers scuba diving, windsurfing, and skydiving excursions.
Don't Forget About Nightlife
Keep the party going for the entire trip by hosting your destination wedding at a resort with unlimited nightlife options. If you have guests who want to let loose, Mexico and the Caribbean are home to some of the best nightlife in the world! The all-inclusive Occidental Punta Cana has 11 restaurants and 10 bars onsite, plus a number of late-night snack bars (including a pizza shop) for sustenance. There's also Mangú Disco, an adults-only nightclub that's open daily until 2 a.m. The all-inclusive Barceló Maya Grand Resort in Riviera Maya, Mexico has Jaguar's Nightclub featuring a VIP lounge, along with One Disco Club, a non-alcoholic nightclub for teenagers ages 13-17.
Planning a destination wedding doesn't happen overnight, but once you're celebrating with your friends and family, you'll realize that it was all worth it! Whether you want your guests to relax, enjoy gourmet meals, pamper themselves with luxury amenities, or simply have the time of their lives, hosting your destination wedding at a top-rated resort makes it all possible.