The 6 Dreamiest Aspen Wedding Venues
Whether you're a ski bum or just love incredible mountain scenery, these Aspen wedding venues are definitely wow-worthy.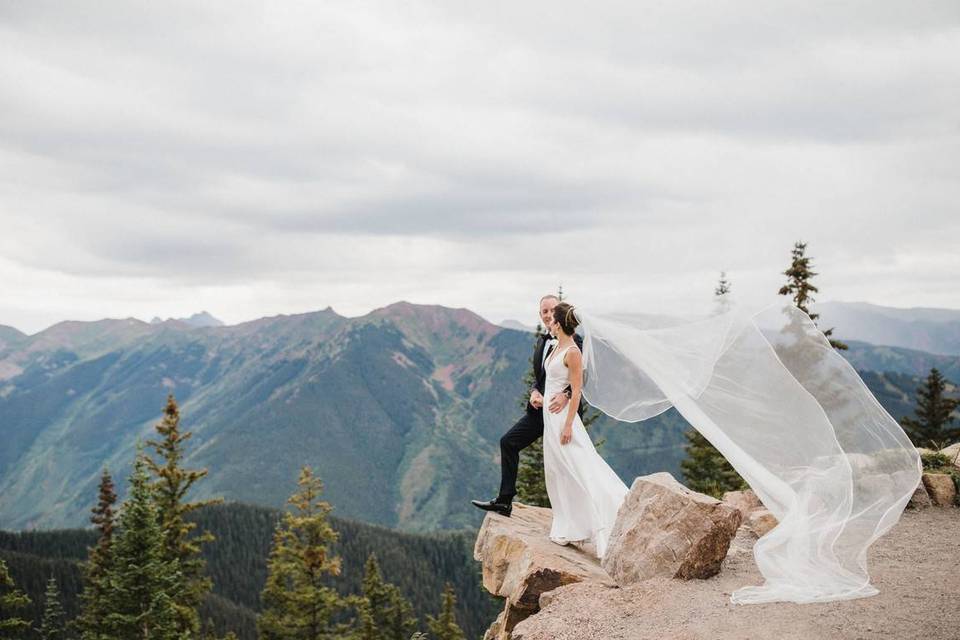 Perched perfectly in Colorado's Rocky Mountains, Aspen is a small but mighty destination that offers everything from fine dining to countless terrains for beginners and advanced skiers and snowboarders alike. For ski bunny duos who always imagined their wedding under a blanket of fresh powder, there are many Aspen wedding venues to choose from — from hotels to restaurants with a panoramic view at 11,200 feet up in the sky. And psst: while winter is their prime season, it's also a year-round resort featuring mostly blue skies, no matter the month.
Here, the dreamiest Aspen wedding venues for spouses-to-be.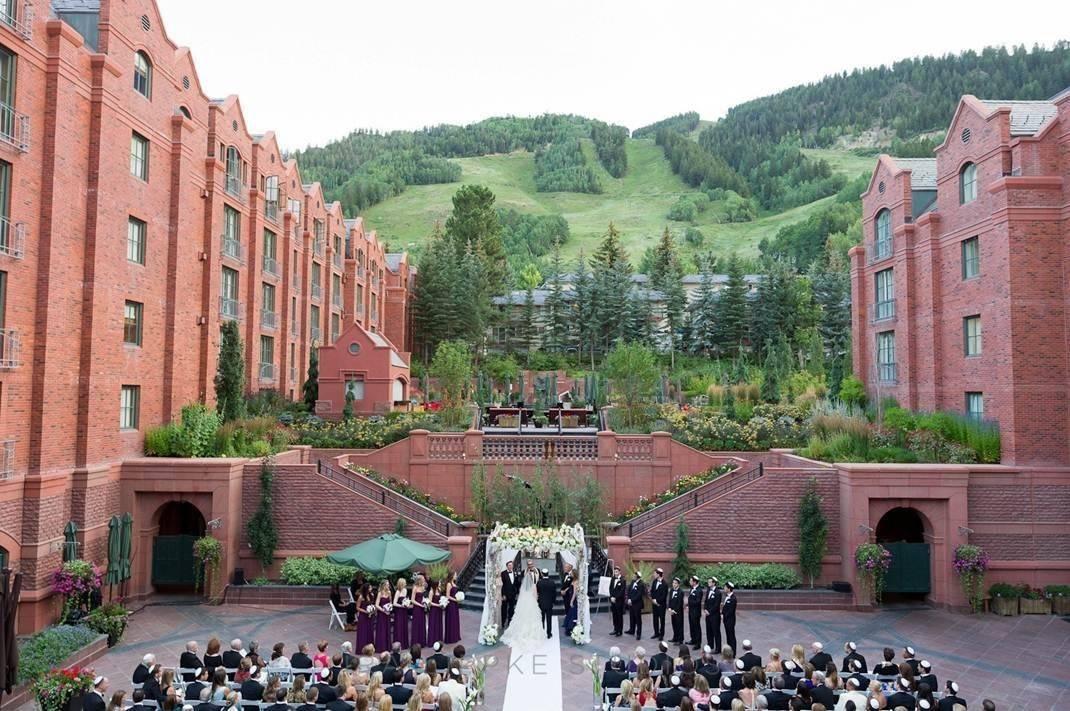 St. Regis Aspen
When you close your eyes and imagine a warm, rustic alpine abode, what you're imagining is the feeling you have when you walk through the doors of the St. Regis in Aspen. At first glance, a fireplace greets your rosy cheeks, while a helpful staff will assist you, your wedding party and all of your guidance with generous hospitality. This five-star luxury resort has the largest ballroom in Aspen, with the ability to accommodate up to 500 guests. For smaller affairs, the property can host a ceremony or cocktail hour in their outdoor courtyard, surrounded by the rich Aspen trees. From there, the celebration can flow into their on-site restaurant, with oversized windows facing outside. Their expansive spa is also ideal for a bridal party, or for when you and your spouse need to detox from wedding planning. Don't forget to ask about catering — since their executive chef leads parties through immersive and delicious menus.
Learn more about the St. Regis Aspen »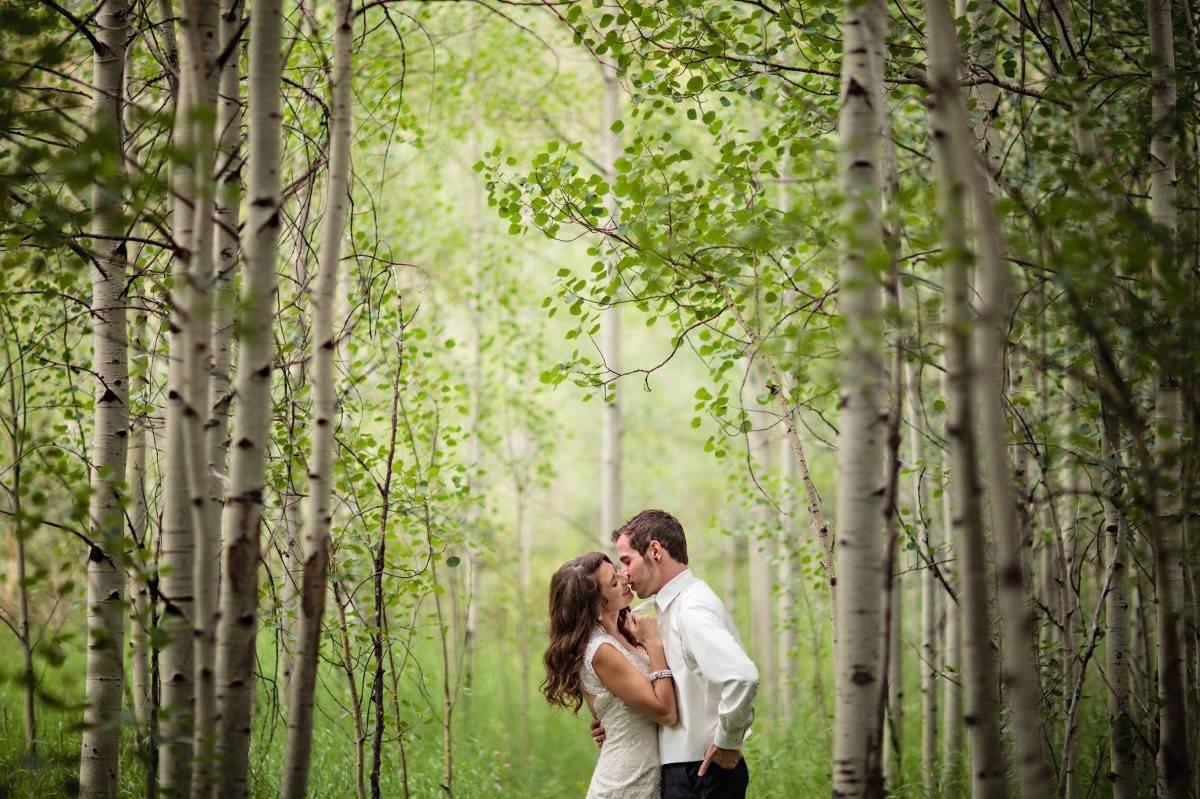 Hotel Jerome
A popular Aspen wedding venue for locals and visitors alike, Hotel Jerome oozes Victorian-era charm with modern touches. In fact, when you first walk through the doors, you likely won't know where to look, with electric and mountain-inspired artwork smothering every inch of the wall space. They use their history to their advantage, often hosting imaginative weddings in an expansive ballroom, featuring subtle and classy cream tones. For couples who crave the great outdoors, Hotel Jerome also hosts receptions in the garden, surrounded by those Aspen alpines. By speaking with an onsite specialist, you can craft what's best for you and your partner, no matter where you call home. Might we suggest treating your wedding party to a round of cocktails at their newly-renovated underground bar, Bad Harriet? It's definitely a way to get the party started.
Learn more about the Hotel Jerome »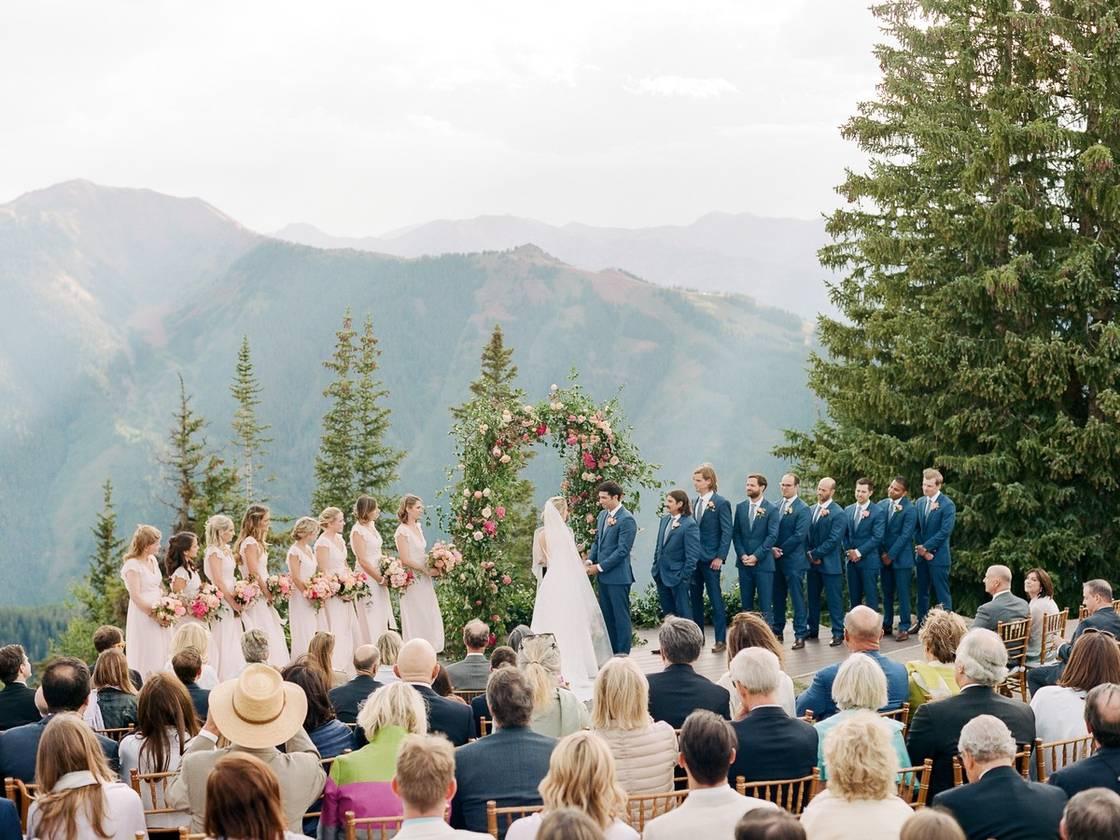 The Little Nell
If you can dream it, The Little Nell can deliver it. This five-star, five-diamond Aspen wedding venue has nearly every option you can imagine for a grand alpine affair — from the mountain base to the mountaintop. Located at the foot of Aspen Mountain in the heart of downtown, you can choose from seven different venues, all managed by the same property. For couples who want to create a magical experience for their guests, consider The Wedding Deck, which requires everyone to take the Silver Queen Gondola, designed specifically for wedding ceremonies. Following your 'I do's' your loved ones can retreat to The Sundeck, that wraps around the top of the mountain, offering unbelievable views of the Colorado terrain. Inside this space, you'll find high ceilings, rough-hewn timbers and plenty of fireplaces. If you want to stay in the small city, the hotel can also host events in The Grand Salon for any size. For your rehearsal dinner, we suggest booking at Element 47, a true farm-to-table experience that marries the alpine flavors with robust creativity and beautifully paired wine. In fact, their cellar is the biggest collection in the region!
Learn more about The Little Nell »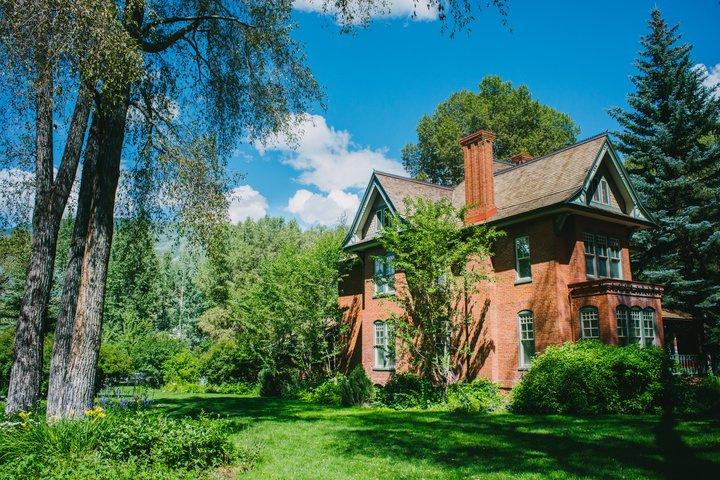 Aspen Historical Society
When you book your wedding through the Aspen Historical Society, you have two venue options — both oozing with splendor and intimacy. The choice really depends on your lifestyle and the vision for your wedding, both of which their onsite wedding planning team can help to mastermind. One option is the Wheeler/Stallard Museum at Ruth Whyte Park, located in the historic West End neighborhood of Aspen. Imagine this: flowering gardens in the summer, or snow-covered spruce, aspen and cottonwood trees in the winter. This area is ideal for affairs up to 250 guests, which can be housed outdoors on two various lawns with tents, or inside the 1888 brick Queen Anne-style Victorian mansion. Their other option, also suitable for 250 guests or less, is the Holden/Marolt Museum Grounds. For those couples who want to have a more casual — but still sophisticated — wedding celebration, this area is a hot second from Aspen, and home to many local artifacts. Most duos here choose a Western-theme party, thanks to the barn that's on the property, and the ranch-like feel of the space.
Learn more about the Aspen Historical Society »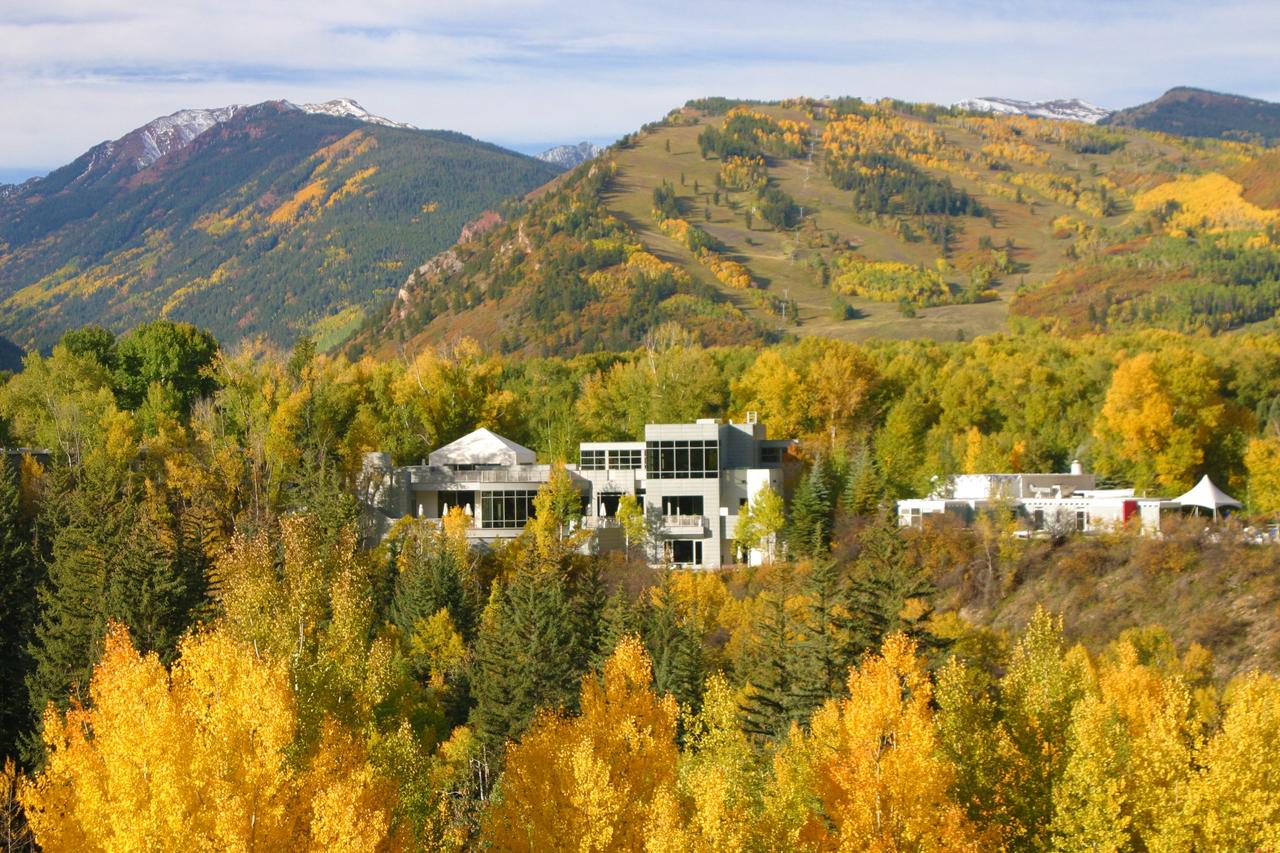 The Aspen Meadows Resort
From this picture-perfect resort, you can see sweeping, panoramic views of the mountains that make Aspen the oasis it is. This wedding venue in Aspen is best described as 'Bauhaus-inspired', and will take guests back to the European alpine beginnings of the sport of skiing. What's nice about this property is their impressive — and expansive — gourmet dining menu, all managed by the on-site team. Recently, this space went through a renovation to upgrade some of the elements to modern conveniences, all while keeping the historical beauty intact. One of the biggest improvements was the addition of their outdoor pavilion, which now serves as an all-weather, year-round space for 100 guests. The addition of the Pavilion provides an all-weather venue and outdoor deck space for events, weddings, and meetings accommodating up to 100 more guests.
Learn more about The Aspen Meadows Resort »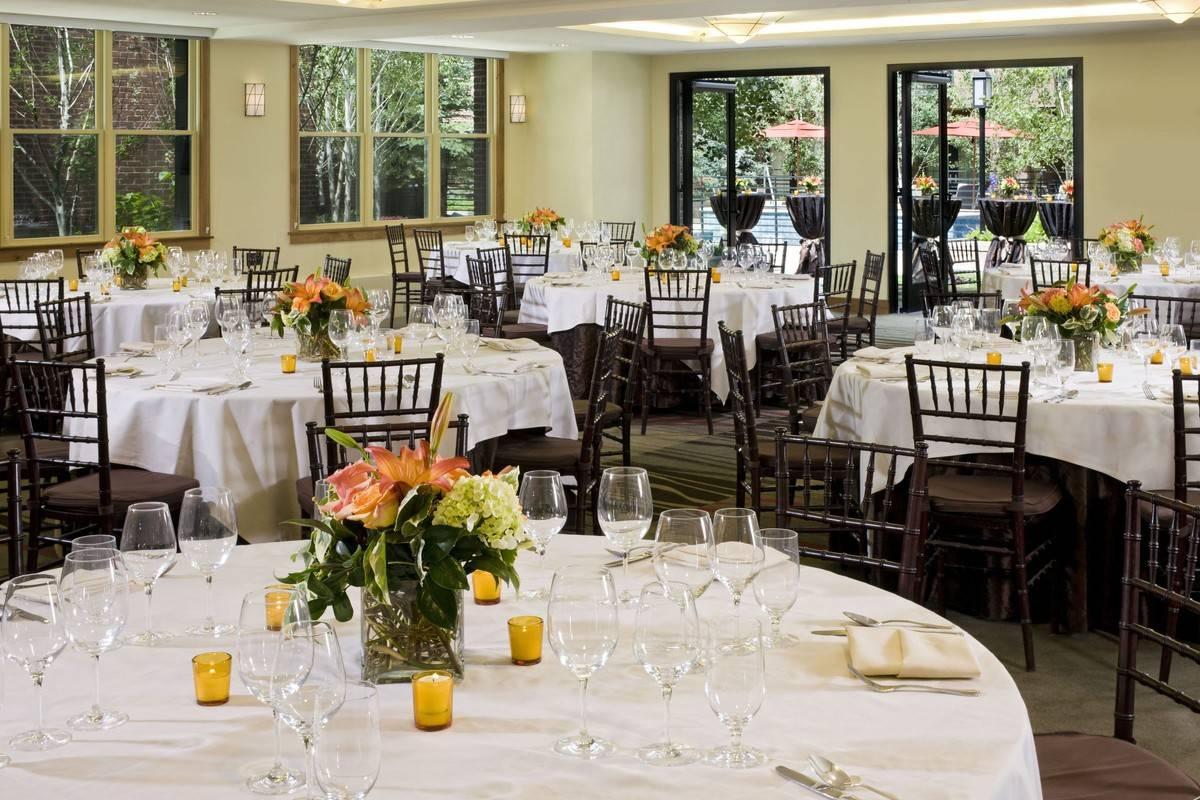 Limelight Hotel
When you imagine your wedding day, you want the charm of Aspen — but you can skip the rustic elements. For those couples who lean a tad more contemporary than mountain chic, consider the newest hotel in the area, Limelight. You'll appreciate their fresh, modern design that matches the inviting, down-to-earth nature of the property. You can say 'I do' indoors or outdoors, and it's good to know the space is best for smaller events. When your guests are staying on property, they'll appreciate the community breakfast and apres ski cocktails, as well as oversized leather couches, fireplaces and outdoor hot tubs.