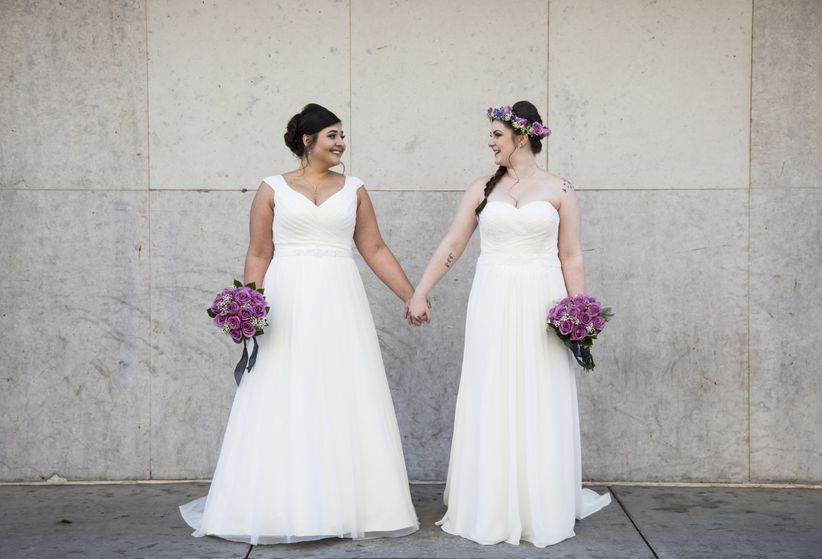 Photo: Gawne Designs Photography
You've said yes to the dress, planned out the decor, finalized the programs, even picked the cake flavor—you probably have a pretty good idea of how the big day will go, right? But there are some details you just can't anticipate!


Here are six things no one tells you about your wedding day.
You'll be able to go with the flow more than you had expected.
You might be particular about perfecting every little detail throughout the planning process, but when the big day actually arrives, all of those nitty-gritty elements fade into the background and the big picture comes naturally into focus. You'll be surprised by how gracefully you handle hiccups and by how easily unanticipated issues or last-minute changes roll off your back. You'll be too busy beaming from ear-to-ear and taking it all in to be bothered with the little things that seemed to matter so much before.
You might not remember every moment perfectly.
Former brides and grooms have already told you that your wedding day will "fly by," but it's hard to prepare for just how swept up by the momentum you will actually be. Looking back on the day, you might be surprised by how blurry your recollection is. That's why it's so important to hire a great
photographer
and
videographer
to capture it all—you won't regret it!
Your favorite moments will be unplanned.
Those special wedding day moments you'll play over and over in your head for years to come are almost always spontaneous. When all is said and done, it might be a loving look your spouse gave you, a hilarious line the flower girl blurted out during the ceremony, or a sweet sentiment from a loved one's toast that stands out to you the most. And that's the way it should be! The truly memorable details are seldom worked out in advance.
You might not have time to eat.
You know that amazing menu you so meticulously planned? The tasting might be the only occasion you get to thoroughly enjoy it. As the guests of honor, you and your new spouse are going to be quite busy during the reception, mingling with friends and family members and being pulled in all different directions. Want to avoid dealing with a growling stomach? We suggest brushing up on
10 Ways to Not be "Hangry" on Your Wedding Day
.
You might not actually see (or get to talk to) every guest.
Try as you might, it's possible that you won't get around to chatting with every single guest at your wedding reception. This is more likely if you're working with a large guest list, of course, but even with more intimate weddings it can be difficult to give everyone as much quality time as you'd like. To avoid this, consider having a receiving line or map out a solid plan for greeting every guest throughout the evening.
It will be better than you even imagined.
Having all of your favorite people together in one place, seeing all the details you've spent months planning come to life, and celebrating the beginning of an exciting new chapter with the love of your life!? That's a pretty powerful combination. The overwhelming joy you will feel on your wedding day will exceed your expectations. Enjoy every moment!