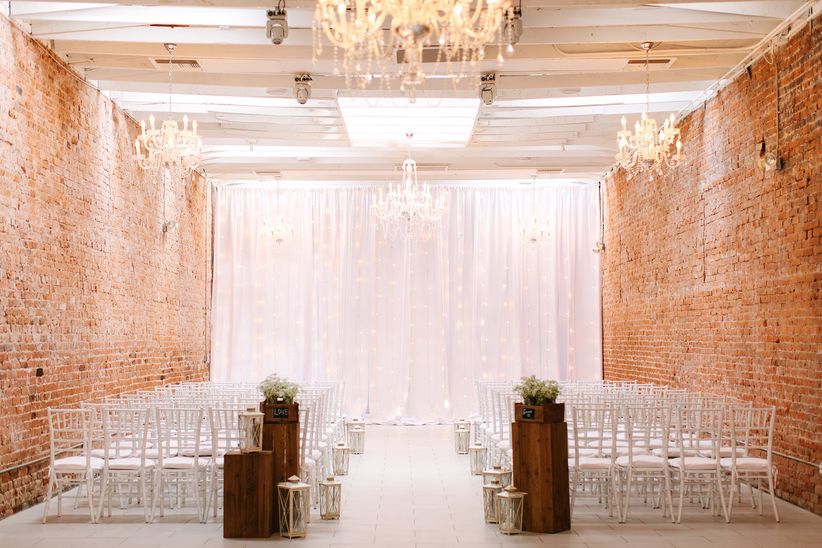 Photo: Suzy Goodrick Photography
There are many good reasons why choosing your wedding venue should be one of the first planning decisions you make. The venue you choose will be an important factor in determining your wedding style. If you're looking for a modern, chic site for your big day, a loft wedding venue is a worthwhile option to explore.


These are five reasons to get married at a loft.
It's a totally chic space.
A sleek loft space seems like an obvious spot for a sophisticated party where guests mingle with flutes of Veuve Clicquot in their hands and nibble on creative passed hors d'oeuvres. If that sounds like a fabulous party, why can't it also be a fabulous wedding? You can find modern loft spaces for rent in many cities that come complete with a contemporary aesthetic, catering kitchen and room to welcome your stylish guests watch you say your understated I Do's.
It's a cool spot for a small wedding.
A small wedding doesn't mean you have to give up any of the wow factor. Finding a loft is more like welcoming your guests to a sleek home, where you can spend quality time with them just as you would at an intimate dinner party. And many lofts boast high ceilings, which lends a dramatic flair to a small space.
You can actually hear the speeches.
A smaller space like a loft creates an intimate setting where you and your guests can share in your joy together—and you don't have to make the rounds to table after table. Plus, when your designated speech givers get up to regale the room with funny and heartfelt anecdotes about you two, everyone will truly be able to hear without the din of reception chatter in the background.
You can get creative with food and drink.
Another benefit to a loft-size wedding? Killer food and drink. A smaller wedding means the caterer doesn't have to scale the food to feed a banquet. Instead, you may want to spend some of your budget on customizing a gourmet menu just as you would at a special dinner party. And without an in-house caterer to work with, you could even bring in a chef to cook on-site.
You can forego the traditional decorations.
Most loft spaces are industrial chic (think exposed brick and floor-to-ceiling windows). Instead of the traditional floral centerpieces, you and your event planner can get creative. Whether you bring in cool couches and coffee tables to allow for great conversations or you fill the space with candles for a moody look, a loft space lets your modern-day style shine. Lofts also can serve as "blank slates" that you can totally transform with decor.