Ok so I did a non pro BAM when we got home from Vegas and I finally have a moment to do a pro one. I know I said this in my non pro bam but it was seriously the best day ever. I woke up and had a big breakfast at the Hash House A Go Go in my hotel with my friend that I've known since the 3rd grade and her husband. It was pretty relaxing. My hair and makeup appointment was at 12:30 on the 6th floor of the hotel I was staying at. I got there early and just relaxed in one of their rooms with big comfy spa chairs. I ended up adding on a pedicure since I had extra money left over from my bachelorette party. I was alone and it was SO relaxing not having anyone asking me questions or just getting on my nerves in general. I know everyone loves getting ready with their friends and such but I just wanted alone time more than anything.
My friend who I had breakfast with came back to my hotel to help me put on my bra and grab my stuff and we took a limo to the venue to get me in my dress. She came in the room with me and my mom thankfully. My mom just kept trying to pose things to take pictures and I needed to get dressed. If it wasn't for my friend I would have walked down the aisle in a bra and shorts.
I forgot my belt and perfume and had a moment of sadness since MIL bought me the belt and I bought the perfume specifically for the wedding but my friend told me I looked beautiful without the belt and smelled fine lol.
The ceremony is sort of a blur now. I remember smiling and laughing and didn't even notice all the people. It felt like it was just me and him. I'm thankful I have pictures with the guests though so I could see their faces.
We did not purchase a posed picture package because we wanted to get onto the reception as fast as possible. We were told the photographer could chose to do posed if they wanted to. Ours did that. We kept asking if she could wrap it up because we only had 2 hours for the reception and wanted to see our friends but she told us the venue wouldn't let us in until a certain time. We then found out since we didn't purchase a posed photo package each picture she took while holding us hostage came at $50 + 19% taxes and fees. We loved quite a few of the posed photos but only purchased 4 because we desperately needed a new couch and I have medical bills flowing in. That and we were pretty bitter about how the deceived us.
During the reception they had some of each type of food for us at our table so we could eat which was great. I wasn't too hungry thought and people kept coming up to congratulate us and I hate eating in front of people like that so I barely ate. I had at least a bite of everything though and it was all amazing.
The cake. OMG the cake was the best I've ever had. I had at least 2 bites of each flavor but thought they'd send the leftovers home with us. They didn't. I was heartbroken because I really wanted more of the cake.
Everyone danced and enjoyed intermingling with the new bigger family. It was wonderful. I was so afraid people would just be sitting there bored but there were definitely no bored people

Budget
Venue
Included everything with taxes and fees for $4,546.04 :
limo transport to and from the venue. bride and groom in separate limos
ceremony photos
2 hour reception with dj
3 layer cake
taco buffet
anti pasto platter - extra
fruit platter - extra
brides bouquet - paid to upgrade to sunflowers
MOH bouquet
cake cutting set
champagne glasses
DOC
Cake toppers: $80 custom made from Etsy
Bridal attire
Dress: David's Bridal $499
Tiara: David's Bridal $49
Veil: David's Bridal $50
Bra: David's Bridal $70ish with tax
Shoes: Converse $39
Jewelry: necklace alteration $100
Perfume: $100
Grooms Attire
Converse: $49
Suit: Men's Warehouse roughly $600 for him and my 9 year old son's pants
Ties: $15 each with customized decals. 4 ties total
Hotels
Circus Circus: 3 nights with Adventuredome tickets, 4 buffet passes and $75 towards the Steakhouse all for $150.
Linq: 3 nights with limo transportation too and from, champagne, High Roller tickets, 2 Caesars show tickets $500
Flights
Spirit Airlines: 3 passengers with 2 checked bags and 1 carryon for $600 for all of us
Spending Money for food and entertainment
Brought $3,500 came home with $1,200
Grand total with everything was $9,844.04
Now for the fun part. The pro photos! I know I keep sharing photos but it's hard not to when it was the best day ever
Bridal portrait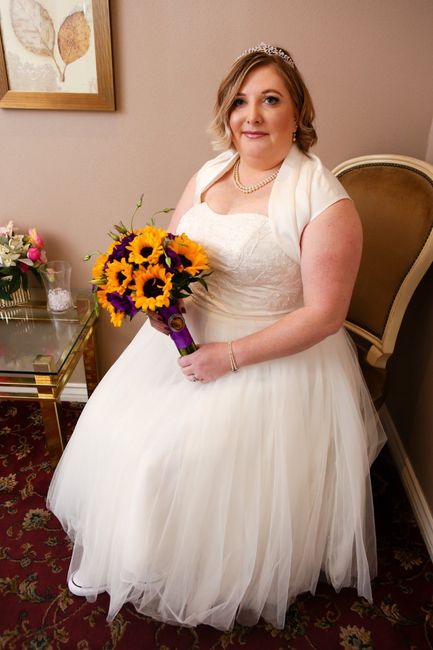 MOH and my son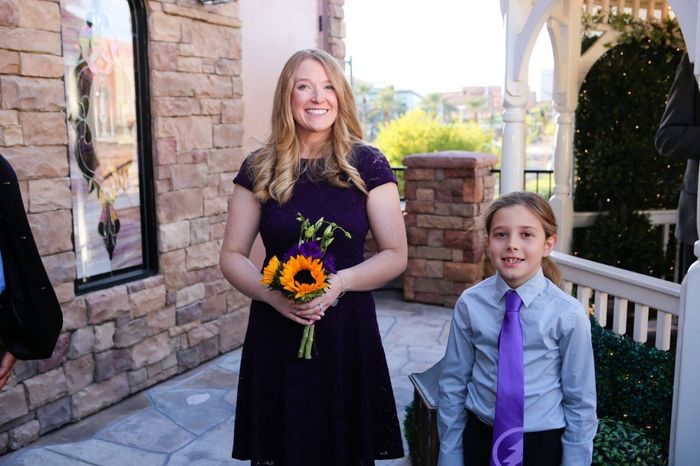 Groom, Best Person and Groomsman
Grooms' mom watching me come in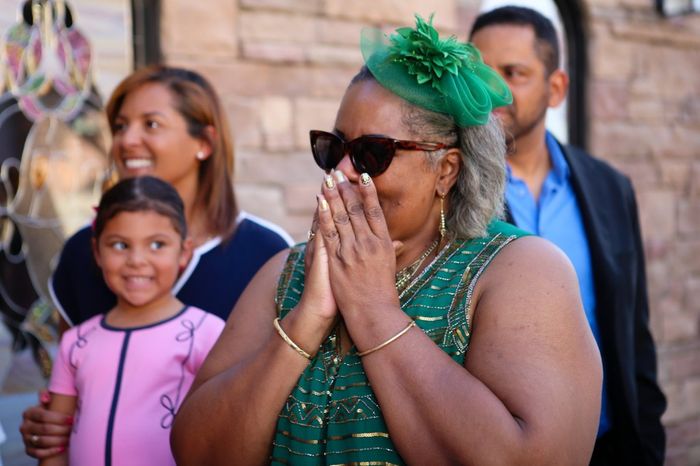 Bride's mom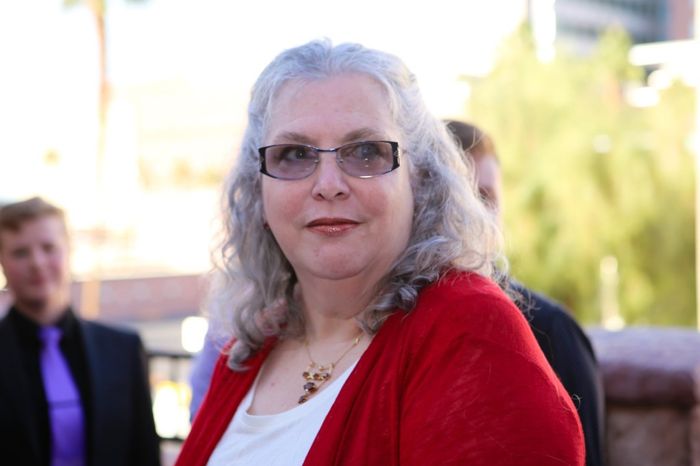 Bride with FOB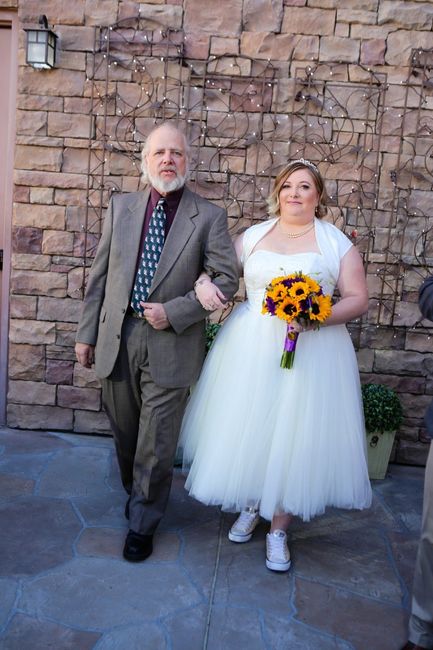 Groom seeing bride come in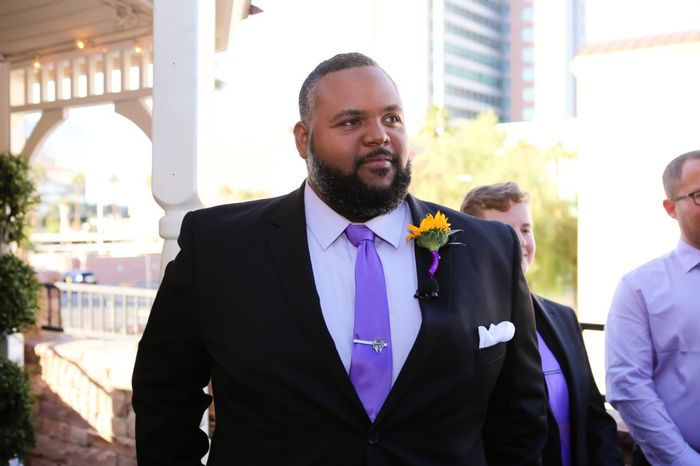 FOB shaking hands with Groom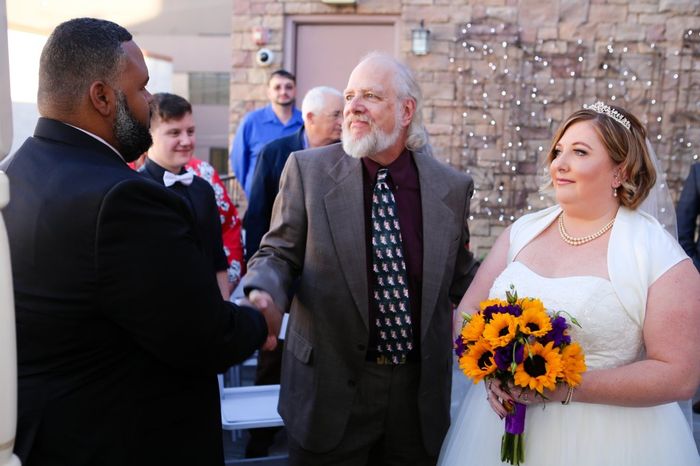 Ceremony
rings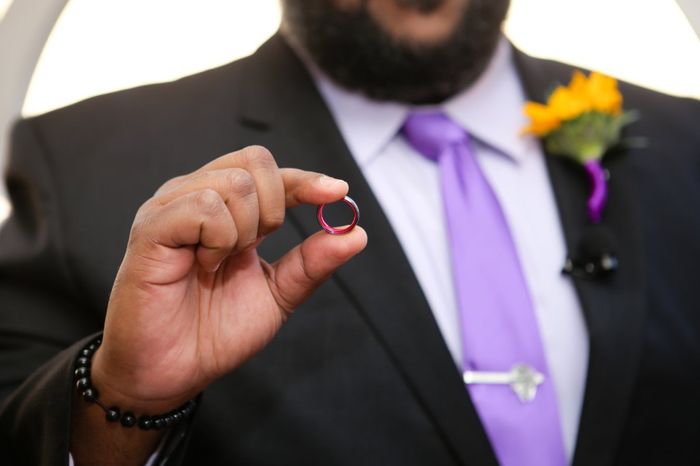 rings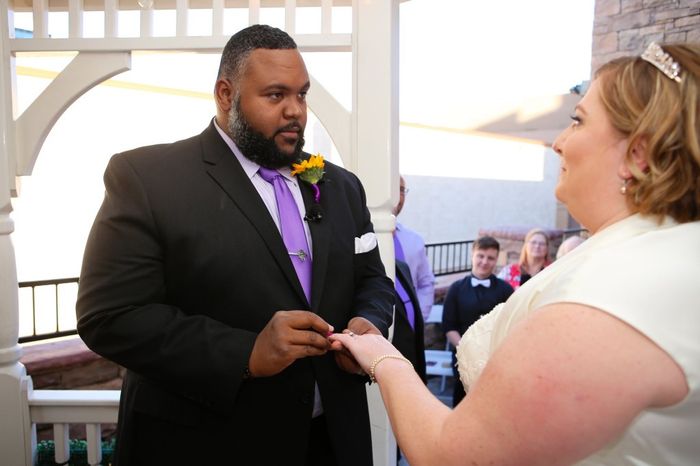 rings
rings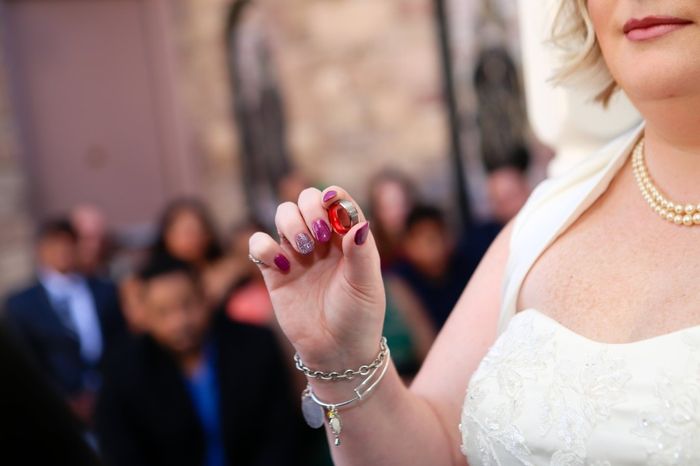 ceremony
ceremony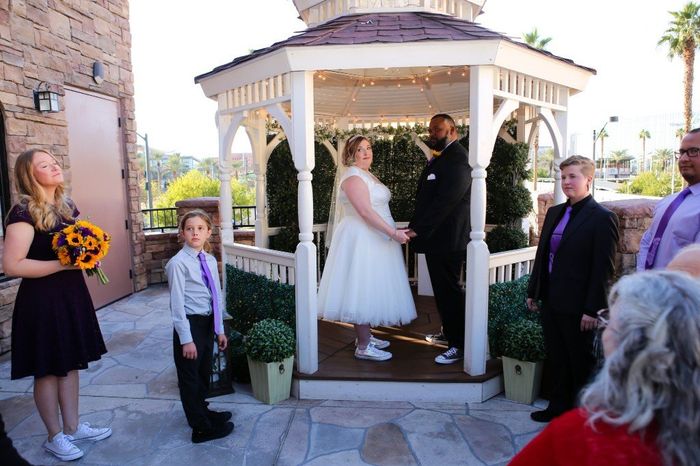 ceremony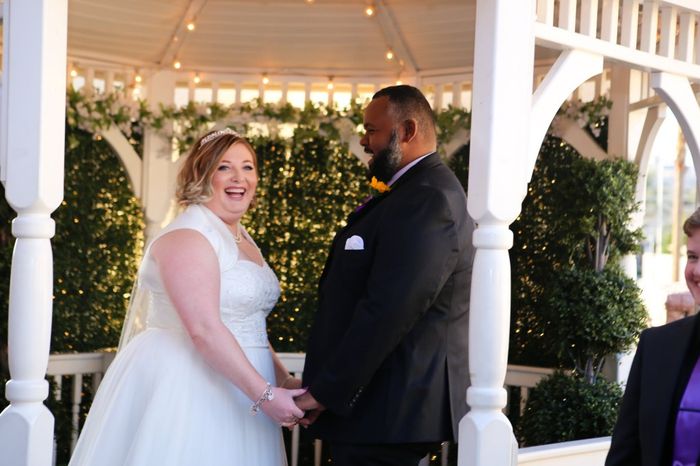 ceremony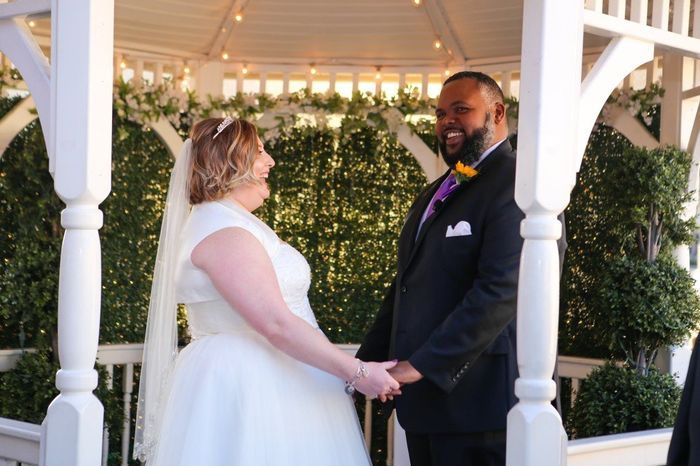 the kiss!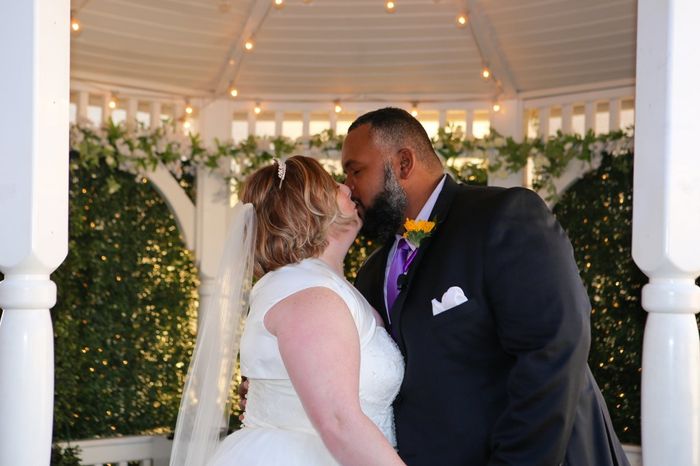 the kiss....my son looks thrilled lol
rose exchange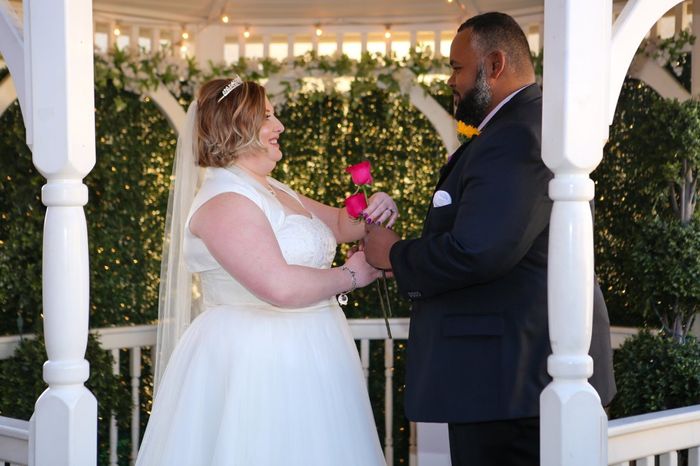 strutting out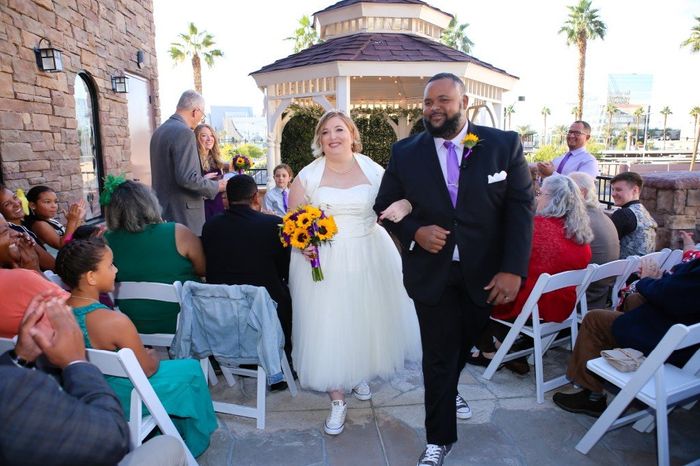 everyone!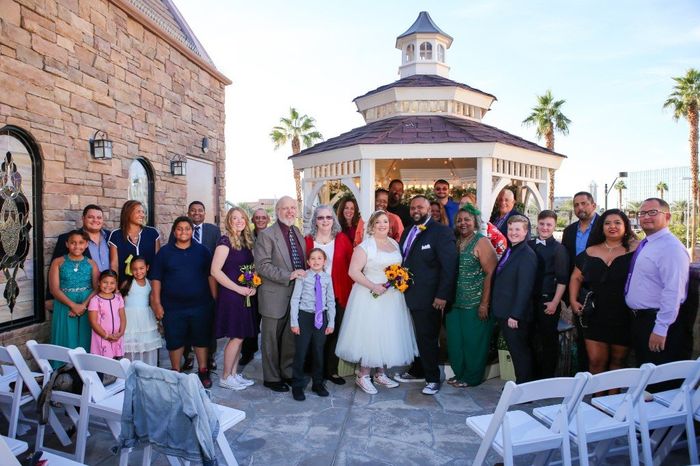 Our family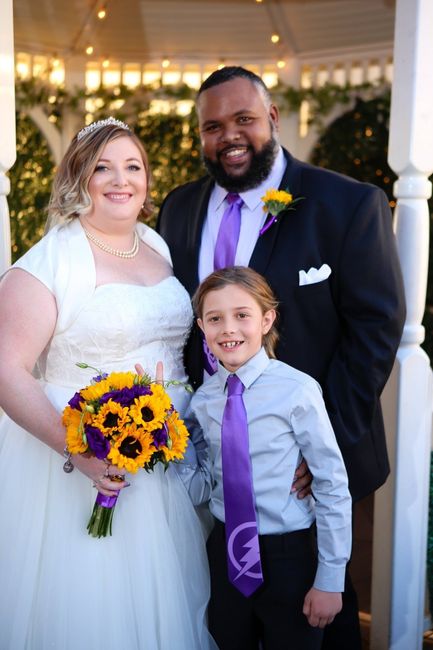 his favorite picture...he loves my blue eyes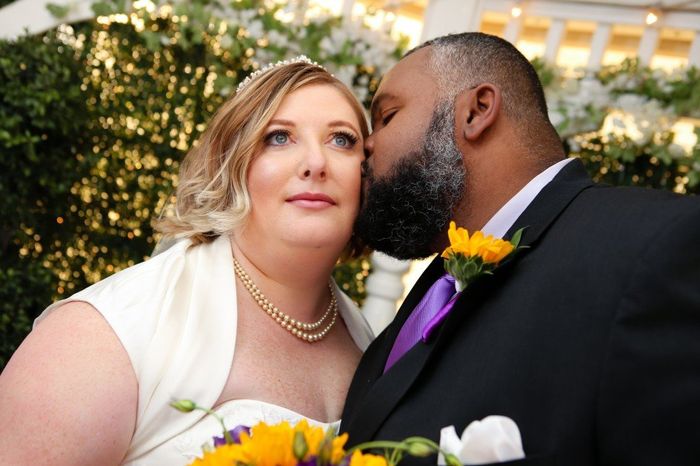 my favorite picture