Hello everyone,
A little background... I'm 37 years old, mother of two, and this is my second wedding. It's in 5 months and the ceremony will be in a garden outside a banquet hall. I was married too young the first time around and always felt my dress looked too frumpy/cute. This time around, I feel like a "woman" and I'm less (but not by much) modest nowadays. I am not into fashion and having 15 years between weddings makes me feel out of touch. I'm literally the only female in my family (my fiance, two sons, my brother, his partner, my father, and three male cats), so I don't get girly often.
Dress shopping was emotionally charged as I lost my mother a year and a half ago to cancer. I was really missing her presence and I felt uneasy the whole experience. She was my best friend. She always said I needed A-line in everything (I'm pear shaped with a short torso). (Photos are pre-alteration).
I had two girlfriends with me who are so positive and way more up to date than I am on trends etc. When I put it on, my friends and the store stylist raved about how amazing it was. I felt confident and beautiful. I know my fiance would love the back especially

I left feeling like I got a steal. I'm also on a budget. I bought this dress off the rack, and got 60% off. I have a friend that can do alterations affordably.
In true "me" fashion, I'm now second guessing the whole thing. My brain is fretting: Sale is final. It's too revealing. It's not right for my age. It's not what I had originally planned (modest, sleeves, mature). I have no business wearing something sexy. My mother wouldn't have approved. My back is exposed. Will I be able to dance? I've never worn anything form fitting before.... and on and on.
Now, my sons are more excited about the wedding and their roles in it than me sometimes. They have been so happy about me marrying their "bonus dad." Their dad and I had a strange, platonic, marriage and so they don't understand and aren't old enough to get that I want to be attractive for my new husband. I showed my ten year old and he said, "Mumma! Why do you want to be see through!!" and he looked uncomfortable. I asked my cute little jumping bean of a 7 year old, "do you like mommy's dress?" He smiled and said, "Nope!" and ran off to play some more. That's what has me the most worried.
I would love your honest opinions, because I'm clueless. I won't be hurt! But I'm pressed for time and I really need to be at ease. If that means shopping again, I should do it soon, and find a way to resell before it gets altered. Thanks!
Front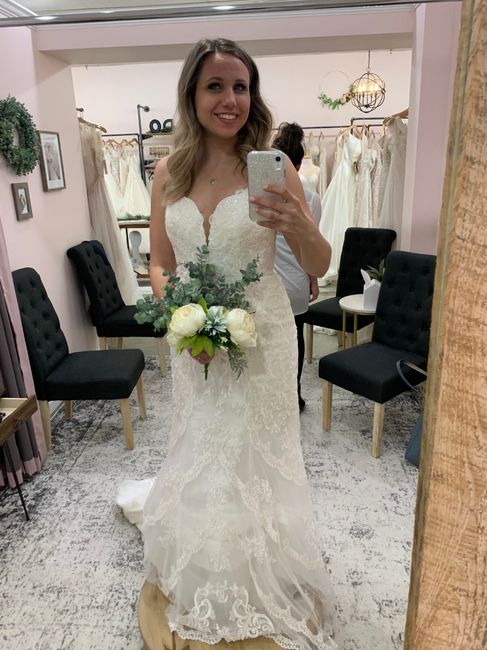 Back/Train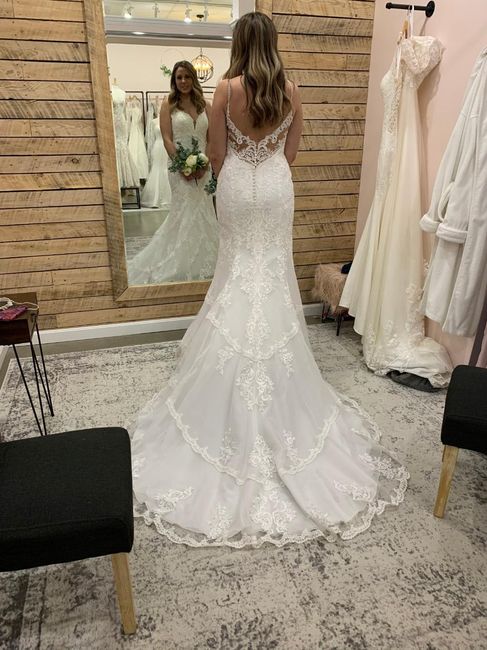 Front 2