19 Reviews
Recommended by 98% of couples
Quality of service

4.8 out of 5 rating

Average response time

4.9 out of 5 rating

Professionalism

4.9 out of 5 rating

Value

4.8 out of 5 rating

Flexibility

4.9 out of 5 rating
1 User photo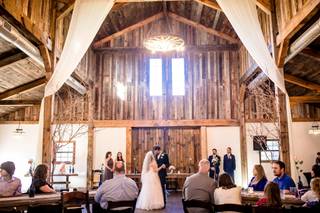 Megan R.

Married on 12/27/2018

Asolutely Spectacular

Eric is amazing! I am so happy that I hired him as the DJ for our wedding. He read the crowd perfectly and played nothing but great music. Everything went off without a hitch and it has a lot to do with the fact that he was present. I would recommend Penguin Entertainment for anyone to use at their wedding and I would highly recommend requesting Eric as the DJ. He works hard and takes everything seriously. I can't thank them enough!!

Chelsea

Married on 04/08/2017

I literally CANNOT say enough about how incredible Josh was!!! I wish I could give him 100 stars.

My husband and I got married on 4/8/2017, and hired Josh about a year in advance. From the very beginning, he was excited about the event and eager to get to know Ian and me. We live across the country, so a majority of our communication was via phone and Skype. He was incredible professional, imaginative, and personable throughout the process. He gave excellent suggestions regarding ceremony, cocktail, and reception music and took extra steps to understand our style/taste.

The day was absolutely magical, and I credit a LOT of that to Josh and Penguin Entertainment. The ceremony included 4-5 different songs which were paired together seamlessly. The cocktail hour volume and playlist were perfect. The reception playlist was a BLAST, and Josh incorporated a few special announcements (including midnight snacks and a flash mob) without batting an eye.

HIRE THEM. IMMEDIATELY.

Thank you guys so much,
Chelsea and Ian Patterson. <3

Sarah

Married on 11/04/2016

As a same-sex couple, it was very important to us to feel comfortable with who we were working with. We were out of town brides, so we met with Josh over Facetime for all of our meetings. His passion and knowledge for music is clearly evident, but it was his desire to want to get to know us as a couple that made us want to work with him so badly! Josh kept the party going all night! He made a great mash up of Beyonce songs for us, put together a great set of music for all generations and also kept in mind our do not playlist. Pricing was very reasonable for the quality of service you get. We couldn't recommend Penguin Entertainment enough, we're so happy we were able to work with Josh!

Are you interested?

Send a message

I had worked with Penguin at our company holiday parties in years past and was always so impressed. So when it came time to choose our wedding DJ, we knew where to go. Eric was our DJ for the evening. He NAILED it. I mean, best wedding playlist I've heard in a LONG time. At one point in the night, our caterer stopped to tell me it was busiest dance floor she had ever seen at a wedding. And that was truly all thanks to Eric. Prior to the wedding, I gave Eric a list of 5 "must play" songs. The songs spanned a few genres and periods so I just told Eric to go with it and create a playlist around that. Every single song he played was a hit. Even while dinner was served, I could see our guests trying to resist the urge to dance. My husband and I LOVE to dance and we were so happy that vibe resonated throughout our wedding. For an MC, Eric is not too chatty and directs the evening smoothly with humor and charisma. Leading up to the wedding, he and Josh (other Penguin DJ) were very responsive and had no trouble finding any of the songs we requested for the night. They also allowed us to rent their lapel mic for our wedding officiant to use during the ceremony. Eric is a music magician and if you want everyone to be on their feet for the entire evening, look no further. Thanks Eric!

James was the DJ for our wedding and knocked it out of the park. Working with him during the months before the wedding was awesome- we clicked musically and he knew exactly what to play, and when. I can't recommend him enough, Thank you!

Renee

Married on 10/04/2014

Josh Wilkinson is such an awesome DJ. We hired him for our wedding at Laguna Gloria and could not be happier. From the moment we met him, he always had such a positive and enthusiastic energy. We wanted to do a custom dance for our first dance. It was refreshing to see that Josh was just as enthusiastic about it as we were. The other DJ we had previously interviewed did not share this same enthusiasm. Not only was this part exciting, our photographer and event coordinator said they loved Josh too! We knew it would be perfect and we all would be one big happy family as we planned/coordinated our wedding. And you know what?.... that is exactly what happened for our wedding! My husband and I spent over 6 months in private dance lessons to make our custom first dance. Josh provided SIX edits for our first song! That was way above and beyond and he didn't ask for any extra money. My husband and I will forever appreciate Josh's very generous spirit! Our first dance rocked the house and it was so much fun. And Josh made it so easy for us to provide our must play/do not play. He is so professional and easy to work with. All our face-to-face meetings were so much fun and we could see how much experience and passion Josh had as being a DJ. He showed up to our venue early to help my coordinator and was a natural at making all his announcements. We were so lucky to have had Josh as our wedding DJ! He was awesome! We rate him ten stars out of five!!!!

Teri

Married on 04/05/2014

Our wedding planner recommended Josh at Penguin Entertainment. When I met Josh I knew immediately he was the DJ for us! Josh is very personable, professional, has excellent listening skills, interacts well with everyone, AND he definitely knows music! He was very organized and had a questionnaire that was used as a guideline to help the bride and groom plan their music preferences for the wedding. Josh was a joy to work with, and he has an enthusiasm and knowledge of music that enabled him to provide excellent musical entertainment for the entire wedding and reception. He worked with the wedding planner to coordinate the detailed wedding and reception process and they did an excellent job! The bride, groom, and parents were able to enjoy the evening without any worries! The music for the ceremony was beautiful and the reception music was enjoyed by all! We had so many compliments from our guests, the dance floor was always occupied, and Josh was a wonderful MC! What more can you ask for? Thank-you Josh--you did a wonderful job and helped make this wedding a wonderful and unforgettable event! I highly recommend Josh to anyone who needs a DJ for their event!

Hannah

Married on 04/21/2013

I cannot say enough great things about Penguin. We have used them for several events and most recently, Josh was the DJ at our wedding. He was super easy to work with and our phone calls were honestly fun. We had similar tastes in music and he seemed really excited about it. Our guests loved the music selections and I had a wonderful experience thanks to Josh! Penguin is definitely a fantastic choice.

Heather N.

Married on 12/02/2012

The guys at Penguin Entertainment were awesome... I had Eric DJ my wedding and he was amazing... He was able to get in all the "must play" songs in as well as some requests from friends/family. :) No cheesy wedding DJ's here! They are professional, fun and just all around great guys... thanks for making my reception a blast!

Casey

Married on 07/21/2012

After reading so many great reviews about Penguin Entertainment, we decided to hire them as our wedding DJ. We chose Josh in particular because he had great individual reviews and he seemed to be very experienced. Once we met Josh, we knew right off the bat he was the right choice! He was extremely considerate and helpful throughout the planning process. He met with us early on to get a feel for how we wanted the night to flow. Since we had hired both a band and a DJ, there were a few logistics to work out, and Josh was more than accommodating! Josh played during the band's breaks, acted as MC the entire night, and then took over for the later three hours of the night- all seamlessly! Josh' MC style was exactly what Jerry and I wanted. He directed our guests along throughout the night, but kept it simple and classy. He never drew unnecessary attention to himself. I honestly could not be happier with Josh' work!! He played all the right songs, at the right times and our dance floor was packed the entire night! He had every one of our guests, young and old, out on the floor! I even heard that after the last song some of our friends went up to him and begged him to play more! We can't thank you enough, Josh, for your amazing work!

Clare

Married on 06/09/2012

An outdoor wedding venue, hot June night, guests in age from 2 to at least 72 . . . and DJ Josh from Penguin had us all up and dancing until the floor had to close! He not only played every special song we'd requested, but mixed it up with a great flow that pleased the young hipsters, the old hippies, and everyone in between.

Josh was professional, courteous, and warm from our first contact, offering excellent suggestions for the formal ceremony processional music, to the party interlude selections, to the dance tunes themselves. His prompt communications were especially helpful given that we were planning this Austin wedding from New York and California. He also worked very smoothly with our local coordinator and the band, making important announcements during the reception without being intrusive or over-bearing. An all-around asset to this very important day in our lives.

I recommend Josh highly: hire him and enjoy your party as much as your guests do!

Natalie

Married on 01/21/2012

Penguin Entertainment is an amazing DJ service and I am so glad we hired them for our wedding! Josh Wilkinson is the absolute BEST! He was always available throughout the planning process and even met us a few times in order discuss things face to face. He is so extremely dedicated, professional, and knowledgeable in what he does. Everything during the reception went extremely smoothly, and he exceeded our expectations on any DJ that we could imagine to get. The only regret I have is that we will not be able to spend any more time with him because he was so awesome!

Suzanne

Married on 12/03/2011

As an Event Planner, I've worked with Josh and his team of DJs (Eric & Justin) on many occasions and they are BY FAR the most professional, responsive, and attentive DJs in the local industry. I don't want to work with anyone else!

Amy

Married on 04/25/2009

My husband and I met at a concert. We're big music nerds and we're kind of elitist about what we listen to. Needless to say, music is a huge deal for us. We picked Josh because he was the DJ at one of my bridesmaid's wedding in 2007 and we really liked his style. He is a great guy, really knows his stuff, and has an amazing sense of understanding what you want for your wedding, musically. We met with him and told him what we liked and didn't like and he just got it. He set the cocktail hour/dinner mood perfectly and then when it was time to dance, he had everyone out on the floor. I wish I had another event to plan soon just so I could have him do the music again, he was fabulous!

Jim B.

Married on 10/09/1994

Dan Tissenbaum (now in Houston) was fantastic. He sat down with us to "get to know us" so that the reception would be uniquely us without us having to direct every little nuance of the music. Dan was energetic and was a welcome friend at the wedding and reception.

Many of our friends have said it was the best wedding party they have ever been to. Much of that is owed to Dan's expert skills as the DJ!

Suzanne

Married on 08/29/2015

I have used Josh at Penguin for two of my events and he was fabulous both times. He had all the kids up on the floor dancing the entire time. He is a pleasure to work with. He can read the crowd and makes sure everyone is having a good time. I would use him again.

Alyssa

Married on 04/12/2014

Hiring Josh as our DJ was one of the best things we did planning our wedding. He was flawless, and everything you would want in a DJ -- passionate and super knowledgeable about music (across genres and time periods); very professional; excellent communication and response time; had good suggestions; and filled the dance floor the entire night.

We hesitated hiring him because his fee was higher than some other DJs we vetted, but it was money very well spent. We made things complicated for him by wanting classic 1940s and 1950s music for cocktail hour and dinner, classical at the ceremony, and 1980s and Top 40 for the dancing. He knew every genre in and out, was excited about our ideas, and made some great suggestions to make them even better.

As the bride, I never had to think twice about his equipment, which worked flawlessly. We saved money on hiring a ceremony musician, because Josh hit every cue perfectly. And one of the feedbacks I got from my guest was how good the dancing music was.

Not every vendor at my wedding was perfect, but full credit to Josh for doing an exceptional job day of, and throughout the planning process.

Sarah

Married on 02/16/2008

Great! Josh was our DJ and he was exceptional in every way. he played music to get the crowd dancing; and played everything I requested. Would absolutely recommend to others!

Morgan

Married on 04/11/2015

Josh (the main DJ) was very helpful and I enjoyed working with him. My actual DJ was James (really nice guy) and I was expecting really good work from him. I didn't quite get the work I was expecting. I didn't get any complaints about the DJ, but I didn't like his style so much. He asked me to send him a list of every song I wanted played, and I think maybe half of those songs (if that) were played. I've never planned a wedding before, but now in hindsight I think there was a better way to ask for the songs I wanted played, rather than having me send every song I wanted played (since he apparently didn't intend on actually playing those songs). Also, he never actually introduced himself to me. He came up to me while people were bustling my dress and asked me a question and I had no idea who he was, so that struck me as odd right off the top.
The rest of the company seemed great. If I could now, though, I would go back and tell myself to go with a different DJ

Penguin Entertainment's reply:

Hi Morgan, thank you for the candid feedback. I'm very sorry that everything was not as you'd hoped, but your comments are the kind that really help us learn and grow. Following our discussion, James has revised how he collects the information needed and has taken your other feedback to heart. We've also issued your rebate. While I know that won't turn back the clock, I hope it's of some help. Thank you again, most sincerely, Josh Wilkinson.
Are you interested?
Send a message