50 Reviews
Recommended by 100% of couples
Quality of service

5 out of 5 rating

Average response time

5 out of 5 rating

Professionalism

5 out of 5 rating

Value

5 out of 5 rating

Flexibility

5 out of 5 rating
Awards
5 User photos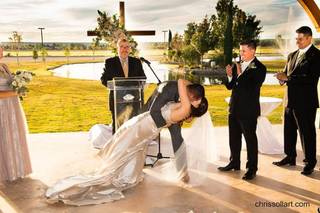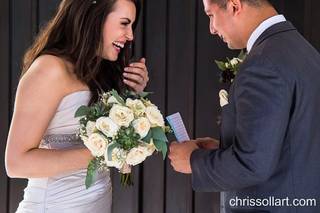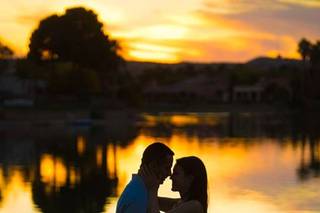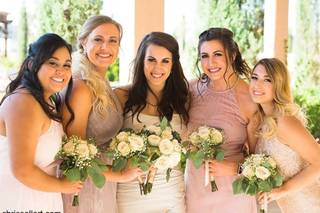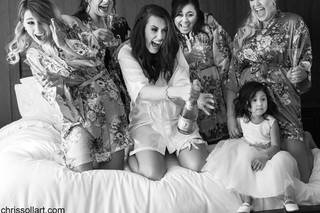 Rosie

Married on 09/22/2018

Captured our Special Day Perfectly!

Captured our special day perfectly. Chris Sollart and staff were very easy to work with. Very happy with how all the Wedding Photos turned out.

Michael R.

Married on 09/22/2018

Great Pics

Chris was very professional and easy to work with. Our pictures look great. Thanks Chris for all the hard work.
-------------------------------------------------------------------------------------------------------------

Jenny

Married on 03/03/2018

Couldn't be happier!

Chris is such a pro! Everything from the first contact to the delivery of the gorgeous album went as smoothly as possible. And the photos just took our breath away! Way beyond our expectations! We're recommending Chris to all our friends,

Are you interested?

Send a message

Abby

Married on 11/11/2017

Chris photographed my wedding in El Paso, TX and I couldn't be happier with his services. He was great to work with and we all felt extremely comfortable with him. His pricing and packages are very affordable and 100% worth it. You can tell that Chris takes great pride in his work, as he should - his photos are phenomenal.

+ 2

photos

Stacey

Married on 10/20/2017

Highly recommend Chris for any special event! We hired him for our wedding and had a great time working with him. The photos him and his team took are spectacular

Sloan

Married on 09/16/2017

As an out of town bride I have to say Chris was so helpful and easy to work with throughout the entire process of planning my wedding and working with him from a distance. he was attentive and quick to get back to me any time i had questions. He was also great at helping me come up with a timeline for the big day to make sure we had time to catch all the photos that were important to us! After the wedding Chris had the photos back to us within about a week for us to look at, which i thought was an amazing turn around time. The photos all turned out beautiful. My husband and I were so excited and pleased with all the stunning images he captured during the entire day. Chris is a very talented photographer and we love and treasure the special images he caught on camera. If your looking for a photographer be sure to check out Chris!

Spencer

Married on 06/28/2016

Looking for a wedding photographer was a daunting task, we wanted really high quality pictures from a photographer who was easy to work with and added their artistry to the shoot instead of just taking cookie cutter wedding pictures. Of course we wanted all of this to fit within our budget. We found Chris on Weddingwire and were somewhat taken aback...he ticked every single one of our boxes...from his website we saw he was a fantastic photographer with an artist's eye and his prices were competitive. We scheduled a meeting and immediately found he was very easy to work with. Chris photographed our wedding this May as well did an engagement shoot for us this past January. He is very professional, easy going, and has a way of making you feel at ease in front of his camera. He shoots as many pictures as he feels capture the occasion...and he takes a lot. It makes choosing which ones we liked the best very difficult because they are all excellent. He is also extremely quick with the turn around between Wedding and photograph delivery. We were still on our honeymoon when we received an email from him saying our pictures were ready to see! I would absolutely recommend Chris to anyone!

Kaitlin

Married on 05/28/2016

Chris recently photographed our wedding last May and did an excellent job. Chris was professional, easy to work with and very flexible. I don't always love the way I look in photographs and was very nervous to see the photos from the wedding, but I shouldn't have been. The majority of them are flattering, well composed and beautiful. Our biggest problem has been deciding on which ones to put in our album! Too many to choose from! He takes as many pictures as you want/need and is very flexible about adding additional time. Highly recommend!
• • •

Chris is a fantastic photographer! We could not be more pleased with our wedding photos. He is very professional and easy to work with. His experience lends to his excellent preparation and planning which resulted in no stress for us when it came to photography on the wedding day. Chris is easy to communicate with and always responds in a timely manner. We also ordered a photo album through Chris, which came out excellent! We are very pleased with Chris' work and highly recommend him.

Bill

Married on 08/31/2013

We used Chris for 2 weddings adn cannot say enouhg about him. Preofessional, talented and just the right personality. fantastic!

Peter

Married on 08/25/2013

Chris Sollart did an amazing job at our daughter's wedding. Not only are the pictures beautiful, but he worked very well with everyone involved. He offers a variety of album choices and will work with clients to provide what they'd like. Overall outstanding service.

Shari

Married on 08/24/2013

Chris is a remarkable photographer and a terrific person as well. Incredigble photos, very helpful in every way. I cannot imagine any photographer better than Chris.

Shomir

Married on 08/24/2013

I had Chris for two weddings in 2 weeks. Chris excelled at both weddings showing up early, helping us set up and taking excellent pictures. His presence was calming and while he was never pushy he definitely got the job done. I would highly recommend him for any weddings. Chris knows what hes doing.

Julia

Married on 08/24/2013

We absolutely loved working with Chris! (And his assistant Alison). He communicated well with us before the big days (two weddings one week apart), which could have been a very complicated situation. He kept everyone at ease during portraits, and kept other camera-happy guests at bay as well. He took some incredible shots during the receptions that completely captured the feel of the events, and look like pieces of art. He also showed up early to both venues and everything ran very smoothly. We highly recommend Chris!!!

Rita

Married on 08/17/2013

Chris is an amazing photographer. He gives you all the information upfront. He arrived on time and was all set up, ready to spring into action. He is incredibly flexible and worked with us even though the wind was blowing fiercely at our venue, he waited for the right light to get some very beautiful angles. Then he took the most amazing photographs ever. Ours was an intricate Indian wedding with multiple steps and he worked around all our requirements managing to take the most awesome pictures. I have no hesitation in recommending Chris Sollart. I will definitely use him for our other celebrations and several of our friends have asked for his number.

Uttam

Married on 08/17/2013

Chris was incredibly helpful to my son and daughter in law on their wedding day. He handled our large family well and the pictures came out beautifully. I would highly recommend Chris Sollart to be the photographer in any wedding.

Frank

Married on 08/16/2013

I am not a bride or a groom; I am a Wedding Officiant that has worked with Chris Sollart on more than a dozen occasions. I am a huge fan of Chris' photography. He has an eye for creating and capturing beautiful images of the couples I work with. I am especially happy with the photos of all of the Gay and Lesbian couples I have created wedding ceremonies for. I think it takes a special kind of photographer that can capture the love and affection of two people standing together professing their love for each other, as well as the private photos taken in and around the various venues these wedding have taken place. Chris is the first photographer that I refer to all of my brides and grooms.

Veronica

Married on 08/10/2013

If your looking for a wedding photographer, lucky you, your search is over. Chris is an amazing photographer in every way! Very professional, makes people feel (and look) good, provides excellent customer service, and has extremely high integrity. He captured the event beautifully, and was a complete delight to work with through out. I can't recommend him highly enough!

Heather

Married on 08/03/2013

Chris did an excellent job at our wedding, I had high hopes for the photography and Chris met every one of my expectations. The process day of went extremely smoothly and was stress free. One of the best days on our honeymoon was being able to look through the photos which he had posted within a week after the wedding. Overall my experience was excellent and I would recomment Chris to everyone I know.

Kim

Married on 08/03/2013

The pictures that Chris Sollart took at our daughters wedding are breathtaking! Chris began pictures prior to the ceremony, during the ceremony and throughout the reception. Chris was polite, professional and hard working. Christ has a way of making you feel natural and very comfortable. He took shots that were artistic, creative, fun, sentimental and romantic. His dedication captured the emotions and beauty of the entire day. We are truly thankful for the cherished memories we have in his beautiful pictures.

Chris and Allison were the photographers for a wedding I coordinated last month. In addition to the beautiful moments they captured, I was so impressed with the level of support they gave to the couple before the wedding. They provided critical information that helped us develop a seamless day-of schedule and allowed me work with the venue to have everything ready. I knew exactly what they needed to have happen and when. They were calm, flexible, and focused on making sure the couple got the individual and group photos they wanted, as well as had a variety of creative photographs outside to choose from. The photographs themselves are beautiful and were ready for viewing within a week of the wedding. I highly recommend Chris and Allison - they were true professionals and clearly experienced in navigating the specific challenges and opportunities that come up during weddings - and they were able to capture the emotion and sweet moments everyone wants to remember.

Alicia

Married on 07/20/2013

We interviewed five photographers before meeting Chris and we decided on the spot that he was the right fit for us. When you meet him and review his portfolio we're certain you will feel the same way. For starters, he is very down to earth and made us feel comfortable through the entire process, especially on our wedding day. He promptly returned calls and emails, in all a consummate professional. Also huge Kudos to his day of assistant, Alison, who captured some amazing "bride getting ready" shots.
Of course, what really matters is how our final photos look and that is where he has far exceeded our expectations. We can not look at our pictures without feeling a swell of emotion, they transport us right back to that most memorable day. We are so very grateful for the time he took to scope out our venue, find the best shots and capture the essence of the day. Unique, personal and brilliant - that sums up Chris Sollart Photography.

Sandy

Married on 07/05/2013

Chris and Alison took fabulous pictures of our daughter's wedding. They captured all the beauty of the day along with all the fun we all had.

Glenn

Married on 07/04/2013

My wife and I could not be more delighted with Chris's work - he is professional, artistic, patient and incredibly easy to work - the images he took truly captured the magical romantic splendor we experienced during this once in a life time event. Thank you Chris!

Vince

Married on 05/18/2013

Chris is very professional and patient. I have attended several weddings where he was the photog. He was very calm as the light was constantly changing, people were late, and things were super hectic, like weddings can be. The results were super high in quality, and there was a ton of shots taken, all with professional results. You can get good results sometimes but these were all consistently great. The lighting was consistent in the results too, you can see that it was planned that way. I have recommended him before.
Are you interested?
Send a message