Mississippi wedding venues are known for highlighting Southern culture and charm. The state offers plenty of historic sites, rustic barns, and other ceremony and reception spaces that create a soulful vibe for your big day. That's why it's no surprise that the Magnolia State has some of the coolest wedding venues for every type of celebration. Whether you're looking for a industrial chic barn or a setting that pays homage to your alma matter, we've rounded up the top wedding venues in the different regions and towns of Mississippi. No matter what type of affair you're throwing, big or small, modern or classic, there's something for everyone at one of these wedding venues in Mississippi.
Before we get y'all too excited about these top-rated Mississippi wedding venues, we suggest you brush up on the state's marriage laws first. Couples getting married in Mississippi should definitely read over any rules or regulations needed for obtaining a marriage license well before their big day. Knowing your marriage laws ahead of time, (like age requirements, having a driver's license, or providing a copy of your birth certificate) will bring you one step closer to marrying at your dream wedding venue in Mississippi.
Ready to find your dream wedding setting? Here are the coolest wedding venues in Mississippi for a killer celebration.
The Best Wedding Venues in Jackson, Mississippi
The birthplace of many world-class artists and musicians, (like The King of Rock!), the capital of Mississippi has some of the greatest wedding venues for music- and art loving couples. Nicknamed "The City With Soul," Jackson has tons of unique event spaces that are perfect for entertaining guests all night long. Couples can choose between several concert venues, like the popular Duling Hall, or even opt to host their special day at the state's art museum, Mississippi Museum of Art. Whichever you decide, Jackson, Mississippi wedding venues are guaranteed to evoke an unique vibe, thanks to the capital's vibrant Blue's focused culture.
Read More: 7 Wedding Venues in Jackson, Mississippi Every Couple Will Love
The Best Wedding Venues in Oxford, Mississippi
For couples wanting a college town setting for their "I dos," look no further than Oxford, Mississippi. This small town is known for its charming spaces, a gorgeous college campus (Hotty Toddy!), and rich history — making it an ideal pick for hosting all types of weddings. Throughout the town you'll find wedding venues nestled along the historic downtown square, or even some unforgettable backdrops located just steps away from the Holy Grail of tailgating, The Grove. From the eclectic bed and breakfast, The 5 Twelve, to the majestic Castle Hill, couples planning a wedding that's filled with history and college spirit should check out these popular wedding venues in Oxford, Mississippi.
Read More: 6 Wedding Venues in Oxford, Mississippi for a College Town Celebration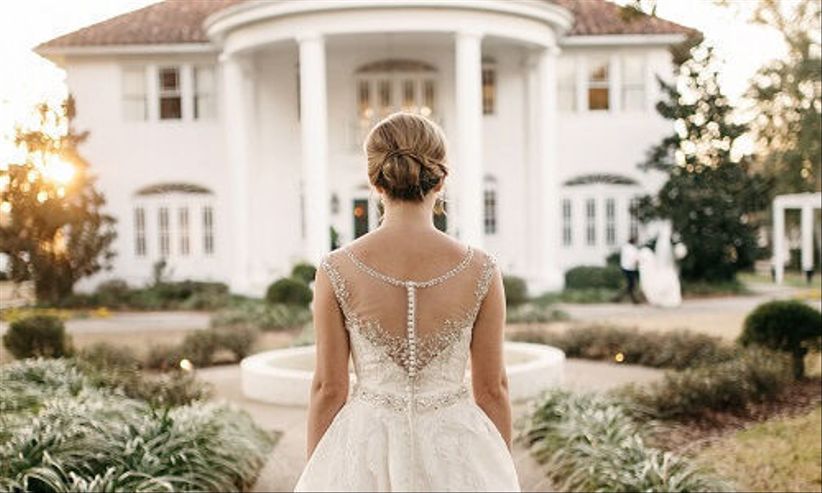 The Best Wedding Venues in the Mississippi Gulf Coast
Since the Magnolia State has a shoreline on the Gulf of Mexico, couples can easily plan a wow-worthy waterfront wedding on the Mississippi Gulf Coast. The Coast, which is what locals like to call it, has plenty of beachy backdrops and gorgeous garden ceremony sites that are ideal of an outdoor, Southern soiree. Some of our favorite places for swoon-worthy vows and celebrating include the beach setting at the Courtyard by Marriott Gulfport Beachfront, the lakefront ceremony site at the Dock, and the pristine gardens and lawn at the beautiful Henry Smith House. So, if you're looking for an outdoor area for both your ceremony and reception, we think you'll fall in love with these coastal wedding venues in Mississippi.
Read More: 7 Mississippi Gulf Coast Wedding Venues for a Southern Affair
The Best Wedding Venues in Hattiesburg
Rustic couples on the hunt for a laid-back and casual wedding venue in Mississippi should definitely check out these picks in Hattiesburg. Hattiesburg is the place for throwing a countryside celebration. The Southern destination is nestled right in the hearty pines of the Magnolia State, which means its venues lean more to the informal and outdoorsy side. Couples will find plenty of barn and farm venues, as well as other event spaces that provide acres upon acres of open pasture (hello, ultra-romantic couple portraits!). From the relaxed but elegant Barn at Bridlewood to the oh-so trendy industrial chic Venue at The Bakery building, these wedding venues in Hattiesburg, Mississippi are perfect for a country-chic bash.
Read More: 6 Rustic Wedding Venues in Hattiesburg, Mississippi