The 11 Hottest Honeymoon Sex Tips, From the Experts
Don't stress about honeymoon sex! Experts share their top advice on how to make your honeymoon a truly memorable adventure.
We have included third party products to help you navigate and enjoy life's biggest moments. Purchases made through links on this page may earn us a commission.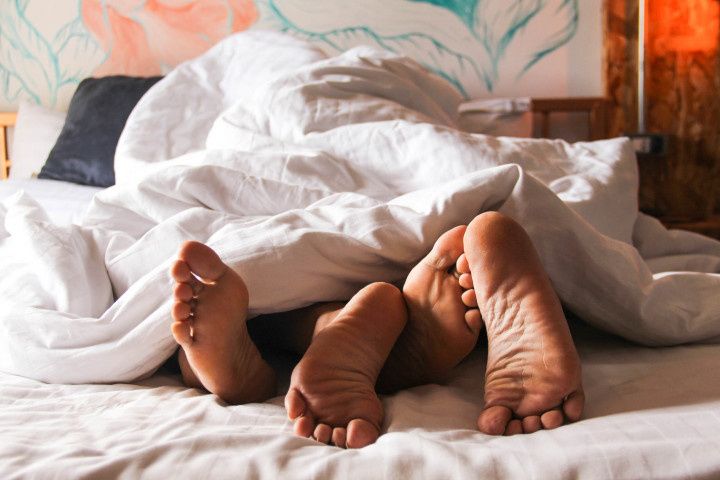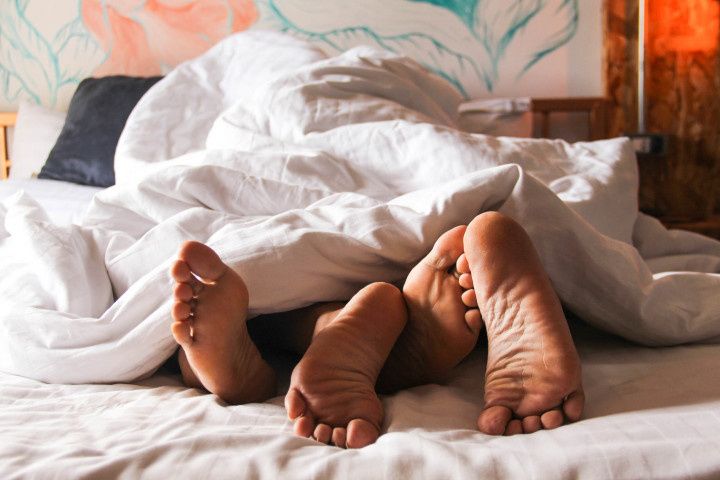 Now that the wedding has come and gone, it's time to gear up for your honeymoon—a days- or weeks-long period of uninterrupted bliss with your new spouse. Topping the agenda, after much-needed relaxation time is, of course, honeymoon sex! After all, you've just committed to spending the rest of your lives together and potentially having a family of your own together—there's no time like the trip of a lifetime to hit the sheets and have some fun!
While it's a great thing to go into your honeymoon with a revved up sex drive, experts warn against placing too much pressure to make your honeymoon sex the best you've ever had. "Don't set yourself up for failure by having expectations that are too overblown," says Tina B. Tessina, Ph.D., psychotherapist and author of How to Be Happy Partners: Working It Out Together. "If your only expectation is to relax and enjoy each other, you'll find that however it goes will be fun and memorable."
You're likely exhausted from planning the biggest celebration of your entire life and have been laser-focused on nitty-gritty details for months—or years. "Your honeymoon is the week off that you've been looking forward to—the days that you can finally relax, enjoy yourself, let your hair down, eat what you want, drink margaritas, etc.," says Tammy Nelson, Ph.D., certified sex and couples therapist and the author of Getting the Sex You Want. "You're more likely to sleep than to want to stay up all night for wild or passionate sex." Still, there's no reason you shouldn't have great sex on your honeymoon, even if you're exhausted and slightly burnt out. Here, Dr. Nelson and other sex therapists share their hottest honeymoon sex tips for newlyweds.
Take the pressure off.
Putting too much pressure on honeymoon sex to be out-of-this-world amazing (especially if your first time) can sometimes create anxiety for it to go perfectly, warns Jenni Skyler, Ph.D., L.M.F.T. and C.S.T., sex therapist, sexologist and licensed marriage and family therapist for AdamEve.com. "That anxiety will ultimately be self-sabotaging," she says. "Going slow, especially the first night, creating low pressure expectations, and allowing the body to flow from a place of relaxation will be most helpful."
Don't overdo activities.
If your main goal is to have a lot of great sex, opt for a chill honeymoon that's not to strenuous or demanding. "If you plan a trip filled with activities, you're less likely to have the time and energy for high-quality intimacy and connection," says Antonia Hall, psychologist, sex and relationship expert and author of The Ultimate Guide to a Multi-Orgasmic Life. "Instead plan an easy-going vacation on a beach, vineyard or another low-key place that inspires romance and cuddly activities."
Communicate.
While we might not consider talking things out as part of a healthy sex life, it most certainly is, according to experts. "One of the biggest hurdles that hinders a rocking sex life is a lack of communication between partners," says Hall. "Saying 'yes,' or 'more of that' can let your partner know what is working." Likewise, she recommends paying close attention to what your partner prefers, so you don't slip into a rut when you're back at home.
Enhance the ambiance.
Depending on your honeymoon locale, whether it's a nearby destination or international, in a hotel room or an AirBnB, you may need to up the ambiance level to make it more sexy. Dr. Skyler recommends thinking about the set and setting. "Maybe you want rose petals, candles, champagne, and lots of cuddling, maybe you want a giant screen with sexy erotica playing or maybe you want a huge box of costumes for endless role play," she says. "Every married couple may like different things, so make sure you chat with your partner about what kind of mood you are going for."
Bring excitement into bed.
if you and your partner have discussed new sex positions, sex toys, role play or light bondage and haven't tried it yet, Dr. Skyler says that your honeymoon could be a fun time to bring in a little novelty. "A little novelty can usually bring some extra sexual heat to an erotic honeymoon experience," she adds.
Fantasize.
One way to turn your honeymoon into a hot vacation? Share one hot fantasy a night with each other. "Make a promise with to your spouse that you will tell them one fantasy that you have never told them before for each night of your honeymoon," says Dr. Nelson. "The important part of this exercise is that you each understand that no one expects that any of these fantasies have to be taken into action." She recommends talking about what turns you on and what you might like to try with each other and then putting to action the ones you feel comfortable trying.
Have a drink, but not too much.
A small amount of alcohol can soothe nerves and calms jitters, but Dr. Tessina warns that drinking too much alcohol can dull the sexual response. "If your honeymoon begins right after the wedding, keep your drinking to a minimum before your wedding night," she says. "A little bit will help, too much will lead to disappointment."
Show appreciation.
Showing your partner all the ways in which you appreciate him or her will always be beneficial to your relationship. Dr. Nelson suggests upping the appreciation-showing during your trip if you want to have hot honeymoon sex. "You always get more of what you appreciate," she says. "This is a secret that will help you for the rest of your marriage."
Switch off being in charge.
Unless you have a relationship where one partner is always sexually in charge and the other is more submissive, Dr. Skyler recommends taking turns being the sexual director while you're honeymooning. "Choose which day you are the director and create your set and setting, and think through what you want to emerge, and at what pace," she says. "Taking turns sets up the relationship to mutually give and receive as the couple moves forward in life."
Keep things relaxed.
According to Dr. Skyler, the best sex often flows when we are relaxed. For this reason, she urges couples to create a honeymoon scenario that allows both partners to feel at ease. "Some might need more adventure, some might need total off-duty time," she says. "Either way, compromise to ensure both partners get their needs met and feel relaxed enough to connect sexually during or after!"
Make foreplay an enduring feature.
Dr. Jacquie Del Rosario, a marriage coach, recommends adding in foreplay throughout your getaway without actually giving into having sex. "Hold back the drive to fulfill your wantonness until that evening," she says. "This stirs up a stronger passion for one another and is more likely to yield good sex."