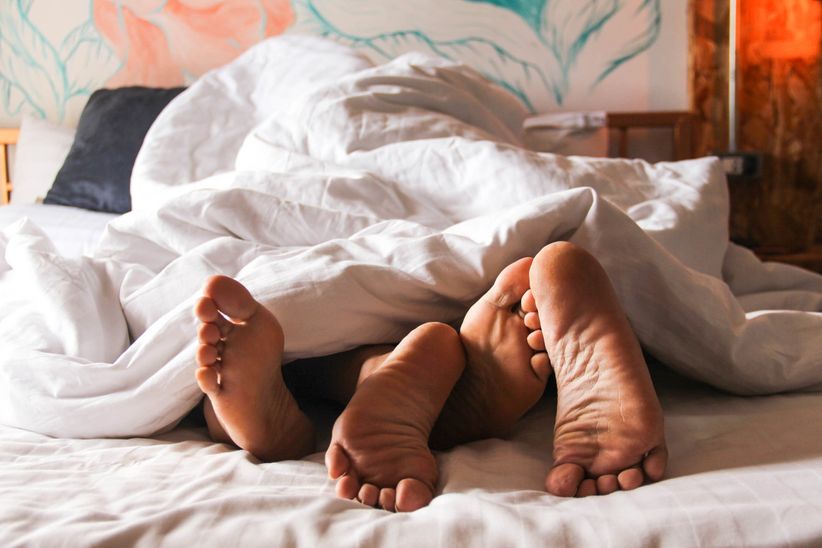 Now that the wedding has come and gone, it's time to gear up for your honeymoon—a days- or weeks-long period of uninterrupted bliss with your new spouse. Topping the agenda, after much-needed relaxation time is, of course, honeymoon sex! After all, you've just committed to spending the rest of your lives together and potentially having a family of your own together—there's no time like the present to hit the sheets and have some fun!
While it's a great thing to go into your honeymoon with a revved up sex drive, experts warn against placing too much pressure to make your honeymoon sex the best you've ever had. You're likely exhausted from planning the biggest celebration of your entire life and have been laser-focused on nitty-gritty details for months—or years. "Your honeymoon is the week off that you've been looking forward to—the days that you can finally relax, enjoy yourself, let your hair down, eat what you want, drink margaritas, etc.," says Tammy Nelson, Ph.D., certified sex and couples therapist and the author of Getting the Sex You Want. "You're more likely to sleep than to want to stay up all night for wild or passionate sex."
Still, there's no reason you shouldn't have great sex on your honeymoon, even if you're exhausted and slightly burnt out. Here, Dr. Nelson and other sex therapists share their hottest honeymoon sex tips for newlyweds.
Don't overdo activities.
If your main goal is to have a lot of sex, opt for a chill honeymoon that's not to strenuous or demanding. "If you plan a trip filled with activities, you're less likely to have the time and energy for high-quality intimacy and connection," says Antonia Hall, psychologist, sex and relationship expert and author of The Ultimate Guide to a Multi-Orgasmic Life. "Instead plan an easy-going vacation on a beach, vineyard or another low-key place that inspires romance and cuddly activities."
Communicate.
While we might not consider talking things out as part of a healthy sex life, it most certainly is, according to experts. "One of the biggest hurdles that hinders a rocking sex life is a lack of communication between partners," says Hall. "Saying 'yes,' or 'more of that' can let your partner know what is working." Likewise, she recommends paying close attention to what your partner prefers, so you don't slip into a rut when you're back at home.
Fantasize.
One way to turn your honeymoon into a hot vacation? Share one hot fantasy a night with each other. "Make a promise with to your spouse that you will tell them one fantasy that you have never told them before for each night of your honeymoon," says Dr. Nelson. "The important part of this exercise is that you each understand that no one expects that any of these fantasies have to be taken into action." She recommends talking about what turns you on and what you might like to try with each other and then putting to action the ones you feel comfortable trying.
Show appreciation.
Showing your partner all the ways in which you appreciate him or her will always be beneficial to your relationship. Dr. Nelson suggests upping the appreciation-showing during your trip if you want to have hot honeymoon sex. "You always get more of what you appreciate," she says. "This is a secret that will help you for the rest of your marriage."