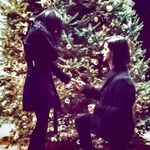 View Quoted Comment

Your face in that second one! PERFECT

View Quoted Comment

This app and the way the forum discussion or design is so confusing I'm probably blowing everybody up but I've been meaning to reply to just years I really don't understand this user interface and the fact that you can't delete post is crazy! But I did respond to those I just think I accidentally posted it as a discussion response ... oops

Our wedding will be 12/18/2020
we are stuck between the Providence Biltmore and the Hawthorne Hotel in Salem

View Quoted Comment

This app is super confusing to use on my phone it's so hard to find the correct comments don't feel bad!

View Quoted Comment

I'll probably do a long black veil. It's the one day of my life where I can wear one. The smaller knitted ones are gorgeous but I don't think I could pull it off. If the second dress was black, I would have sold a damn kidney for it.

View Quoted Comment

Oh I just saw your page and yeah so you do have some time but depending on where you want to go someplace is get booked that photo of you and your fiancé I assume is your engagement photo the background that house and it's gray tones is so cool and looks like you guys were made to pose in front of that! You more of an outside type? And if it's cold you may could have some cool smoke-less fire pits and flames..... for warmth and ambience! I wanted some but it will be too warm and can't find any in Florida

View Quoted Comment

YES!!! Got to Dhgate.com! Mind you it takes about a month to get/receive your order but everything I've ordered from there has been true to its description and if your not pleased you get refund and everything is done through site not vendor - consumer so there is no drama or issues! And shipping is free!!! Unless you expedite! and they actually have a lot of vendors who will custom make dresses with beading and whatever ! They have the dress or a picture of the dress on someone and then also pictures of the fabrics that you can choose from if you want it in a different color or customized based on color preference you just have to make sure you get all the measurements correct I totally forgot about that but looking at your veil I remembered because I was wanting a really cool dramatic one like that! That is stunning —- bindblowing ! Obsessed with it in black

That's such a good idea! I'm definitely going to do that. I just sent an email with a design idea to a bridal designer in Jersey who focuses on designing dresses for 'alternative brides' so hopefully I hear back from her.

So we live in RI and that photo was based out of Salem, Ma. New England winters are weird though. On Monday, it was 0° with a windchill of -18° and snowing, while tomorrow will be 53°
I would love a gothic woodsy wedding but I'm way too paranoid and nervous about the weather. It could be perfect or everyone could get frostbite, especially in December.

View Quoted Comment

VEIL GOALS!!!

Can't get over how much I Freaking love it dude!!!! Also if you haven't ordered it yet and you go to DH gate.com their prices are crazy good it almost seems too good to be true or like you're getting scammed but I swear I have ordered bags clothing hats my crystals as well as some other chandelier crystals that I couldn't find the pics for from there and it's legit..... been ordering there since last fall and at first was really thinking it was too good to be true ! But wanted to find out and after I got my first order it was exactly what I paid for and exactly like the photo so I started ordering more and more little by little and items in other categories ! But it's so nuts how inexpensive things are

View Quoted Comment

Yeah that's a hard one I would look in the farmers almanac it's not very specific but it can and usually is right about weather trends as in storms cold fronts also higher temperatures it really helped me and that's funny you said that I wonder if the one in New Jersey does Gypsy weddings their dresses are insanely cool and alternative ha ! and depending on what you find and how much they cost you still have plenty of time that if what you do order doesn't work out or you decide to go with someone else because I know ordering can be very scary you can return it and get your money back or they'll just straight up refund you if you send proof that the item is not what you wanted via picture ! I had that happen with one thing it was some moisturizer they sent me the night time when I ordered it the day time and I got a full refund! And there was no sendback required

YES THEY DO GYPSY WEDDING THINGS

check out weddingdressfantasy.com or something along the lines of that. They post things on Instagram all the time and I'm so obsessed with them.

View Quoted Comment

I find the black veil so freaking pretty. I fell in love with it. It's still bridal but it's so much more me. I'm so excited to see it come together.

I was alwaus super hesitant about that website but I've heard so many good reviews I definitely need to look because that's so cost effective

Bahahaha I feel you! But yes I love the second one! And yeah I try to keep that website my dirty little secret so feel honored I shared with you Haha jk But that seriously how I feel about it and I got so much slack from my sister and a couple of my friends for even ordering my first bag from there and I get so many compliments on it and I paid 40 bucks..... And at first I felt like I had to explain that it was fake but now I just say thank you

View Quoted Comment

Hahahahaha I totally do feel honored. You validated my reason for looking and wanting to use that website. Totally test drove it so I feel a lot better. weddings are super expensive as it is, so that dirty little secret is so very appreciated.

View Quoted Comment

The only thing about the website is there's literally millions of items on there so it does take some time to find what you want but as long as you read the fine print you'll be good you'll see that there's the same items listed but not all of them have the option to be custom made where they honestly get all of your measurements and I guess make it from a scratch ! Also you have to play around with your key terms when you're searching sometimes it won't recognize what you type in but if you try different ways of wording it you can always find something similar and from there look at what is offered close to that and usually find what you're looking for... However if you can afford to get someone to custom make it I would go that route of course plus I am the type of person who wants it now wants to see it now wants to hold it right now lol and would be crazy nervous ordering a dress online unless that was my only option or what I could afford!

View Quoted Comment

Also an amazing tool they have on there that I just recently discovered is you can upload a photo into the search bar and they will show you things similar if not the same thing that's a total timesaver sometimes When you know exactly what you want

View Quoted Comment

I say give it a shot! You have time and look at the refund policy on what you order because honestly with some of them you have nothing to lose if it isn't what you want...... And you could save so much money because wedding -anything.... is already so overpriced and some vendors get away with murder because brides are desperate and also on a time crunch! And I can't imagine how much getting one custom-made here would cost ! And it's so weird to spend thousands of dollars on something you'll never wear again but yours being a black gown who knows you might really get your moneys worth I definitely would wear that veil every single Flippin day for a year after my wedding Haha if not longer

View Quoted Comment

I spent about an hour scouring the website last night exploring my options. Definitely found ideas for my centerpieces so that was extremely useful. Once I book the venue and find out how many tables I'll have, I'm going to order!

View Quoted Comment

Side note: found a designer who is willing to customize the dress I want based on my measurements and the pictures I sent him. I'm over the moon.

View Quoted Comment

Wow Jeanelle, your wedding looked uniquely amazing! Thanks for sharing.
WeddingWire celebrates love
...and so does everyone on our site!
Learn more
Groups
WeddingWire article topics