This seems so silly to me, but I am catching a lot of flak from friends and family for wanting to have a chocolate frosted cake. Our reception package comes with the option of a few different bakeries and choices of cake, filling, and frosting. The bakery that we liked best makes cupcakes with the filling of the would be cake used as the frosting for the tasting. I am not adventurous with cake flavors and it just so happened that both of our favorite was the classic yellow cake with dark chocolate fudge "filling". Great! Well, I absolutely hate vanilla icing. If I am served a slice of cake with vanilla frosting, I eat around the frosting like a 6 year old and not eat the part of the cake that touches it. I know, it's ridiculous. I asked my fiancé if he would be ok with having them frost the cake with the same fudge that they are using as the filling since I hate vanilla, and he was on board with it. Well, ever since it came up in conversation at a family function, everyone is insisting that we must have a white frosted cake. Why? because it's traditional and taboo to have a dark wedding cake. Umm... come again? I flat out said "Well, sorry, but I want to be able to eat and enjoy my own wedding cake" and yet, everyone still is giving so much unwanted solicitation on "cake etiquette". They keep saying that the guests won't be happy with it.
chocolate wedding cake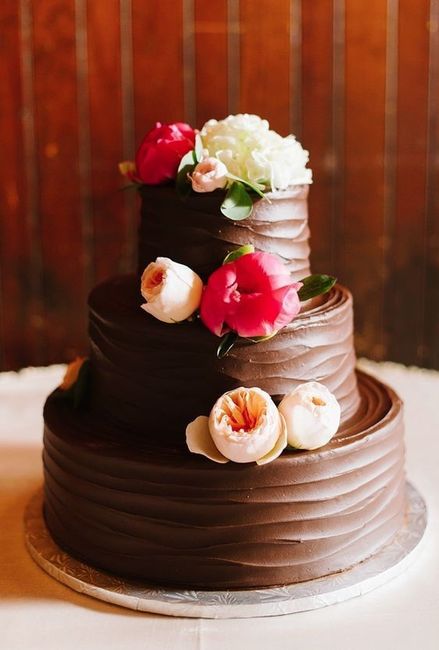 Anyone else hear of this or have an opinion on the matter? I mean, it's yellow cake with chocolate frosting, not pistachio cake with cherry filling and maple butternut frosting. (photos of random chocolate wedding cakes off Google images for reference).
chocolate cake