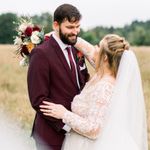 Crystal
Hello!!! I'm Crystal and my FH is Alec. We can't wait to start this new chapter in our lives! ADDENDUM- Covid-19 effected our date so we are waiting... View More
Hello!!! I'm Crystal and my FH is Alec. We can't wait to start this new chapter in our lives! ADDENDUM- Covid-19 effected our date so we are waiting another year!!!!!!! Soooooo.... here we go again I guess
Happily married 🎉
September 10, 2021
Pro Pics are here baby!!!
Crystal
, on January 25, 2022 at 1:28 AM
I'm over the moon our photos are here and I cannot express how happy I am with how our day was captured. Especially when I look back at sleepless nights and many tears shed trying to plan during a...
42