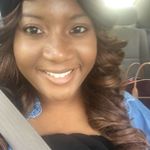 Ti'Anna
My fiance and I have been together three years and I have absolutely found my lifelong best friend! We recently go engaged May 5th, the same day I... View More
My fiance and I have been together three years and I have absolutely found my lifelong best friend! We recently go engaged May 5th, the same day I graduated college! :) I absolutely cant wait till our wedding on October 10, 2020!
Happily married 🎉
May 30, 2021

Heavy Bam!! So We Did a Thing! 6/15
Finally!!! After 22 months of planning, moving from Kansas to California, from California to Florida, shedding countless tears, having moments when I just wished we eloped, my Love and I said vows on...




26