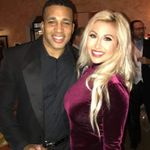 Kimberly
I'm a little bit of a fitness barbie. I do bodybuilding; my fiance and I fittingly met at the gym and still hit the weights every day together.
Happily married 🎉
August 29, 2020

I'm married! 2020 brides
Kimberly
, on October 25, 2020 at 1:21 AM
Ladies I can't believe even through COVID I wouldn't change a thing about my wedding. I've gotten my wedding pics a minute ago just haven't had a chance to share with you all. So happy for having a...
15