Reviews
4.9 out of 5 rating
Quality of service

4.9 out of 5 rating

Average response time

4.9 out of 5 rating

Professionalism

4.9 out of 5 rating

Value

4.9 out of 5 rating

Flexibility

4.9 out of 5 rating
98%
Recommended by couples
73 User photos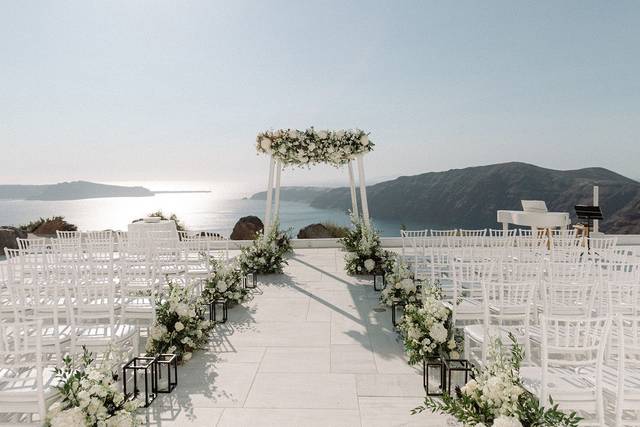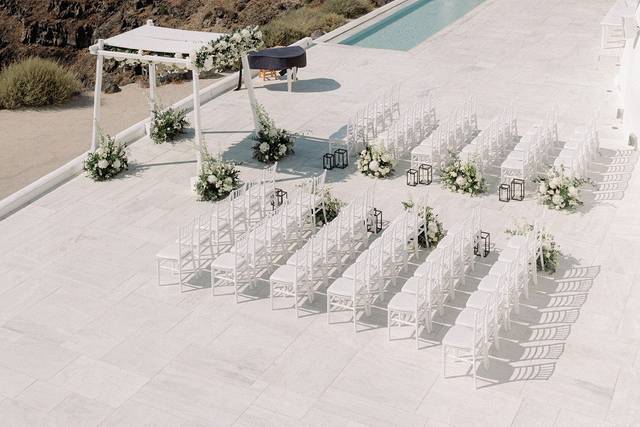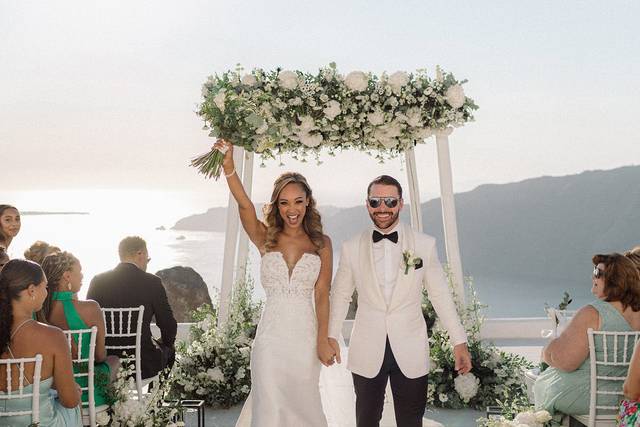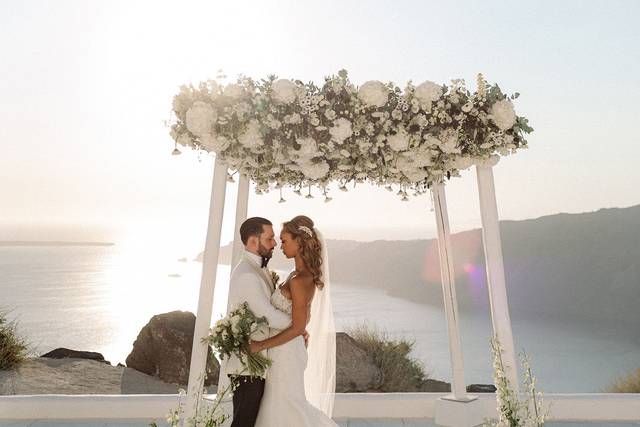 + 69

photos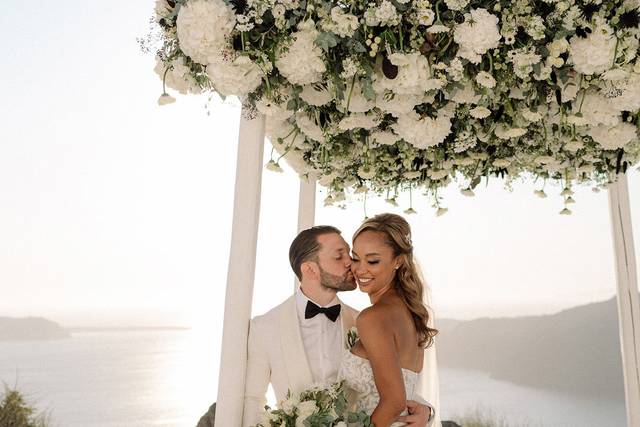 Milan

Married on 07/21/2022

The Best Team EVER

I knew I wanted to work with Stella and Moscha after just one initial Skype call with Lydia. Lydia was excited and yet calm, and extremely honest about setting expectations for wedding planning during the height of the pandemic. I tasked Lydia and the team with not only planning, but a boat ride for 50 people, welcome bags and a welcome party (we had a pretty large wedding for the island)! I am happy to report that we had a blast and our guests have admitted they will never look at weddings in the same way thanks to Lydia and the team!

Through out the process Lydia and Stella were prompt in all of their responses. Due to the pandemic, we were not able to visit the island prior to our wedding week and this gave me a lot of anxiety (very type A bride). That said, Lydia and the team sent me so many pictures and videos and really helped to make me feel at ease about EVERY selection. ( I had a several week meltdown about choosing chairs and Lydia held my hand and guided me to the right decision :) ) When it came time to make any vendor decisions they provided us with multiple truly amazing options. They have put together a vendor list that is truly remarkable and each vendor I will make you feel like a queen.

I cried real tears when we finally met Lydia and Stella. They are both warm and loving people with great energy. It truly felt as if we were long lost friends. On our wedding day Lydia made sure we ate and had everything we needed to enjoy the day. Stella made last minute changes that only a true professional would have been able to make and our guest were none the wiser. Writing this review I am teary eyed as I know (and my husband knows) I would not have made it through wedding planning without the help of Lydia, she was truly my confidant through out the last 2 years. I also know, our guests had such a great time at our weekend wedding and that is all thanks to the team at Stella and Moscha. If you want the best, you have to hire Stella and Moscha, they will make your wedding dreams come true.

+ 9

photos

Christine V.

Married on 06/24/2022

This is your sign to book them as your weddingplanners!

We had a wonderful experience with Lydia!

She helped us plan our dream wedding in Santorini - not only did she find the PERFECT venue, but organized everything around our big day like a day-prior sailing trip for our guests and all of our transfers.

Lydia handled all the communication with every single vendor - before the wedding and on the actual day which both of us loved as we had the chance to really enjoy our wedding in a stress-free environment.

Even though we had some wind on the day of our wedding and we had to change the main location of the ceremony from the rooftop to one of the balconies of the villa - she really pulled it off! I was extremely nervous but Lydia is extremely professional and due to her calming personality I trusted her 100%

I would definitely recommend her 1000%!!

Katie L.

Married on 09/03/2021

Please hire Stella and Moscha for your wedding planning needs!

My husband and I worked with Lydia from Stella and Moscha to put together the wedding of our dreams in Santorini. We were absolutely blown away. Lydia was the most responsive and kindest person. Even when I had 100 questions to ask! She was on top of everything! She had the best recommendations too! We would recommend her to anyone we speak with who wants to get married in Greece.

Are you interested?

Send a message

Indhu P.

Married on 06/28/2021

Amazing Wedding Planner

The decision to work with Stella&Moscha was the best decision we made! We mainly worked with Lydia-Katerina, who made planning a destination wedding during Covid stress free. The entire process was very smooth and efficient, from providing great options for the big items such as venues/photographers to planning the smaller details. The team went over and above helping with some bespoke requests. such as setting up a live stream for our family and friends who weren't able to attend due to covid related travel restrictions. It was absolute delight working with Lydia-Katerina and Stella, and thank you for helping create a very magical day we will always cherish! Highly recommend Stella&Moscha as a wedding planner!

Ashley R.

Married on 04/09/2021

Stress free wedding during a pandemic

You'd think it would be stressful organising a wedding during a pandemic, well it wasn't but that wouldn't have been possible if Stella and Lydia weren't there to help guide us along the way. When we found Stella & Moshca to help plan our day was the best decision we made at the very start, i had no clue how to plan a wedding in Santorini and can see that it would have been a nightmare to do it on my own. Lydia helped us with a detailed schedule on what we needed to do and what she wanted from us within a 2 month period, and yes we planned our wedding in two months!

Im not the most creative person when planning decorations but with the mood board and honest opinions from Stella and Lydia we made a wonderful setting for the day and i wouldn't have changed a thing.

On the day i didn't have to lift a finger as it was all planned and catered for, Lydia was with me from earlier in the day until the last guest left.

A big thank you from both of us and also thanks for being so flexible in a challenging time.

Georgia

Married on 09/07/2020

Baptism in Mytiline

Stella and her team helped us plan and coordinate our daughter's baptism and we could not be more thrilled with the experience. The partnership with Stella and her team was warm and caring, and the end result was exactly what we wanted. We appreciate and value all of their patience, efforts and the care that was put into making that day such a gorgeous and memorable experience!!!

Benoit H.

Married on 06/21/2020

200% recommended!

We found them online by researching, and from the first call to after the wedding day, everything was 200% perfect. We worked mostly with Lydia, and she is awesome! She was extremely professional, super flexible, helpful with every single aspect of the wedding and always going the extra mile. I cannot think of one detail to improve. She's very professional but also friendly, very honest (on what looks good versus what looks great) and also we appreciated the challenged us and put us outside of our comfort zone sometimes (without being pushy at all). Also, we are a gay couple and wanted to feel comfortable with our wedding planner, and she made us feel VERY comfortable from day 1. We would highly recommend her :)

Oliver G.

Married on 01/10/2020

More than we could have wished for

Where do we begin.... We were due to get married in June 2020. We were recommended Stella and Moscha by a family friend and it all started with a Skype call with Stella. It was after that first call that we knew they were the wedding planning team we needed.

Little did we know that when we had our first meeting that the next 18 months would be as crazy as they have been. We unfortunately had to rearrange our wedding for October 2020, in which without the amazing team would have been impossible. Stella and her team were always at the end of emails and phone calls and assisted with our ever changing requests. They planned the best two day wedding experience that we could imagine with the ever changing government restrictions and the help in choosing venues, photographers, videographers down to the flowers and every small detail wouldn't have been the same without them all.

Planning a wedding during a pandemic was extremely stressful and at times frustrating, however throughout the whole process we were always made to feel at ease and that nothing was too much hassle.

Waking up at the venue on the day and seeing all the teams set about making it the day that had been discussed on emails and in calls was a huge relief and throughout the whole day we and our guests never had to worry about a single thing. Nothing was too much trouble.

During our planning and throughout the pandemic we never thought we would get our special day but we did and if your thinking about wedding planners in Santorini think only Stella and Moscha. THE BEST IN THE BUSINESS and we can't wait to head back to Greece to thank them in person.

Olly and Olivia

+ 3

photos

Lauren N.

Married on 09/18/2019

Our dream wedding became reality

I cannot say enough good things about Stella & Moscha wedding planning. We got married in Santorini and I thought planning a wedding from the US was going to be difficult. I was totally wrong and that is all because of the wedding planning. We worked mainly with Lydia and she was more helpful than we could have ever imagined. Our day was truly perfect, we have received so many compliments on everything and it is all because of Lydia and what she did. She took the stress off of us and had every detail of the day covered. From the beginning of the planning to the big day I cannot begin to express what a pleasure it was working with them. I would definitely recommend their services to anyone planning a wedding!

Megan S.

Married on 07/09/2019

Perfection

Hiring Stella was the best thing that we did for our wedding. As we began to try and plan our elopement by ourselves from the US we knew we needed help. Stella was kind, prompt and knew exactly what we wanted. We were more than thrilled with how our day turned out and we owe it all to Stella and her team!

Maria A.

Married on 06/30/2019

Maria & Vasilios - Dream Greek Orthodox Wedding in Santorini

Stella and her team planned an unforgettable 3 day destination wedding for over 120 guests that was beyond our expectations in Santorini, Greece.

We are from the US, and we worked with Stella via email and Skype to pick wedding event venues including our welcome dinner event, sunset motor yacht cruise, church & reception venue (which we also stayed in), decide on a style, choose vendors, band, DJ, hair/makeup, decor etc. From the beginning, Stella took time to get to know us and listen to what we were looking for in a wedding, from that she made knowledgeable, customized, and thoughtful recommendations for everything. Because of this, Stella made the process extremely stress free and seamless on our end.

When we got to Santorini, Stella and her team handled everything from start to finish. She took care of us like we were family, and she completely took the stress off of us so we could enjoy our wedding week and be present in the moment. Stella also managed the process with the local priest at the Ypapantis Cathedral in Fira to have 2 Greek Orthodox Priests from the US as well as the Archbishop of Jerusalem perform our wedding service in his church. This was not an easy task, so we have great appreciation for her work on this.

On our wedding day there was extreme wind, but we were not worried and hardly noticed because Stella handled EVERYTHING! We put our full trust in her and the team and they gave us an unforgettable week that we and our guests will never forget. For anyone planning a destination wedding in Greece, we cannot recommend StellaAndMoscha enough. It is the best decision you will ever make.

We created a lasting friendship with Stella and her team & cannot wait to come back to Santorini and visit with them again.

+ 16

photos

Brittany

Married on 06/23/2019

Destination Wedding Success!

Working with Stella and Mosha for our destination wedding in Santorini was absolutely the right decision. Lydia was organized, available and incredibly professional. Her and the entire team made themselves available whenever we needed help planing our dream wedding from across the world (California). We are so thankful for all they did to help my our wedding week absolutely perfect. You are in great hands with this team!

Vanessa H.

Married on 05/03/2019

So happy we went with Stella & Moscha

My husband and I planned our wedding with the genius help of Dina from Stella and Moscha. Wedding planning is extremely overwhelming on its own, let alone doing it from another country. Dina eased our minds and listened to our ideas in order get our family and friends from the US to Santorini to enjoy one of the best days of our lives. We are forever grateful to them.

Jin

Married on 04/21/2019

Gold standard wedding planners

Stella&Moscha is truly the GOLD standard for wedding planners. From our first interaction on Skype to the actual wedding day, everything was executed to perfection and the entire experience was amazing through and through. We are so grateful to have worked with the lovely Dina from Stella&Moscha. She was incredibly responsive, easy to talk to, professional, meticulous, and creative. Honestly, everything was spoon-fed to me over email and I did not have to do much at all for planning - super stress free. Dina did everything to make me feel relaxed and comfortable on my wedding day and I am so impressed with how everything came together. If you are thinking of having a wedding in Santorini, please do yourself a favor and plan it with Stella&Moscha.

Jaclyn S.

Married on 03/09/2019

More like Greek family than wedding planner

We found Stella & Moscha online and from the very beginning knew that we were being not only taken care of, but guided by someone who truly cared about our wedding day and us. Skype calls to meet and greet, links/photos/insights to collaborate ideas and spreadsheets to help us maintain a grip on the deadlines, details, costs, dates, amounts, and everything that we initially felt terribly overwhelmed with. They took the lead, something we needed with our busy schedules, distance from the island, and general malaise and made sure everything was coordinated, people were paid, and vendors knew what we needed, where we needed them, and when. Lydia was our friend, employee, guidance counselor, bridesmaid, and legal counsel all in one. She lowered down choices, kept us in the loop and was negotiable and accommodating when we were a hurricane of ideas and a hot mess all in one. We were guided to the courthouse, given critical information, and generally felt like we made a family member as it was just 2 of us a very long way from home. It couldn't have happened without Lydia and Stella & Moscha. It was an event, a moment, that we couldn't have coordinated on our own, but memories we will cherish for a life time. Highly recommend her, the company, and their knowledge, experience, and love.

+ 4

photos

Plamena

Married on 09/08/2018

My husband and I live in San Francisco. We had our wedding in September of this year. We had the luck to choose Stella and Moscha as our wedding planner. Words can't describe how incredibly thankful I am to their whole team, but more specifically Dina for everything they did for us. Our wedding was everything we hoped for and more. Dina was very responsive (even during the busy summer season) and made all of our wedding wishes come true. I was so impressed with how well run and organized everything was. Every vendor and person from their staff was on top of everything. If you are thinking about a wedding in Athens or the islands around don't think twice, just contact Stella and Moscha. Thank you again it was a pleasure working with you.

Emma

Married on 08/14/2018

Our dream was to have destination wedding in Santorini, Greece. Stella and Moscha made our dream a reality. Especially planning from the United States, we really needed a reliable and trustworthy wedding planner. Working with Lydia, from Stella and Moscha, made our wedding day everything we envisioned and more. All of her suggestions for venue, hair/makeup, catering, flowers, transportation, photography etc...were spot on. She also coordinated a day before/grooms dinner event for all our guests. The day of the wedding, Lydia (and the rest of the Stella and Moshca team) took care of every single detail. We did not have to worry about ANYTHING. It was the most perfect day, and we cannot thank Lydia enough!

+ 5

photos

Jessica

Married on 06/03/2018

I had the pleasure of working with Dina for the past 12 months for my wedding on June 3, 2018. My wedding was truly a dream come true! From the floral arrangements and decor, to the venue and food, everything was executed to perfection. I can't thank Dina and Stella & Moscha enough for making this entire process so easy and stress free. I never once felt overwhelmed. Dina is kind, professional and detail oriented, and her enthusiasm and excitement made the planning process a million times more fun. Even in stressful times, she remained calm and confident. She is everything you want in a wedding planner and more!

Jen

Married on 05/15/2018

We worked with StellaAndMoscha for our wedding earlier this year and cannot express how incredibly happy we were (and still are!) with all they've done to make our day perfect. From our initial Skype meeting with Stella to the day of the event, our concerns and worries about having a destination wedding were put to ease. Everyone we talked to said planning a destination wedding was going to be tough. But, we will have to respectfully disagree. People had a tough time planning their wedding because they didn't have the team at StellaAndMoscha to help! We felt that the entire process of planning our wedding was incredibly easy because of them.

We worked primarily with Dina--who is, by far, THE BEST planner that has ever existed! She did absolutely everything she could to ensure that our needs were met--beginning 'til end. Any question or concern we emailed to her was answered within 24 hours of being sent. Dina made sure that all of our suggestions and requests for the big day were incorporated into the design and decor she had in her mind. Most importantly, she understood the vision that we had for our wedding from Day 1 and executed it perfectly. But, our absolute favorite thing about Dina was that she treated us as if we'd known each other forever. She truly is AMAZING! Because of her, we miss wedding planning!

Overall, I don't think you can find better wedding planners in Santorini. If you're looking for a memorable & enjoyable time planning your big day, you've got to work with the team at StellaAndMoscha... they're the best!

+ 2

photos

April

Married on 09/01/2017

Words will not do justice to the amount of happiness we had in our experience with Dina at Stella and Moscha. Planning a wedding from thousands of miles away is enough stress to make you insane! If you are in this boat, believe me when I say you won't regret choosing Stella and Moscha to ease that stress. From the beginning intro email we received when we inquired their services to the first of many Skype calls with Dina, to the final moment 1.5 years later when we finally arrived in Santorini and met Dina in person - we truly couldn't have asked for more. Dina was in touch with us throughout the entire process, she politely kept us on task with all of the boxes that had to be checked. She gave the best recommendations for all of the vendors we used, literally the best! We got married September 1, 2017 at Rocabella Suites (which was also amazing by the way). Everyone deserves to have the best day of their life on their wedding day, thanks to Dina at Stella and Moscha not only did we have the best DAY, we had the best experience we could ever imagine. We miss her so much, she is truly THAT awesome! Everyone was so great, but Dina you truly made us the happiest couple ever! We couldn't thank you enough.

Myra

Married on 07/02/2017

Me and my husband are from Seattle, WA. We decided to get married on the GORGEOUS island of Santorini in May of this year. Even though we were all the way across the globe, we could not ask for a better planner than Dina. She was AMAZING. She kept in constant contact with us & made sure we were meeting all the deadlines. She was incredibly patient with us. Our guest list was always changing but she always pulled through for us.
We made our wedding a 3 day event.
For our first day, we had dinner at Ifestioni Restaurant (in the Aressana hotel) - recommended by Dina. The food, drinks, & staff were on top of it! It was the perfect place to welcome our guests. The bartender kept the drinks coming!
For our second day, Dina arranged a sunset cruise around the caldera. Our guests LOVED it. Watching the sunset from the schooner is something we will never forget. The boat also provided dinner, ouzo, & wine – again, everything was perfection!
The 3rd day was the wedding - We wanted to keep it simple & elegant – Dina delivered! From the make up & hair, photographer, décor, & reception – it was more than we could ever ask for.
We also had a reception back home for friends & family that couldn't make it to Greece – it was miserable planning it by ourselves! We wished we could've hired Dina to help us!


Alexis A.

Married on 06/15/2017

I can't even begin to describe how wonderful our experience with the Stella and Moscha team was for the duration of our wedding planning process! We worked with Lydia Meritzi, and we could not be happier with the quality of her work! She made everything easy from the very beginning, from helping us to select the best vendors based on our budget and tastes, to managing our payment deadlines, to accommodating our ridiculous number of last minute requests. These last minute requests included everything from arranging a children's menu for our four-year-old niece/flowergirl (who changed her mind on her entree twice), to securing extra transportation from the church to the reception on the night before the ceremony.

We had a small wedding with less than thirty guests, and Lydia designed the elegant, intimate ceremony and reception of our dreams. We did not have detailed ideas for the decor (all we told her was white flowers and lots of candles), but she took that simple idea and turned that into a reality that was far more romantic and lovelier than what we thought possible. She especially made our day perfect by managing the process of enabling my father, an Orthodox priest from a non-Greek diocese, to perform our wedding ceremony in Panagia Platsani. This was not an easy feat, so our appreciation for her work in this regard is particularly profound.

Besides everything that she did for us, Lydia is incredibly kind and personable. She is easy to talk to, and puts a lot of heart in her work. She genuinely cared for our happiness, and we are so thrilled that we were able to spend some time with her!

In short, if you are considering working with Stella and Moscha for your wedding in Santorini, DO NOT HESITATE! They are worth it-you will have the best experience of your life, and you will feel that nothing else could possibly compare to the beauty of your special day! We can't thank Lydia and Stella and Moscha enough for our wonderful wedding!

Sharon

Married on 06/04/2017

Hubby and I live in Australia but my family live in my home country of the UK. Coming from opposite sides of the globe, our wedding would be the first time that our families would meet and we wanted it to be special. We had chosen Santorini for our destination wedding but we had a problem. Neither of us knew how to plan a wedding nor were we familiar with the island and It was too far away for us to visit. We decided to speak to a wedding planner on the island, which is how we found Stella and Moscha (the business) - from whom we worked with Lydia and Dina.
From the beginning, we felt listened to and looked after. Working to a transparent schedule, we understood what needed to be done by when. This was particularly handy when selecting a venue, which was challenging to do remotely. Lydia worked tirelessly for us though, providing plenty of options and going out of her way to see vendors face-to-face when the hectic tourist season made them difficult to reach.
For our ceremony we chose the beautiful Villa Irini and the reception was held at Theros Wave Bar. As we got nearer to the event we started working more regularly with Dina through the details such as flowers, decorations, make-up, menus, transfers etc. There was complete flexibility if we choose to organise items ourselves - which we did for photography and hair. The day itself far exceeded our expectations and will forever be remembered and treasured by us, and all of our guests. We are so grateful for all of the talent and effort that went into helping us bring our destination wedding to life. Doing it ourselves would've been a complete nightmare, and we wouldn't have been free to just enjoy the day.
If you're thinking of getting married in Greece, speak to Stella and Moscha - they deserve every one of their consistent 5 star ratings.

Elizabeth

Married on 05/31/2017

I HAD AN AMAZING WEDDING!!! I remember the time when we were scouting for a wedding planner in Santorini - our very criteria is to find the one whom we felt comfortable to work with... so we chose Lydia/Stella & Moscha.
They have organized the best suppliers and vendors for my 3 wedding event namely:
Day 1 - Welcome Sunset Cruise (you must do this activity with your guests being in Santorini)
Day 2 - Wedding Day (God has blessed us with a rainbow colored sky during my wedding. This answers everyone's question why we chose Santorini. It was heaven! Jaw dropping!)
Day 3 - Farewell Beach Brunch (Perivolos is the best beach in Santorini)
My wishes were all well delivered while helping me decide on some details (it is easy to get lost with too many ideas online huh?!).
What I'm so grateful about is their assistance with consular matters to ensure that my mother & son is present. Best day ever!
All of these while helping us manage our budget. Another bonus is I gained new friends in the likes of Lydia and some of the other vendors/suppliers.
More power to Stella & Moscha team! Thank you for making couples like us so happy! Keep up the great job!

Sara D.

Married on 10/15/2016

We celebrated a traditional Greek wedding (incl. a Greek ceremony in the church) with around 60 guests and are extremely happy that our wedding planner Dina and Lydia from Stella & Moscha were at our side when planning our wedding and during our special day!!! As described on their webpage, Stella & Moscha indeed offer tailor-made wedding planning services, but their offer does not only consist of that. It consists of very well-organized employees with a lot of experience who are able to understand their clients' needs!
One year prior to our wedding, we visited Santorini and had a first meeting with Lydia who gave us from the beginning the feeling to be in the right hands. We then mainly worked with Dina, who was able to meet our individual needs at all time! We appreciated a lot her honesty. We particularly like to emphasize that we asked her several times to give us her personal opinion on different services between which we had to decide and she always came up with a clear and honest response, for which she also had a good explanation. We cannot thank Dina enough for everything that she did for us! She treated us very special, more than we would have expected. One main reason why we enjoyed our wedding without feeling stressed or being nervous, was the fact that Dina had everything under control. She guided us during that day very clever and she organized our wedding exactly the way we communicated it to her. For example, one of our main wishes was to have all guests on the dance floor and to create a cheerful and relaxed atmosphere. Dina recommended to us therefore to have a Greek dance group for one hour, which turned out to be a great idea.
Our wedding day will remain in our memory as the perfect day it was and we wish all the wedding planner of Stella & Moscha our best wishes. Hope you will make more couples as happy as we are!
Are you interested?
Send a message