Reviews
5.0 out of 5 rating
Quality of service

5 out of 5 rating

Average response time

5 out of 5 rating

Professionalism

5 out of 5 rating

Value

5 out of 5 rating

Flexibility

5 out of 5 rating
100%
Recommended by couples
Awards
1 User photo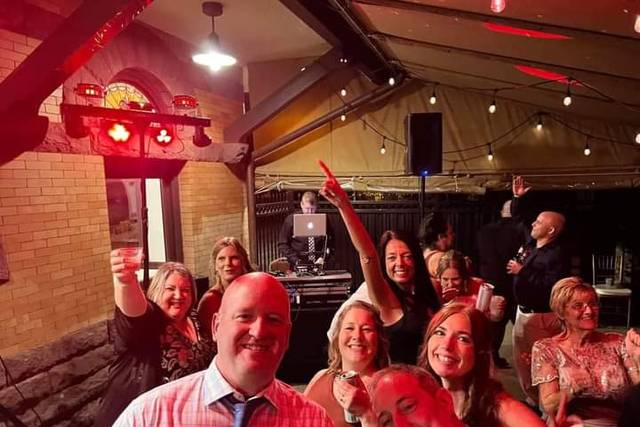 Nicole M.

Married on 10/14/2022

Made wedding great!

Not only did DJ Wiggins facilitate a perfectly executed outdoor ceremony he kept the flow of the night organized so that I (the bride) could focus on having fun. As far as music and dancing, he did a great job getting my song tastes ahead of time and then creating the best night of dancing where most guests danced all night. He made my wedding awesome. Highly recommend.

Kelly W.

Married on 08/01/2019

John was awesome!

We had a relatively small, intimate wedding of 70 people. John kept the party going all night with a variety of music that our guests loved! The dance floor was full all night! Thank you for making our day so incredible!

Annika

Married on 11/10/2018

THEBOMB.COM! This guy knows how to keep the party going!

DJ John Wiggins was exceptional from the first call I made to request pricing/info from him. He is fair and honest and talks you through how he will run your wedding/event. DJ John was dressed nicely, his set up was great and he was so personable! I knew that I would not have one concern with the flow of my wedding or the music with using him- and boy was I right! He made a point of getting to know the style of the groom and I and honored how we wanted the wedding to roll. Outside of our 4-5 special songs and three no play list songs, we wanted DJ John to use his many years of experience to make our night perfect. There was not a time where he didn't have music playing and it was all appropriate for the moment of the wedding (cocktail hour, toasts, cake cut, ect). He got into the night and got involved with the guest and it was a blast! The first folks on the dance floor were the older guests which I couldn't have been happier to see. EVERYONE was on the dance floor, to include our Reverend and 86 year old grandma, and we all had an incredible time. People are still calling my parents telling them what a nice job the DJ did.
If you are on the fence about a DJ in Pittsburgh- go with DJ John Wiggins. He will not disappoint and you won't have any concerns about the DJ at your wedding.

Are you interested?

Send a message

Tim

Married on 09/29/2018

I could not have asked for a better DJ for our wedding. I don't think I have ever experienced a wedding with such a fun and awesome dance floor! Everything from the setup, equipment, and commentating was spot on! Would highly recommend Flipside DJ's to anyone who needs a DJ for their event!

Amanda

Married on 09/02/2018

John was amazing! He was super laid back, but got everything perfect that I had asked for. I was going to go with just doing a playlist for my wedding, but decided to go with John about a month before my wedding. He made my day so great and got about 90% of my guests to dance. His song choices were great and took any of our requests. I would 100% recommend him to anyone for a wedding. He was super awesome to work with and just truly made the music/dj aspect so easy for me!

Bailey

Married on 10/14/2017

John was awesome. From the minute I inquired he was VERY responsive. He would always get back to me ASAP, usually the same day I would reach out to him with any questions or concerns. He payed mind to all of my requests and everyone complimented on "how awesome the DJ was" at our wedding. We wanted an excerpt from a movie played before our first dance and he got it perfectly. He read the room well the whole night, EVERYONE was dancing! Even my grandma. Definitely went above & beyond with service. Highly recommend.

Leah

Married on 05/06/2017

DJ John was absolutely great and I would recommend him without hesitation. He knew from a few songs what genre we would like and played from our playlist, especially the specific songs for events (father daughter dance, garter toss, etc). Almost all our wedding guests danced for almost the entire night because of his music ability!

Bonnie

Married on 07/16/2016

We were so happy with DJ John! Music at our reception was one of our top priorities when planning our wedding and we were not disappointed. John listened closely to our suggestions and recommendations when it came to building our playlist for the night. He absolutely understood our expectations for the vibe we hoped to convey at our reception. The energy level stayed high all night which kept all of our guests on the dance floor. John also provides just the right amount of enthusiasm behind the microphone to keep guests excited and engaged throughout the evening. We got so many compliments on our music, it was perfect. If you want your wedding reception to be a true party that keeps everyone having a blast, go with DJ John. We wouldn't have changed a thing! Thanks, John! :)

Nick

Married on 05/21/2016

DJ John Wiggins was awesome! He made sure the reception had a perfect flow from beginning to end. Everybody loved the music and the dance floor was packed all night. I am extremely lucky to have booked John for our wedding. He is the best DJ out of any wedding I have been to!

Hannah

Married on 02/06/2016

We hired DJ John for our wedding in February and we were not disappointed. We were able to meet up with him before we even hired him to discuss our hopes and expectations for our reception. He did an excellent job of putting together a playlist that fit the tone we wanted for our party. He also did an excellent job as the emcee for the night, managing to be very professional while also putting people at ease and encouraging the crowd to have energy.

He was very reasonable for pricing and provided all of his own state-of-the-art equipment, and he set it up hassle free exactly where we wanted him to.

The thing that made him so helpful was his communication that was, quite honestly, incredible. He kept in contact and responded to any questions or concerns we had without delay. We highly recommend DJ John for anyone.

My stepdad hired this DJ for my wedding and he turned out to be a good choice. We got married at the end of August and it was both an indoor and outdoor venue. My dad made us corn hole bases with bean bags and a fire pit with s'mores to have activities for people who didn't want to leave but didn't want to dance. Let me tell you, they both went UNTOUCHED! Everyone stayed indoors on a beautiful summer night to be entertained by this DJ.

I had an unusual request for the procession song: I walked down to Ed Sheeran's Tenerife Sea (check it out by the way - it is beautiful!!) and I wanted my entrance to be at the beginning of the third verse. He said he could do it - I was very nervous - but he pulled it off, perfectly, and my husband reminds me all the time what a good choice it was.

My venue was also rather complex: it had an outdoor location, and indoors there were two floors that all needed music. He had no problem moving all of the equipment himself among all three locations and even provided a mic for our officiant (a big deal when you are competing to be heard with the noises of an outdoor wedding).

All in all, he did his job well: all of our guests enjoyed the music and still to this day say they had a blast. Thank you, John!

Courtney

Married on 07/25/2015

DJ Flipside was absolutely fantastic! He was so easy to work with, he was responsive, and he kept the dance floor busy the entire evening. He was incredibly flexible as well when we had a minor incident at our wedding. I would HIGHLY recommend him as a DJ for weddings or events in the future!

Flipside DJ was fantastic!

He played all of the songs we wanted and we so easy to work with.
Everyone at our wedding danced all night. We couldn't have asked for a better DJ.

Karen

Married on 10/18/2014

We found John at a friend's wedding and thought he was so great that we booked him for our reception on 10/18/14. He was simply amazing! John played a great mix of music that kept guests from ages 21-74 dancing the night away. Our guests are still raving about how fantastic our DJ was and keep asking where we found him. I can't recommend John and FlipSide DJs highly enough! John, thanks for making our reception such a great time! - Karen and John Romano

Amber

Married on 08/30/2014

I sent emails /requested information from 4 websites in the Pittsburgh area, and John was the only DJ to call me within that same day. He answered all my questions, gave me a great price quote, and didn't pressure me to tell him if I wanted to use his services right there on the spot. He answered all my emails or phone calls in a very timely fashion, and helped me plan my time-line for the reception. The day of the wedding we was on time, dressed professionally. He was courteous to my guests and really kept the events going and the party going. John was a pleasure to work with from start to finish!

Kate

Married on 07/05/2014

John Wiggins was an excellent DJ! I chose him because he was the DJ at my brother's wedding back in 2010 and he did a fantastic job. From the moment dinner was over, my dance floor was PACKED and it stayed that way all night!! I even had someone ask me his name during the wedding because she wanted to try to book him for her upcoming wedding. Everyone was having a blast. I even saw some people on the dance floor who usually don't dance at weddings I have been to in the past.
Before the wedding I sent him a list of songs I wanted for our bridal party entrances and songs I wanted played throughout the reception. He made sure that he did everything I asked for.
The music he played appealed to people of all ages. There wasn't too much of a certain style of music, he played a wide range. He stayed away from songs that I put on my "don't play list" even though some people tried to request them!
John is a very personable and professional guy. I really liked him not only as a DJ, but as a person, too. I have been to a lot of weddings and the DJ can definitely make or break the wedding. You can't go wrong by having choosing him as your DJ! He is a great asset to have on your big day, and he keeps the party going!



Meredith

Married on 06/20/2014

So. You're looking for a DJ for your wedding, but have no idea who to choose because they all look the same. I was there. I had a huge issue with selecting a DJ without any sort of sample to hear them. I kept asking DJ's for this, and nobody was receptive. Until I spoke to John. He offered to have me actually attend another bride's wedding or talk to previous brides (with her utmost consent of course). I spoke to two brides, and both said the same thing. Book him. One of the girls said that he played at her friend's wedding, and since then, every time somebody gets married in their group of friends, they just call John. With such an overwhelming response from these women, I was sold.

John let my crazy OCD self control everything. He patiently listened to all my crazy bride demands of not forcing people to get on the dance floor, no disco fever music, to take requests if people ask. He delivered on all of it.

We got married and had our reception at the same place. Our ceremony, cocktail hour and reception were all in different locations, outside & inside. John had everything set up in each location. I was worried about the timing, setup, it being awkward - nothing of that nature, he was swift and sneaky-you didn't see or think about it, the music was just there. It was such a smooth transition to all locations. Before that day, John reassured me that it would all work out and to let it all happen. And it did.

Our reception was awesome. He correctly pronounced the wedding party's names (we reviewed in detail prior to the day), and ran the reception with great timing and personality. That dance floor was never empty. People kept telling my husband and I how this was the best wedding they've ever been to.

His professionalism, skill, and dependability were impeccable. Book John and don't look back - your guests will have an awesome time.



Kate

Married on 03/08/2014

I am so happy we choose John to be our wedding DJ. He was professional, responsive and affordable. He did such a great job and had our guests dancing the entire night. We got so many compliments from our family and friends about what an awesome job he did. He played a good mix of songs and took requests from us, our bridal party and guests. I would definitely recommend him to any friend who is looking for a DJ!

Marie

Married on 10/25/2013

John is fun, fun, fun! Had a blast at my own wedding! He is everything his web site says he is and more! Very accommodating to many styles and easy to get along with! Professional appearance, professional equipment. He's a keeper!

John was great. There were a lot of compliments from our guests. He did a great job honoring requests and feeling out the crowd. The dance floor was packed the entire night!

Lea

Married on 04/06/2013

We had DJ John (Flipside DJ's) for our wedding and he was great! He listened to our requests for songs and really had people dancing. Our guests said that they had a blast and loved the music. He played a great mix of songs and really went with the vibe of the party. It was seriously the most fun dance parties I have ever been to! Thank you DJ John for helping make our wedding such a success.

Jared

Married on 09/22/2012

John was great from the time he introduced our wedding party until the reception was over. The dance floor was packed the entire night. We would highly recommend John for any party. Thanks again, Sarah and Jared.

My husband and I used John Wiggins for our DJ and he did a great job. He did everything we requested and was very easy to work with. I can sometimes be hard to work for because I am a little picky especially when it came to picking people to hire for our wedding. John did a great job and I would recommend him to anyone! :)

April

Married on 12/03/2011

My extended family has used John Wiggins for weddings and my now husband saw his at a wedding right before we got engaged and liked him as well. Thank goodness! We have gotten so many compliments on the reception and how much fun it was. The dance floor was always full, John played Christmas music during the dinner without us even thinking about it (our wedding was Dec 3), and he even had an obscure WWE song that my brother asked for on the spot to play a fun prank on me during the reception which capped off the evening perfectly for some fun laughs! You couldn't ask for a better DJ!!!

Sarah

Married on 07/22/2011

My husband and I used John Wiggins for our wedding reception in July 2011. He was amazing! We were referred to John after a friend of ours (another DJ in the Pittsburgh area) could not DJ at our wedding. This turned out for the better for us!!!

John came well-prepared, and played songs that kept all of our guests on the dance floor all evening. He took into account everything that we didn't want, and played what we did. He even got my 82-year-old grandmother to have fun! We could not have asked for a better DJ!!!!
Are you interested?
Send a message