39 Reviews
Recommended by 100% of couples
Quality of service

5 out of 5 rating

Average response time

5 out of 5 rating

Professionalism

5 out of 5 rating

Value

5 out of 5 rating

Flexibility

5 out of 5 rating
65 User photos
+ 61

photos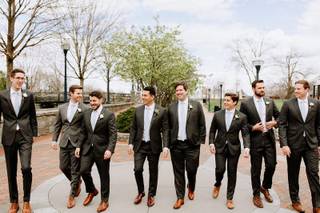 Tiffany S.

Married on 09/18/2022

Amazing photographers who photographed 3 of our events (engagement, elopement, and wedding celebration)

Dana and Vince are the absolute best and incredible photographers! Photography was very important to us, as I am a designer and my husband enjoys photography. A requirement was to capture the storytelling of the day, have a variety of stunning photos, and also use film. EarthMark checked off all the boxes and more. Both Dana and Vince are the nicest and chillest people which helped set the vibe for our day and we knew it would be stress-free (which it was). We've worked with EarthMark for the past 3 years. They took our engagement photos in summer 2019 and instantly we clicked! We originally were set to have our wedding celebration in August 2020 however because of the pandemic we decided to have an elopement in the city we met. We asked Dana and Vince to photograph our elopement and we got the most amazing set of photos. We are so grateful they were able to drive to Upstate New York and we had the best day. Finally in September 2022, we were able to have our big wedding celebration with our friends and family. EarthMark photographed that event and since getting some of the photos back, we are amazed and love them. We have three different life events photographed by Dana and Vince and we could not be happier! The aesthetic, consistency, and imagery is what we were going for. We highly recommend them and will be using EarthMark for any future events we want to photograph.

Brooke K.

Married on 04/09/2022

the BEST photographers!

We found Earthmark on instagram and were immediately drawn to their work. When talking to photographers, our already-married friends would tell us, "you'll know when you find the right ones". And we absolutely knew when we talked with Dana and Vince! They are laid back, funny, and insanely talented. We booked them at the end of 2019 but due to COVID didn't have our full wedding until 2022- they couldn't have been more kind, flexible, and helpful throughout the process. We had never been into the idea of engagement photos until we did them with Dana and Vince- and they turned out awesome. We also got our final wedding photos back super quickly, right around 4 weeks! They are amazing.

+ 6

photos

Clay H.

Married on 11/12/2021

Earthmark Nov 2021 Wedding

We chose Earthmark as our wedding photographer after seeing their beautiful photography on Instagram. We got married at the Old Mill in Media in November 2021. We loved their photography from previous weddings that were in natural settings and parks, which was exactly what we were looking for. We had an initial meeting with them via zoom to talk about what we were looking for and what their style was like. Right away, we knew that they were in line with our style and vibe—and we were sold! We met with Dana and Vince 6 months before our wedding to do engagement photos and right away, they made us feel at ease. On the day of the wedding, they continued to help us and others feel at ease and helped us focus on enjoying the day and spending time together. My husband and I wanted to take pictures on a nature trail and in a wooded area, and they were up for the challenge of walking through piles of damp leaves! We couldn't be happier with the engagement photos and the sneak peeks we've seen from the wedding day. To have these beautiful photos of us, as well as the ones with our families, is truly a gift that we will share for years to come. Dana and Vince are incredibly kind and professional and we feel lucky to have had them with us on our wedding day.

Are you interested?

Send a message

Casey M.

Married on 11/06/2021

The best photography team!

One of the best decisions we made for our wedding was booking with Dana and Vince at Earthmark. Photography was one of the most important aspects for us and as soon as we found Earthmark we knew they would be a perfect fit - their artistic, moody and candid photography style was exactly what we were looking for. We immediately clicked with them after our initial Zoom call and throughout our whole wedding planning process they were nothing but communicative, flexible and supportive. Neither of us are very comfortable in front of the camera, but Dana and Vince put us so at ease during our engagement session that we had nothing to worry about. When we saw them again at our wedding, it was like reconnecting with old friends which was the best feeling and made everything stress-free. They sent us sneak peeks a couple days after the wedding and the full gallery earlier than we even expected, which was such a nice surprise. They are the utmost professionals and their work speaks for itself - our photos are absolutely incredible and are such an emotional testament to our wedding day. We have not stopped getting compliments on our wedding photos and they are something we will cherish forever. We cannot recommend Earthmark Photography enough, both as the best natural wedding photographers and Dana and Vince as the coolest, sweetest couple. We feel so lucky to have booked with them and to have Dana and Vince in our lives!

+ 2

photos

Jennifer H.

Married on 09/10/2021

Best of all time!

It's difficult to find the right words to capture how amazing EarthMark Photography is. We were lucky enough to work with Dana and Vince for not only our engagement session and wedding, but our elopement as well. From day 1, Dana and Vince were absolutely incredible. Not only is their work top notch, but they are also wonderful to be around. I could write an entire book full of examples of how Dana and Vince go above and beyond to provide excellent and professional service. When we had to postpone our wedding due to Covid, Dana and Vince helped us plan an elopement in just a few short weeks. They even did a ton of research and helped us pick out the most incredible elopement location in the Catskills. When a stormy weather forecast turned our elopement day timeline upside down, they were flexible and helpful in bumping our ceremony time up by several hours.
When we finally made it to our wedding day, seeing Dana and Vince again felt like we were with old friends. On top of all of that, their photos are beautiful, and we are so thankful for the way they captured these special moments in our lives. We can't recommend EarthMark photography enough, and we hope we're lucky enough to work with them again!

+ 2

photos

Alexandra J.

Married on 09/19/2020

Our wedding photos are PERFECT!

We hired EarthMark after seeing two friends' wedding photos who also used them, and we were soo excited when they were available on our date!! They were so great to work with and took time to get to know us a bit as well. We felt so comfortable working with them and I honestly cannot stop staring at all of our pictures. The pictures came out in the exact vibe we were looking for and they are beyond gorgeous. Worth every single penny!! They were also a great, supportive vendor to have during planning a wedding in 2020 and I am so thankful for that.

Laura

Married on 03/21/2020

They seriously nailed it!

We're so happy we found Dana & Vince–we can't recommend them enough! Besides being talented, creative and professional, they're just the nicest people. We knew we wanted to look natural in our engagement photos and wanted them to feel like they captured "us". Dana & Vince were a perfect match. They're skilled and do the job with ease, making sure you're having fun and feel comfortable. It definitely shows in the photos. We met for our engagement shoot in a state park and it felt like we were on a hike with friends. Dana & Vince excel at capturing the emotional connection in their couples. Family and friends comment on how happy we look in our photos, and it's because we were able to share real laughs and genuinely enjoy our little adventure. They had posing suggestions but we never felt "posed" and stiff. We're thrilled with our images and our decision to work with Earthmark Photography!

Macy

Married on 11/02/2019

personal - fun - flexible

Dana and Vince were the perfect pair for our journey. I say journey because they secretly planned a photo shoot for family portraits with me and my now husband and our pets and turned it into a proposal photo shoot. I am so grateful to have photos of that moment and EarthMark did an incredible job with the execution. Flash forward to our photo session as an engaged couple for our engagement photos. We happened to choose the HOTTEST day in July for us to do the shoot in beautiful Harper's Ferry. Dana and Vince didn't complain a single time about how hot and unbearable the weather was and simply did their job with our best interest in mind. They worked well with us through the mid-July heat and in our photos, you can't even tell! They turned out absolutely beautiful. On our wedding day at Historic Shady Lane, Dana and Vince were on the property on time and ready to get the day started. They were very flexible with us and moved some things around so we could get special photos throughout the day, some that weren't even on our initial Day Of list. We are so grateful that they were accomadating for a very special family portrait during the dinner hour. We got married on Friday Nov 1st and had our sneak peeks on Monday Nov 4th. What a turn around! We were ecstatic to see the gorgeous photos they had taken of the two of us and cannot wait to see the rest of the photos. Our friends and family never stop talking about how beautiful all of their photos of us have been over the years. Thank you, EarthMark, for being true professionals and staying true to your style and brand. Everything you produce is gold and we are so happy you have been with us by our side to capture so many important moments in our lives.

+ 7

photos

Erin F.

Married on 10/26/2019

They are the BEST!

Dana + Vince are amazing! These two are such a dream to work with- they are great at communication, make scheduling and timing a breeze, and have a bunch of recommendations for other vendors, if you need them! At both our engagement shoot and our wedding, they were great at posing us, giving helpful suggestions, finding perfect backgrounds, and overall making us feel so comfortable throughout the process. Also, they somehow managed to get a nice photo of my husbands huge family, all smiling and with their eyes open (is it Photoshop? Magic? We'll never know). Dana + Vince were so attentive throughout the entire wedding day - and the perfect mix of "I barely noticed them taking pictures" and "somehow they captured every special moment". Their editing style is beautiful and unique as well, one of the reasons we treasure our photos so much is their natural yet whimsical vibe- they're amazing.We received out digital photos earlier than expected, and recently received a beautiful box in the mail with some prints and a USB of all the photos- what a special touch. Dana + Vince are so unique & special, we can't thank them enough for their beautiful work. Don't hesitate to book them!

Hillary

Married on 10/13/2019

Dana + Vince are the DREAM TEAM!

Look no further - your search for the perfect fun, hilarious, warm, talented wedding photography team has ended.

Due to the nature of my work, I spend a fair bit of time both in front of the camera, and assisting on shoots - so when it came to wedding photography I was P I C K Y. I wanted romantic but not corny, modern but not too trendy, beautiful but still natural, and timeless but candid. Full-day coverage was also important to me, as was having at least two photographers on site to capture as much as possible - AND they had to be people people, as my husband and I aren't what you'd call "shy", but need a little help getting comfy in front of the camera.

(I know, I know. Tall order.)

All my expectations and then some were met by Dana and Vince. They did an EXTRAORDINARY job capturing our wedding (and engagement shoot!) and I couldn't be happier. You can truly feel all the joy and emotions of the day -- both ours, our families' and our guests. They were a dream to work with; so organized, so kind and friendly, and fun to be around. We're hoping they hit us up for a drink next time they're in town! I'm so glad we honored enough to have them capture our day.

If you're wondering if these are your photogs - this is your sign. BOOK THEM. You'll be glad you did.

+ 10

photos

Evan V.

Married on 07/05/2019

Incredible professionals, photographers, and humans

Dana and Vince are phenomenal! We could not be more pleased with our wedding photos. From our initial call to engagement photos to our wedding day, they exceeded our expectations. Throughout the planning process, they were responsive, easy to connect with, and fun! They were accommodating to our day-of wedding schedule and took photos are three locations with lots of different groups and requests. Dana and Vince were calm and engaging - the exact type of energy we were looking. The photos capture so many moments and feelings without looking posed or corny. If you have an outdoor ceremony or reception they are fantastic at capturing the trees and light. Besides being amazing at their work, Dana and Vince are just cool people who are fun to be with. Do not look any further for a photographer - Earthmark is it!

Jenna

Married on 02/23/2019

Wedding and Engagement Photos

We instantly knew Vince and Dana were the perfect photographers for us! Other photographers we interviewed didn't even have the time to meet us in advance and Dana and Vince insisted on meeting us in person before we made our final decision. They even drove to meet us at Starbucks in York PA, where it was closer for us (not them) to meet, and they purchased our drinks- they didn't even seem to mind that mine was a little complicated! They brought samples of their work and genuinely seemed to love each other and their craft! They also made it super easy to have photos taken of you...which was very, very scary for us at first! It was like having a friend, who owns a very expensive camera, take your photos for you. It was really that easy! If you are wondering or worried about money- don't! It is definately an investment but it will be the best one you make. We initially had $1,500 set aside for photos and we realized we were just being foolish. You can not skimp on your wedding photographers... it is not like you can plan the day over and try again if you pick the wrong people. An inexpensive (or cheap in my eyes) photographer could cram you into a 2 hour slot before they move onto their next money making event. It will stress you out and it will show on your face in the photos- wasted money and effort in the end. Go with Dana and Vince- it is worth every penny and every memory. They truly care about the quality they provide. We can not recommend a better couple to help you memorialize the best day of your life! ♡

119533630Bc31Aa2606Af2C8Bd91146537C83A6D

Married on 12/29/2018

Best team!

Dana and Vince are not only incredibly talented, they have the PERFECT energy for your wedding day. As people, they are kind, generous, and easy-going. As photographers, they are CREATIVE, detail-oriented and laser focused. We booked them a year and a half before our wedding and throughout the entire time, they were excellent and reliable communicators. I spent MONTHS researching to find the right team for our wedding, and we genuinely feel SO lucky to have found them. They are BRILLIANT. The photos are exquisite-- I have had multiple friends (and strangers) reach out to me about my photos and asking for their information because they want to book them. My husband and I are actors and have spent a LOT of time with photographers and we cannot recommend them more. They are the best of the best and will create the most beautiful memories of your day.

Meghan W.

Married on 11/24/2018

Most beautiful wedding photos from a stellar team

Vince and Dana are a husband and wife team and were incredible to work with. From the engagement shoot to the wedding day, they were responsive and helpful. Most importantly, the photos from both turned out stunning. We get so many compliments and are so happy that our memories from the wedding will be saved in such a beautiful way. Highly recommend Dana and Vince!

+ 2

photos

Megan

Married on 11/25/2017

My husband and I had a great experience with Earthmark photography. Dana and Vince are kind, laid back and wonderfully skilled in their profession. It is clear this is not only their area of expertise, but something they love to do. We did both our engagement and wedding photos with them. The "photoshoot" for both events were relaxed and fun, enabling them to capture candid moments with natural light. We can't recommend them enough! Their blog and instagram page speaks for itself. Thank you, Dana and Vince.

Hillary

Married on 11/05/2017

Seriously, don't wait another second to hire Earthmark Photography. It will be the best decision you make for your wedding, I promise! Dana & Vince are so fun and friendly, and SO incredibly talented. They made us feel so comfortable, and our engagement and wedding photos are honestly amazing, better than I ever imagined they would be. I am so glad we chose Earthmark Photography and that we have these photos to cherish forever!

+ 6

photos

Breanna

Married on 07/03/2017

Wow! I cannot say enough positive things about Dana and Vince. From the very moment I stumbled upon them in search of the PERFECT wedding photographer, I knew they were the ones for us! An adventurous, enthusiastic, artistic, sweet couple, who just so happens to enjoy nature and travel as much as my Husband and I do. They truly are the perfect match for us as photographers, and friends. They not only captured natural and intimate moments with my husband, but also incorporated the landscapes and natural beauty of the setting. As nature lovers, this was of utmost importance. On another note, I'm pretty sure they are actually magicians, because I never knew we could look so good!

Every step was easy with Dana and Vince. When the four of us met over coffee, we instantly clicked. Before we knew it we were planning our engagement shoot in Zion National Park, which worked out great since we live in California. We and everyone we know (who saw our pictures) were blown away by our engagement photos. From a couple who wasn't necessarily interested in doing an engagement shoot, we are so happy we did. It not only gave us an opportunity to see what it's like being photographed, but also allowed us to get to know Dana and Vince better, and we got the most AMAZING photos!

Communication was always easy and prompt with Dana and Vince. They did everything they said they would do and more. On our wedding day they made sure that we kept on schedule while seeming to catch literally EVERY moment! They are professional, friendly and FUN. We were always laughing! They made sure we and all of our guests were comfortable. There were never any awkward moments. They helped us into natural poses, and more importantly captured the moments in between. Every photo looks genuine, and everyone comments on how "happy" we look. My family and friends were just as impressed, saying "the photographers were everywhere!" Dana and Vince were the best decision we made in wedding planning!

Dylan

Married on 05/20/2017

Dana and Vince are absolutely amazing to work with! Right from the beginning, after meeting them for coffee, we knew that they were going to both capture the beauty and joy of our wedding day and contribute to our celebration just by being there with their charismatic personalities that make it feel like you've known them for years. For our engagement photos, Dana emailed me letting me know that they were going to be on a road trip in Colorado and asked if we could meet in the middle (we live in New Mexico). This was amazing because 1) they were able to accommodate us living so far away and not being able to travel back to PA for a photo shoot, and 2) they chose the most gorgeous location! This proved to be a great way for all of us to get to know one another and helped us feel more comfortable with Dana and Vince prior to the big day. We also ordered a photo album from them for out engagement photos, which was very easy, and turned out beautifully.
On our wedding day, as expected, Dana and Vince did an amazing job of helping everyone to feel comfortable and natural in the process of capturing our bride/groom portraits, bridal party and family photos. They kept everyone on track and helped things move along efficiently. Most importantly, they truly captured the essence of our entire wedding day, including "getting ready," portraits, the ceremony, the set-up/decorations, the reception, and our epic dance party! Looking at the photos has brought us back to relive the magic of our wedding day, and we look forward to treasuring and reminiscing well into our marriage. A big part of this was their willingness to be there for most of the day, not setting any strict time limits on their services.
Throughout the whole process of working together, Dana and Vince were excellent at communicating and staying in touch, and finding out what we wanted for our wedding day. Bottom line- Dana and Vince are a fantastic photography duo, and we would highly recommend them!!

Jessica

Married on 05/19/2017

Dana and Vince are the most incredible photographers to work with. From their awesome personalities to their beyond talented eyes to capture the true essence of our engagement and wedding photos-- they make it SO easy for the couple. I CANNOT recommend them enough. Every guest at our wedding kept saying how great they were that they were ALL over the place getting all the shots. It's a dream you want to relive and they really allow you to feel how it felt on that special day from their photos. I want to be BFF's with them! BEST PHOTOGRAPHERS EVER - thank you again guys!!! ♥

Jessica

Married on 03/31/2017

Photography was one of the most important, if not THE most important, aspect of our wedding, so I spent a lot of time searching for just the right photographers. I am so happy that we found Earthmark Photography! I can not say enough about just how wonderful Vince and Dana are! Not only is their style unique, but their work is absolutely beautiful. The way they captured our relationship in the engagement pictures and the story of our wedding was everything I could have hoped for and more. Vince and Dana, aside from great photographers, are gems. They made us feel relaxed and comfortable during the shoots. Dana even offered me the shirt off her back when I had a bit of a wardrobe malfunction during our engagement photos! They are fun and easy going which made both the engagement shoot and wedding day a breeze. The photos we received back were breath taking! They told our story beautifully and I could not be happier with the outcome. Thanks to them, we now have amazing photos to remember our special day and some great new friends as well! You will not be disappointed with your decision should you choose to book them!

Nancy

Married on 10/15/2016

As mother of the bride, I have never seen my daughter more relaxed in front of the camera. Dana and Vince brought creativity, gentle professionalism, good humor and tons of talent! The resulting photos are stunning. I can't thank them, or recommend them enough!

Shannon

Married on 10/08/2016

We booked Earthmark photography as we booked our venue. Dana and Vince came to visit the venue with us so they could get some early ideas and meet us. They are so nice! Our engagement pictures were amazing, and we just got our sneak peek pics back from the wedding (our wedding was 10/8, got sneak peek 10/9) and they are gorgeous!! so excited to see the rest. They got everything done in good timing, and got all the picture groupings we wanted. we saw them getting great pics of all the fun on the dance floor too. A friend of mine who got married a month before noted that she was jealous that our photographers were noticeably getting the action since she barely saw hers during the reception. So great to work with! I would recommend them to anyone.

Jenna

Married on 09/03/2016

I spent a lot of time shopping around for photographers. We met with a lot of independent photographers and companies trying to get our business. Everything was just wrong. We didn't connect to anyone. I was so frustrated at the whole process before we met with Earthmark. We wanted people that really understood our vision and could relate to us. Dana and Vince were an instant match for us. They just got us. They were super helpful in the planning process, flexible, and amazing to work with. They both have different visions and styles of photography so you really get a complete set of photos in the end. I can't say enough good things about them professionally or personally. Mason and I are awkward in front of the camera. They walked us through everything and did everything they could to make our smiles and laughter genuine. Our wedding and engagement photos were absolutely gorgeous. Dana even did some boudoir photos for me to give to my fiance that turned out fabulous as well. They're both just such amazing talented people. Honestly we've found photographers for life. 110% the best choice you can make is hiring this wonderful couple to capture your day.

Stephanie

Married on 06/04/2016

I can't say enough good things about my experience with Earthmark Photography. I met Dana and Vince through a mutual friend. I knew their work was incredible and right after I got engaged, I picked my wedding date based on their availability. They're such fun, laid back people who have this amazing ability to make you feel at ease during times of intense stress. My guests commented on how efficient they were without being abrupt or bossy-that takes skill! They were great when I had random last-minute picture ideas and when some of our family members made requests for shots as well.
Their turnaround time is impressive. Our engagement pictures took very little time to get back to us and they had a few preview shots up the day AFTER my wedding. I would highly recommend this duo to anyone looking for top-notch talent and good company at your wedding.

Rebecca

Married on 05/28/2016

We are so happy with Earthmark and our absolutely beautiful engagement and wedding photos. Their use of natural lighting and framing has created some beautiful & stunning shots that take us back to the special day each time we look at them. They were able to capture all the emotions, laughter and love perfectly. We love showing them off to our friends and family!

Dana and Vince are fantastic to work with. They are super down to earth and fun, yet professional and timely. It was an absolute pleasure to getting to know them. They got to know us as a couple and all the small intricacies of our wedding and the results are just phenomenal! Their outstanding work clearly speaks for itself.
Are you interested?
Send a message