52 Reviews
Recommended by 87% of couples
Quality of service

4.4 out of 5 rating

Average response time

4.4 out of 5 rating

Professionalism

4.1 out of 5 rating

Value

4.7 out of 5 rating

Flexibility

4.1 out of 5 rating
4 User photos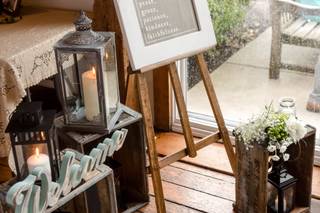 Stephanie V.

Married on 10/02/2022

Perfect Venue for Our Wedding

We loved how our wedding turned out at the Byron Coby Barn. Kim was just so wonderful to work with and she went above and beyond to make sure our wedding looked exactly how we wanted it to. The barn itself makes for such a naturally beautiful venue. We loved the rustic look and smell of the wood and knew it was perfect for us. The bar in the silo is such a great vibe too! Our guests LOVED it! Perfect venue for a perfect day :)

Allison E.

Married on 05/05/2020

phenomenal

I had my wedding here 5.17.19 and everything about it was perfect starting with Kim, the manager. She was professional and quick to respond, as well as knowledgeable. She helped us plan our day and made the whole process very easy. The barn itself was clean and absolutely stunning. I love that the whole space was ours for the night. All of the staff was incredible. To top it all off, it was very reasonably priced. There were no hidden fees, you can bring your own decorations and you are free to choose your own caterer. They do have a preferred list of vendors but you are free to choose any professional caterer for a small fee of $400. You pay for a bartender service but stock your own bar so you aren't paying for a premium bar package just to get one certain liquor. You buy what your guests will drink. So very thankful we chose this venue!!

Natalie

Married on 06/30/2019

Such a Wonderful Venue!

My husband and I had our reception here this past June and had an amazing amazing experience!! First off, it's unlikely to find such a charming venue for the price! Second, the manager, Kim is so helpful! Not only was she organized and understanding in offering us suggestions, but she was so empathetic to my family situation (newly divorced parents), and would gladly take my frantic calls just days before the wedding. Also, it is very unique that you can really make this venue whatever you want it to be! My husband's aunt is a decorator and she totally outdid herself for our reception. Lastly, there are amazing picture spots on site that are beautifully grown in the summer!! These are just a few of the reasons why we'd highly recommend the Byron Colby Barn!


Are you interested?

Send a message

Hannah S.

Married on 06/28/2019

Flexible, charming, quality service!

For our June wedding, my husband and I had our ceremony in the courtyard and then the cocktail hour/reception inside the barn immediately following. The barn has so much unique charm and is reasonably priced. We received many compliments regarding the super cool bar in the silo and the beautiful balcony and all-around interior of the barn. It's truly a do-it-yourself venue, which allowed me to make our wedding exactly what we wanted it to be. We made a little extra to set up everything the day before--totally worth it! The barn is also located on an incredible property, allowing pictures in open-park, prairie, lakeside, or garden settings. Kim was great to work with as well. She answered emails thoroughly and efficiently throughout our entire planning process. Highly recommend!

Eric

Married on 09/15/2017

Everyone commented on what a great venue Byron Colby Barn was. They were so easy to arrange decorations and vendors with. Definitely a great venue for the price, flexibility and quality.

Tracy

Married on 09/15/2017

The barn was great! It's definitely DIY, which is what I wanted. We were able to spend a little extra to be able to set everything up on THR for our FRI wedding, so everything could be how I wanted it. You can bring in your own alcohol, which saved us some money as well, and the caterer (Maravelas) was also affordable and fantastic. Parking is easy and we even got a free shuttle to/from the hotel. Highly recommended!

Madeline

Married on 08/12/2017

Byron Colby Barn was the perfect place to get married! The space is gorgeous and so flexible - you can really make your wedding whatever you want it to be! The silo bar is so unique, and loft upstairs was a perfect place for us to have our DIY photobooth. The landscape around the barn was stunning for pictures. Options for the ceremony in the courtyard outside or in the barn itself. Plus, Kim at the barn was wonderful to work with! She was flexible with timing to see the space throughout the planning process and how with how things were set up the day of. And she gave great advice for vendors and how to best use the space. I would absolutely recommend the barn to host any event!

I'm not sure where to start. There are no words to express our love for Byron Colby Barn. We recently had our reception at the barn and it was a dream. It is simply gorgeous. You can easy tailor the barn to fit your needs or style. Our wedding day was HOT & humid but our guests were so content with the temperature of the barn - which is really important. The preferred vendors list is beyond helpful. We found our photographer, restaurant, DJ, and a few other vendors on their list. Kim was a pleasure to work with and I will miss seeing her! Byron Colby was so such an intimate and relaxing venue to celebrate it with our guests. My husband is already planning to have an anniversary party at the barn in the future! :)

Tom

Married on 05/16/2016

My wife and I celebrated our 35th wedding anniversary at the Byron Colby Barn with about 80 of our friends (May 2016) and were happy to find that the venue and support staff exceeded our expectations. We have attended events at the barn before but did not know what to expect as hosts.

Fortunately, the barn manager, Kim DeRose, provided very helpful information to us at various points along the planning timeline. She offered suggestions, yet did not attempt to steer us away from some of the potentially unconventional element we desired (e.g. low waste event with environmental theme). The flexibility in timing for our set up activities was especially appreciated. The feedback we received from our guests was all favorable and we feel we built a wonderful memory.

Megan

Married on 06/27/2015

The most perfect day of our lives!

I had the absolute WEDDING OF MY DREAMS at the barn!!! ❤️ It was seriously the most PERFECT day I could have ever imagined! I'm from the suburbs and my husband is a farmer from the country, so the barn was the perfect mix "city meets country". Our guests have not stopped talking about the barn since! I am so thankful we found such a unique and timeless venue right in the middle of the suburbs! Words seriously cannot describe how incredible our day was. If you're on the fence of if the barn is the venue for you, just watch our beautiful wedding video & I'm sure you'll be sold!!!! Everyone at the barn was incredible to work with, and I was so happy to have a DIY venue where I was in control of the decorations and able to add our own special touches to make our wedding and reception truly reflect who we are! THANK YOU Byron Colby Barn for the most magical day of our lives!!! https://www.youtube.com/watch?v=X24CDL4PCjM&t=4s

Gen

Married on 01/19/2015

We recently had our best friend's baby shower at Byron Colby Barn. The barn is simply beautiful and perfect for our theme - it has rustic feel yet charming and warm. It's set on a Prairie which gives you that farm feel without going too far from the town. It is located in the heart of Grayslake ,convenient for all our guests . All of our guests could not believe how beautiful the barn is, I couldn't imagine how much beautiful it would be during warm days where you could enjoy the courtyard and the gazebo outside.
Kim, the manager is very welcoming and cheerful. She is very easy to talk to, and right away we know we are "home". She gives suggestions and recommendations and prompt answering all our questions. She texted right away even on weekends and during her days off. The day of the party, she allowed us ample time to decorate before and clean up after, at a relax pace so that we truly could enjoy the entire celebration from beginning to the end.
From a crisp beautiful weather of January, great food, gorgeous barn , friends and family who came and Kim's help... we have ZERO complaints except the day has to end.


Byron Colby Barn is a beautiful place for a wedding reception! They are helpful and have lots of suggestions. Great for pictures! Would highly recommend!

Alejandra

Married on 12/20/2014

Best renovated Barn closest to Chicago, IL (50 min away) Kim DeRose and staff were very professional and helpful. DIY rustic wedding. Warm and cozy place for either indoor or outdoor ceremonies. Simply beautiful!! Facilities with all you need for your event.

Kara

Married on 09/20/2014

Nothing short of wonderful!! Kim the barn coordinator is so kind, knowledgable and so easy to reach. She is to responsive and offers suggestions to make your wedding easier or help save you a few $! Our guests loved it and we did too :) The venue was clean, intimate and perfect for what we wanted.

Taylor

Married on 09/13/2014

The Byron Colby Barn was the absolute perfect place to have our wedding. Being a DIY venue, I was able to transform this barn into the vision I had of our wedding day. This barn made my dreams a reality. The barn itself, without adding anything, is just absolutely beautiful. We had about 160 people and it sat them all very comfortably. All of our guests were blown away walking into the barn. I honestly cannot say enough about it. If you choose this barn as your venue, consider yourself the luckiest person in the world. Also, Kim, the barn manager was wonderful to work with as well. She is incredibly helpful, quick to respond on any question I had, and overall just an absolute pleasure. Kim, I thank you for all of your help. It was truly an honor to hold our wedding here.

Angela

Married on 06/29/2014

The Byron Colby Barn is an amazing venue for any of you do-it-yourself brides out there! It's a beautiful, historic, and rustic building and the market square courtyard is perfect for an outdoor ceremony/cocktail hour.
Kim is very professional and timely - she even texts which is super handy!
I highly recommend this venue!

Kendra

Married on 06/21/2014

Great venue! The Barn is a very unique and interesting space to have a wedding. The guests loved it and appreciated the history. The Barn staff was very easy to work with and were great at responding to all of my requests.

Danielle

Married on 05/10/2014

Such a beautiful venue! All of our guests were so impressed with the barn and I was thrilled with their staff. Couldn't be happier!

Christina

Married on 07/03/2010

The Barn was perfect for our wedding and reception. We were married in the courtyard and we were able to set up the way we wanted. The only issue was we had to rent chairs for outdoors and could not use the chairs from inside the Barn.
The reception was perfect. We had 100 guests at our wedding and it fit everyone comfortably. The Silo was an incredible and unique place for a bar. Everyone loved it! We used the upstairs as a sports area (baseball theme wedding) where people could go to get away from the music but we did not use this for our dinner. All 100 guests fit in the main area.
Stan the contact for the Barn was great. He answered his calls immediately. If you leave a message for him, he returns the call within minutes. Please note, you must have a backbone and KNOW what you're talking about or else his dominating personality will be overwhelming. We set boundries from the beginning and things went very smooth after. He helped us with ideas of the reception layout and allowed us to decorate however needed (no tape on the walls due to the wood walls but had freedom of lights, candles, and decorations in general).
The only downfall is you must have your decorations completely out of the Barn no later than 12:30 am. This made for a long night for those helping to clean up.
The deposit was received within 8 business days...2 days before Stan stated we would receive it. This was a bonus!
I have recommended this place to many people and will continue to do so. This place was PERFECT for us!

Tabitha

Married on 10/21/2016

Byron Colby Barn is an absolutely beautiful and unique venue. One of the best parts about it is that you have the opportunity to do all of the decorations yourself, so it truly becomes the venue that you pictured. Kim was fantastic and very accommodating. She let us go see the venue multiple times, and on the day of she was there and so helpful! We received a lot of compliments on how beautiful it was. It is a little pricey, but it was worth it to have our dream venue!

Becca

Married on 08/13/2016

Finding the Byron Colby Barn was pure luck and after the wedding we still feel that way! Kim was incredibly easy to work with and had many great recommendations for vendors. The entire process was easy and having the ability to decorate and personalize the venue to our exact specifications was absolutely wonderful. Honestly, the thing that sold me upon walking in was the fact that there was a backup plan for weather. Fortunately, we were able to have our wedding outdoors and we highly recommend using this venue for your wedding and reception! Finally, there are so many beautiful places on locatoin to take photos before and after your wedding a an added perk.

We recently had our bestfriend's baby shower at the Byron Colby Barn. The Barn is simply beautiful and perfect for our theme - it has rustic feel yet charming and warm. The venue is very unique- it is located on the Prairie without going very far. It is conveniently located on the heart of Grayslake . All of our guess could not get over how beautiful the the Barn is.
Kim, the manager was very welcoming and cheerful. She was very easy to talk to and already we felt that we are at "home". She promply answered any questions and gave suggestions. She texted me right away for any concern or questions even on her days off! The day of the party, she allowed us some time to decorate before and clean up after, at the relax pace so that we truly could enjoy the entire celebration from the begining to the end.
We could not have an amazing party without the help of Kim. The beautiful weather, good food, friend and family who came to celebrate with us... we have zero complaints except that the day has to end.


This venue was great. They were very professional and made sure we were all set. We used their catering vendor and the food was amazing. Beautiful venue.

Lindsay

Married on 10/05/2014

Byron Colby Barn is absolutely stunning! We chose to have our ceremony & reception both inside the barn, given it was early October and Chicago weather was so unpredictable.
We saved a lot of money in several ways....
1) We had our wedding on a Sunday, and it was only 50 people
2) You can purchase your own alcohol from Binny's and they will deliver it to the barn.
3) We made all our own centerpieces/decorations.

It was awesome! Not to mention the staff was soooo great.

Thank you Byron Colby!


WE LOVED having our wedding at the barn! I received some somewhat negative feedback regarding day-of setup from my friend and the helpfulness of the barn staff, but everything turned out great all around!! Amazing venue!
Are you interested?
Send a message