Wedding details
It was fate...It was love at first sight...It was all those things you don't believe in until they happen to you. I had gone to college out his way, but after graduation I had moved back home. My only ties to that area at the time was the fact that I had been dating one of Brian's co-workers, for about 3 months. When that relationship ended there was certainly no love lost. But Brian, always the gentleman, waited almost 6 months before contacting me. He randomly im'ed me one day in June 2007 and the conversation lasted hours. He asked me out (we had already met a few times) and I've been hooked ever since... I knew I was in love after 3 months - in fact, he is the only guy I have ever said "I love you" to first. At 5 months we were already talking about marriage. For Christmas 2007, he gave me a promise ring. We kept talking about spending the rest of our lives together, even though he made me wait another 2 1/2 years for the ring:) We are so perfect together and I can't wait to be married to my best firend & soul mate so we can really start our life together!
Discussions I've participated in
59

Only 5 months married and I feel so naked.....
Mrs L
, on September 6, 2012 at 3:30 PM
My white gold ring has already started to yellow. I had to drop it off to the jeweler today and they are sending it out to be "re dipped". I had this done previsouly right before the wedding only 5...
Groomzilla,

Sep 6, 2012
23


Champagne wedding dress
Eline
, on June 8, 2012 at 6:09 AM
Hi ladies, I want something different on my wedding day, therefore I decieded to go for a colored wedding dress. However, I'm not so fond of red, purple, black etc wedding dresses, I just don't want...
Activity

I uploaded a photo in Katrina's discussion
1978 days ago
3 pt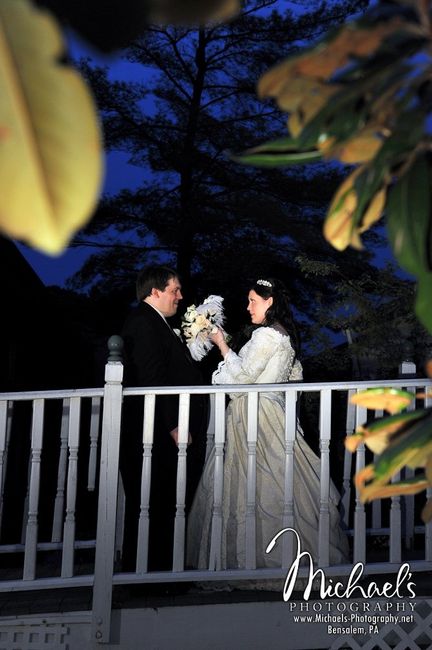 I got the Pro Pics! **PIC HEAVY!!**
So we got our professional pics back - now we have to choose which ones we want for our wedding album, which seems to be an impossible task! Here's just a few (well, a baker's dozen haha). Hope you like! (1) My Accessories (2) My mom & MOH lacing me...

I uploaded a photo in Cydney J (Cydney M)'s discussion
1978 days ago
3 pt
This was a big hit last time - Show us YOU in the dress and the MODEL in the dress
Awhile ago, a thread started asking to show a picture of YOU in your dress and a picture of what the model looked like in the dress. It was a lot of fun to see the difference and I think we all agreed...the brides looked MUCH better in the gowns than...

I uploaded a photo in Michelle's discussion
1978 days ago
3 pt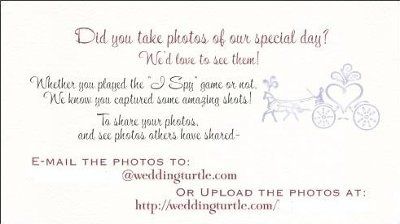 Photo Cards.. What are they?
Ok ladies... I always hear you all talking about photo cards you printed on the free business cards from Vistaprint... What are they and what should they say? Are they a card that tells people where to email their photos? HELP!
WeddingWire celebrates love
...and so does everyone on our site!
Learn more
Groups
WeddingWire article topics