Northeastern U.S. Honeymoons
From Niagara Falls to Boston to NYC, check out some tips to find the perfect honeymoon destinations in the Northeastern U.S.
The Best Honeymoon Destinations in the Northeastern U.S.
We're just going to come right out and say it: Lavish beach honeymoons can be overrated. An affordable yet charming vacation that's a short drive (or flight) away? Now we're talking. If you're looking for a low-key yet memorable honeymoon, consider heading to one of these honeymoon destinations in the Northeastern U.S., where you can get your fix of history, nature, and fresh seafood. From Maine's coastline to the hustle and bustle of Beantown, these cities have so much to offer. The best news of all: Since they're not always major tourist destinations, you won't be fighting off crowds or paying astronomical prices. So, that's a win already.
Check out these honeymoon destinations in the Northeastern U.S. and start planning your trip of a lifetime.
When to Go on Honeymoon in the Northeast
If you're traveling up north, temperamental weather is definitely something to consider. Unless you're planning on hitting the ski slopes, avoid traveling around the northeast in winter. Since the weather in northern states is mild yet beach-appropriate during the summer months, it's a wonderful time to visit. But if you want to get a glimpse at the foliage, plan a trip during late September and October.
Where to Go on a Northeast Honeymoon
Bar Harbor, Maine
Nothing like the islands in the tropics, this tiny island off the coast of Maine is New England at its finest. Bar Harbor, which is located on Mount Desert Island, is the gateway to Acadia National Park. That means you can't visit this beautiful spot without spending a day (or three) in one of America's most visited national parks. Here, take in the rocky coastline, massive lighthouses, and fresh Maine air. For a spectacular view, drive along Cadillac Mountain, the park's highest viewpoint, to see the sunrise. Fun fact: It's the first place to view the sunrise from October 7 through March 6, so plan your visit accordingly. Fill up after a day on the trails with fresh lobster at Thurston's or blueberry ale at Atlantic Brewing Company.
Must see: Catch the sunrise in the mountains and then wind down with a sunset cruise at night. Or if you'd rather hop on a lobster boat to learn more about Maine's delicacy, you can do that too.
Portland, Maine
It doesn't get more picturesque than Portland: During your visit, get a taste of all that the city has to offer by exploring downtown, the coastline, and everything in between. Get the best of both worlds at Old Port, a vibrant downtown area flanked by boats, docks, and beautiful ocean water. It's easy to spend an afternoon or night downtown thanks to its hundreds of shops, art galleries, and restaurants. (And if you're looking for fresh seafood, make a reservation Eventide Oyster Company, stat.) If the weather permits, take a 90-minute boat ride with Casco Bay Lines to stop by tiny islands and get up close and personal with victorian cottages. On days where the weather isn't in your favor, stay dry at Portland Museum of Art or Victoria Mansion.
Must see: When honeymooning, you must drink all the beer, In Portland, that means you have to take a pit stop at Allagash Brewery.
Boston, Massachusetts
One of the only honeymoon destinations in the Northeast U.S. where you can get schooled on early American history, romanced by cobblestone charm, and stuffed on homemade lasagna, Boston is the mecca for just about everything. There's history everywhere you look thanks to the 2.5-mile long Freedom Trail, which brings you to 16 historical sites like the Paul Revere House and the spot where the Boston Massacre took place. Finish your tour at Faneuil Hall (a.k.a. The "Cradle of Liberty"), so that you're walking distance to the marketplace where you can grab a bite to eat and shop at popular stores. Even in the midst of the city's hustle and bustle, find some respite at Boston Common or Boston Harbor. Or better yet, catch a game — and maybe a foul ball! — at Fenway Park.
Must see: Two words: Mike's Pastry. Wait in line for one of the Italian bakery's world-famous cannolis. It'll be worth it.
Newport, Rhode Island
Live like the Vanderbilt's in this seaside city. Dressed with some of the country's most impressive Gilded Age mansions — The Breakers is a must-visit. — this small Northeastern honeymoon destination is known for its extravagance, waterfront views, and best of all, fresh seafood. After gawking at The Breakers, the Vanderbilt's cottage (casual), get a different perspective of the larger-than-life homes of the rich and famous by strolling on the 3.5-mile long Cliff Walk. Along the way you'll come across stately homes like Marble House and The Elms, which are worth a visit if you have the time. To bring things down a notch, explore Thames Street, which is full of lively restaurants, bars, and shops full of classic New England styles. End your visit with a romantic dinner for two at The Mooring Seafood Kitchen & Bar or ya know, hit up Brick Alley Pub for a pint of the good stuff.
Must see: Attend a service — or take a quick peek — at St. Mary's Catholic Church where the Kennedys famously wed.
New York City
More Northeast than New England, a Big Apple honeymoon could be just what the city slickin' couple needs. As the ideal first or last stop on your road trip, book a few nights at a luxe Airbnb in Manhattan and explore from there. No matter if you love Broadway, can't get enough of the club scene, want a laid, back artistic vibe or you simply want to play tourists at the numerous hot spots dotted along the skyline, the city that never sleeps will keep you busy. Make sure to book fancy dinner reservations in advance, since they fill up quickly!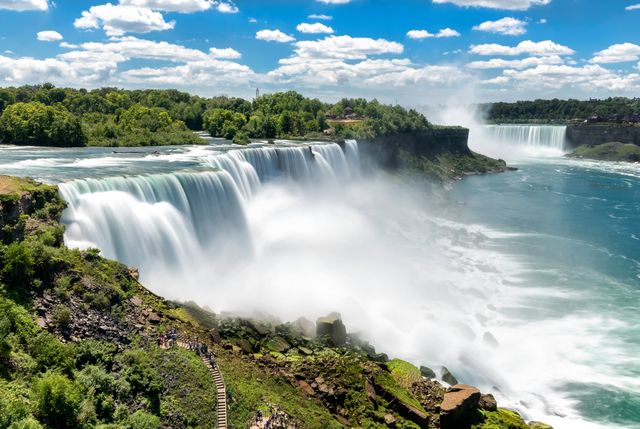 Niagara Falls
If you need a break from the hustle-and-bustle, consider finishing your trip in Niagara, one of the top honeymoon destinations in the Northeastern U.S.. Though it's definitely one of those spots that captures your attention, the surrounding town is sleepy and small, offering a sweet getaway for newlyweds. You can also choose your own level of adventure — glancing at the falls from the bridge, taking a boat or a mixture of the two. No matter what you do here though, ya can't miss an iconic selfie in front of these grand rapids. Rushing into marriage, eh?
Sample Northeast Itinerary
Make your way up north to Bar Harbor, Maine for a few days of respite after a whirlwind wedding.
Hop in your rental car — or board a train — for a picturesque three-hour drive to Portland, Maine.
Take a gander to Newport, Rhode Island.
Then, another scenic ride down the New Hampshire coast until you land in good ol' Beantown.
Fly to New York City — and get ready for the action.
Lastly, big adieu to the northeast with a stop in nature at the falls.
Article by Lindsay Tigar
Flight 3
- Remove Flight
+ Add Flight
Flight 4
- Remove Flight
+ Add Flight
Get access to travel deals when you book your honeymoon through WeddingWire