As the northeasternmost American state, this region of the country is defined by beauty, diversity, and okay—lobsters! When you consider a Maine honeymoon, you can expect a jagged and picturesque coastline, cascading mountain ranges and freshly-caught seafood. Couples who choose this destination for their first romantic escape as a married duo have a vast variety of experiences to savor, from hiking, and sailing to touring through some of the most charming towns on the East Coast. For newlyweds who love the maritime lifestyle, there is no better destination with lighthouses, cruises and endless options to explore the sea beyond.
If you're considering booking a Maine honeymoon, this guide will give you a sneak peek on what to expect.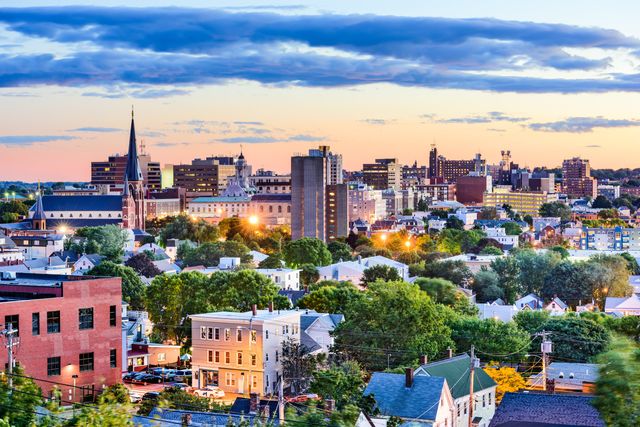 Best Time to Visit Maine
Because of its location on the map, Maine hosts all four seasons. And by host, we mean they really go big—the winters are long and snowy, the fall is ripe with a colorful array of foliage, the summers are vibrant and active, and you can't beat the blooms of spring. That being said, most travelers trek north to Maine during Autumn to ooh-and-aww at the leaves in September and October, or snow bunnies migrate to the hills from mid-November, all the way to May! But for those who have a hankering for a lobster roll, June, July and August are sure to win you over.
What to Do in Maine
From Portland to the shore and the countless state parks that define the state, you can fill your honeymoon calendar with wonder and romance. Here, a few ideas to guide your planning a Maine honeymoon.
Visit Baxter State Park: While there are many forests, wildernesses and peaks to explore when you're in Maine, one of the most famous is the 200K-acre Baxter State Park, which is nicknamed 'forever wild.' There are hundreds of hiking trails, all of which allow you to truly go remote and get lost in the wonder of Mother Nature. If you're up for the challenge, plan a multi-day hike to climb the infamous 5,267-foot Mount Katahdin.
Travel through Acadia National Park: Another renowned and beloved national park is Arcadia, and is likely what you see when you browse through Maine photos online. Here, you'll find lakes, streams, forest and plenty of other inland works of nature. If you want to drive by car, take the picture-perfect Park Loop Road. Make sure you don't miss Bass Harbor Head Lighthouse!
Go White Water Rafting: While definitely not for the faint of heart—or for winter Maine honeymoons—you can get your heart rate up by rafting down the Kennebec Gorge. Guides will take you on this adrenaline-pumping experience, so hold on tight!
Go Skiing at Sugarloaf: Maine is known for attracting swish-swish lovers who come back year after year to explore the slopes. One of the most popular is Sugarloaf, where you can expect mountains that surpass 10,000 feet and are always covered in beautiful, fresh white powder.
Hold Hands Through Boothbay Harbor: Many years ago, this port was in action, but today, it's more for yachting and summer romancing during your Maine honeymoon. While you're here, you can browse through art galleries from local artisans, dine at a seaside restaurant and cheers to your marriage with micro-brewed beverages.
Walk Marginal Way: For beach lovers, strolling along Marginal Way gives you a bird's eye view of the ocean, the shore, surfers and locals who run along this path. If you head in the direction of Ogunquit, you'll find yourself in Perkins Cover, complete with more lobster boats than you could dream up.
Tour Portland Head Light: Also known as a lighthouse, but this historic landmark helped ships sail into Portland dating as far back as 1791. You can explore the surrounding Fort Williams Park below, before making the trek to the tourist area.
Spend a Weekend in Portland: Though much of what attracts honeymooners to Maine is nature, its capital of Portland is growing rapidly, offering a 'city' escape. You can get lost in the nightlife, coffee shop hop and likely, convince yourself you want to move to Portland before the weekend ends.
Take Photos at Coastal Maine Botanical Garden: While you're in Boothbay Peninsula, take an afternoon for lunch and Instagram-ing at this 270-acre reserve of flowers, greenery and more. There's even a multi-level waterfall!
Visit Victoria Mansion: Dating back to the 19th-style, you will be fascinated by the lush Italian style of this landmark. As you tour through the opulent rooms, you can get an idea of the richest of the rich lived before the Civil War.
Article by Lindsay Tigar