A New Orleans honeymoon is ideal for all types of couples. New Orleans is home to the French Quarter, the original colony founded by French Creoles in the early 1700s. Nola's streets are also lined with shops, museums, galleries and musicians, so newlyweds will have plenty to do and see throughout the historic city.
After exploring the famous French Quarter on your New Orleans honeymoon, pop into a restaurant for a bite to eat. Thanks to its Creole history, food in the city is the ultimate comfort food. Being so close to the ocean gives New Orleans access to fresh seafood. So, be sure to check out classics such as gumbo, muffulettas, and po'boys during your New Orleans honeymoon.
While exploring the city, you're bound to come across fabulous street musicians, too. Take some time to take them in. If street music isn't your thing, there are plenty of clubs and venues to visit for a night out.
Check out these tips for planning your incredible New Orleans honeymoon.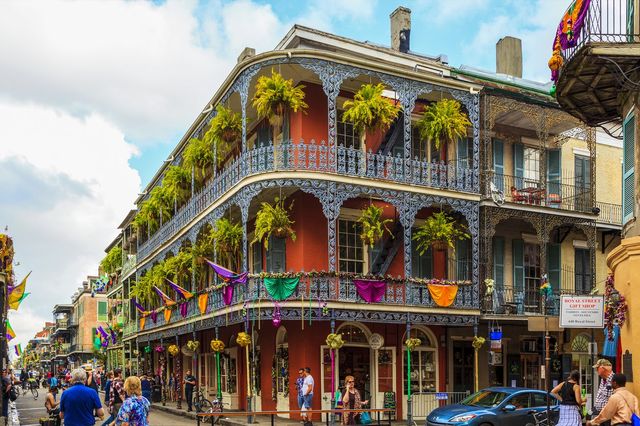 When to Go
The best time to enjoy your New Orleans honeymoon is during the spring. Weather is beautiful and mild, and hurricane season won't hit until late summer. For cheaper flights and accommodations, try visiting in May. Weather is still comfortable, but you may be able to snag a stellar deal. Mardi Gras goes on from January to February, so keep in mind that prices skyrocket, as do the crowds, at this time.
Top Sights and Activities
French Quarter: A romantic and historic part of the city perfect for New Orleans honeymoon walks.
Mardi Gras: Be ready for a party and plenty of crowds if you plan your New Orleans honeymoon over Mardi Gras.
Crawfish: Sample some of New Orleans' famous fresh crawfish or crawdaddys.
Beignets: Enjoy hot, fried pieces of dough from the famous Café du Monde.
Live Music: Take in the street performers in the city.
City Tours: Learn more about the city on foot or by streetcar.
Boat Tours: This waterfront ride is an ideal experience for a New Orleans honeymoon.
Shopping: With specialty and locally owned shops, there's something for everyone in Nola.
Jackson Square: Check out this National Historic Landmark.
St. Louis Church: A beautiful 18th century cathedral.
City Park: Take in the nature that New Orleans has to offer.
Garden District: Historic neighborhood marked by sweeping tree cover.