12 Mother-of-the-Bride Dresses for Every Wedding Style
Help your mom or future mother-in-law find their wedding-day look by browsing these mother-of-the-bride dresses.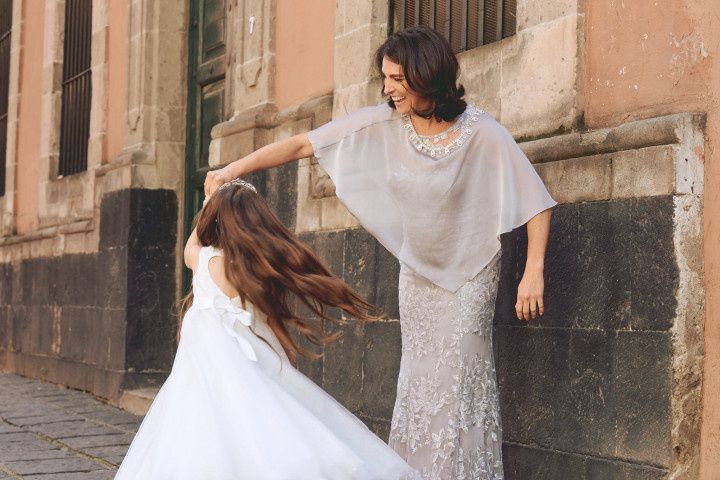 Sponsored by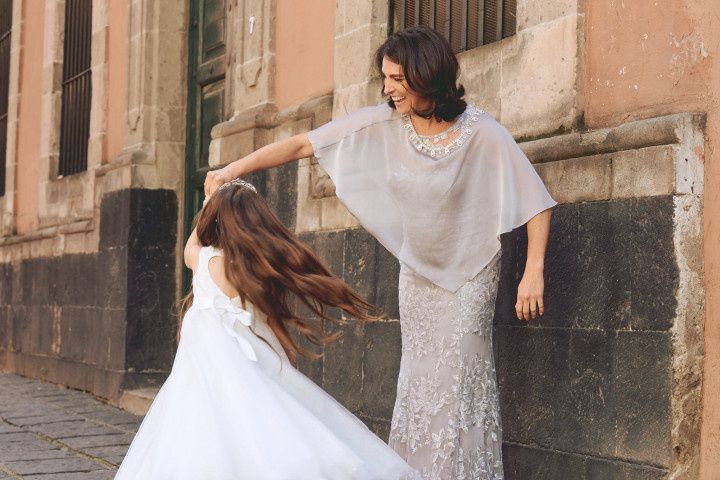 When your mom is searching for her mother-of-the-bride dress, it's important that she finds a gown that pairs well with the rest of your wedding aesthetic. Not only should she stick to your desired color palette, but she also needs to be aware of the fabrics or necklines that best match your bridesmaid dresses, flower girls, and the overall setting of your big day. In order to ensure your mom looks her best at your wedding, we've teamed up with David's Bridal to showcase a variety of different styles. From trendy sequined designs to gowns with classic silhouettes, these mother-of-the-bride dresses complement every wedding style.
Coordinate your mom's look by opting for one of these gorgeous mother-of-the-bride dresses.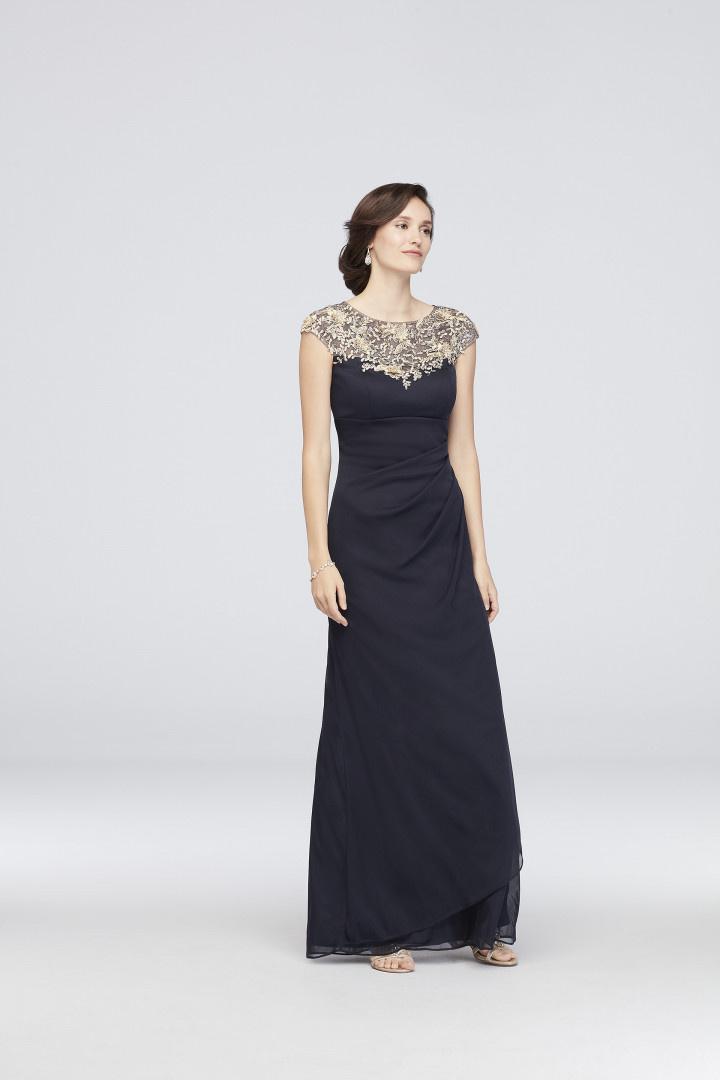 Classic
Dress Style: 1866X
With a metallic embroidered neckline, we think this mother-of-the-bride dress suits a formal or upscale affair. $230, David's Bridal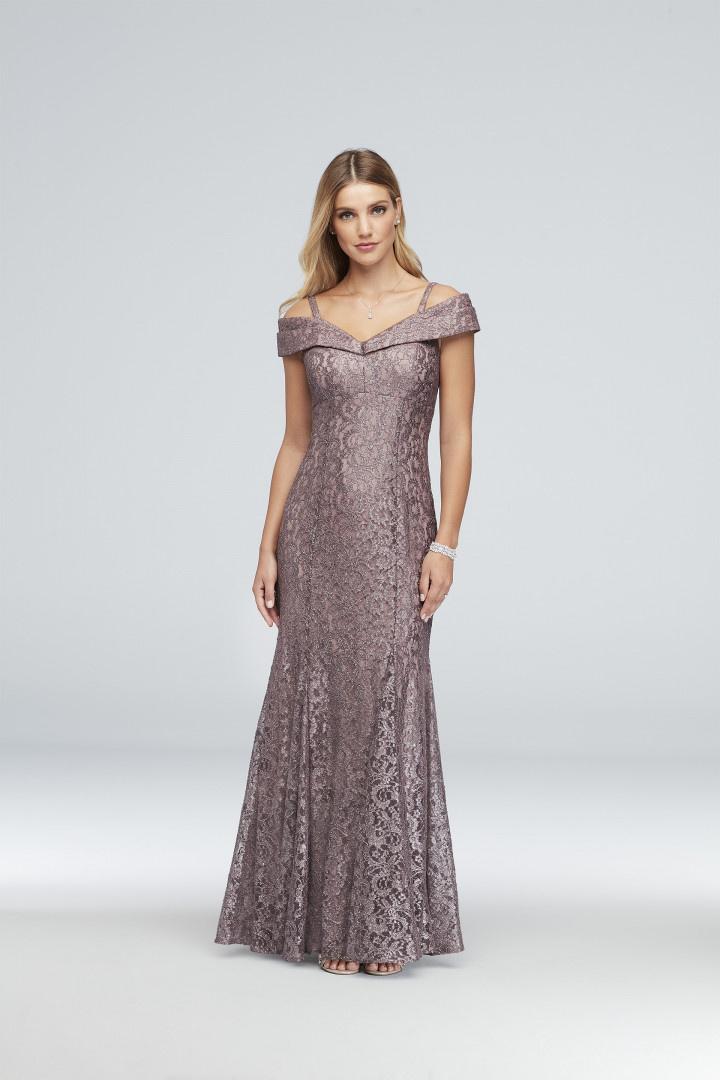 Trendy
Dress Style: 2047
For a hip mother-of-the-bride dress, opt for this sleek, metallic lace cold-shoulder gown. Cold-shoulders are the new off-the-shoulder trend for moms because they provide a bit more support. $170, David's Bridal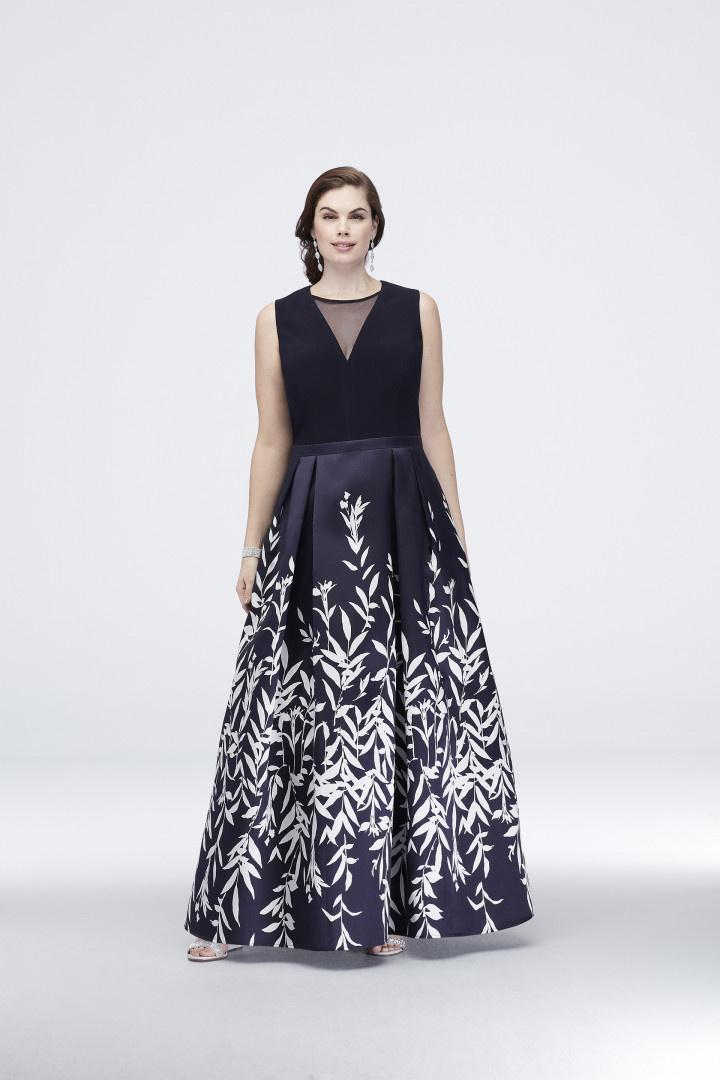 Modern
Dress Style: 12339
If you're steering away from tradition and leaning toward a more contemporary wedding style, then we think your mom or mother-in-law should wear this dramatic ball gown. Accessorized with a pleated mikado skirt and illusion plunge neckline, this gown is anything but ordinary. $200, David's Bridal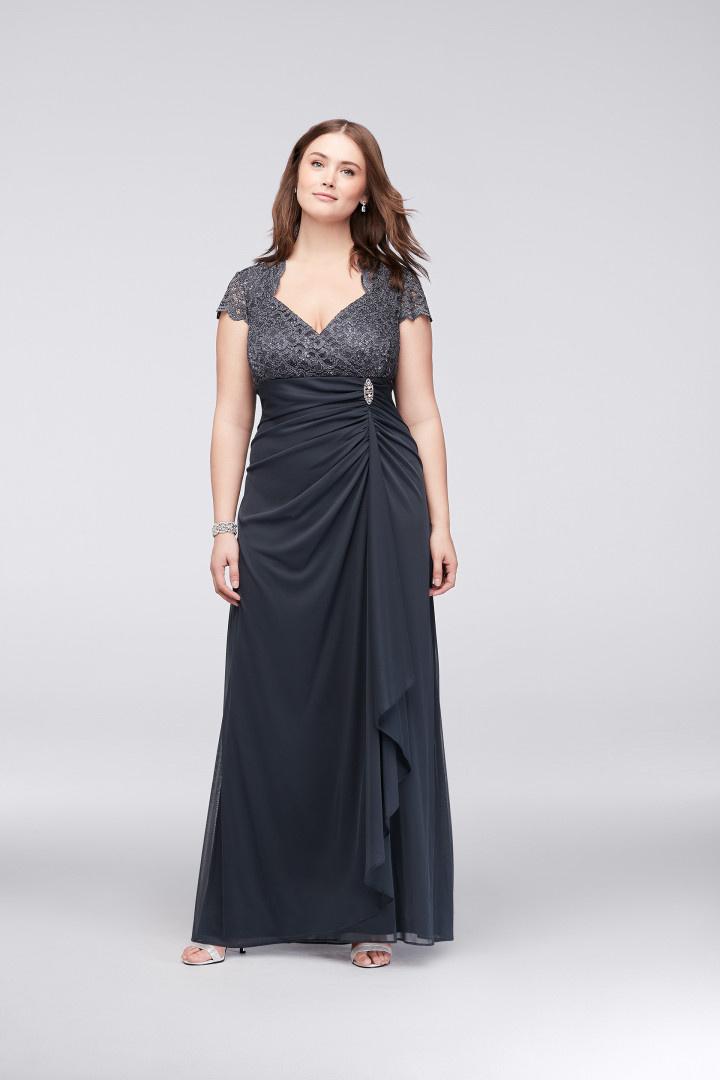 Vintage
Dress Style: A18436
If you want your mom to wear a gown that will never go out of style, then opt for this flattering A-line. It features a lovely scalloped lace bodice and is accessorized with a crystal brooch to add a bit of sparkle. $150, David's Bridal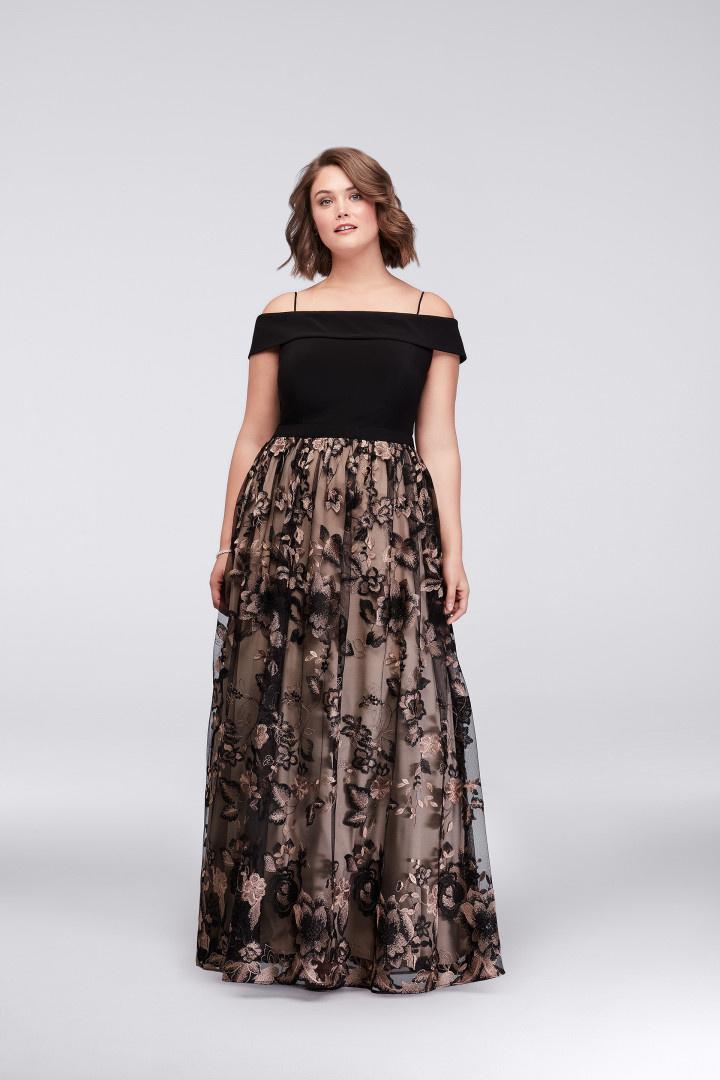 Fashion-Forward
Dress Style: 21655W
Your mom will feel confident and chic wearing this high-fashion beauty. With a floral lace overlay and trendy cold-shoulder top, this ball gown is totally wow-worthy. $240, David's Bridal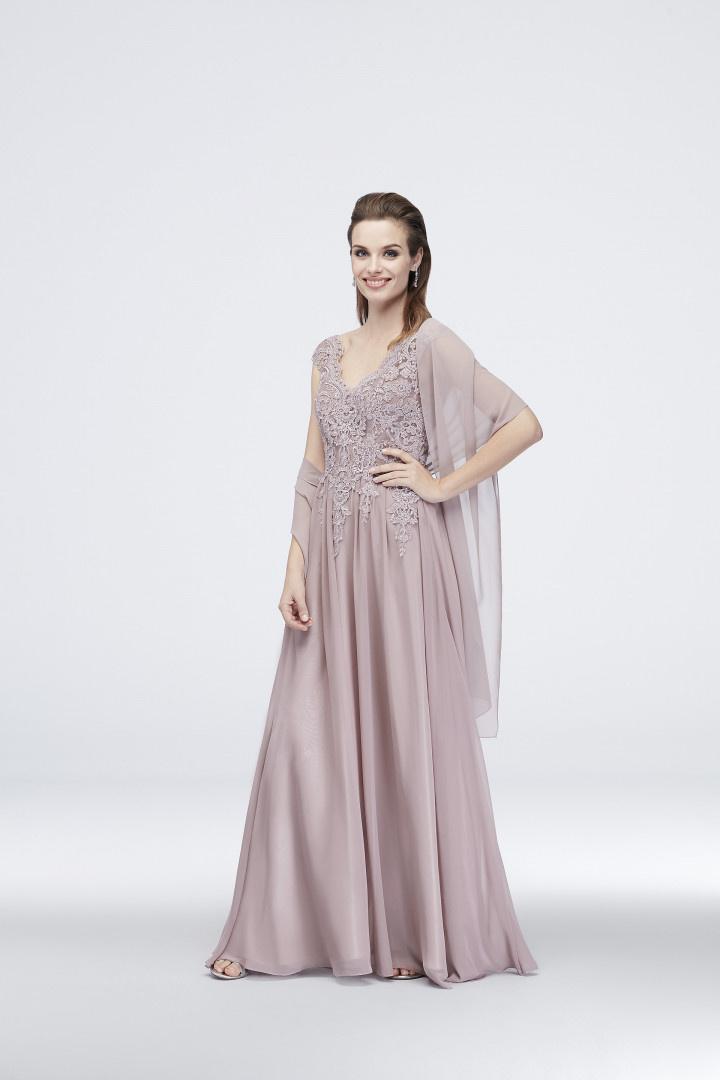 Romantic
Dress Style: 60178D
Floral lace atop a flowy chiffon skirt evokes an ethereal vibe that your mom will love. They can accessorize the look with a matching chiffon wrap for some extra coverage, too. $300, David's Bridal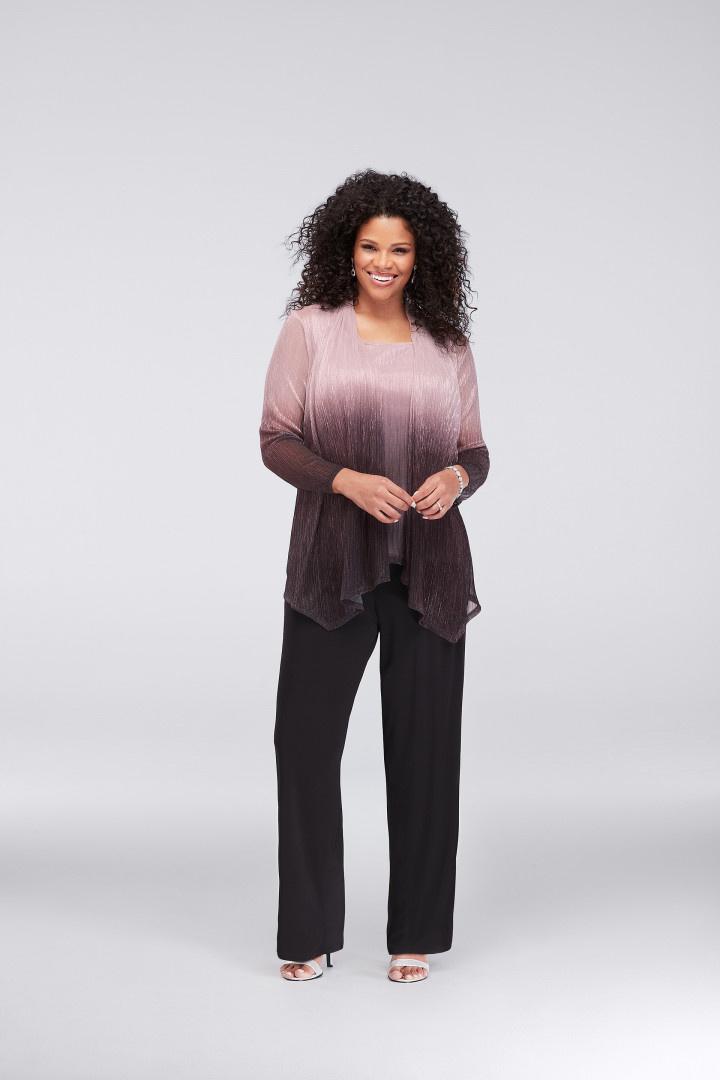 Boho
Pantsuit Style: 950136
Featuring a metallic ombre top and sleek black pants, this ensemble is a comfortable and contemporary look that can easily be dressed up or down. $160, David's Bridal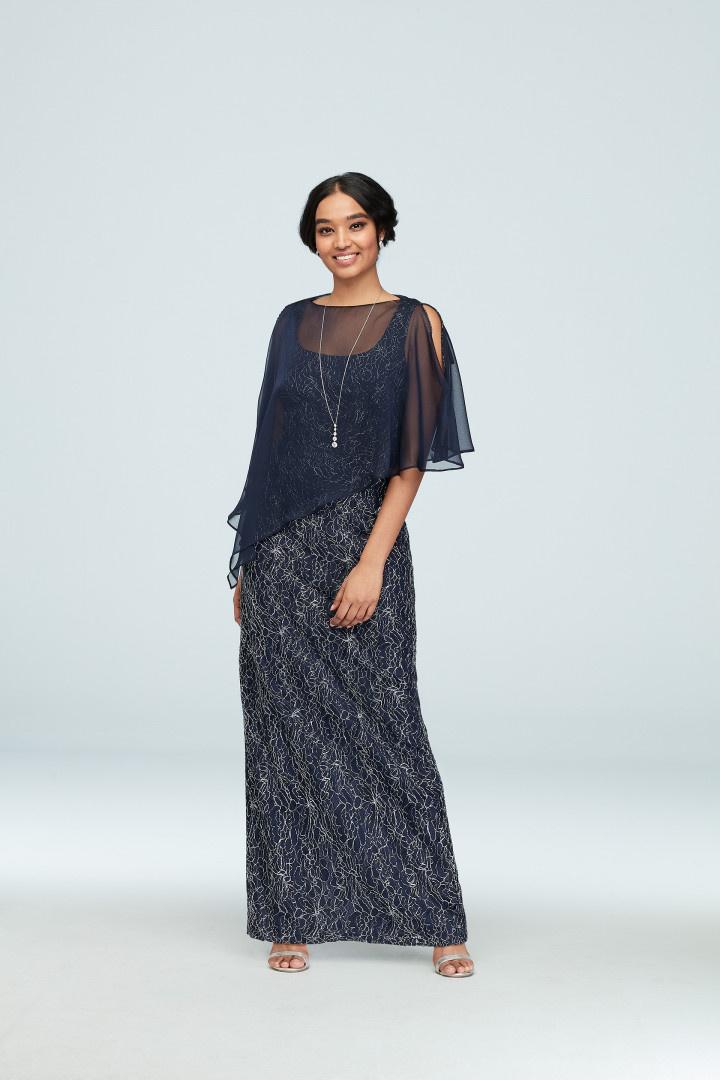 Glamorous
Dress Style: 7412142
Moms who are hoping to achieve a low-key glamorous mother-of-the-bride look should try a gown featuring metallic detailing, like this silver and navy sheath. Not only does this gown shimmer, but it comes with an asymmetrical cape that can be worn during the ceremony and then removed at the reception to switch up the look. $210, David's Bridal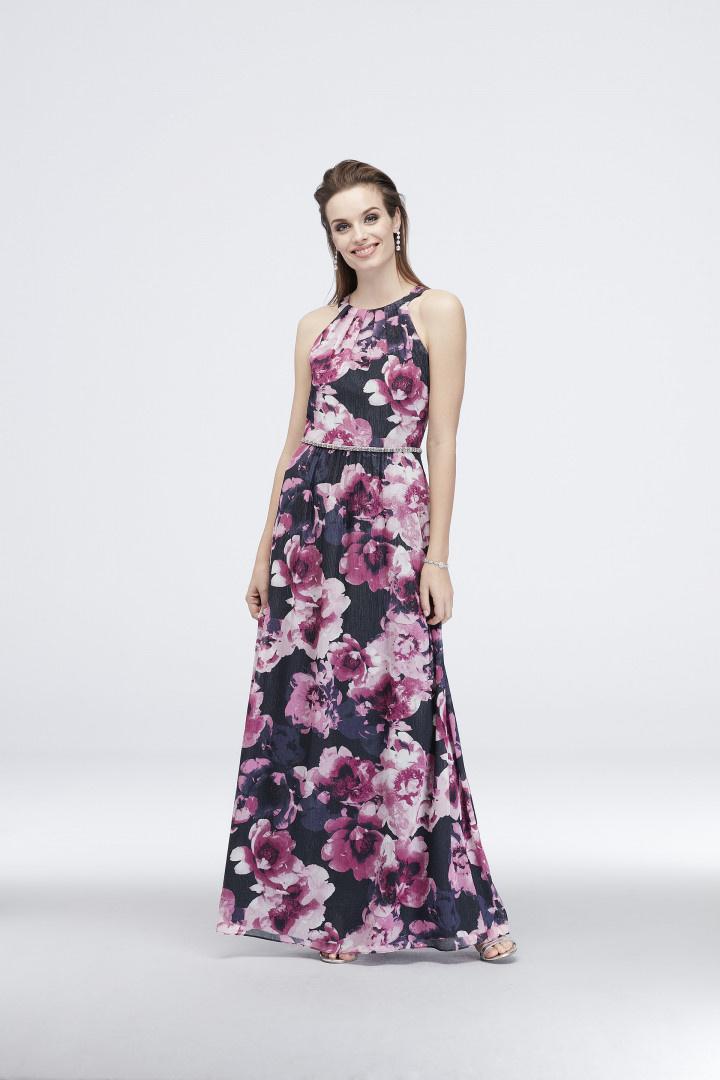 Whimsical
Dress Style: 9171323
Floral mother-of-the-bride dresses evoke a playful and romantic vibe that's perfect for an outdoor ceremony or reception. $120, David's Bridal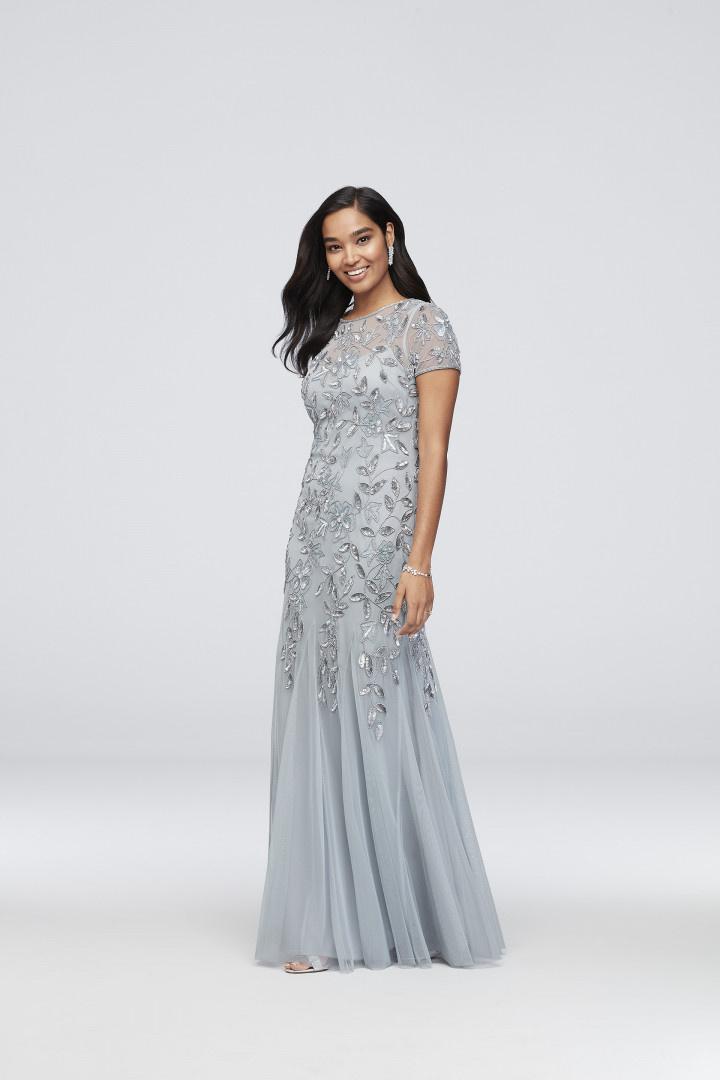 Rustic-Chic
Dress Style: 091897240
With sequin floral-and-vine embroidery paired with an illusion scoop neckline and pale blue hue, this mother-of-the-bride dress is a fabulous choice for a farm or barn setting. $350, David's Bridal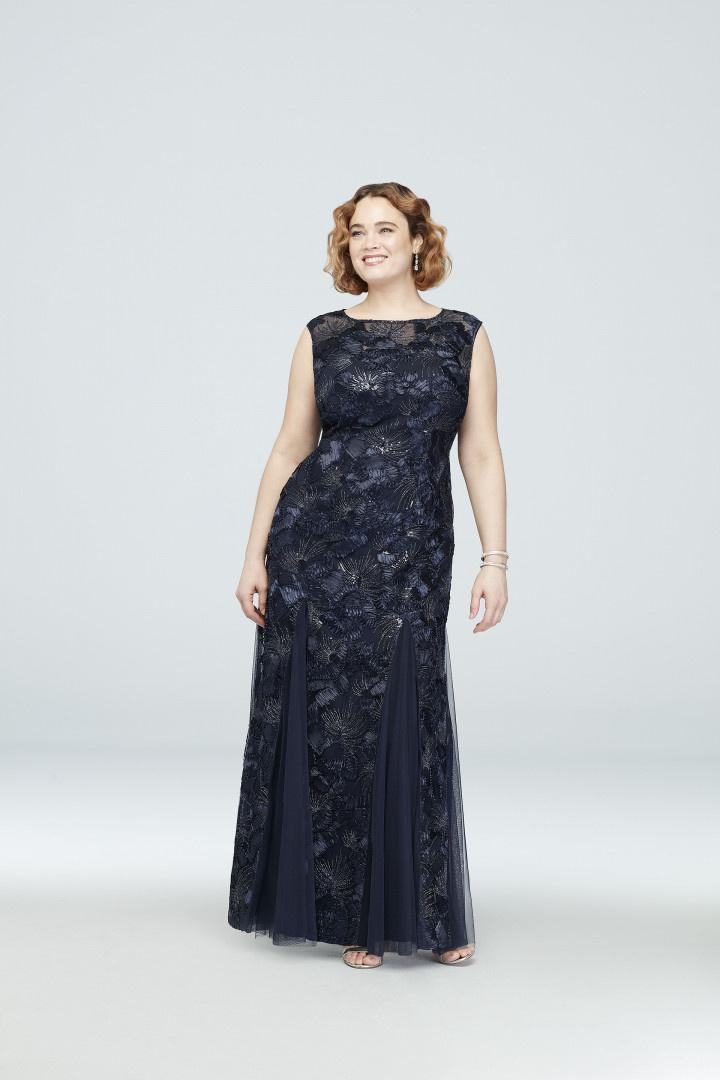 Sophisticated
Dress Style: 81177371
Rich and deep hues, like sapphire blue and emerald green, create a polished and modern mother-of-the-bride look that's perfect for an upscale or black-tie event. $250, David's Bridal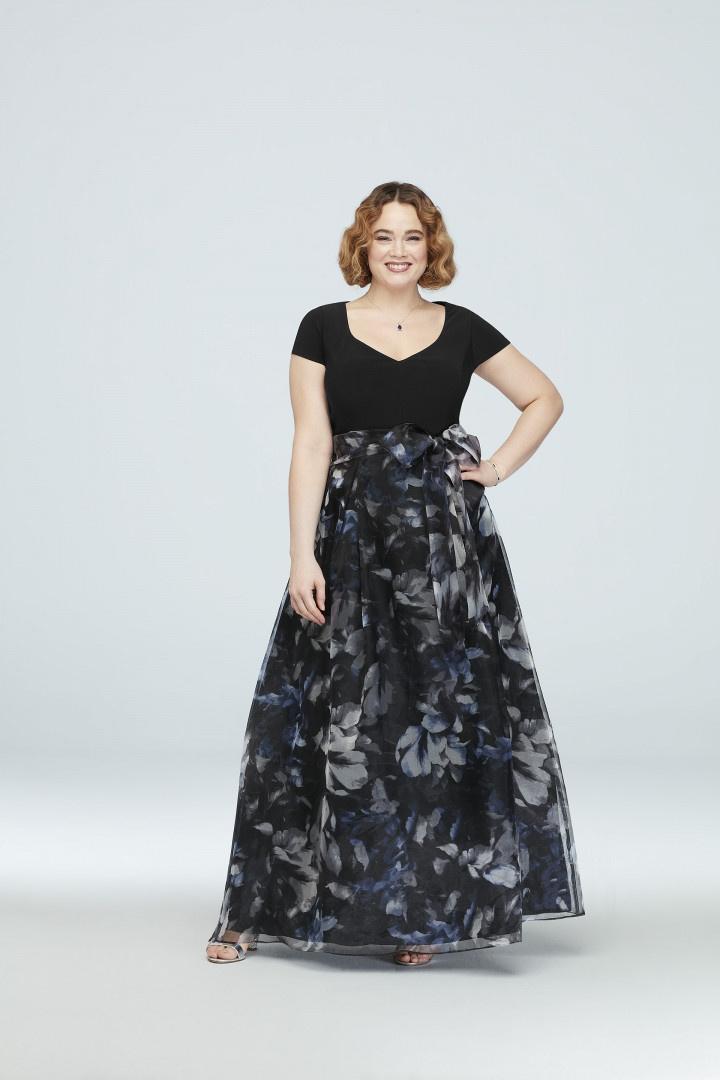 Artsy
Dress Style: 7441139
Featuring a body-skimming black bodice paired with a lavish floral skirt, this mother-of-the-bride dress is perfect for fashionistas. $120, David's Bridal