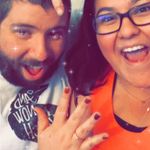 Liz, on April 11, 2020 at 1:41 AM

Posted in Etiquette and Advice 68
My FH and I have been having the discussion about how we will pay for our wedding. We want to keep it simple and fairly cheap. I am a teacher and he is a support manager at Walmart. We don't make a ton of money. His mom made a comment to him that it's traditionally the brides father who pays. A bit
...
My FH and I have been having the discussion about how we will pay for our wedding. We want to keep it simple and fairly cheap. I am a teacher and he is a support manager at Walmart. We don't make a ton of money. His mom made a comment to him that it's traditionally the brides father who pays. A bit of background on both our family's, they are not rich by any means. Both middle class family that get by. I was a little off out with her comment. I for one didn't really want to do the whole wedding thing. I lost my mom a few years back and thinking of planning a wedding without her breaks my heart. So I am all for a quick trip to Vegas and be done with it. He wants a big wedding and reception. He is all about going 50/50 from both of us but his mom is not. Has anyone else had this issue? Any ideas on how I can possibly handle this tactfully?
Show all
There's definitely ways to pinch pennies and not spend a lot. Doing your own hair or letting your girls know you're not paying for theirs. Nowhere says you have to. No one also says you have to give big "will you be my bridesmaid" gift on top of a gift at the rehearsal. Don't mail more than you have do. If you need to cut out save the dates, it's okay.


As for who pays, a person can only say "I'm willing to give you this", no one not even you or your FH can say "you have to pay for x,y,z". You could ask your dad if he's willing to pay for anything, but no one can make him. With your FH, you need to come up with a budget. How much can you reasonably put aside between now and wedding day towards this wedding, and you shouldn't rack up credit card debt to do it. Talk with him about costs, let him see how much a big wedding would be (most people don't realize it until you get in the nitty gritty. I sure didn't), and then I'm sure the two of you can come up with something that both of you will love.

View Quoted Comment

Thank you for advice! I like the idea of not having to the do the big ask for bridesmaids. I feel like it is too much.

View Quoted Comment

So many great ideas! Thank you for sharing. I like the idea that if it something our family wants but we do not care if we have then asking them to pay for!

My mom thought the grooms father pays and I always thought it was the brides family but i never actually cared for those traditions. My husband and I went 50/50

View Quoted Comment

I love the idea of using local grocery store flowers. Flowers really are not that important to me either. Thank you for all the great tips!

View Quoted Comment

I feel like it should be 50/50 between the two of us. We already are pretty nontraditional as is.

View Quoted Comment

I love the idea of a brunch wedding or having it on a weekday! Sunday's would be nice that way people could fly in Saturday if they needed and fly back home Monday or Tuesday. Thank you!

View Quoted Comment

I think we could totally do the joint account. That way we can put aside a little at a time!

View Quoted Comment

Yay! Happy to help.

I would LOVE to go to a brunch wedding. Yum. 🍳 🥓 🥞 ☕️ 🍾

View Quoted Comment

I am hoping she will get better as time goes forward. My thoughts now are to bring up wedding talk as little as possible with her. My FH can handle that one.

View Quoted Comment

Thank you I am trying to! I hope all is going well with your wedding plans!

View Quoted Comment

It helps so much! Start saving now so when you start to make deposits you can pull the money from there (although it's nice to use a CC for the points and record of payment then pay it off from your checking account). 👍

Ah, I feel this... FS and I had this discussion. I really wanted to elope, but we've got a $15K budget for our wedding. We have decently-paying jobs, but he's paying off his student loans still, so I'm essentially paying for the whole wedding myself.

**Traditionally** for a heterosexual wedding, the bride's family (not a specific parent??? wth) pays for the wedding, the groom's family pays for the alcohol/bar for the reception and for the rehearsal dinner the day before the ceremony. The cost of other events (bachelor/bachelorette parties, bridal/wedding showers, etc.) are generally split between the members of the wedding party and, in some cases, the family of the person whose event it is.

I second what people are saying about the resentment factor. I can say, from personal experience, that I'm still working to get over the resentment I'm feeling about me footing the bill for the wedding he wants. Maybe sit down together and do some research into the cost of the ceremony, the reception, etc. Guys aren't as well-versed on wedding industry prices and standards; maybe seeing the (often ridiculous) high price-tags associated with a big wedding will set him straight!

Your FMiL is completely out of line. Don't discuss finances or the wedding with her. You need to start setting boundaries now rather than hoping she will cave


With covid going on, I would also recommend against planning a large wedding. You'd be gambling a lot of money. Even if your wedding is over a year out, vendors may be out of business by then. Also, I think the appropriate compromise between an elopment and a big wedding is a medium one.

I have somewhat a similar issue. I have mentioned a backyard wedding which is always reasonable and good if you have the house/yard for it. I don't have my dad in my life and I thought to pay for everything myself. There is also the option of having people pay for their plate per person. That should help you back out a little bit.

I'm sorry, to be without your mom planning is hard but I think you and your FH need to have a sit down and explain to him how you feel. Marriage is about compromising so maybe he should understand that y'all should meet in the middle because it's both of your day. As for the mother advice she need to understand that times have change and now a days couples are paying for their own wedding because it's hard when parents have to pay for it. Now it about having that respect to understand that no one wants to burden their parents when they have taken care of us our whole lives and still do when we are older. Just do what is in your heart for both of you because everyone eventually had their own lives and this is y'all special day not everyone else. Stay strong and best wishes!! TEAM BRIDE!!

I felt this !!! I have been in 4 weddings and it made me want Vegas so bad! Like I've been with my fiancé for 10 years and I wanted small. I said Vegas or a small wedding. HE wanted the big wedding. So here we are 10 months in of the engagement and planning a big wedding. I lost lol. I mean I'm happy but I could care less about the details. It's about us getting married. I put my foot down at 250 guest. His mom went over board on her numbers and in time we will decide who we are inviting because we are at 270. My side is only 69 people so I'm a little annoyed. But my parents said they are paying for some things we will pay the 2nd most. My parents said they will help and pay if his dad will pay for booze and his mom to pay for cake, flowers or rehearsal dinner. Other wise my parents said they need their numbers to go down. So far his dad said yes to booze and his mom said yes to cake and flowers. I'm being a bride on a budget. My goal is 250 guest with 15k for everything. Right now I have quotes so it seems like I might go over to 17k but again I have quotes and can find cheaper or do cheaper but that's with everything. It's so hard. Good luck with everything

This is what I say. It's you and your mans wedding. Lol no one else's so all of the decision making is up to y'all.


I do think it's a blessing when parents are able to pay for their child's wedding. My fiancé and I are paying for our own wedding. My parents are making us pay on our own lol I haven't heard anyone saying they will pitch in.
Whatever is comfortable for the both of y'all!

Sorry to hear about your mom. I had a friend who lost a parent right before getting married. He and his wife decided on a destination wedding. A lot of destination weddings include all inclusive so your guest actually end up paying for the wedding and you just pay the difference for those who opted to book a hotel outside of the resort. If money is your only dilemma I would recommend that you do this. That way the bank doesn't get broken too much and mommy dearest doesn't feel obligated pay for something she did not agree to. Send me a private message and I'll let you know what resort my friend used. Good luck everything will work out and I'm sure your mother is very proud of the woman you have become! Stay safe.

View Quoted Comment

I think that has been the thing that has been so overwhelming so far is seeing that price tag already. Looking for a venue we could possibly do both a small ceremony and reception is exhausting. As much as I have loved this website there are so many people emailing that I am starting to feel lost in it all. Thank you for the words of wisdom and your personal experience!
WeddingWire celebrates love
...and so does everyone on our site!
Learn more
Groups
WeddingWire article topics