I'll start with the guest part:
Some of you may remember I asked for advice on how to handle seeing my great uncle who looks just like my deceased grandfather. Many suggested counseling which is a wonderful idea but I didn't have time for that before the wedding so for a "quick fix" I took the advice of others and had breakfast with him the morning of the wedding. It was hard at first. I addressed him by his name during conversation which helped establish him as his own person rather than my grandfather look-alike. Thanks to ya'lls advice I was able to spend time with him and later see him at the reception without wanting to cry. Thank you all for your help.
Now the wedding:
The budget was $5k and I kept it under. Now please forgive me, I don't know what the total for some of my costs like decor came out as since I was so far from hitting our budget I didn't bother to keep track (it was set aside and pulled from so I knew what we had).
The tablecloths came from a restaurant supply store for less than $80 total. The wine bottles were donated to me by friends and coworkers so I just had to strip the sticker, paint, and glitter them. All very cheap from Home Depot (spray paint) and Hobby Lobby (glitter). The wildflowers I bought on sale at Hobby Lobby. No two wine glasses had the same flower arrangement.
The venue cost $1,200. It's called Cameron Park Clubhouse in Waco, Tx and the view is gorgeous. We had it for the entire day (9am-10pm) and got to go in and decorate the day before as well. It came with the tables and chairs. It was so pretty that it required minimal decorating which helped keep the cost down. What you see in this picture is literally the only decorating that was done for the reception.
reception room decor with wine bottles and wildflowers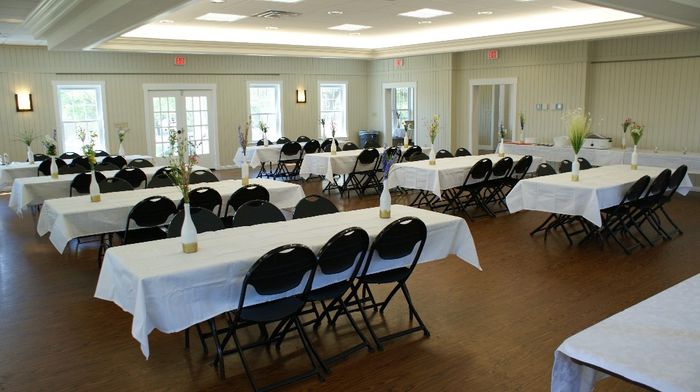 The arch came from Joann's Fabrics for $40. The tulle and flowers came from Hobby Lobby on sale. My BIL built feet for the bottom of the arch because it was flimsy and wouldn't stand otherwise. I attached the flowers using green flower tape around the edge. Be warned, the tape doesn't hold well in heat so I had to do some touch-ups that morning. It held well for the rest of the day though so keep some on hand for emergencies but it should be fine.
The mason jars along the aisle were donated by my mother who cans her own salsa and pickles.
ceremony space on the balcony overlooking the river
FRIENDOR: My sister has a side business where she makes cakes and cupcakes for people and she's made really nice designs in the past. I asked her if she'd like to make our wedding cake and she agreed. For what I paid her it didn't save us money but it meant a lot to us and it gave her a chance to try her hand at a wedding cake without having to worry about an actual customer paying for something she may not be able to deliver. As far as I'm concerned, I wouldn't have cared if it was a total disaster as long as it tasted good!
Please note, it IS supposed to be lopsided. It was actually supposed to be super lopsided but she's OCD so this is the best she could give us lol.
Those of you considering Friendors, I am not condoning it. My family and I are very close and this is how we roll. I also knew what my sister's skills were going into this so I did not expect a professional quality cake so I experienced zero disappointment. Even if she had told me she couldn't do it (she has an extremely busy schedule so I'd totally get it) that would have been okay. So basically, only go into it if you are sure of what you are getting out of their services and be prepared for them to back out just in case.
FRIENDOR II: My sister's husband was our photographer

I also paid him. He has taken photography classes in college as an elective and over the years his pictures have always been really good. He did our engagement photos and we loved them so he did our wedding too. He is going to use our photos to start a portfolio to do photography on the side.
The toppers were $5 online (DH bought them so idk where he got them). The napkins and forks were from Willie's. The plates were from Sam's Club. The cake stand is actually a lazy Susan from Kitchen Supplies for $20.
Nightmare Before Christmas wedding cake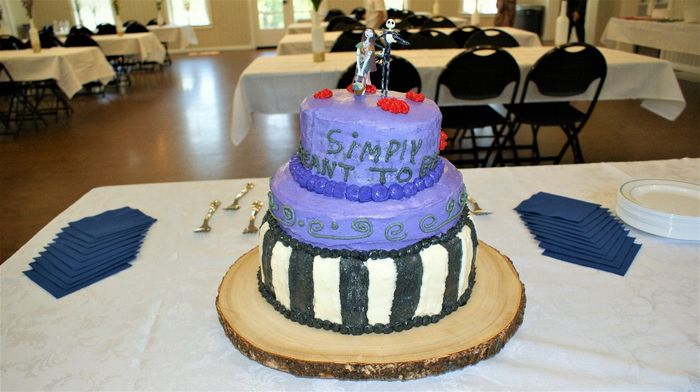 View from the balcony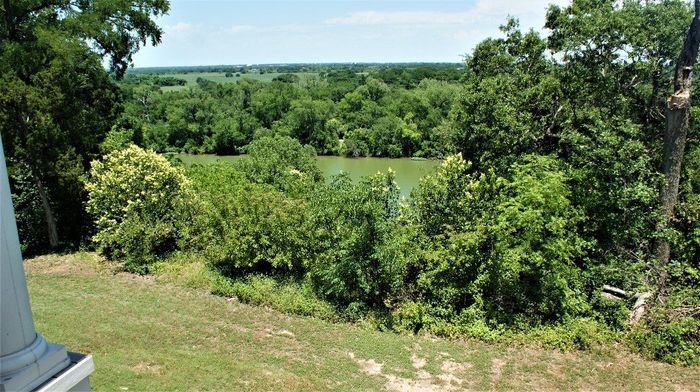 We paid Bro. Joe $600. He was doing it for us for free but we couldn't possibly not pay him. I grew up in his church and I love him and his wife dearly.
My groom

and Bro. Joe, my pastor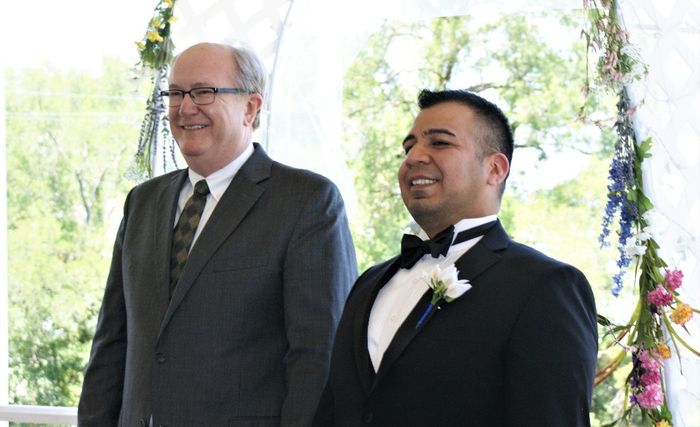 My dress was $1,045 at Impression's Bridal. The hairstylist was $50 and she came to the venue. The brooches in my hair belong to my grandmothers. He spent $60 on his tux but idk where he got it.
I love this picture of us. It's like our first stroll as husband and wife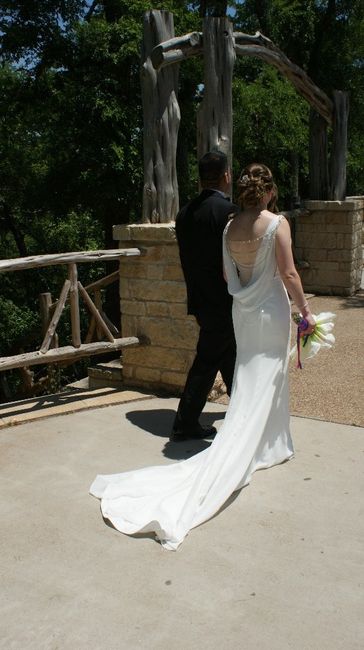 He wanted to thank everyone for traveling all this way to see the gun show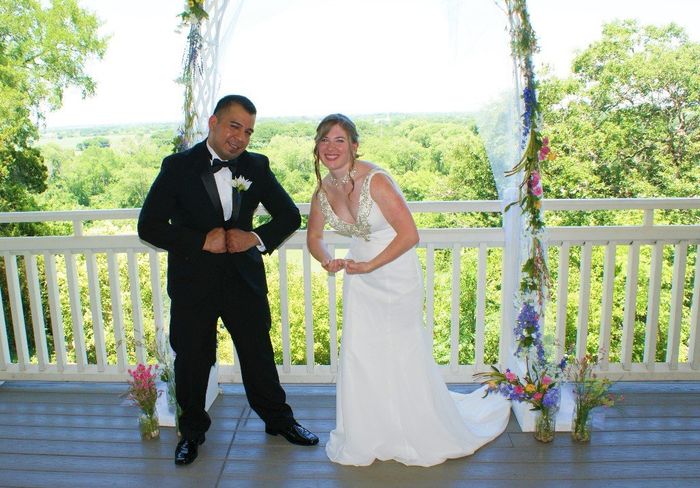 My great aunt made his cake. She traditionally makes the wedding and groom's cake but I wanted my sister to give the wedding cake a shot so my great aunt stuck with the groom's. She made a Dragon Ball from Dragon Ball Z (DH's favorite anime) tres leches cake.
his grooms cake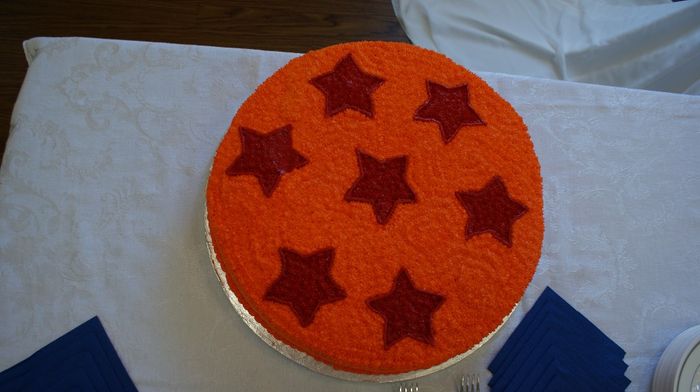 my getting ready outfit was my cat onesie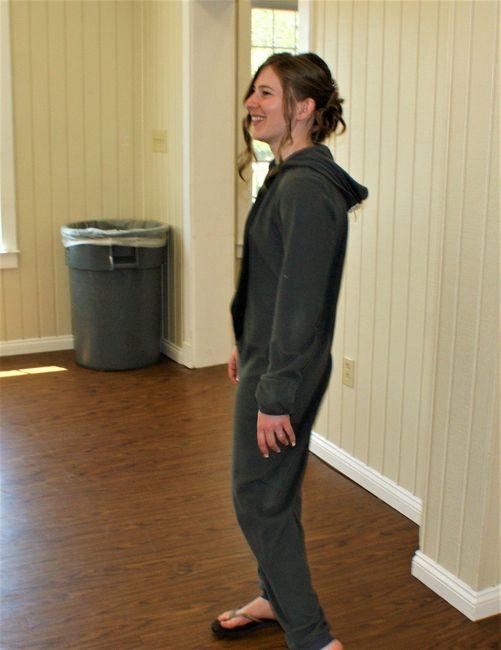 Our first of 3 kisses. I wasn't sure if we got the picture the first time lol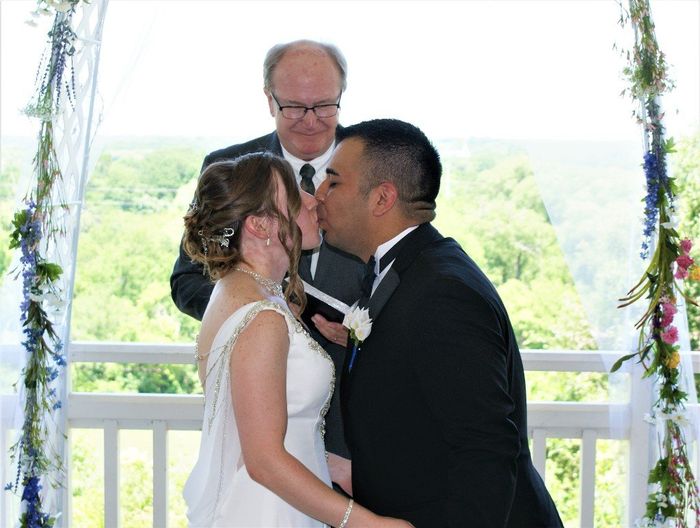 we're laughing because I told him he had to kiss me again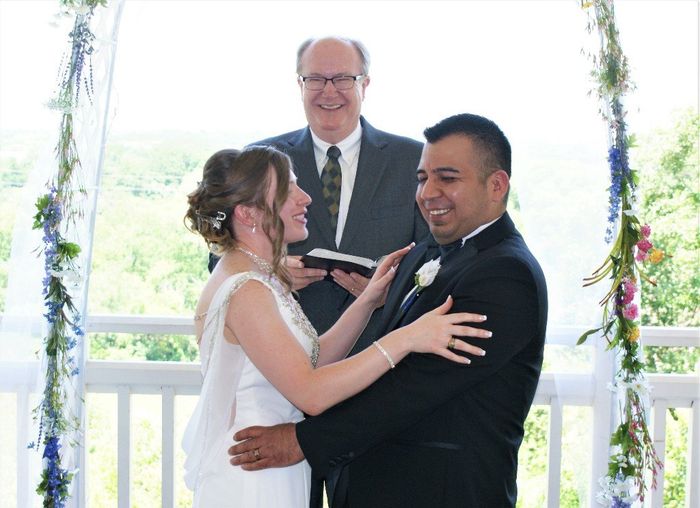 If anyone is wondering why I'm red and rashy looking in the photos, it's because it was HOT that day! I get splotchy when I get hot :p
I'm so in love with this photo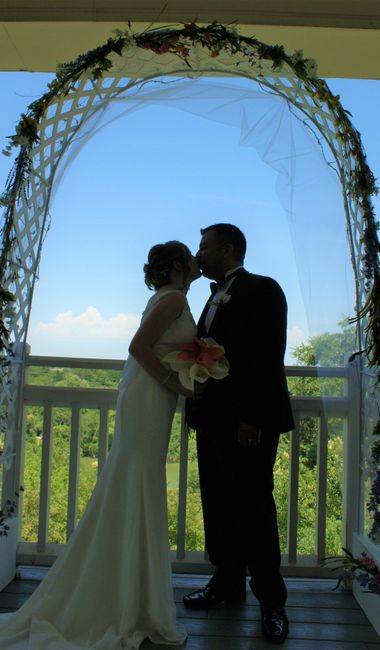 It was a lovely day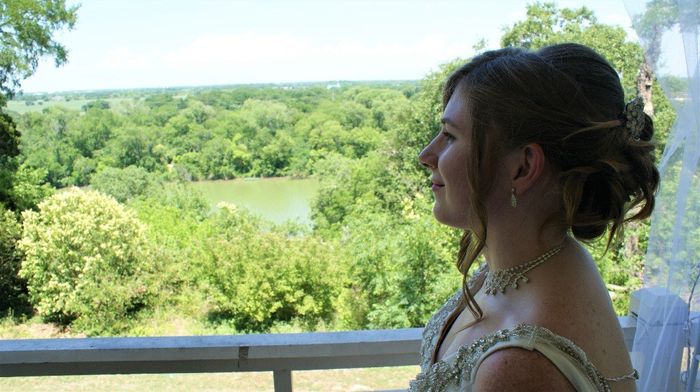 I'd love to post more photos but I don't want to put too many faces that aren't my own on the internet and breach their privacy.
It was truly a perfect day and we had so much fun