June 2021 brides
Anyone nervous about restrictions still being in place? I talked to my event planner last week and I guess I wasn't as aware of ALL of the restrictions that are being placed on weddings in my state. I figured masks and 6 feet less at tables etc. but now they're saying cocktail hour has to be seated.... We're going to be outside in a tent. No passed hors d'oeuvres. Everyone has to remain seated the whole time unless bathroom. No dancing. I was aware of the no dancing restrictions in other states but didn't realize my state is included in that. I'm unsure what to even do at this point. No cake cutting. No lawn games. I feel like I'm better off just getting eloped.
Restrictions will likely change (though not sure whether they'll be more strict or more lenient) by the time June is here. If you're not OK with the restrictions in place, is postponing an option? If so, I recommend working with your vendors to come up with a backup plan just in case you need it later, but still plan for your wedding to happen in June for now. Then, re-assess in April to see where things are, and decide at that time whether to move forward with June, or whether to switch to the backup plan.

It's a mess... we postponed our wedding from May until September and thankfully, we were in the middle of the state being opened back up and loosening restrictions- but there were still restrictions we were not aware of and the venue did not share until a week before and there was nothing we could do about it. One of our requests was one long table and they said they could not do that because of restrictions, so the rectangle tables had to be at least 6 feet apart from each other. At first, they said alcohol had to be stopped serving at 9, but then the state loosened up and it was 11 which was the end of our night anyways. Yours is sounding horrible and no fun at all - I can't believe they're saying you have to be seated and no dancing. I would cancel for sure.
Ugh, best wishes to you!!! 😖🤍




What state are you in? I am supposed to married May 2021 in NY and we are talking about rescheduling to May 2022.

View Quoted Comment

I know! I'm like there is no way I am going to punish my guests for 5 1/2 hours and have them be seated. Initially I was like wow some of these other states are so crazy with their restrictions… Little did I know I'm one of those states Lol. I'm just upset that my venue didn't tell me all of these restrictions ahead of time. I signed the contract like two weeks before any of this Covid stuff was even on the news in February. Before any masks or restrictions and I feel like they had plenty of time to tell me upfront and not basically eight months away from the wedding.

View Quoted Comment

Yup, RI. And what frustrates me so much is that I've been watching the news constantly as our governor was giving us updates daily. She basically lifted any sort of maximum per person if the wedding was outdoors. Those are the only restrictions that were ever mentioned on the news. I obviously assumed the masks and 6 feet and so on but like dude no one can stand up during cocktail hour?! If anything that seems more unsafe to have people just sitting next to each other. At least they will be able toKeep safe distance outside if they're able to walk around. If I had known all of this a few months ago I would've never hired a $4500 DJ that currently no one can dance to ya know what I mean. I'm just really hoping these restrictions lift at some point. As much as I would want nothing more than my guess to be safe, in my opinion the rules don't make any sense. It just doesn't make sense to me to have people sit inside the tent all night versus people spread out safely walking around outside. They actually have a "no mingling "mandate in the actual guidelines for catered events. Like what the hell

View Quoted Comment

I'm in RI. And I know New York is the same as far as the whole no dancing ruleIf I'm not mistaken. Of course I want to keep my guest safe but at the same time the rules aren't making any sense at all. How is it safer to have my guests sit next to each other all night instead of spreading out outside of the tent.My future hubby and I have thought about pushing it out but it just seems like a hassle at that point and it just slows down everything else that we want to do like have kids and house etc.

View Quoted Comment

My wedding is June 2021 in Newport and My venue has stated that it's not cracking down on the no dancing rule. RI lifted the outdoor wedding cap?! I did not hear this yet- I still thought it was 100. But I'm out of state, so I might not see all of the most recent updates

Fortunately in Maryland we have guidelines to have safe weddings. My venue listens to cdc guidelines and we have access to free testing. I'm also not inviting anyone out of state or out of country physically they can join us virtually through streaming platforms. I've always wanted a small wedding anyways.

I was engaged in December 2019 and planned a wedding pre-pandemic within weeks for June 2021. We pivoted in September to a private residence as there was no guarantee our venue would be able to host us in June as they're a public facility and have to be compliant with COVID guidelines.

June 2021 NYC here! And yeah, I'm getting nervous. FH is "hopeful" but my mind is calculating all possible scenarios. We're going to sit and talk about them soon. I was always fairly pessimistic (I prefer to be pleasantly surprised!) but the other night my mom sent me a list of "2021 trends" and it triggered all these thoughts in me about how our wedding can't possibly go on as planned.

The worst part is, we don't even have extravagant plans. We're getting married at a brewery with an indoor/outdoor space. With our current guestlist (not happening) it would have to be BOTH in and outside. It was supposed to be very relaxed, cause it's a brewery, with lawn games, lots of drinking, and "grab a plate and sit at one of these many picnic tables with whoeever you're chatting with." I've been trying to wrap my head around pulling it off if we have to have a seated meal, assigned seats, and no getting up. And I'd rather not have it at all.

I'm hearing some things about a vaccine being distributed nationally by the Spring, but FH points out that the vaccine probably won't even lift the mask mandate until we get a better sense of if people are still catching it with a vaccine.

I'm getting stressed. We are lucky in the fact that we only have deposits with our venue and our photographer, since we weren't having a DJ and we were doing our own flowers.

I think we're chatting about making the call by February or early March. Which doesn't do much relief for my Type A personality, but it is what it is.

Wow! what state are you in? if you don't mind saying

My wedding is NC, which just recently entered phase 3, and the caterer I want won't even consider booking new events until January. At this point, the wedding is happening! If I have to cut my guest list down to 20 people, it'll be 20 people.

I'm hoping things will be better by then, but I don't think there really is a way to predict.

Yes, I'm still very concerned about June. I am June 4, so very early June, practically 7 months from now. My venue is in suburban Illinois/Cook County and they just put restrictions in place Friday for that area (limit 25 people gathering, no indoor dining...). We just don't know what to do at this point other than pull the plug and plan an elopement/smaller backyard party. There are also no dance floors in Illinois.

We haven't done a TON of planning, only secured our main vendors and venue. We constantly talk about pulling the plug because June is not very far away.

Oh wow! I may as well get eloped as well! I'm in North Carolina!

Wow! What state are you in?!
Our restrictions here in RI are mostly around food service, mask wearing and total numbers. The current restrictions are 100 people (staff included) for an outdoor catered event. We have decided to have our ceremony privately earlier in the fay. Just us and parents. That way we don't need a cocktail hour. Guest just arrive for dinner and music. That way, if all hell breaks loose between now and then, we postpone the reception but we still get married.

In regards to attendance limits, we have two guest lists. One is "covid compliant" at 85 people. Those 85 people got save the dates. Then we have our "best case scenario guest list" which is 115. The other 30 people won't get save the dates just in case. And hopefully 🤞🏼 Come May 1 restrictions will be less and everyone we want can get an invite.
I keep reminding myself that our wedding is for us. And it's the ceremony with our families that matters.

At this point, I have everything booked and I am moving forward. Right now in Ohio, restrictions aren't super strict, but that all could change by June. I am just crossing my fingers that everything works out because that's all I can really do 😕

View Quoted Comment

I did not attend, but one of my distant cousins got married in July and my dad attended and he said everyone was dancing even though they had to have a small reception. It was at a restaurant in Providence by water place park. they are still having their big reception next year at Rosecliff in Newport, but my dad said people were up and dancing. I'm working with Russell Morin and they seem pretty strict on enforcing the rules.

I'm getting married in New York in June 2021 (I live 1.5 hours from NYC), and we've discussed splitting the event into two separate receptions; one for family, and a smaller, casual vow ceremony and reception for friends on a different day. I have a gigantic family, and unfortunately we meet NY state group guidelines just with our families alone.

We aren't "married" (ha) to the idea of a traditional wedding, and have thought of just making it a fancy dinner party where people can chat and mingle with masks, and be sat at tables by household, or with people they are comfortable being distanced from. And, while the state can mandate no dancing, they can't stop me from shimmying in my chair!

Jokes aside, I'm just excited to have the opportunity to host anything at all, so we're gonna make it the best event we can! I think reframing my mindset has really helped me get excited for whatever we can host within guidelines.

View Quoted Comment

Rhode Island.
Related articles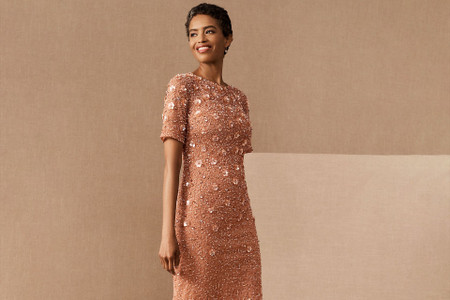 WeddingWire celebrates love
...and so does everyone on our site!
Learn more
Groups
WeddingWire article topics