DESCRIPTION OF THE WEEKEND AND GENERAL ADVICE
Friday, the day before the wedding, I woke up with a cold. Fortunately my excitement for the wedding helped me keep my energy up, but my throat was pretty sore and my nose was a little stuffy. We arrived in Sonoma at the Fairmont around 2:30 p.m. and were pleasantly surprised to be given the honeymoon suite for both nights. I had initially thought that I wanted to sleep in separate rooms the night before the wedding, but after reading about other couples here on WW spending the night together, I really liked that idea and am glad we did it. ADVICE: if you are staying in a hotel for your wedding, I recommend sleeping in the same room as your FH. It not only helps save money, but you can use this time to calm each other down and enjoy spending this alone time together, especially if your guests are also staying at the hotel.
We had our rehearsal Friday evening at the church with the wedding party, and then met everyone else at the hotel lobby to walk over to the BBQ place next to the hotel for our welcome dinner. We had a casual, relaxed dinner because I wanted something different from the formal dinner we had planned for the wedding. ADVICE: the rehearsal/welcome dinner doesn't need to be expensive or formal, but it is nice to kickstart the weekend with good food and booze. There were a lot of people who didn't know other people and seemed a bit awkward/tongue-tied initially, but as the night got later, people began relaxing and having a good time which carried over into the wedding reception the next night. For a small guest list of 40, this really was noticeable.
Saturday morning: WEDDING DAY! The Fairmont had a bridal suite where my girls and I got ready. It had salon chairs and lots of natural light for makeup. We were given our own food server who prepared a beautiful breakfast spread with coffees, teas, juices and mimosas. Later we were served a tray of sandwiches and champagne for lunch. The suite had a private patio that had a grassy area and pathway that was perfect for the pictures we took with the wedding party and VIPs. ADVICE: Make sure your wedding party has plenty of food and drinks while getting ready. My DH and his GM didn't get the same spread as me, so I had my DOC take food and beverages to their room.
FIRST LOOK: We initially weren't going to do a first look because my DH wanted his first time to see me as I walked down the aisle. But as we discussed the timeline and our desire that we really wanted to join cocktail hour, we thought it made sense. Plus, my DH has extreme social anxiety so was really worried how he would handle being in front of people during the ceremony. Seeing each other beforehand helped alleviate some of his anxiety and calmed his nerves, and didn't take away from the special moment of seeing me walk down the aisle. He still teared up when I came down the aisle. ADVICE: I highly recommend having a first look for the reasons described above, especially if either of you have anxiety.
The day exceeded my expectations. Even though my cold was worse, I was so happy and excited that it didn't get me down. I drank hot tea and took Advil during the day so that also helped. The only real bummer was that I couldn't really enjoy the open bar. I had a little wine and some champagne but that was about it. The rest of my guests really enjoyed themselves so that was all that mattered.
When we planned this wedding, our number one priority was our guests' experience. We already knew that we were asking a lot of our guests to spend Christmas weekend with us in a location 1.5-2 hours away. As a result, we wanted to pay for their accommodations for Friday and Saturday night, give them an amazing dinner, top shelf open bar, live music, lots of food all weekend including a big brunch the morning after the wedding, and make them feel like their every need was considered.
Some extra touches to make our guests feel pampered: More apps at cocktail hour than our venue usually served: 4 different passed apps and 3 different cheese/charcuterie stations for cocktail hour; a firepit with Adirondack chairs and lumbar pillows; S'mores, hot chocolate and cider bar, grilled cheese sandwiches as a late night snack, a photo booth, and personalized ornaments that served as escort cards. ADVICE: Along the way, I would ask myself what I would want to see or experience as a guest.
FIRST DANCE: My DH has extreme social anxiety and wasn't sure he felt comfortable doing a first dance where everyone watched him. We decided to leave this decision until after dinner was over to see how he felt and had the DOC and bandleader on standby regarding this decision. We did it and came up with a compromise where we danced the first 30 seconds and then had the bandleader invite everyone to join us. This was one of my favorite memories from the wedding. ADVICE: If either of you have anxiety about everyone watching you dance, only dance 30 seconds alone and then have everyone join you.
LAST DANCE: I requested the last song of the night be "Have Yourself a Merry Little Christmas" and just like the First Dance, we had everyone join us on the dance floor where it was a perfect way to end a beautiful day with lots of love. There weren't many dry eyes when it was over.
GENERAL ADVICE: Even though this wedding was as close to perfect as possible, things still went wrong. I was sick. I ran behind with getting ready but fortunately had given my photographer a detailed "must have" shot list so she was able to get all the required shots in the time allotted. I forgot to get my ring bearer a boutonniere. My flower girls were supposed to wear ivory but their grandmother made their dresses in white. When I gave my "welcome toast" I forgot to actually offer a "toast." My bustle ripped and we had to use the safety pins I put in the ladies' bathroom basket to pin the train, but I still shredded the hem of my train by the end of the night. As seen, something will go wrong, but don't even think twice about these things. Let the love and happiness from your new spouse and loved ones be your focus and nothing else will matter. Also: I learned this from another bride on WW, you and your girls should carry your bouquets "bush to bush." This way the bouquets don't cover your dresses and make for better pictures.
BEST ADVICE: Hire a wedding planner/DOC. For me, this was all about how much my peace of mind was worth. We all want to have the perfect, stress-free wedding day, but without having a DOC to make that happen for you that vision probably won't become a reality. My DH and I made sure to take care of all our guests, and she made sure to take care of us.
NOW HERE ARE THE PRO PICS!!
DETAILS AND GETTING READY
Bridal Clutch - Etsy shop LeelaPurse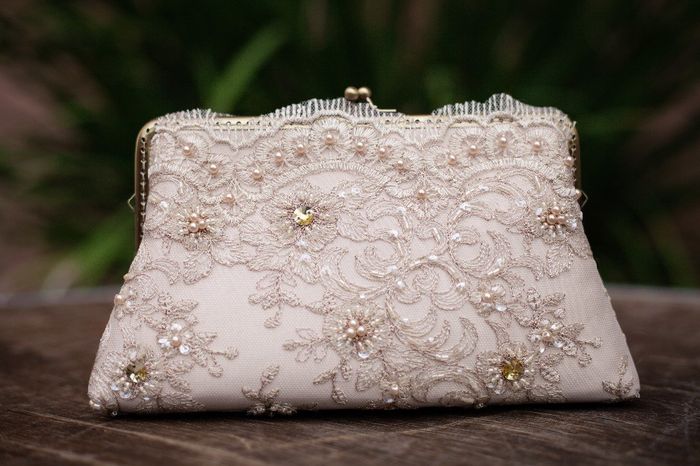 Benjamin Adams "Princess Catherine" Wedding Shoes
Custom Made Ring Box - Etsy shop FullFrames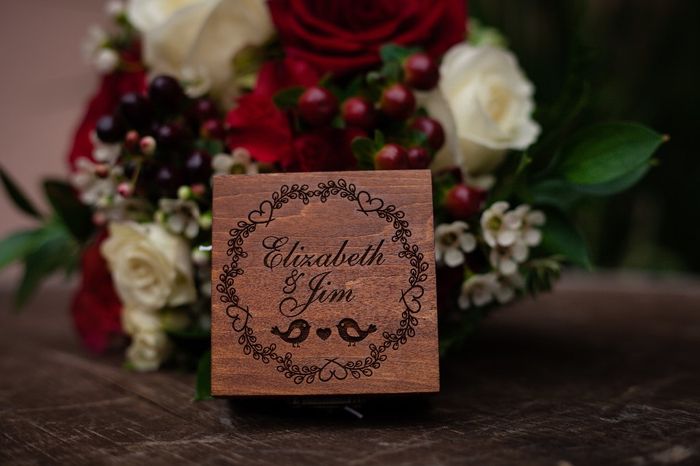 The wedding bands from Jared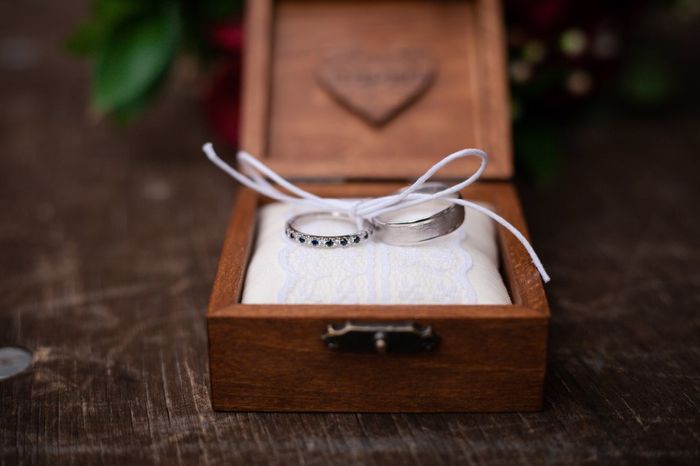 Custom Designed Invitation Suite - Etsy shop PrettyLilNotes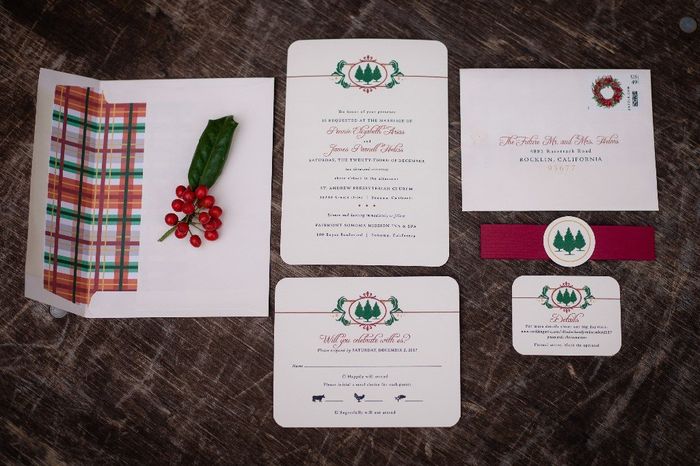 Custom Made Wedding Dress by Old Country Tailor and wedding hanger from Etsy shop hangersbymae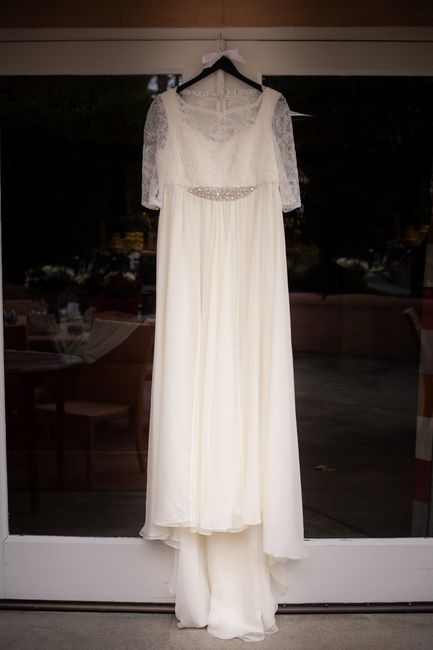 Wedding jewelry: Bracelet from JC Penney; Earrings from Nordstom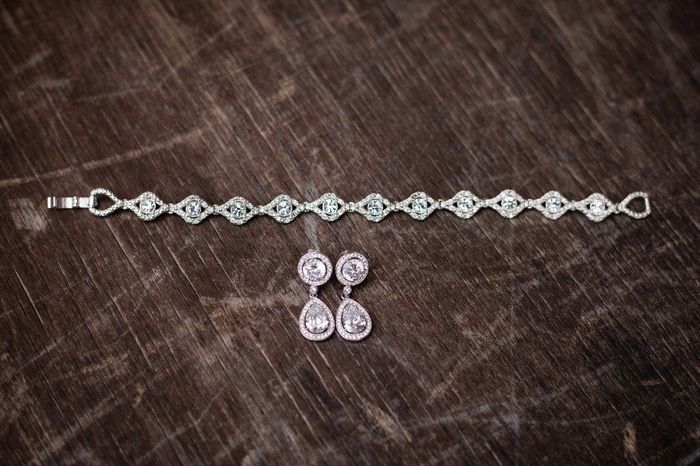 Custom Made Wedding Veil by Old Country Tailor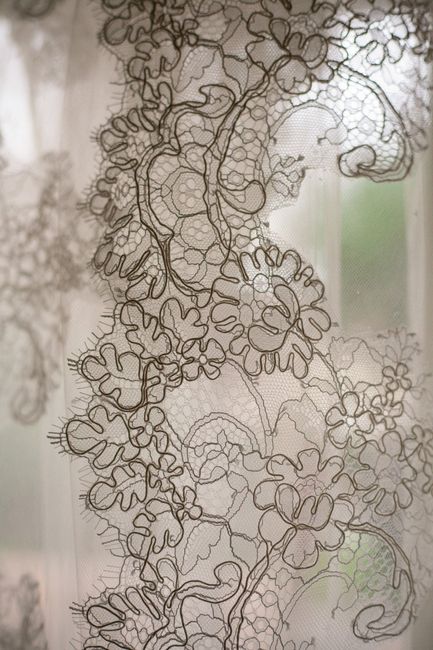 Getting ready
Victoria's Secret Christmas Plaid PJs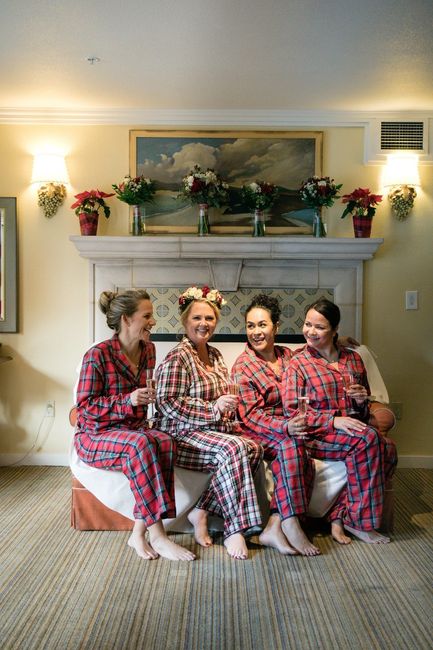 .....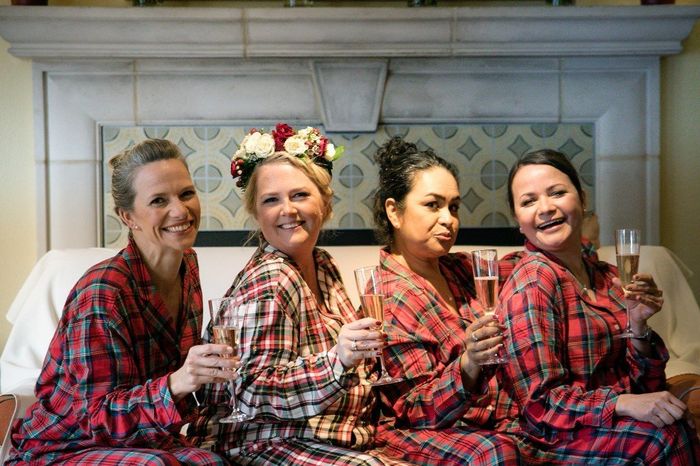 Help with the dress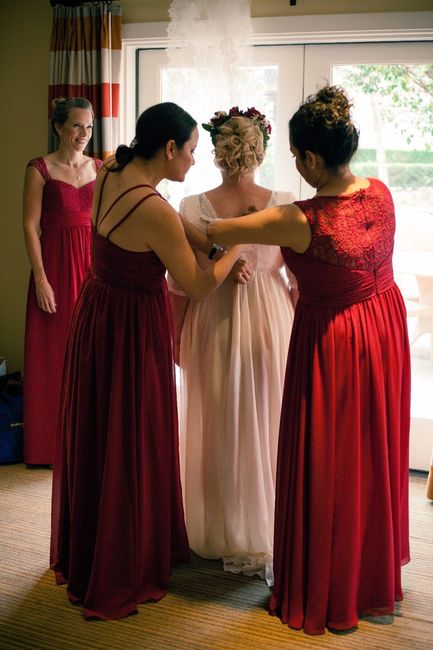 .....
Putting on the earrings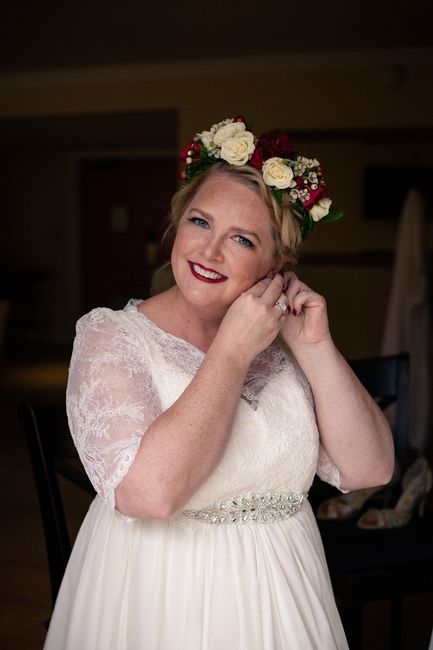 Putting on the bracelet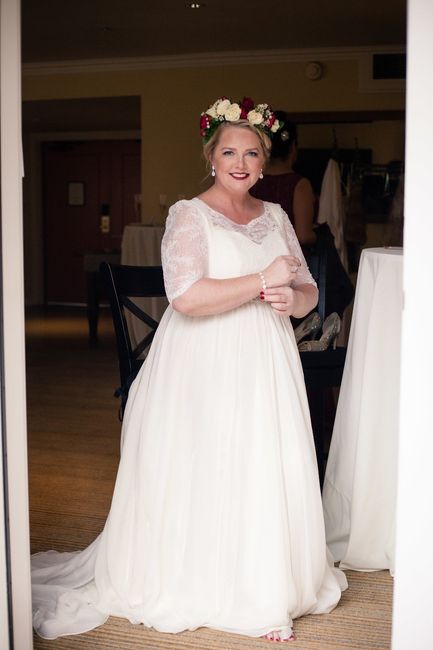 Putting on the shoes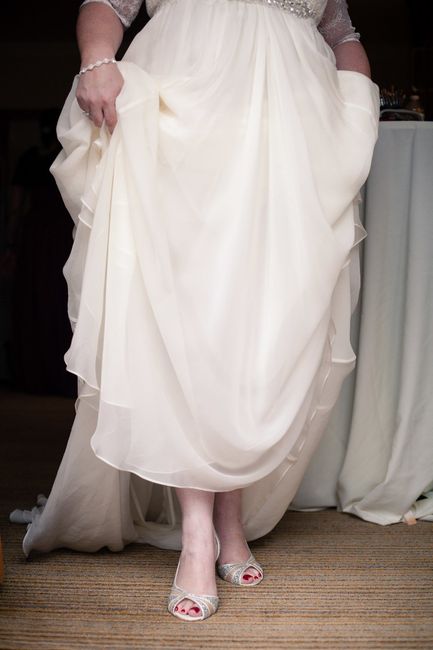 .....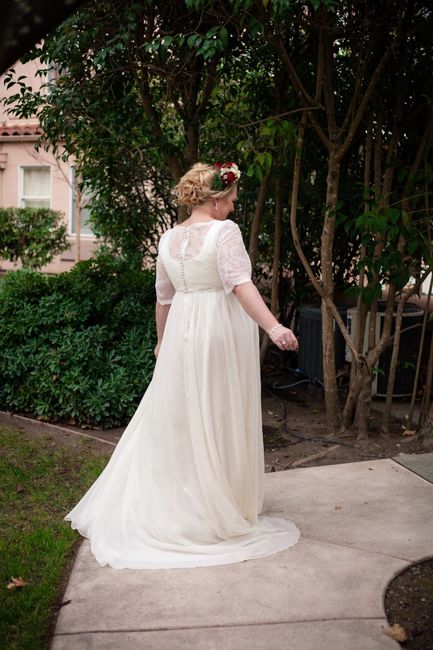 Putting on the veil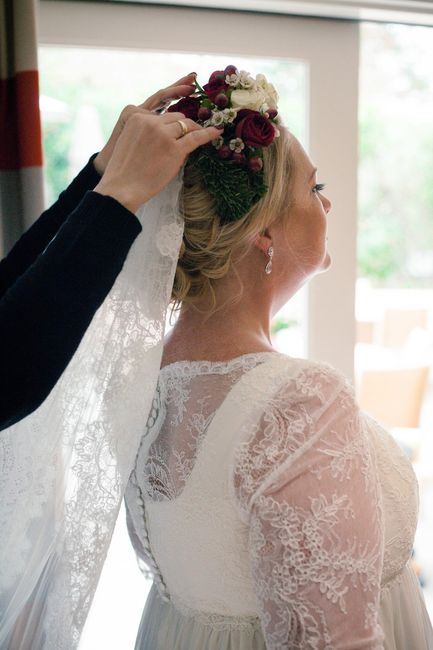 .....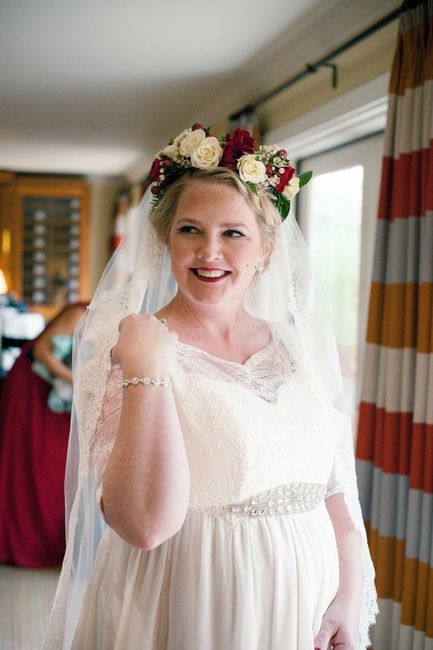 The full bridal look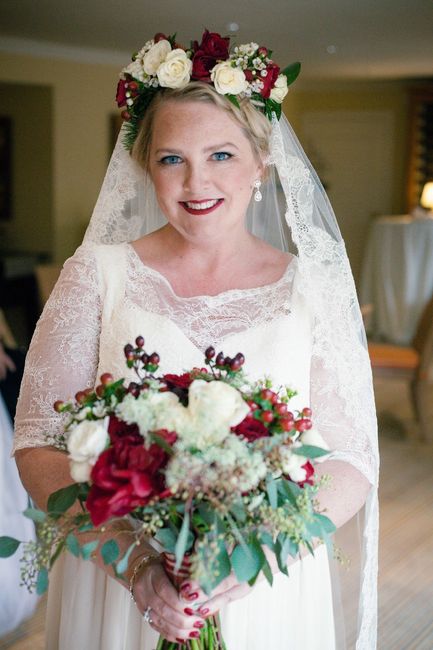 Walking to meet DH for the First Look
.....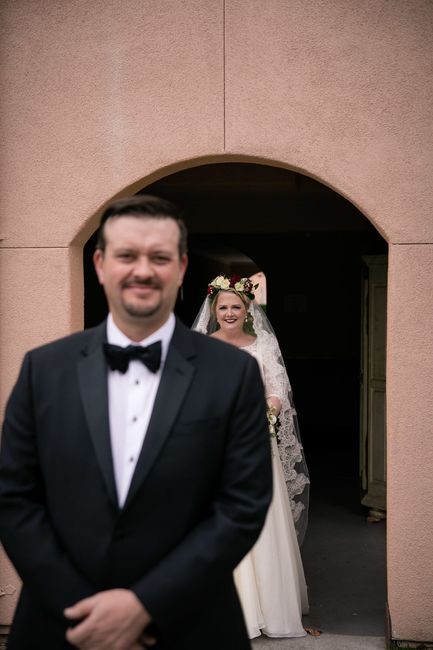 .....
I loved his reaction!
.....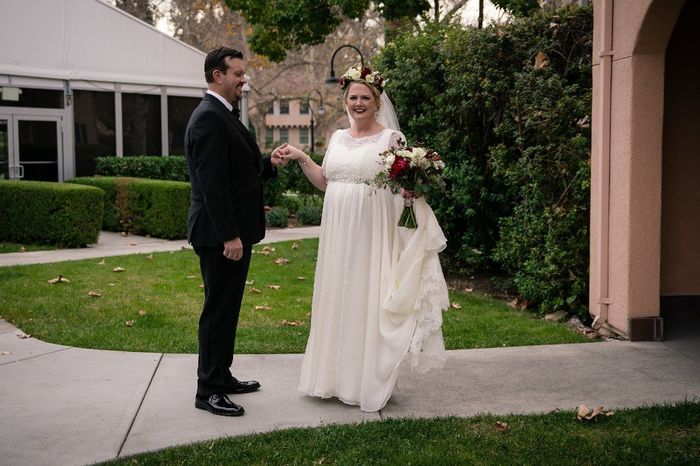 .....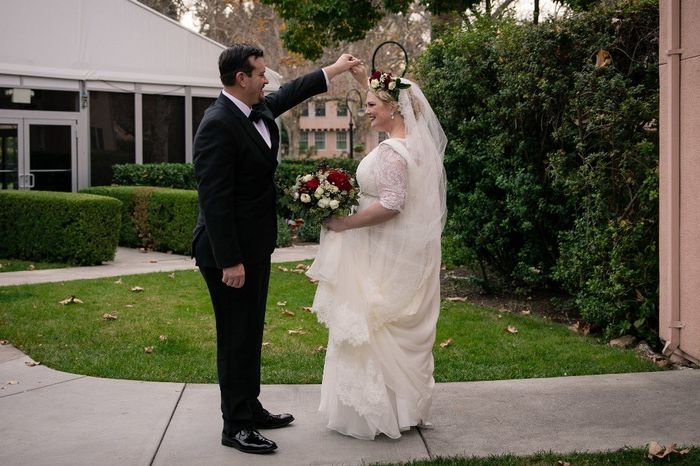 .....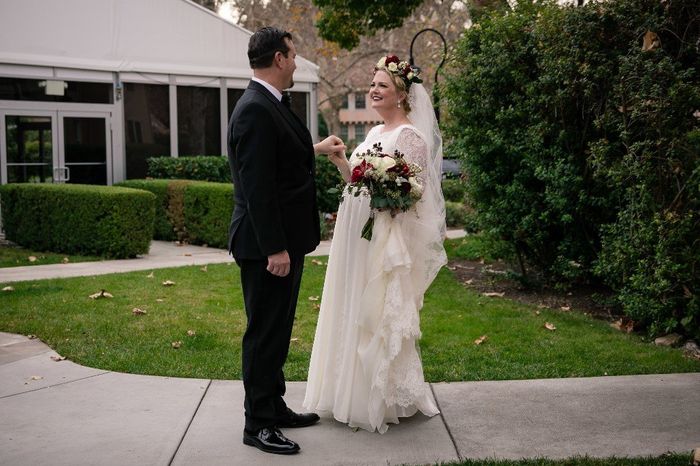 .....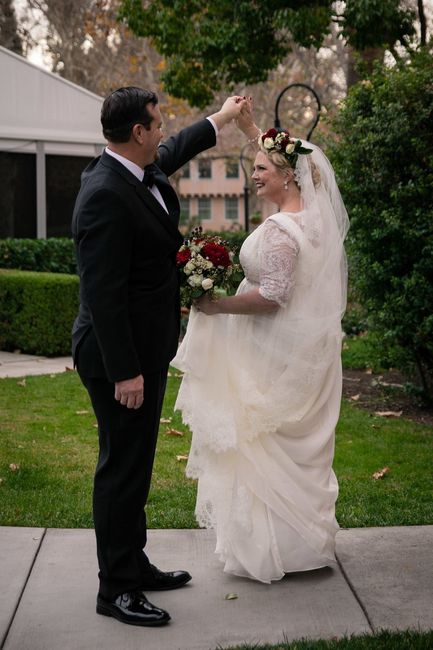 On our way to meet the Wedding Party and his family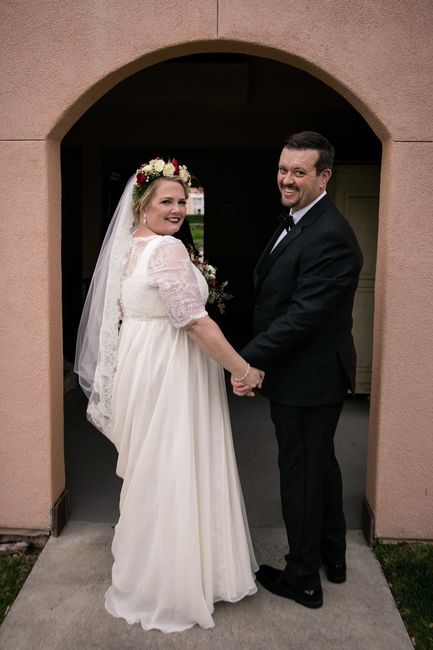 .....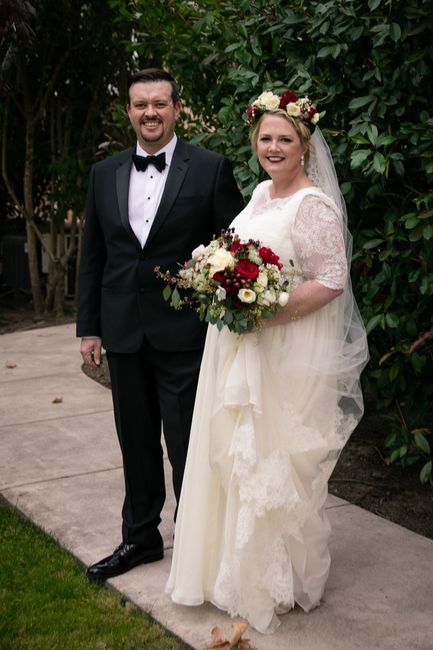 DH's mom pinning his boutonniere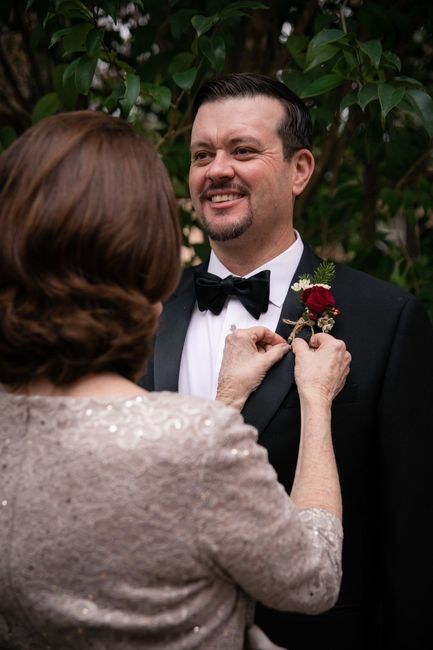 .....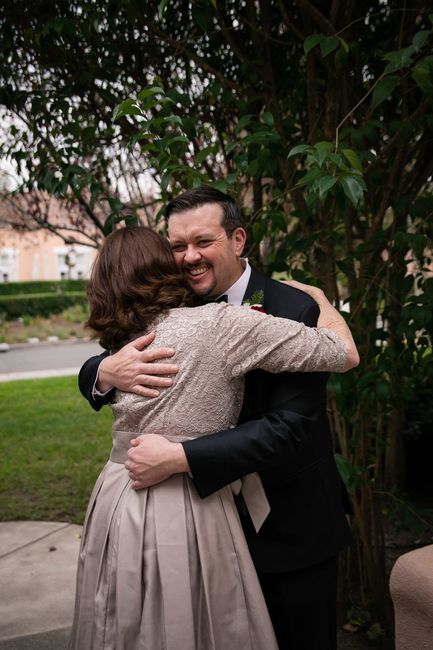 Corsage for his daughter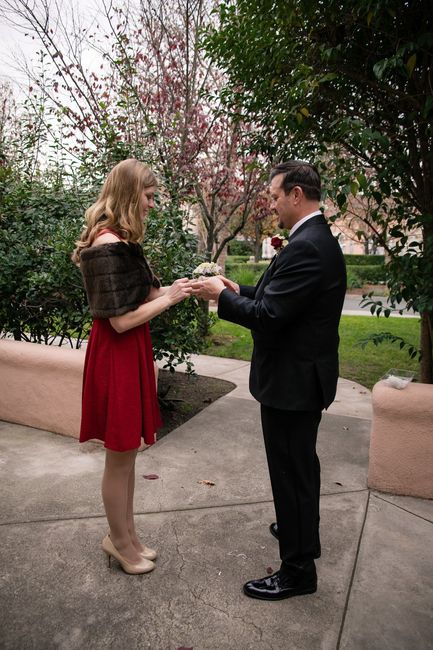 .....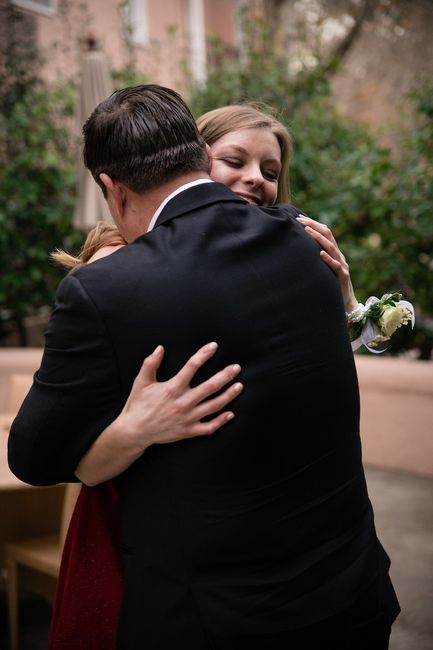 My new parents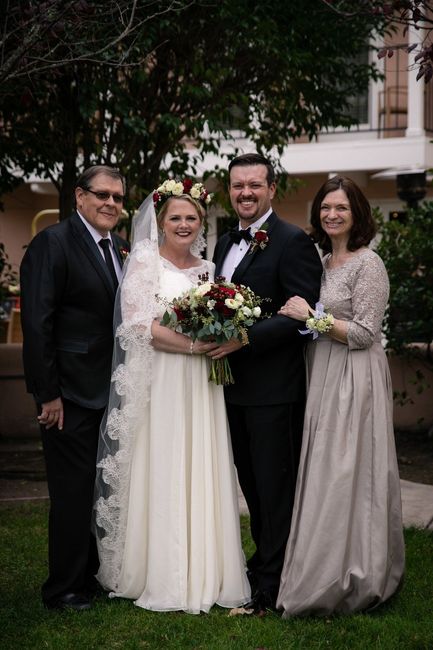 DH's brother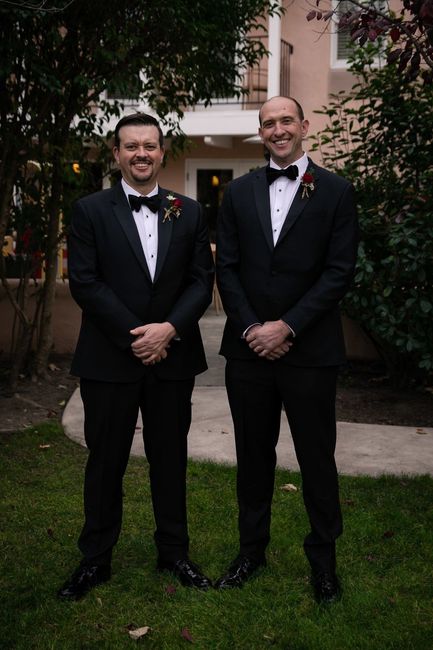 I just advised the girls to keep their bouquets "bush to bush" - got quite the laugh!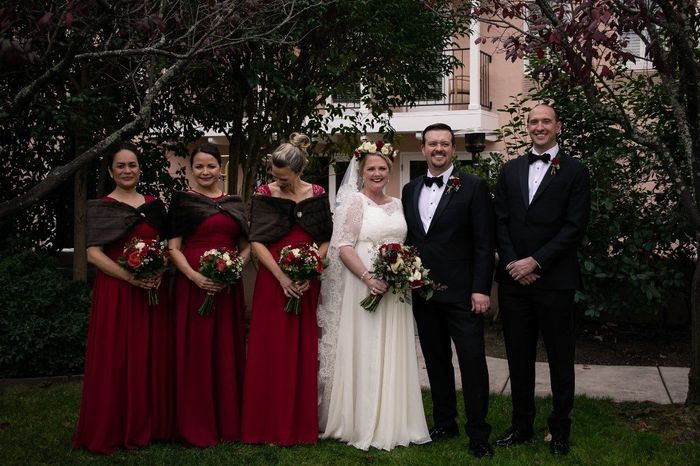 .....
My biological father's locket he had of my brother and me when he died. I was 6 last time we saw each other.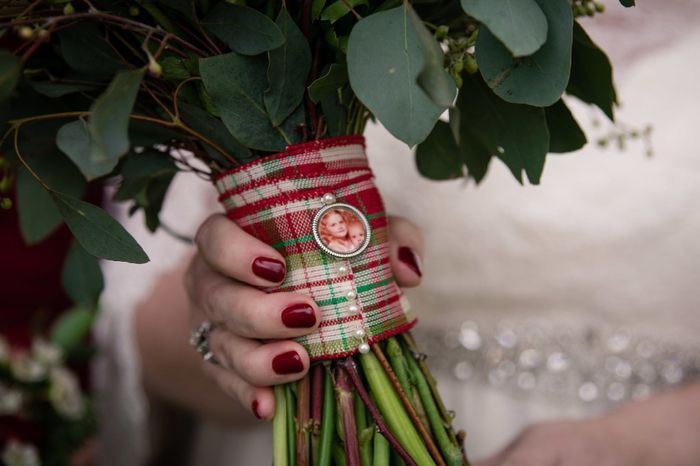 My bridesmaids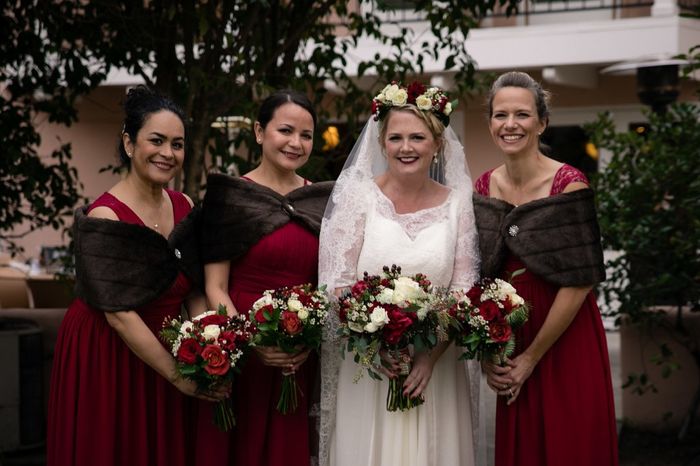 .....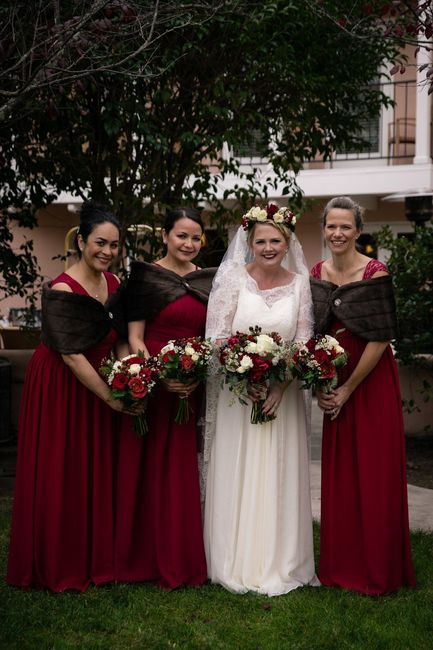 My adorable flower girls and ring bearer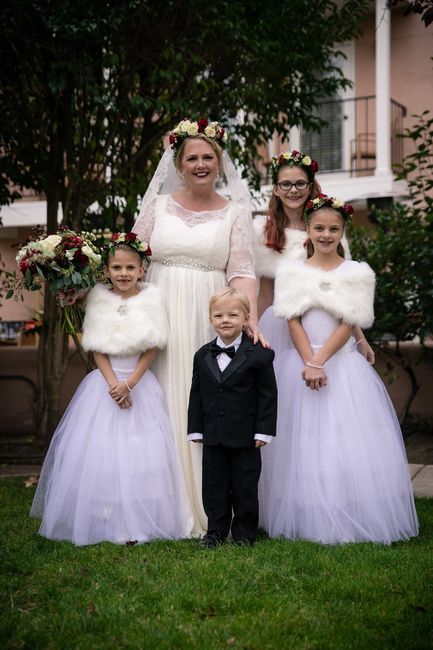 Time to drive to the church for the ceremony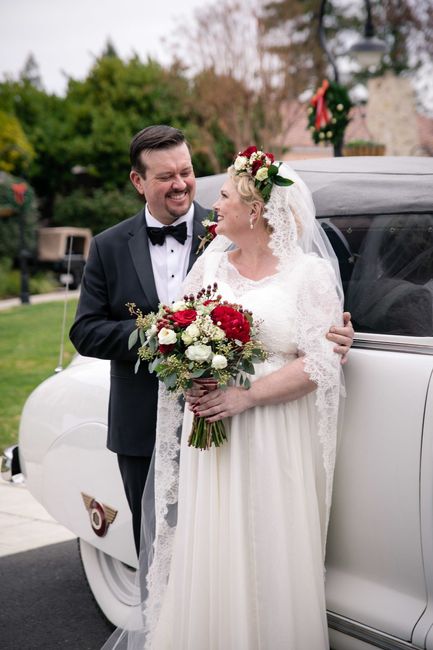 The church before the ceremony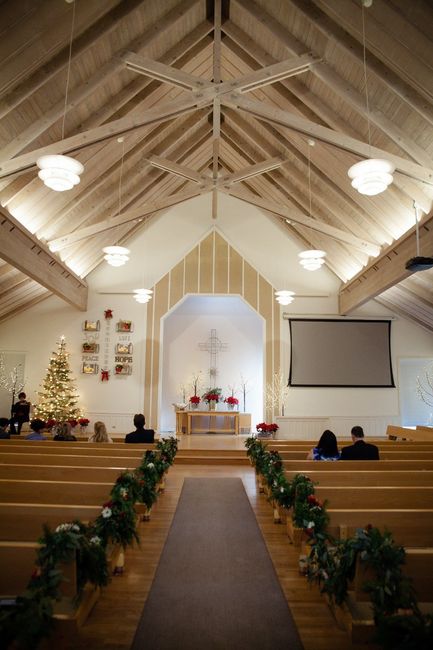 The garland that served 2 purposes: ceremony decor and reception centerpieces
Christmas tissues for those happy tears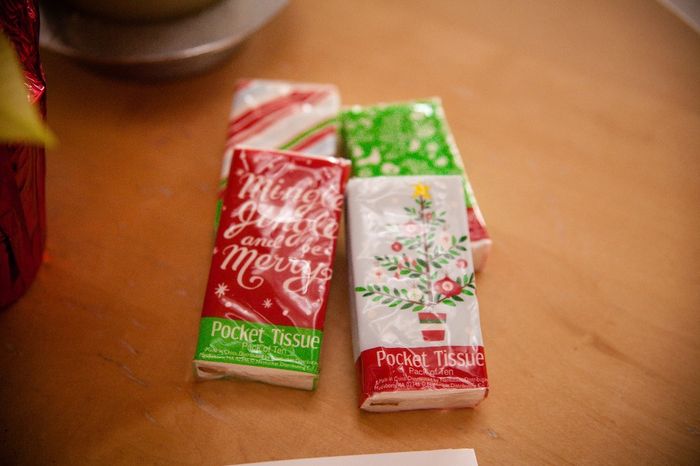 Youngest flower girl escorted ring bearer carrying sign "Here Comes the Bride"
Even though we did a First Look, DH still cried when he saw me walk down the aisle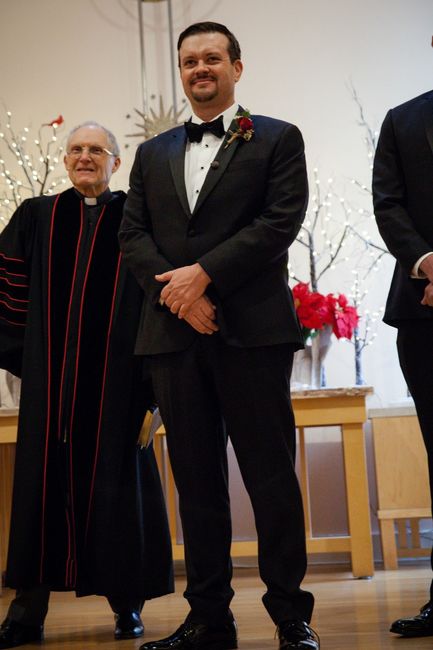 Here Comes the Bride
.....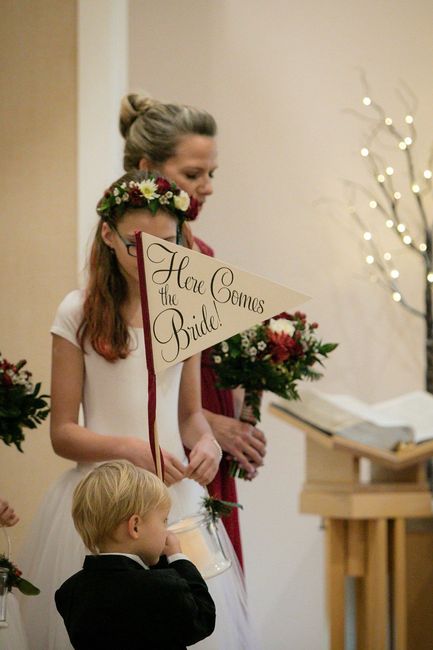 Our minister was very interactive with the guests
The Blessing of the Rings - Violin/Cello Duet of The Prayer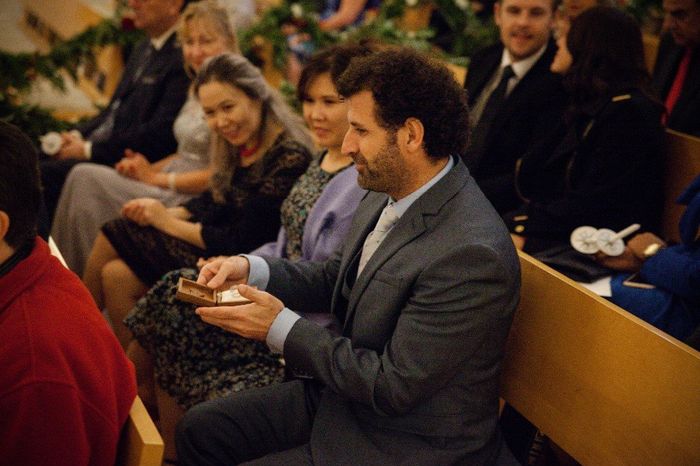 .....
We began the reverse unity candle lighting - Cello solo of O Holy Night
.....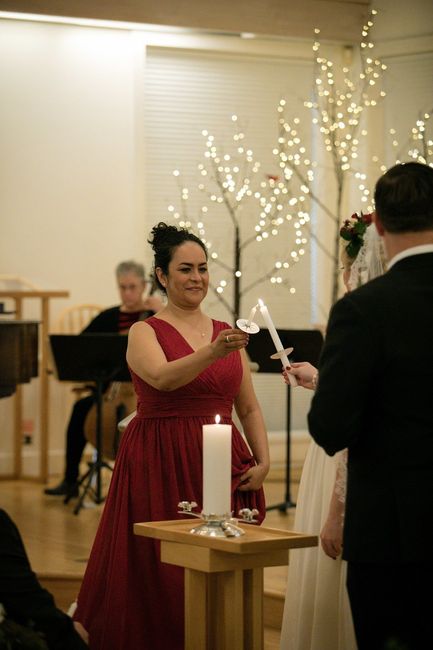 .....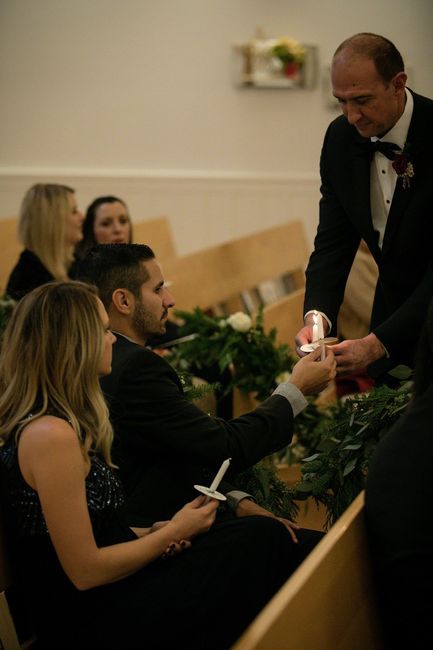 Group shot of all our guests after the ceremony outside the church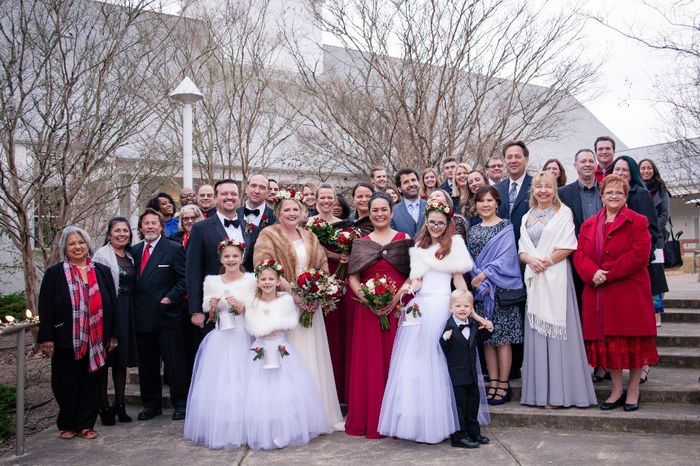 Time to drive back to the Fairmont to join our guests for the reception. We loved this '47 Packard and enjoyed a little alone time as Mr. and Mrs. with some champagne on the drive back.
Vintage stole from Etsy shop LaModeVogue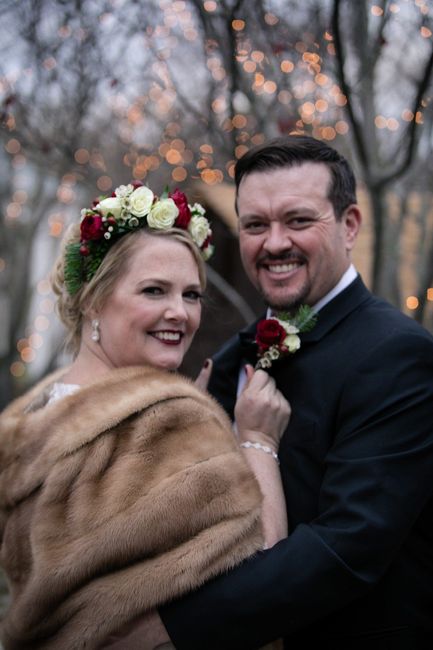 .....
One of my favorites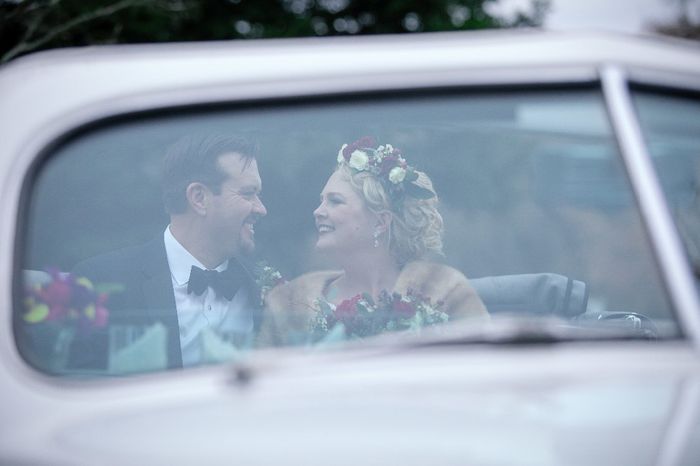 Ready to join cocktail hour
Attendants greeted our guests with champagne as they arrived for the cocktail hour/reception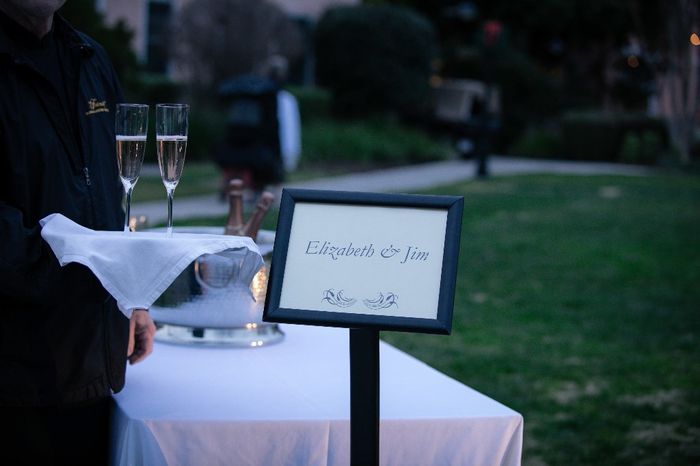 Adirondack chairs and blankets around the firepit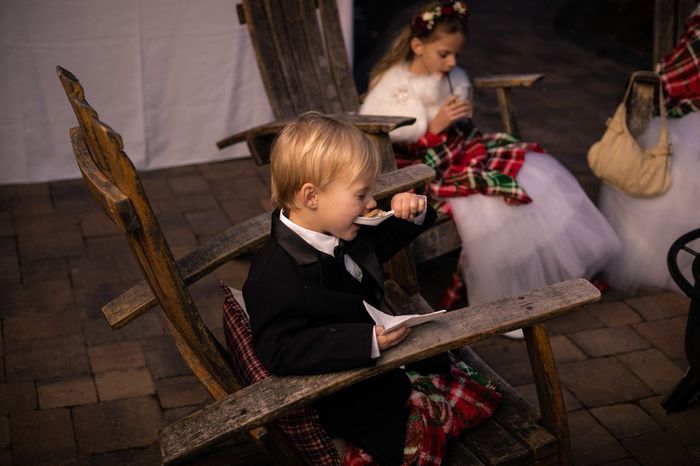 Yummy apps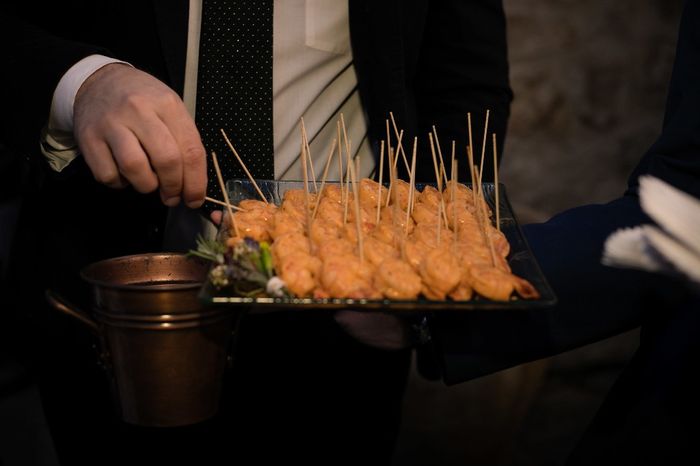 Passed champagne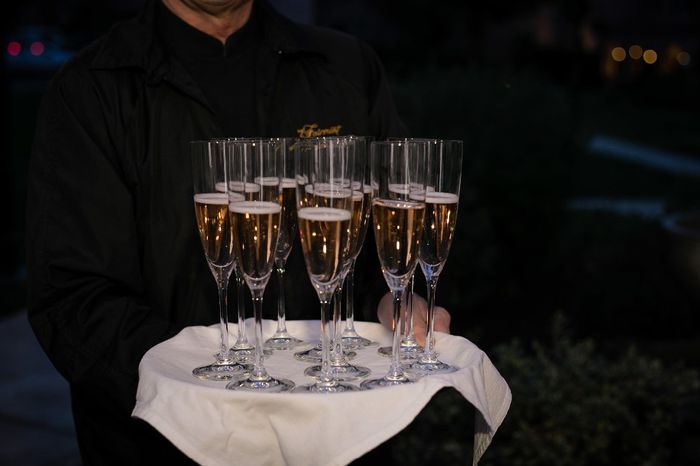 Our Welcome Sign - Etsy shop TheRusticEarth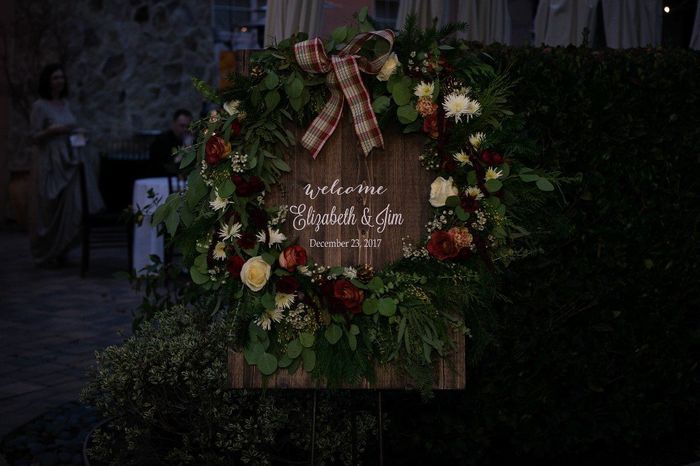 Selfie!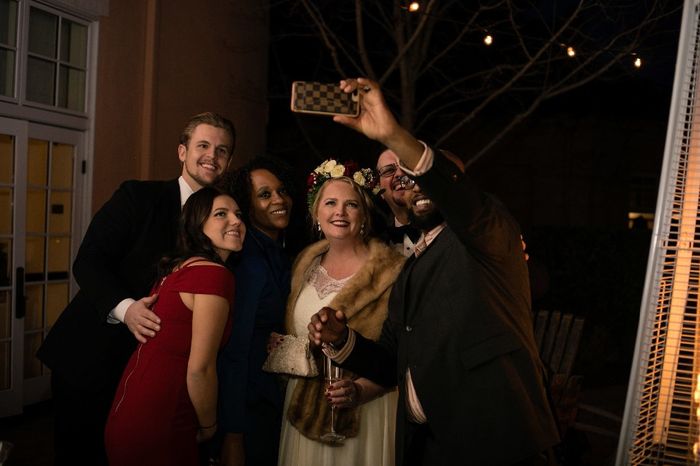 Cool pic of friend taking a pic of me with my coworkers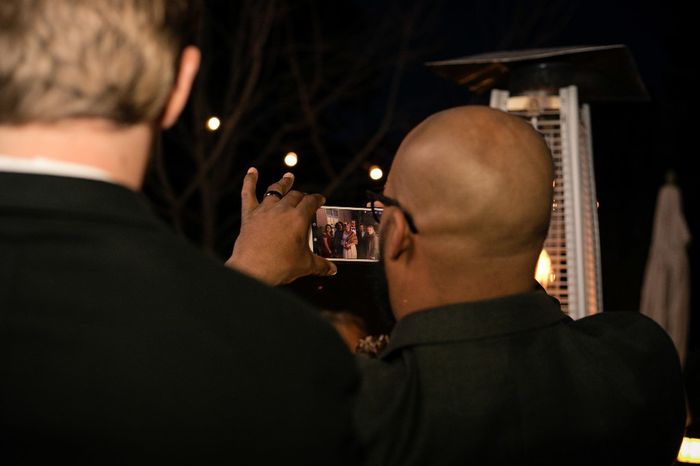 I met these girls here on WW!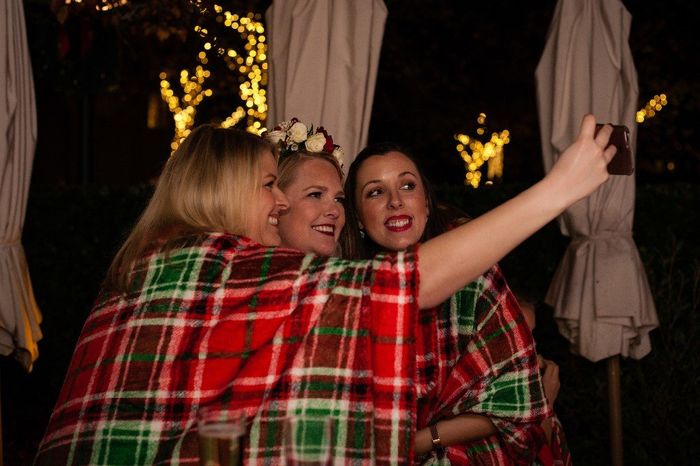 Personalized Ornaments that served as favors and escort cards - Etsy shop TpcDesignStudio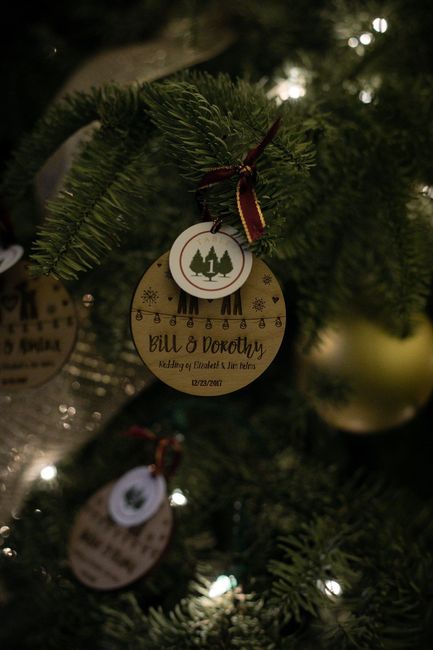 Place setting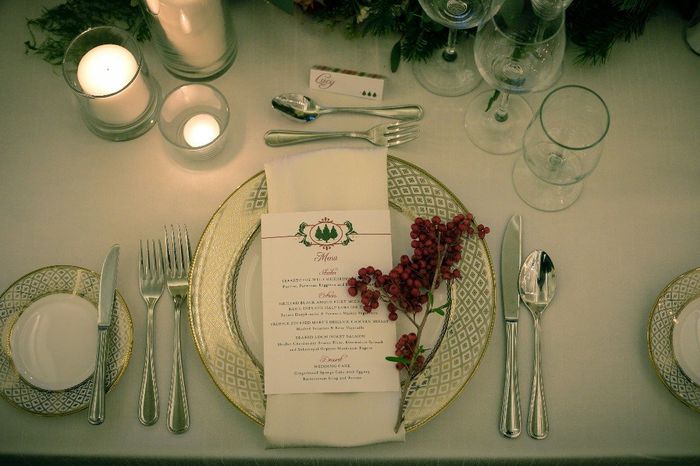 "Day of" paper custom designed - Etsy shop PrettyLilNotes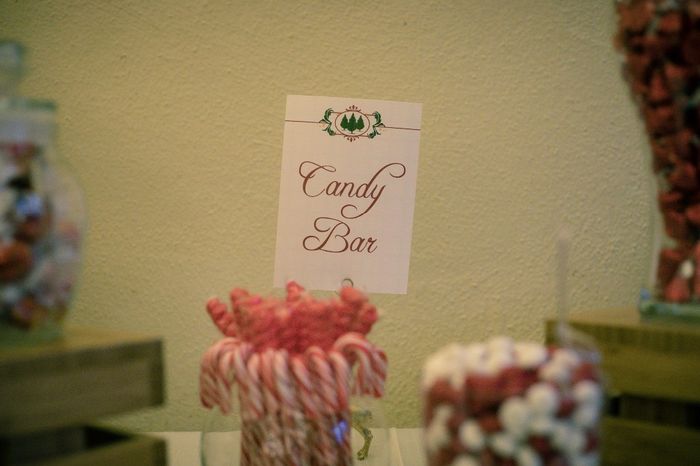 Candy bags - Etsy shop MyCosyShop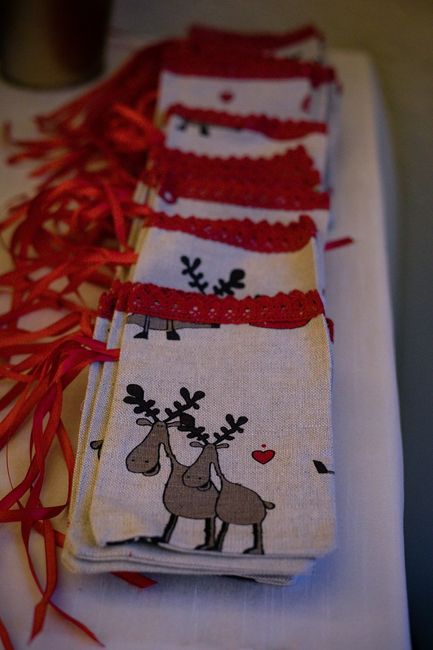 .....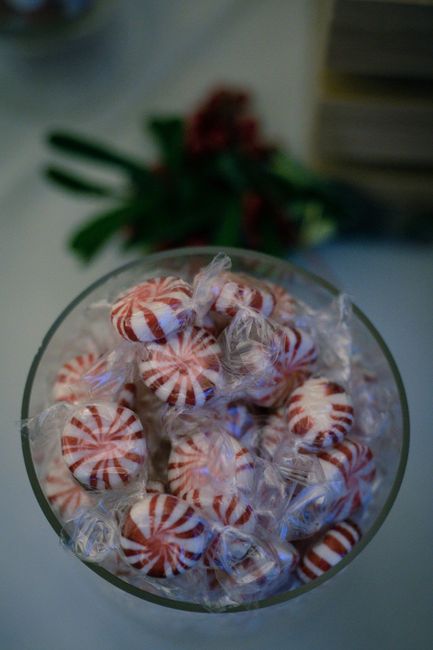 .....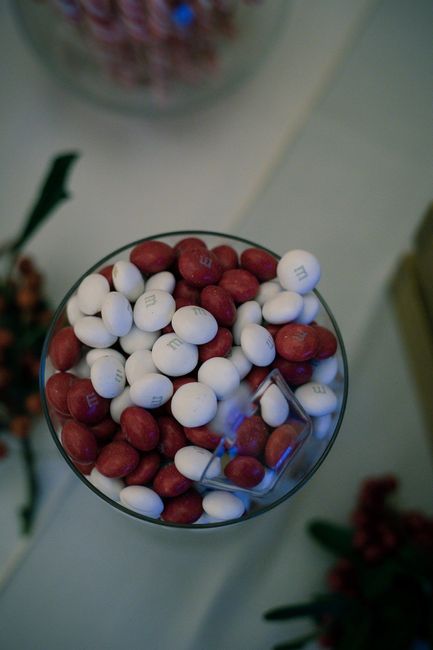 .....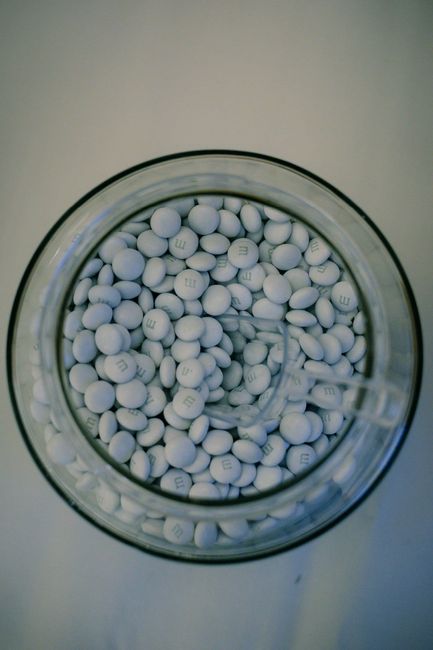 .....
Hot Chocolate and Cider Bar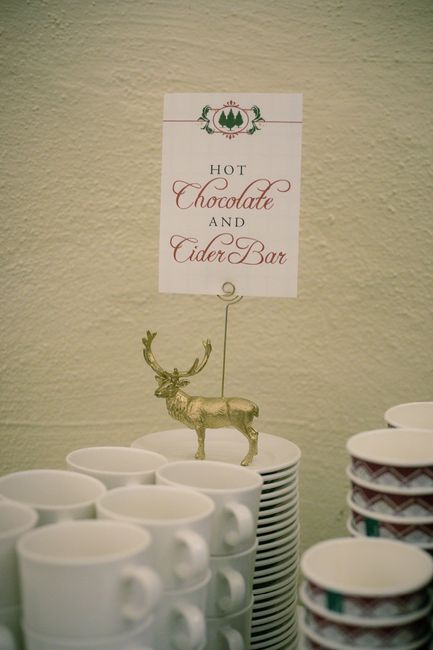 Vintage reindeer cake topper - Etsy shop MoonFaces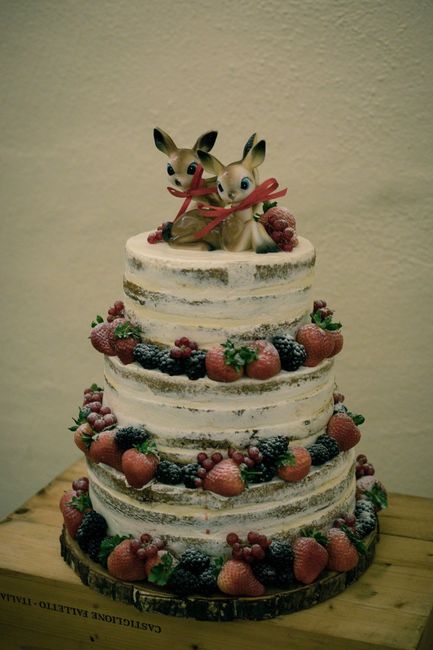 Blankets (Purchased from Walmart after Christmas last year - on clearance!)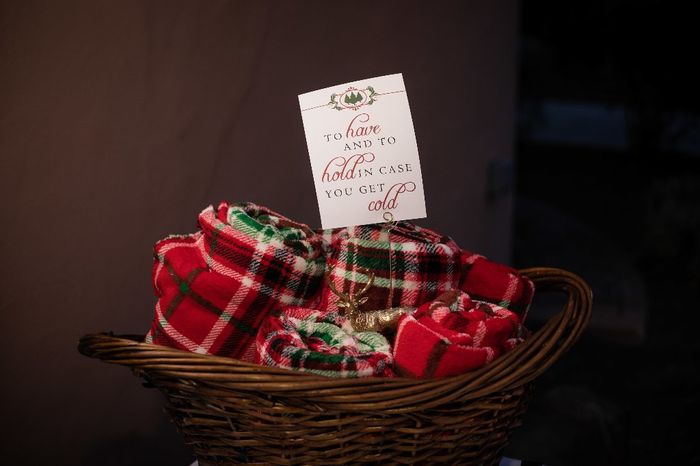 Our card box - exact replica of our house - Etsy shop mulberrylanefolkart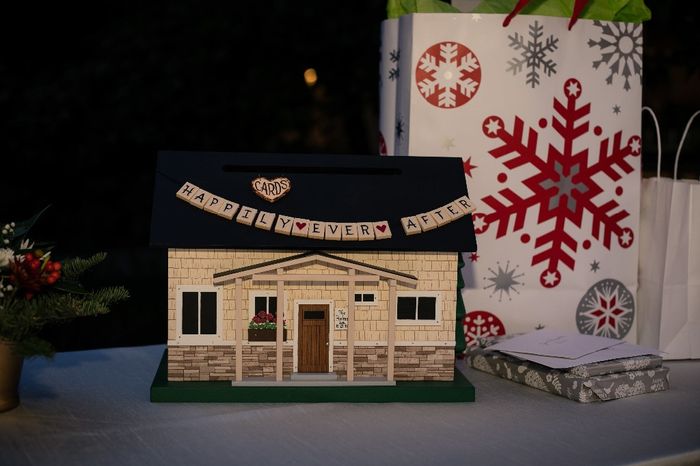 .....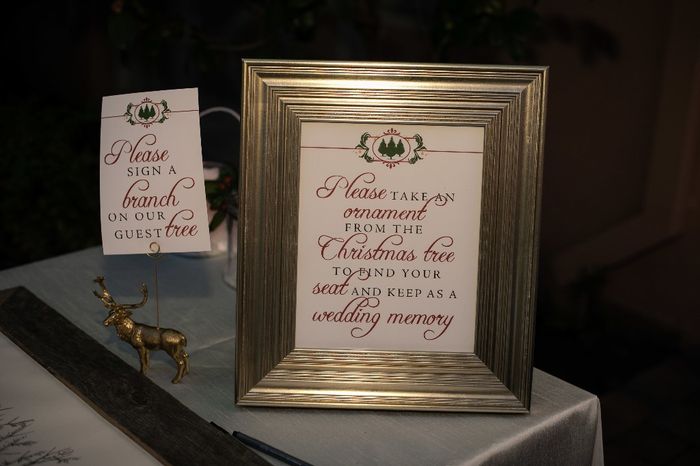 Guest Tree - Etsy shop bleudetoi (DH DIY'ed the frame)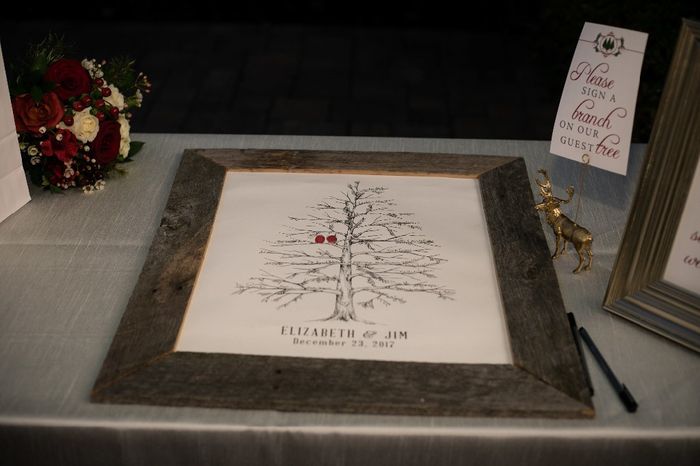 A small memorial to my mom who passed away last January and one of our e-pics
Our rings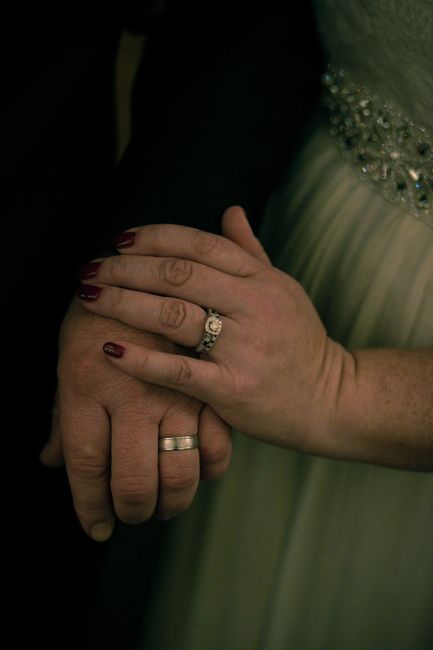 The beautiful Christmas tree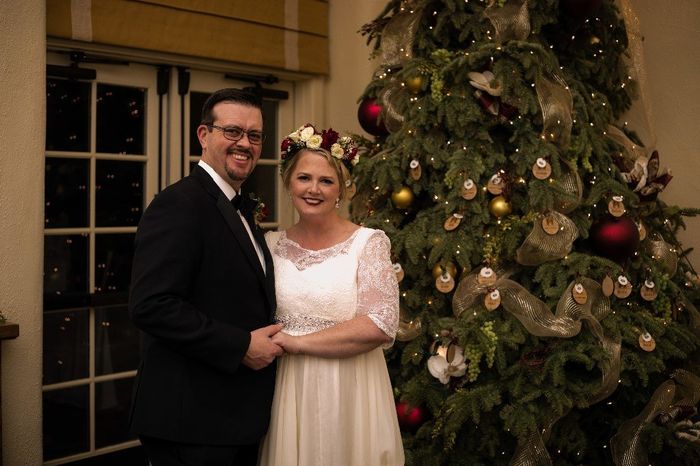 Overview of the room
Sweetheart table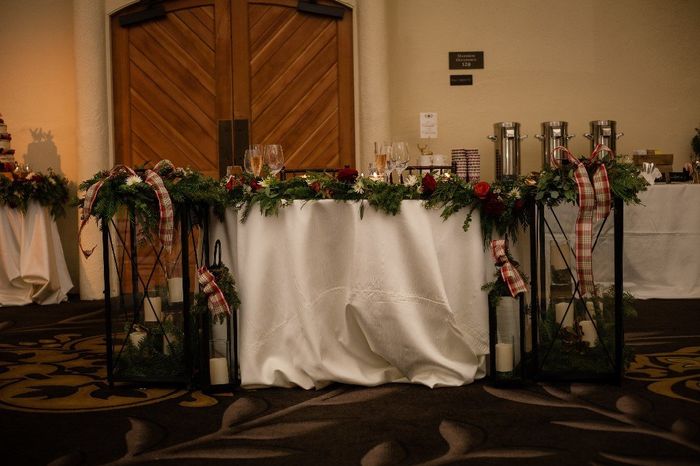 Gingerbread sponge cake with eggnog buttercream icing - semi-naked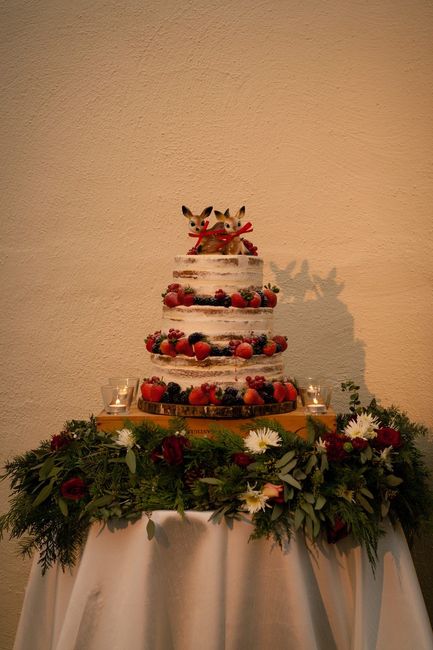 Garlands from the ceremony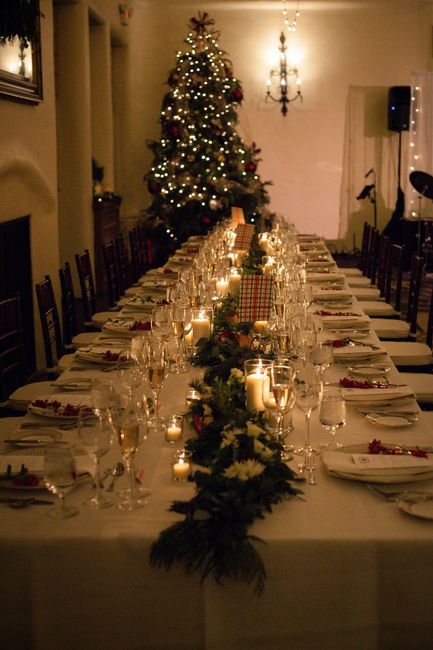 .....
Custom reindeer used as table number/sign holders - Etsy shop TinyTaxidermyDesigns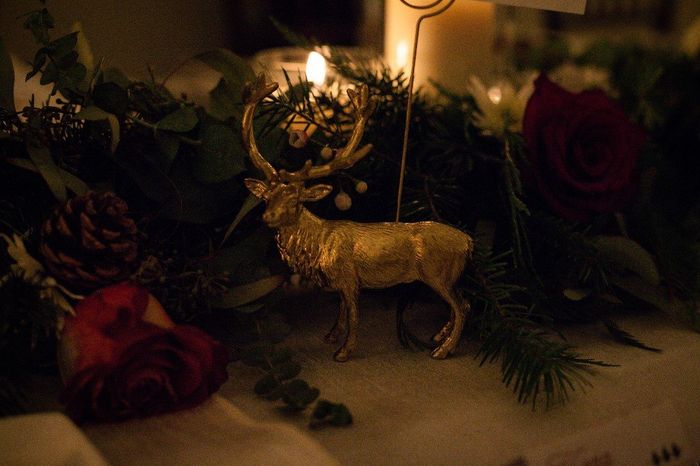 Escort "card" display - ornaments arranged alphabetically
No grand entrance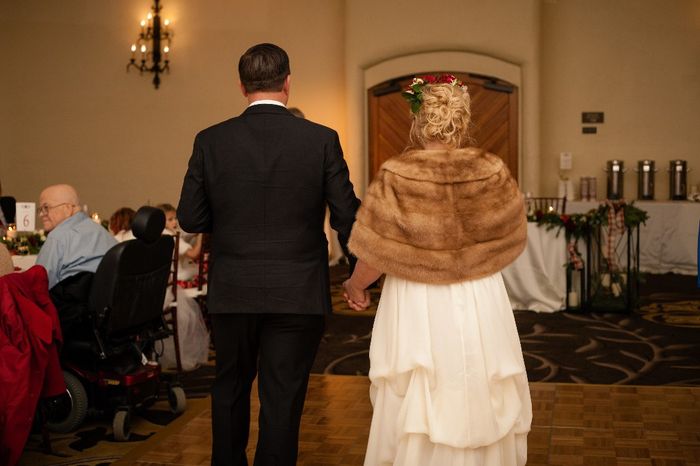 Dinner band performed Rat Pack and jazz tunes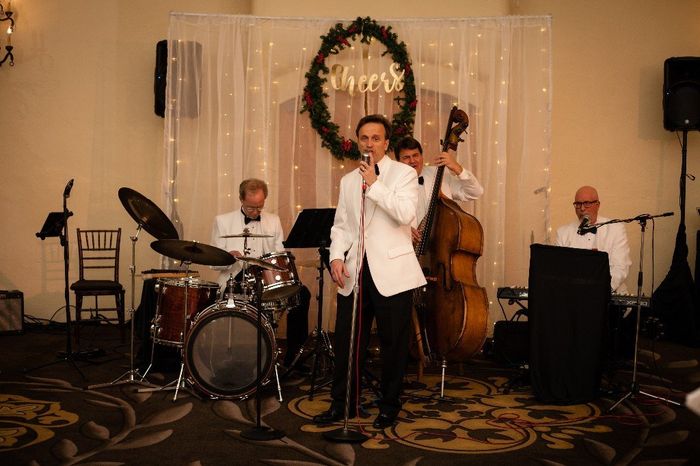 My welcome toast on behalf of DH and me - I forgot my champagne glass and forgot to actually "toast"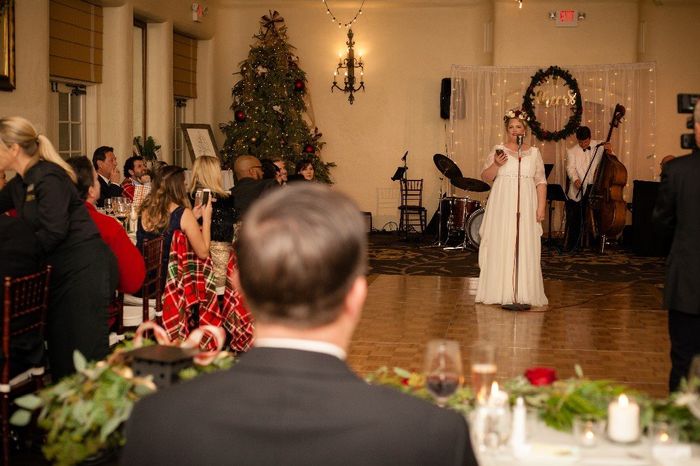 Cutting the cake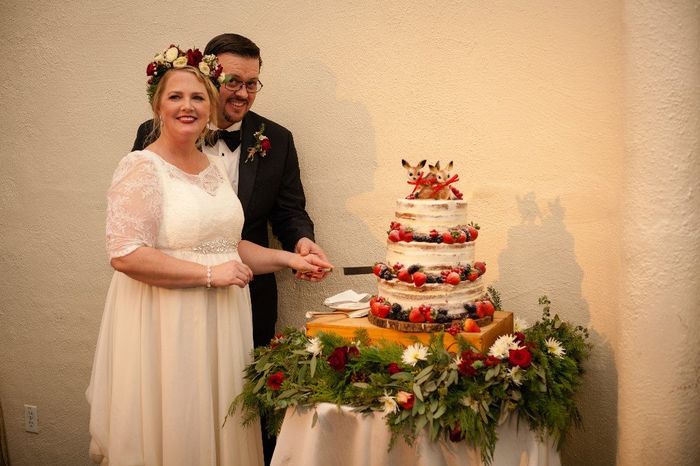 Candy Bar - a variety of chocolates, gummies, and hard candy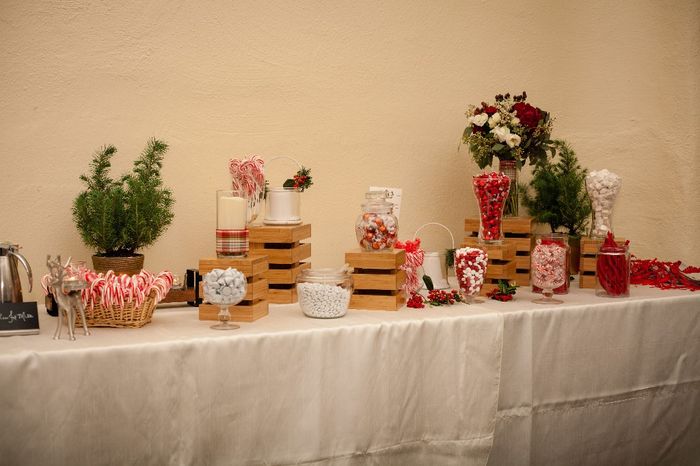 Christmas pillows around the firepit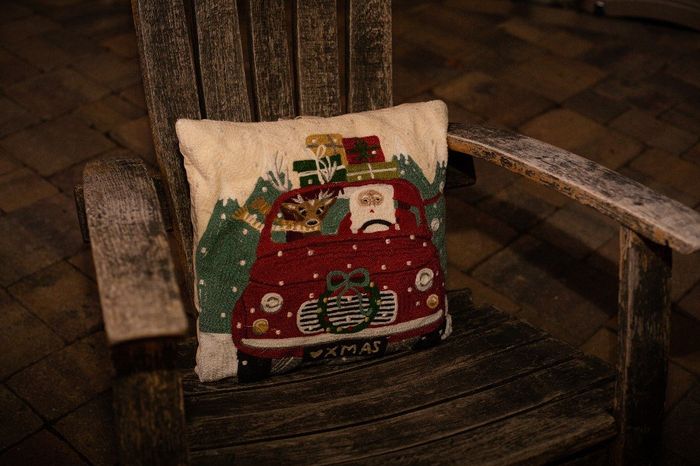 First Dance - Can't Help Falling In Love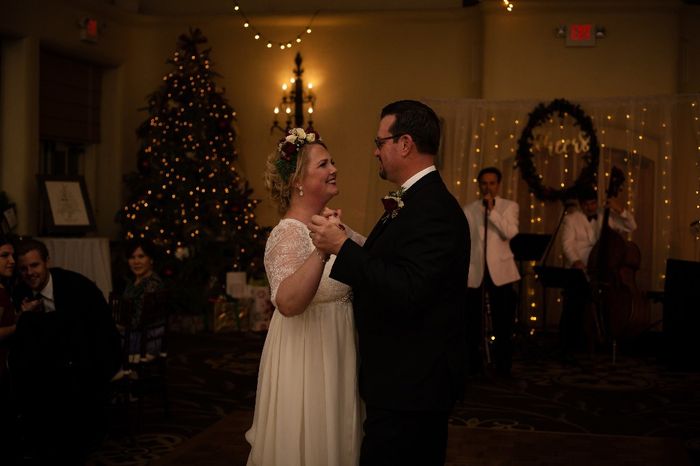 We invited everyone to join our First Dance after 30 seconds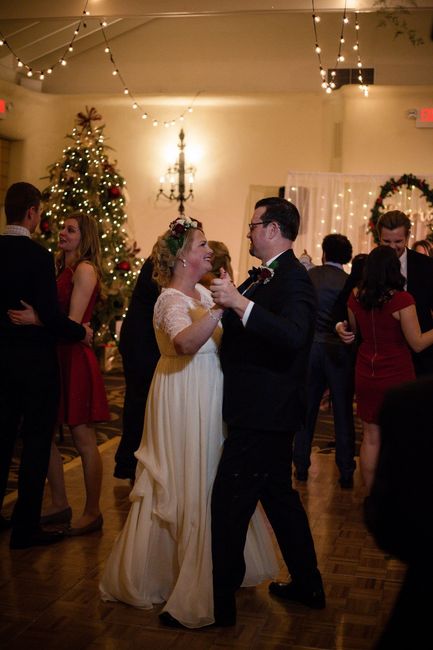 One of my favorite memories of how our First Dance ended - look at his mom and dad!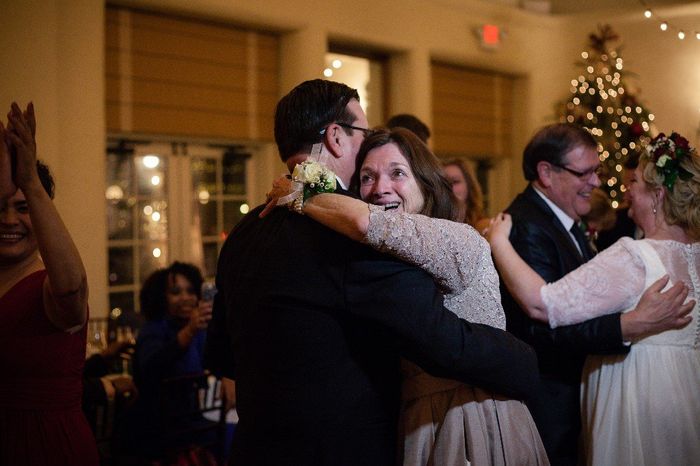 The dance party kicked off with this amazing lady - she was a hit! We had them perform swing, 50's, motown/funk and a few fun holiday songs.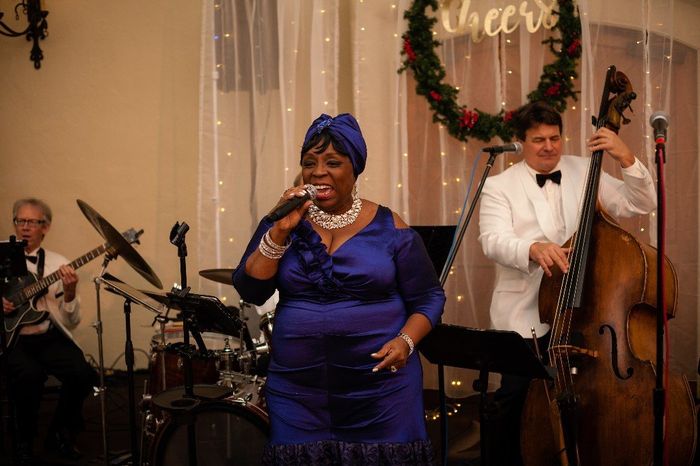 .....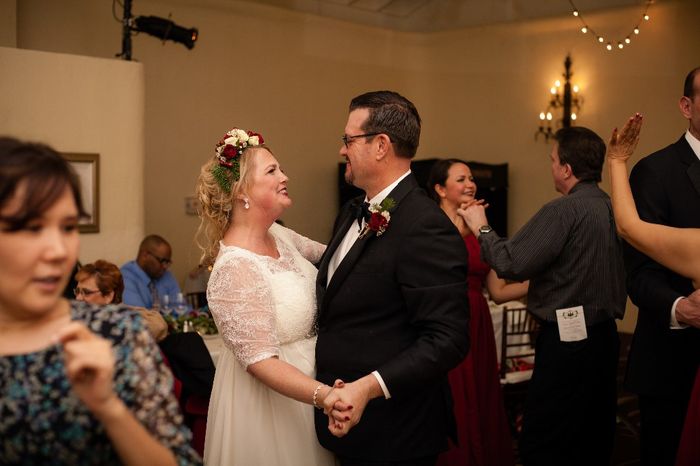 We only had 40 guests but they really enjoyed themselves and the ambience was fun and festive.