Elegant Entertainment DJ in Houston Reviews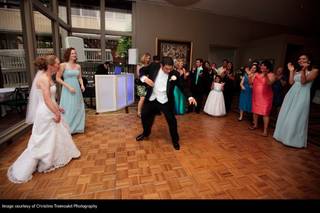 Elegant Entertainment DJ in Houston
Houston, TX
View more information
28 Reviews
Recommended by 97% of couples
Quality of service

Rating 4.8 out of 5

Average response time

Rating 4.8 out of 5

Professionalism

Rating 4.9 out of 5

Value

Rating 4.8 out of 5

Flexibility

Rating 4.8 out of 5
Awards

Veronica

Married on 04/14/2017

LOVE LOVE LOVED MY DJ! My family really enjoyed our wedding music as well!!!!! The lights were the cherry on top! Every wedding photo had different lighting! SO beautiful.

Dina

Married on 08/22/2015

We were really pleased with everything that you did everything came out perfect. We couldn't have picked a better DJ than you we got so many complements on your music and the monogram. Again thank you so much and we will definitely go back to you in any future events!

Elena

Married on 03/16/2014

We loved him! Everything went great. Very polite and respectful. I was so busy with work so he accommodated to my schedule, even met with me on Sunday. He was punctual which made me feel so relieved. Our family loved him and they keep asking me for his number. VERY ELEGANT SETTING!

Katherine

Married on 08/31/2013

Frank was the DJ at our wedding last week and we are genuinely pleased with his work. Prior to the wedding he always answered my calls and texts and was willing to meet with me at a convenient location and time to discuss all the details and changes I had made to the reception. He has great listening skills and is very professional. The day of the wedding he was on time, dressed professionally, stayed on schedule, and played exactly what we had discussed at our meetings.

My husband and his family are Mexican and my family and I are Salvadorian, with some of our guests being Chicano or just English speaking. Based on our previous meetings I had discussed this with Frank and gave him a list of genres or music to play and which ones were not allowed. He played a little bit of everything for everyone including cumbias, merengue, bachata, oldies, some appropriate hip-hop, salsa, guapangos, tejano, etc. and had EVERYONE dancing including family members who NEVER dance. It was truly amazing to see everyone I love have a good time.

Additionally, two days before the wedding I asked him if he could take his equipment to play a photo slide show of my husband and I throughout the years, music videos, and display a monogram. In such a short time he was able to do just that without a problem. Also, I had mentioned we would not be having a garter or bouquet toss and at the last minute at the reception I told him we had changed our mind and he was able to organize it within a few minutes without any problems.

Overall, our reception was exactly what we wanted it to be and more because Frank played music that had everyone (including those who never dance) on their feet throughout the night.

Thanks Frank,
Katherine and Joaquin

Wonderful dj! Kept the party going all night!

If you are searching for someone who will make your wedding or event a magical experience, please look no further! I absolutely, thoroughly, and highly recommend Francisco and Elegante Entertainment. Francisco was quick to respond, always professional, and extremely kind. He knew exaclty what to do and made our reception absolutely beautiful. We received so many compliments about our reception hall and have beautiful pictures to prove it. Everything about working with Francisco was perfect!!! Thank you so much for a wonderful experience!!!

Rob

Married on 10/20/2012

Frank at Elegante Entertainment did a FANTASTIC JOB at my wedding on 20Oct.
First he had great presentation, he brighten the room, the music mix was perfect and he was very well organized.
The DJ is the most important vendor for the reception and he carried out everything, I can say he exceeded my expectations. I had great feedback from my guests. His pricing is reasonable and he is very easy going and very professional.
I was happy to have hired Frank - from Elegante Entertainment and would highly recommend his services. Thank you Frank you were AWESOME!

Reyna

Married on 10/20/2012

I hired Elegante Entertainment for my Wedding and they were AWESOME!!!
First he had great presentation, he brighten the room, the music mix was perfect and he was very well organized.
The DJ is the most important vendor for the reception and he carried out everything, I can say he exceeded my expectations. I had great feedback from my guests. His pricing is reasonable and he is very easy going and very professional.
I was happy to have hired Frank - from Elegante Entertainment and would highly recommend his services.

Erika

Married on 12/02/2011

You ROCKED the show!!! My wedding was amazing! Thank you so much and till next time!

Tammy

Married on 07/02/2011

He played all the music we requested. He was very respectful and kept the party going. Thanks Francisco for a wonderful reception.

Isabel

Married on 05/14/2011

He was just great, the music was great everyone loved it, they didnt want it to stop. He was on time, ready to start playing music :)

Shanell

Married on 04/09/2011

Frank is the absolute best. My husband and I had a bi-lingual (english/spanish) wedding and reception. I was very nervous about everything flowing smoothly. Well Frank definitely delivered. He was very professional, he listened to all of "last minute" requests for my song choices. Everyone at my wedding said it was the best wedding they had ever been to. If you look at pictures everyone and I mean even my husband's grandma was on the dance floor all night spanish, hip-hop, zydeco, r&b and all. Thanks so much Frank!

Pavel

Married on 03/26/2011

Frank truly went above and beyond all my expectations for our wedding. I wish I could describe all the small details which Frank covered, but I'll try to keep this review as brief as possible and highlight some of the things that stood out most.
About two to three weeks before the event, the inital dj company we had selected was starting to give me cold feet both from their communication -lack off-, limitations, and music selections. I decided to take one last look around and found Frank quite by accident. He was extremely courteous and professional, within minutes of talking to him I felt the nagging doubts about our music selections (Spanish and English) and Kareoke set ups being settled. Frank had no problem accomedating us with such short notice, and dedicated his time to compiling a mix of the music we selected, even as far as measuring the beats in songs to have them flow into each other better for continuous dancing.

On the big day, Frank set up and broke down EVERYTHING himself, he provided wireless microphones both outside and inside, kept all the important events on queue, dressed in full tuxedo through the whole thing, organized fun games during the dinner, and most importantly kept people dancing all through the night. Thoughout it all Frank smiled and looked like he was enjoying himself as much as our guests.
Finally, just to show you an example of the tremendous level of dedication and professionalism Frank puts into his work, the poor guy was so busy keeping the wedding moving that he didn't stop to eat once that night, despite me telling him to. I only found this out near the end of the night, after I asked him again, when all the food had already been put away, and we luckily managed to get Frank a small snack before he broke down all his equipment.
Frank, thank you from all our family and friends, who all agree, you made a real difference to our party.


Riley

Married on 12/18/2010

Frank was so amazing. I live up in Huntsville and he drove to Spring (45 min.) every time we were getting together to go over the wedding schedule. Even the day of when I was making changes to the schedule he was awesome and so reassuring. I can't say enough good things about Frank.

Jeremiah

Married on 12/17/2010

Frank was our dj for our wedding in Katy in December of 2010 and did a fantastic job! I was thoroughly pleased with all areas of service. Thank you Frank!

Megan

Married on 05/30/2010

Frank is an awesome DJ, and we would wholeheartedly recommend him. When we were planning our wedding, it was very important to us to have music that we liked played at our reception. We gave Frank a list of music, and he played just what we requested. He was a fantastic MC for the evening, and kept guests on the dance floor all night.

Christine

Married on 04/09/2010

Frank was awesome! He did a really great job of mixing the genres that we had requested and keeping everyone on the dance floor. He met with us several times prior to the event and even came to the rehearsal because he had not had a chance to see the venue prior to that. We really appreciated his hard work and his patience with us when we were indecisive. We highly recommend hiring him for your next event.

Dana

Married on 03/06/2010

WOW! Where do we start?? Let me start by saying…"FRANK IS THE MAN"!!! He had some of the best ideas for our wedding. He made our wedding so fun, and helped everyone come together! He knew exactly what selection of music to play to get everyone on the dance floor. We even had some of our conservative church friend's boogying down.
Frank would take time out of his day to answer all of our questions. He would meet with us to discuss all details, and made us feel very important. He really cares about his work, and cares about his clients. He spends so much time on his work, and makes it perfect. He is very professional!!!
Frank made many suggestions on different games/ styles for our wedding. We did the introduction of our bridal party, which was a huge hit. We also did a kissing game, that was fun for couples attending the wedding. Frank put together for us a "Funny Dance" song that was GREAT! The crowd loved it, and it set the mood for the whole night.
We had many people come up to us not only complimenting on how wonderful of a time they were having, and how romantic the wedding was, but also how amazing the DJ was.
Chris and I recommend Frank to EVERYONE!!


Carly

Married on 02/20/2010

Frank was great! He played just the music we wanted. He was present and got people dancing without being cheesy. Very nice as well!

Elegant Entertainment DJ in Houston's reply:

Dear Carly and Greg,

I am so happy today to read this review today!! :) You guys were such a great couple and very nice to work with too... I'm so grateful to have been a part of your wedding reception... You had a great team helping you out! I will tell you a secret, I was very nervous at your reception, your music DO NOT PLAY List was quite the challenge... :) but there is PLENTY of great music out there and it can be done without relying on those overplayed Wedding songs that you did not want played at your reception..

Thank you for the kind words of encouragement and God Bless you two!!

If there is any way I can be of service to you guys, please let me know!

Best Wishes!
FHP

Lily

Married on 12/08/2009

I would highly recommend him for any occasion. He listened to all of my request. My husband and I were very please and our guest enjoyed themselves tremendously!

Elegant Entertainment DJ in Houston's reply:

Hi Lily,

It was a pleasure being able to be of service to you and your guests... I'm glad your husband and yourself were able to enjoy the wide variety of Music you needed to be played at your wedding reception. It was fun and very relaxing...

Thank you for the Kind words of encouragement!

Kristi

Married on 10/11/2008

Francisco acted as MC and had a DJ. The played awsome music! He is bilingual which was great to make the few guests from Mexico and Grandma feel welcome. He was very organized (much more than me!) He was attentive to guest activity and had every request. Their equipment seemed new and sounded great!

Elegant Entertainment DJ in Houston's reply:

Thank you Kristi!!

Bilingual Is my specialty! :) I'm glad Gradma and the guests from Mexico as well as the ones from here in the US were able to feel welcomed at your wedding reception. That's what and MC's job is supposed to be! :) Playing music is easy! :)

Best wishes!

Mariel

Married on 05/31/2008

Francisco was awesome. He seems a little shy when you meet him which is wierd for a DJ BUT he rocked it at my wedding. he did exactly what he needed to do. I told him I wanted to it to be hard for people to sit down because they love every song that is played. That is what happened. At one point we had 2 dance floors. Dont ask me how that happened but it did. He really made ti a party . yay.

Elegant Entertainment DJ in Houston's reply:

Thanks May...

I get that a lot... I am shy, but one thing is for sure... I Love Music, I love dancing, and I love having a great time... So it's easy, for me, to pass that along to the party! :) I'm glad you had a great time at your wedding reception!!!

You and Jason Take care!!!

Zaira

Married on 06/09/2013

We found this DJ from a friend's wedding we went to and had a great time there. So when we got engaged, we asked for the DJ, thinking we were going to get married in Houston. We changed our minds and decided to get married in Fort Worth. He had no problem driving up to Fort Worth to do our wedding, and did a fantastic job in Spanish and English! Had a great set up, was on time, dressed professionally, acted professionally, played all the music we had requested, and kept the party going! By the end of the night, my hair was a mess because of all the dancing and fun I was having. He knows what he's doing, the transitions are smooth, and nothing was at all tacky! Great DJ and would definitely recommend him.

We were so happy and blessed to have Francisco (or Frank) as our DJ at the wedding. He asked to meet with us about a week before the big day which showed he really cared and was prepared to make the best of our wedding. He played the music we requested for the ceremony and created an even transition of the songs. I even had last minute changes that he was able to work with very well! Although we don't recall being able to dance a lot, our guests were happy with the music that was played. We really liked that before the night ended, he asked US for any last requests. Not only is very presentable and professional, but he is a great English & Spanish Master of Ceremonies AND part wedding planner too! Thank you so much! God Bless You

Elegant Entertainment DJ in Houston's reply:

J and J ( I will keep your names private.. ;)

Thanks for the kind words of encouragement! :) LOL... I'm glad you added the word 'Part.' Wedding Planning is a totally different animal, I'm an expert in Planning the Entertainment of your Wedding Reception, that I believe, is the RESPONSIBILITY of any DJ... And I take pride in taking that responsibility, especially if there is no wedding planner involved. Otherwise, EVERYONE is going to be running around like a chicken with it's head cut off... Talk about uncomfortable dead spots at a wedding reception! So in order to avoid that, I make it my responsibility to make sure EVERYTHING comes out smooth, well when it comes to the Wedding Entertainment (Introductions, traditional dances, cake cutting, toasts, bouquet & garter toss, etc...) Thank you and may God Bless you with many beautiful and lovely kids! :)

Frank was FANTASTIC!! There was a huge group on the dance floor all night long! He was super polite to our family and friends and he kept the night moving along smoothly. He kept in mind everything we had discussed and kept to my super picky 'okay to play'/ and 'please don't play under any circumstances' lists. His selection was endless and full of songs we didn't even know we wanted to hear! We are still getting compliments about him! We'd definitely recommend him to anyone in need of a great DJ!

Elegant Entertainment DJ in Houston's reply:

Thanks for the kind review... I don't think I've ever played so many Selena Songs Back to Back as I did on your wedding reception! Boy was that fun! :) I always welcome ANY Please play and please DO NOT play list, no matter how long it may be. After all, it's your wedding reception, my job is to entertain you within the boundaries that you have hired me to keep. Keeping up with a DO NOT play list is challenging for any DJ, but it's part of what makes us professionals ( I Think )..