Wedding details
Cabell & Don fail to meet In August of 2008, Cabell placed a personal ad on craigslist. She quickly tired of the ridiculous responses it evoked, however, and gave up checking the dedicated email account she had created for the ad approximately 12 hours before Don replied. Cabell & Don meet In January of 2009, Cabell's friend Bridget met Don through mutual friends who knew Don via Cabell's good friend Keely, an electrical engineering graduate student who had once dated another physicist. Cabell spotted Don on Bridget's Facebook and said he looked "pretty cute," so Bridget promptly introduced them at another friend's birthday party. Cabell then worried that Don might be "too strait-laced for [her]," but Bridget correctly assured her that this was not the case. A few weeks later, Cabell orchestrated a showing of Val Kilmer's early-80s masterpiece Real Genius, at which Don carefully sat a row back from everyone else, allowing Cabell to indicate reciprocal interest by immediately seating herself next to him. A number of people on the car ride home were subjected to a lengthy analysis of the emotional significance of knee-to-knee contact. Cabell & Don become a "couple" At a party at the end of February 2009, several of Cabell's friends casually worked into conversation several times her recent research finding that in general, men tended to be the ones to initiate changes in Facebook relationship status for heterosexual couples. Don took the hint the following day. Around this time, he asked Cabell if she had ever posted a personal ad on craigslist in which she mentioned having "experimental hair," being an avid cyclist, and playing City of Heroes, as if there were a horde of social science graduate students at Madison who met all these criteria. Cabell & Don do not actually get married On April 1, 2009, Cabell and Don orchestrated a Facebook elopement hoax. (See photo above.) Many people were taken in, although some of them still maintain that they knew all along. The hoax was in fact so effective and the April 2nd retraction so easily overlooked that as of February 19, 2010, some of Cabell's fellow sociology students were confused as to why she was getting married AGAIN. This incident also resulted in firm instructions from Don's mother that under no circumstances should a marriage actually occur without her present, which brings us to... Cabell & Don are getting married! Being both fairly close to graduation (note: it is rude to ask graduate students for a specific date, or to mention graduation, or to ask "how is your dissertation going?", or to look like you might be wondering why they have been in graduate school for so long), and having already discussed engagement at some length, Cabell and Don decided that there was no point dragging it out. Since both of them have always wanted to get married in Vegas, picking a destination was easy. The academic time table helped narrow down a date. After discovering that the selection of pirate wedding packages in Vegas was surprisingly scant, they decided on the Valley of Fire State Park. After perusing some package deals, Cabell became suspicious of repeated claims that a particular company was "the only company with a permit to perform weddings at this beautiful natural landmark!" and discovered that in fact, wedding permits were freely available to the public. With the assistance of her wonderful sister Hannah, who happens to be a professional event planner, she and Don are planning the wedding themselves. It will be officiated by their friend Scott, a fellow graduate student in history of science and, happily, an ordained Unitarian Universalist minister with lots of wedding experience.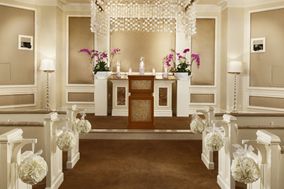 Discussions I've participated in
3,426

I am in SO much trouble.
FH just gave me the go-ahead to spend what I want on a wedding dress. From the beginning, I have been quite against the gigantic shindig, but I would just love to have a beautiful dress and a great...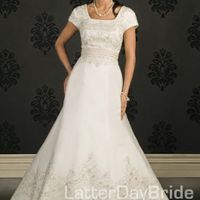 2

How many mini cupcakes per person?
Im handling the cake details and ive decided to have either cupcakes or mini cupcakes, but im wondering how many i should order for a group of 50-65? 100? more, less? Im thinking do people eat 2 or 3...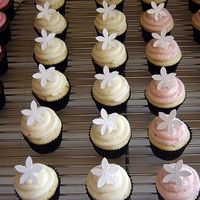 NWR---sort of, who are all the teachers out there
Rebecca
, on June 10, 2011 at 12:28 PM
I'm a high school teacher and I have been putting off most of my wedding planning until the summer because our wedding isn't until Nov. Well school has been out for a week and I finally have time to...
Activity

I uploaded a photo in Jeanette's discussion
2031 days ago
3 pt
What's the story behind your dress?
I'd love to hear about how you decided on THE dress. Be sure to post a pic too because I know we all love to show of our perfect dress. I'll start: I'm not one to wear dresses so I was looking for something simple, no beads, no lace, no frills, no...

I uploaded a photo in Cecy's discussion
2046 days ago
3 pt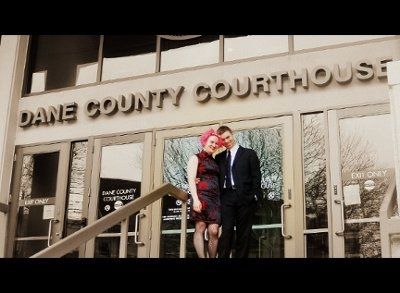 Your Story!
Ok so after one of the brides posted a nice proposal I cant stop by wonder lol What's your story? How was your proposal? Here is mine: I met him online (he hates admitting it lol) but we did. On our first date I knew he was the one! We couldnt stop...
WeddingWire celebrates love
...and so does everyone on our site!
Learn more
Groups
WeddingWire article topics