Florida Keys Honeymoons
The Florida Keys offers honeymooners a quiet, charming Caribbean getaway.
Couples looking for a low-key and quiet destination by the beach should consider a Florida Keys honeymoon. From diving capital Key Largo to the artist's haven and pub-heavy Key West to the quiet sport fishing base of Islamorada, every Key has its own distinct vibe. Most budgets can be accommodated, though prices can be high during the winter when most of the northeastern quarter of the US and Canada seems to flood Florida.
A Florida Keys honeymoon offers newlyweds a variety of activities and options — from resorts to cocoon yourselves in, to the small city of Key West, to national and state parks, diving, kayaking, cycling, sailing and boat tours, and so on. You can have everything from an active outdoors honeymoon to some much needed lazy relaxation. Seafood lovers will be spoilt for choice by the fresh, local options, while those interested in arts and culture will be right at home in Key West.
As far as beach destinations go, a Florida Keys honeymoon offers a wide variety that should please almost all vacation goers.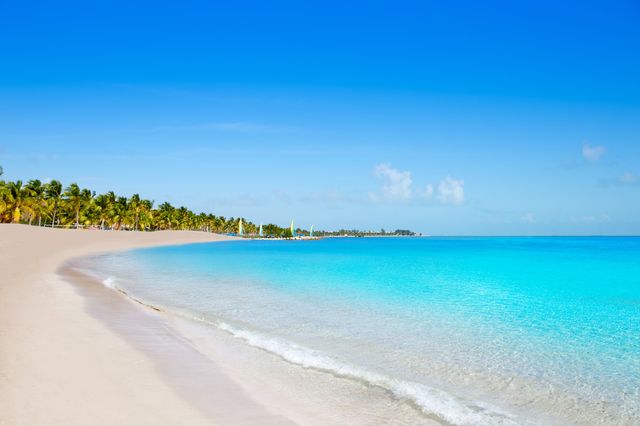 When to Go
The Florida Keys enjoys a warm climate year round, though summers can be very hot and humid with temperatures above 90. High season covers November-April with particularly busy crowds for the holidays and President's Week in February. Therefore, we suggest planning your Florida Keys honeymoon in the early spring or fall.
Top Sights and Activities
Beaches: One of the "key" attractions, the area has a number of beaches to check out during your Florida Keys honeymoon.
Ernest Hemingway House: The Key West haunt of the writer will be an interesting stop if you have literary inclinations.
Scuba Diving: The clear, calm waters of the Florida Keys are perfect for diving, and the Keys are a major US diving destination.
Snorkeling: The clear shallows around many beaches are also ideal for snorkeling.
The Eagle: This intentionally sunk ship off of Islamorada has become a dive attraction of colorful coral and schools of fish.
John Pennekamp Coral Reef State Park: This underwater park, the first of its kind in the US, is 70 square nautical miles of protected sea off of Key Largo, which is ideal for diving, snorkeling, swimming, and other activities.
Dry Tortugas National Park: 70 miles west of Key West, this park features a 19th century fort and incredible snorkeling/diving.
Fort Zachary Taylor: If you are looking for a perfect beach sunset on your Florida Keys honeymoon, this park on the western end of Key West is the place to be.
Glass Bottom Boats: The clear Caribbean waters lend themselves to incredible underwater sightseeing on glass bottom boats.
Dolphin Tours: The waters around the Florida Keys are home to numerous dolphins, and boat tours to see them are easily found on the Keys.
Bike Tour: A bicycle tour is one of the best ways to explore the historic core of Key West.
Lobsterfest: Seafood lovers should consider visiting Key West during the first week of August for Lobsterfest, which celebrates the beginning of the lobster season.
Flight 3
- Remove Flight
+ Add Flight
Flight 4
- Remove Flight
+ Add Flight
Get access to travel deals when you book your honeymoon through WeddingWire