Hi Lovely People,
I wanted to share a good deal I got on wedding welcome bags! We are having a small destination wedding in Turks & Caicos (probably around 25-30 of our family & friends - maybe 10 rooms max?) and I caught a sale on Lands End and got some really nice boat totes for our wedding welcome bags.

I've priced out EVERYTHING from custom cheapo tote bags (around $10-20 each, lots of companies have minimums of 15-25 pieces, too), to burlap bags, to using paper bags (not enough room)...and decided to go with a these boat totes since they're sturdy, have great pockets and can be used for a long time.

I used a Retail Me Not coupon (Code SAVE with pin 1912) and got them for 50% off sale so they were $11 a piece with free shipping since I ordered 10 of them. Got them in today, and they are heavy/luxurious totes. I am really pleased. They would make a nice bridesmaid/groomsman gift or a gift for family members. You can spring an extra few bucks and get them monogrammed/embroidered. I opted for plain.

Linky here: Lands End Sale Tote Bags
Wedding Welcome Bags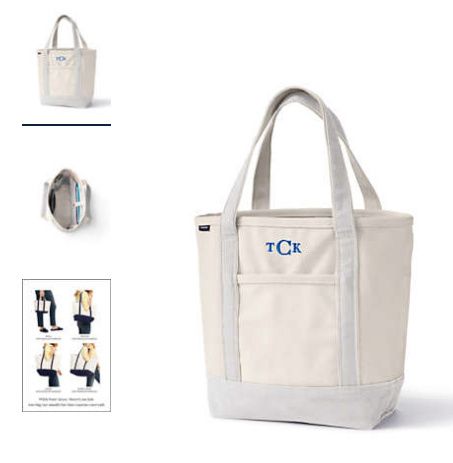 This isn't an affiliate link or anything, just sharing a great deal. They have other colors; I opted for the silvery grey one pictured.