 Wedding Dress 👗
Jocelyn

, on September 26, 2021 at 9:00 AM
Posted in
Wedding Attire
1
20
I keep looking at pictures of my wedding dress . I already went for my first fitting and they cut around the bottom . But I'm not inlove with the dress. I'm not excited as I was trying dresses on . I selected the dress based on rating.. it was prettier than the others I had tried on… now I'm thinking maybe I rushed to make a decision. Thinking it'll also be too inappropriate for my ceremony . It shows my lower back. Thinking it's too late my wedding is in November. 😭As anyone had second thoughts about they're dress?
Latest activity by Katherine, on September 26, 2021 at 8:20 PM
Did you take any pictures of you in your dress? That might help us to see what you're seeing. Trust that you'll be beautiful!!

Think it's too late 😔I only have a month left .

View Quoted Comment

Omg I absolutely LOVE the back of your dress, it's definitely different. It's really pretty, I think you should keep it. Maybe once you get all dolled up you will have that feeling again. I mean you chose the dress for a reason!

It looks great on you! A lot of brides get dress regret. You could try some consignment shops if you feel you need a new dress, but if one of your main worries is the low back then maybe you could get a fingertip, tiered veil? That would add a little bit of coverage for the ceremony.

I think this looks good on you, and you obviously loved it when you picked it! I hope the excitement about it comes back to you!

View Quoted Comment

Completely agree with the suggestion of a veil to help provide coverage during the ceremony

View Quoted Comment

This dress is beautiful!! You could either cover the back with a veil, or check if a seamstress can add a lining to parts of the dress to cover anything that you don't want visible?

Since your wedding is in November maybe you can get a shawl for the ceremony. When I was younger my brothers wife wore a white winter shawl for the ceremony and outdoor pictures.

You can also find one that can cover your back for the ceremony and take off for the reception

You look gorgeous and it's okay to have 2nd guesses but you honestly look phenomenal

You look beautiful and the back of the dress is amazing!

If you're worried about the sheerness perhaps you could have it lined?

I like your dress, it is pretty. I honestly bought my dress because it was reasonably priced and I did not need any alterations done on it. Plus it goes with my theme.

I don't think anyone can recreate/relive the initial feeling of seeing their dress for the first time. So that might not be a realistic expectation. However, if you're seeking to find a dress right away, you can try preownedweddingdresses.com or stillwhite.com or lastminutebride.com. Then you can try to sell this dress.

View Quoted Comment

Thank you 💕you're so sweet ! ☺️

View Quoted Comment

Thank you ! After all I'm only using the dress once and I don't want to keep it in my closet collecting dust so I will check these websites out ! 😃👌🏻

View Quoted Comment

Thank you !! 🧡

View Quoted Comment

Ooopss! It's thelastminutebride.com

View Quoted Comment

I think it's beautiful on you! But agree if you're not comfortable with how much it's showing a veil would definitely help. It's really pretty though the way it is.

My wedding is next month and I've second guessed lot's of things including the dress. I don't plan in changing it I think because I've had it so long is the reason. I agree that added a shawl with help you feel more comfortable. Looks beautiful!

View Quoted Comment

Wow I think it's beautiful!!! I agree with some of the suggestions that maybe you can have a panel where you're not comfortable in the back. But I think it looks great on you
Related articles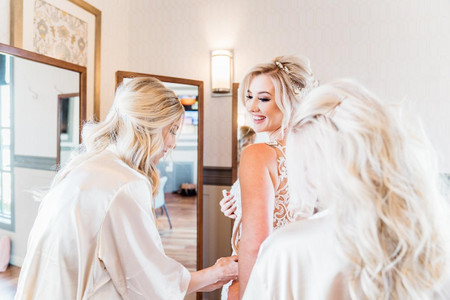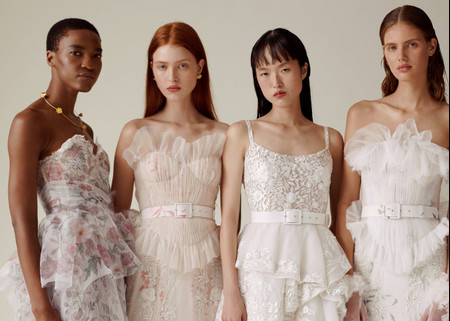 WeddingWire celebrates love
...and so does everyone on our site!
Learn more
Groups
WeddingWire article topics