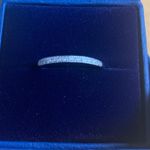 Odd question: Please Remain Seated?
I haven't been to a wedding that asked that the guests remain seated during the bride's entrance but, for many reasons, I would like to do that. Has anyone else been to a wedding where they were asked to remain seated throughout the ceremony? How did it go? I figure it's almost like a reflex for ppl to rise for the bride & I'd like to make sure I get the point across that I don't want that. Unfortunately, it seems ppl don't listen when the officiant makes other important announcements, so I'm sure I can probably expect the same. Just curious about others' experiences and if anyone else is doing the same.
I have never seen this done, but I do think it is an automatic response for guests to stand when the bride is going to walk down the aisle. I would have the offficiant make the announcement and hope they listen. Is there a reason you don't want them to stand?

I have been at a wedding where the officiant asked the guests to remain seated for the bride's processional and everyone complied. I think it actually makes it easier for everyone to see and it avoids that awkward question of when to sit down again (sometimes the officiant forgets to say that bit!). Explain to your officiant what you want and leave it in their hands. People will be listening since that is the start of the ceremony, not just random announcements.

Standing for the bride is an automatic response and parents stand first and everyone follows. Let officiant and parents know your plans. Is there a reason you want them sitting?

View Quoted Comment

We have a small venue and I want to be able to see my FH when I walk into the room. I'm concerned that if ppl stand the room will just feel smaller 😖 and I won't be able to see the most important person there! We have a small guest list (50), and I'm fairly confident most of our guests are conscientious enough to listen to instruction. But I feel like there is going to be that one person that will cause a chain reaction 😂

View Quoted Comment

So that I can see the groom! As I responded to another poster, it's a small venue and I feel like the guests standing will make it smaller and also make my FH disappear.

View Quoted Comment

Our officiant announced that we didn't want anyone to have their phones out during the ceremony and to my knowledge everyone listened. But it is very possible someone might not listen especially since standing when the bride walks down the aisle is so common. Have you seen photos of the bride walking down the aisle at your venue to see what it looks like with guests standing?

If your officiant announces it, even if someone automatically stands, chances are someone nearby will correct them. Make sure your request is known and I'm sure it will go fine.

View Quoted Comment

Thank you! Are you saying the officiant asked guests to remain seated just before the bride's entrance and not prior to the start of the ceremony?

View Quoted Comment

Unfortunately, no. Our venue is not a common place for weddings (historical home), so there are not many photos out there. I do recall seeing some though, so I'm going to search through those and see if there is anything. That's a great idea. Hopefully I'll find some.

View Quoted Comment

Thanks! I guess if it doesn't go well, it's not the end of the world either 😆

View Quoted Comment

I hope everything works out the way you want it to 🙂

View Quoted Comment

Exactly! This is such a small detail on your day and it simply doesn't have the power to make or break your wedding. Give it a shot, see what happens, and love the moment either way!

View Quoted Comment

Actually, I did just find some photos online (only one wedding that actually posted ceremony pics). Looks like everyone remained seated.

I would love this. At my cousins wedding we all stood but they forgot to tell us to sit back down. We all stood for like thirty minutes 😂. Make sure the officiant announces it right before you start walking very loudly so everyone hears

Agree with previous posters on talking to your officiant. I have to say, I really like this idea though!
As a guest, I've always found it weird that the groom enters from wherever and no one really pays him much attention, but the bride makes this dramatic entrance and everyone is expected to STAND as she walks past us all before reaching center stage. It's like, "oh yeah, here's the groom or whoever that guy is I guess, but here comes the BRIDE! Stand at attention!"


View Quoted Comment

I actually would like my FH to stand out a little more, but idk yet if he's into that idea 😂 Nothing crazy or anything! But maybe a 3 piece (while his groomsmen wear 2 piece) & an ivory tie (while his groomsmen match the bridesmaids). And my wedding is still a year away, but all I can think about is my excitement in seeing him when I walk down the aisle! So having the guests remain seated is EXTREMELY important to me! But you know we all start to worry about these tiny little things that ultimately won't matter in the end 🤷🏻‍♀️

Man, if only people did this when I used to film weddings. No dodging people's heads when the bride comes in? Fab-u-lous.

I think at the point you would have the officiant announce this, your guests will be paying attention and will listen. Usually, the officiant says "we ask that you please rise for the entrance of the bride" (or something similar) when the bride is about to enter, so swapping that out for something like "we ask that you please remain seated for the entrance of the bride" should be effective. As Michelle said, if one or two guests are on auto-pilot and stand up, they will either notice they are the only ones who stood and sit back down, or someone will tap their leg. Maybe have the officiant briefly pause (2-3 seconds) after the announcement to give anyone who auto-stands the opportunity to sit back down before you enter.

View Quoted Comment

I think a conversation with both the officiant and dj will be in order & should definitely make things go smoothly. I appreciate everyone's suggestions!

Hello Christy.
Very good question!I have never seen this but my FW brought it up the 1st time we met our officiant . My FW dislikes the fact that guests only rise for the bride, she wants the guests either remain seated or remain standing throughout the entirety of the processional ... But for a different reason: gender equality!
She hates sexist and/or patriarchal wedding traditions: wearing a veil, the father giving away his daughter, both garter and bouquet tosses, father-daughter and mother-son dances (because her mom and my dad can't dance with us) etc ... So we are skipping these. Gender equality matters to her ... and not only when it's convenient for girls & women 😉.I don't care if they only rise for her but this is what she wants: So we asked our officiant, he told us the best bet would be "remain standing" because chances are that some guests may not listen if he tells them to remain seated will automatically stand because they're used to do so.

However: The remain standing option throughout the entirety of our processional is not going to be a big deal because it will be shorter than usual.

Our parents and grandparents aren't in it (long story short: my parents are divorced, and have a new partner, I DON'T want the partners to walk down the aisle).

This is what we're doing:

1: Groom,officiant,my side of the wedding party (2 people) walking together but my side of the WP behind the officiant and I.

2: Her side of the WP (3 people) walking together.

3: The bride alone. So we're keeping it short and our guests can't complain about a remaining standing throughout a long processional LOL.

It's not a good idea with a large processional that includes parents,grandparents and a large WP.
Related articles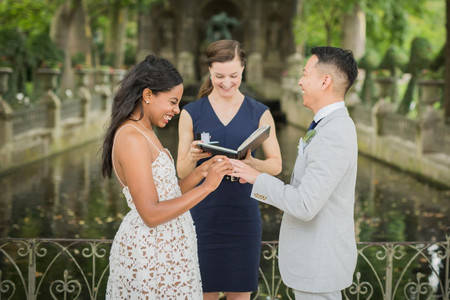 WeddingWire celebrates love
...and so does everyone on our site!
Learn more
Groups
WeddingWire article topics