Post content has been hidden
To unblock this content, please click here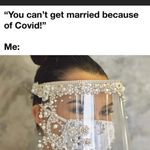 March 2021 Brides
March brides how are you feeling? do you have everything you need? What are you working on doing now? I am 47 days out and cannot believe it!! March 26
I'm getting married on the 20th and it's getting real for sure. We just applied for our marriage license and are working on writing our vows. My fiancé is getting fitted this weekend. And we just have to finish up our favors. We have our timeline set our menu picked. It's exciting.

We have pretty much everything done. I'm in the process of getting one vinyl for a sign from Etsy and I pick up my dress from alterations on the 18th.
We are having issues with the welcome dinner and morning after brunch due to our guest count only being half as many as we expected. I'm honestly just ready for it all to be done.


Our wedding is March 6th, so only about 26 days now! Its starting to feel super real and im soooo excited. We are just finalizing our vendors and little tiny details, writing signs, chasing down rsvps for our final count this next week, and just sent in our marriage license today!

View Quoted Comment

Same!!!! So ready for it to be over with! Cmon March 27th

Wedding is March 20th. We just have a few mire walk throughs, dress is ready on the 28th and just waiting for some orders to come in. I've rescheduled my wedding 2x last year and I'm ready for it all to be done and the anxiety to settle!!

Ours is on March 27th! Everything is basically done, Still waiting on a bunch of RSVPs though. I decided to DIY my flower arrangements though so that will be nerve wracking to throw together 2 days before the wedding, but overall very excited even though it's not gonna be exactly as I imagined.

March 27th!! Because I had to postpone mine a lot of things are finalize with my vendors already but still feels like a lot to do since majority of stuff I'm doing closer to the date like my favors also have to do another dress fitting and then the final one, craft my signs, get RSVPs, fill out some forms, oh ya and also I'm moving 2 weeks before the wedding! Crazy times here haha

View Quoted Comment

Ours is March 20th it feels unreal! We are doing the reception in our ranch barn so we are kicking into cleaning mode and hunting down decor we still need. We just have to get our marriage license, cake, and DIY wedding flowers!

How exciting! March 6th for us. Wedding vow renewals on the beach. Have officiate, musicians and photographer lined up. Can't wait!

March 10th bride here!!!

I have re-wrote my 'to do list' like 90 times to make sure I don't miss a thing!

AHHHHHHHHHHHHHHHHHHHHH!

Mine is 37 days away😅😅
excited and nervous at the same time.
I got pretty much everything .Going for my dress alterations this saturday with my mum inlaw to be..super excited about that.

View Quoted Comment

Yay for March 27th. Another March 27th bride here. Yes!!!!!!!! Over it....... just want to finish and not have to worry about anything else anymore.

March 28! I agree with many of you said you just can't wait for it to be over... so happy we booked a mini-moon (same state as wedding and where we live) and are leaving the day after the wedding. If anything feels stressful on the wedding day, we will just think about the day after LOL. Anticipating about 100 guests but only 65 confirmed so far. Main thing I'm stressing about is music!! Our DJ is booked and everything but thinking all all the main songs like the procession, recessional, first dance, introductions, etc... is a little stressful because I didn't realize until like, now, that there are so many songs we need to decide on!!! Also still haven't booked a cake... woops.

March 20th bride here and I'm freaking out!!! Vendors are booked, have my appt next week with my coordinator for timeline. Not looking to this seating chart I need to work but first I need to hunt down RSVPs... the only thing I haven't booked is a getaway car for our grand exit or favors! Unsure what to do. I also wanted to order custom cups for bar that say our name and date but so afraid of a possible lockdown and having to change date!

View Quoted Comment

Yass girl! Major feels!!!! I've paid my part of things too and asking for my fiancé to pay for things is the worsttttt. Always putting it off till the last min haha. He's really mad my dad won't pay for it

March 20th here! i just need to talk to my florist and caterer.. my venue is all inclusive so its pretty much almost ready! i have everthing else ready im getting so anxious, nervous, excited!!

March 30! We are doing destination wedding so everything is actually running pretty smoothly (we are working with a wedding planner)...all vendors are confirmed and paid in full we are applying for our marriage license in 2 weeks, and my dress is finishing up in alterations, otherwise we are ready to get married!

View Quoted Comment

Thank goodness mine has not given me any problems. I have asked him to pay for a few things and he will just haggle on price. At the end of the day I will get what I want lol. I was blessed that my parents gave me a good chunk of change but there was still lots more to pay for.

March 20. We are doing pretty much everything DIY, so there is still a looooooooooot to plan and to do. And we only got engaged 10 weeks ago. But everything is coming together and it will be beautiful.


The last two weeks were super hard as we suddenly faced the likelihood of having to postpone (not because of covid, something else) but now everything is okay and we can move forward. We were soooooooo happy and relieved. Unfortunately, I went pretty quickly from relieved to stressed. :-D

My dress is ready on February 20. Most things are planned. Currently I am working on some decoration items like pretty labels for hand sanitizer, signage, ... . There are just so many little things to do and to remember and I am jumping from one to the next. Today I wasted a loooot of time because I was ordering special facemasks for me and FH and just couldn't decide.


OMG! I am now 29 days out, getting married on March 13th. It is so unreal how fast time has flown by. I am on the final stages, getting seating charts and place cards finalized, I sent my ring in to get clean and the main stone tightened (because I'm a worrier about that!). all that's left is finishing up signage and paying al my vendors. Is anyone else getting overwhelmed by the amount of people always asking 'how is wedding planning going?' like. I'm planning a wedding, which is already stressful, amidst the most stressful time in like history, how do you think it's going? also, I'm kind of getting over people texting me for wedding details to book their hotel when were so close to the date... sorry, please refer to my wedding website. Am I being rude? hopefully I'm not the only one. Best of luck to all of you also planning in this wild and crazy time. My dream is for all of you to have your dream day, but worse comes to worse, at least we have our soon to be spouse and we get the day with them, in the end that's what it's all about, right?
WeddingWire celebrates love
...and so does everyone on our site!
Learn more
Groups
WeddingWire article topics