Post content has been hidden
To unblock this content, please click here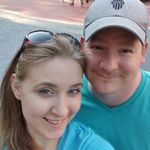 How many wedding dresses did you try on?
My first dress fitting is in 2 weeks, and I've researched and created my semi-short list. Without seeing them in person, I still feel like I may not try them all on... How many dresses did you try on at your first fitting?
Do you mean dress shopping? When you say fitting that means you've purchased your dress & you're taking it to a seamstress for a fitting.
I booked appointments at 3 different boutiques. At the 1st boutique, i tried on 7 dresses & lucky #7 dress was it! I still went to my 2nd appointment & tried on 5 dresses but I compared them all to that #7 dress. That's when I knew that I'd found my dress & called the 1st boutique & told them to hold my dress! I canceled my appointment at the last place.


View Quoted Comment

Lol, yes, shopping! It's been a long day 🥴

I feel so much better now, that's exactly how many I have at each shop I'm going to, that I have on my list. Is it ok to call in advance to see if that have particular styles in the store? That's probably a really dumb question but I don't know what's appropriate...

View Quoted Comment

Lol! It wouldn't hurt to ask! The funny thing is I had a vision in my head, certain things I thought I wanted on my dress but it wasn't even close to what I bought!

Personally, I tried on about as many dresses as time permitted at each store I went to. I'm the kind of person who couldn't make a decision without knowing ALLLLL the options so I probably tried on 20-30 dresses altogether. On the one hand, this led to me being VERY burned out by the time I actually made a decision. I was pretty stressed. But on the other hand, I felt so much more confident in my final decision knowing that I had seen all the options. So I am glad I tried everything on.


Also, props to you for picking out dresses online ahead of time! I think you should absolutely call ahead to check and see if the dresses are available. I drove 2 hours for one appointment just to try on one specific dress and then they didn't even have it after all. I wish I had called. ALSO, the dress I ended up buying was one that I found online myself AFTER my first appointment. It wasn't one of the dresses that my stylist pulled for me. When I came back to the store and asked to try it on the stylist was very surprised and couldn't even think of what dress it was. So I think it's definitely worth doing your own research and not leaving it all up to the stylists. Bridal consultants are amazing but I think sometimes they tend to bring you dresses that are very trendy and may not think to bring you the diamond in the ruff that could be exactly what you're looking for.

I tried about 5 dresses on at the first place. I liked one of the dresses but I also didn't feel anything special about the dress. It was just kind of a choice. Then we went to lunch so I could take a minute and think everyhting through from the first place. Then we went to the second shop and dress #4 was the dress I fall in love with the minute I looked in the mirror. It made me feel like a bride. The one thing I will say is no matter where you go, keep an open mind and make sure that you are taking breaks when needed.

For this dress (I'm a Covid bride), it was about 7-9. I went to one appt and nearly bought a dress. Then decided to try one more appt and fell in love with a dress and didn't want to take it off. Perfection! I did research online and was able to narrow down the basics: lace, plunge, and pink. I got exactly that! What I didn't see coming was the silhouette - a mermaid.

I'm going shopping this Saturday!!! I have 2 appointments, the 1st ordered the dress I think I want, but I'll still go to my 2nd appointment after the 1st.

I went to 4 bridal shops and probably tried on about 10 at each one. I did call ahead for a few of them to see if they had a certain style from a specific designer, but most of the time they didn't have the specific style, but something similar.

I went in knowing an idea of what I wanted and 2 specific dresses I wanted to try. I tried on about 8 total that day, and then took what I loved about certain dresses and had one custom made!

I tried on between 7-10 dresses at each dress shop that I visited.

View Quoted Comment

Thanks for your info.. that's a lot of dresses!! I don't know how you did it! There's 12 total I would really like to try on, then of course whatever ideas the consultant may have too...

Thanks! I was so excited to go dress shopping I couldn't wait to look at the store, plus they're so pretty to look at I wanted to streamline the process for the appointments by having an idea. Hopefully they'll have the ones I want to try.. fingers crossed!

View Quoted Comment

Aww that's awesome, I love hearing when people have THAT DRESS that is the game changer, definite dress!! 💕

View Quoted Comment

That's lovely!! What dress did you go with?

View Quoted Comment

I bet your dress was/is beautiful!! How neat is that! 😍

At the first place I went shopping, I was allowed to walk through the racks of dresses and my consultant pulled anything and everything I was interested in. I brought in photos of dresses I *thought* I wanted (big, giant ball gowns with LOTS of material) but then switched gears entirely and ended up falling in love with the exact opposite style (fit-and-flare). I probably tried on close to 10 that day?? Give or take. I thought I found "the one" but wanted to go to one more store, just to be sure—that's where I ACTUALLY found the one! At store #2, the consultant pulled the dresses for me, so I never got to see their selection. I just showed her a photo of the dress I thought was the one, told her what I liked (lace, vintage, with some glam) and she pulled around 10 more dresses. My dress ended up being the second to last dress I tried on, so in total, I probably tried on somewhere in the ballpark of 19ish before finding my dress! My advice is to just be open to EVERYTHING. I ended up hating the ball gown look I was so certain I was going to love, and fell absolutely IN LOVE with a dress that's the exact opposite of that style! You just never know what you'll find! Good luck and happy dress shopping!!

Try on all silhouettes I thought I wanted a a line but it made me look body so I got a ball gown and a fit and flare but to answer your question 5 dresses but I have 2

I tried on probably 10-15 dresses. Some of those didn't make it out of the fitting room…others the lace started itching before the dress was even on. I ended up narrowing it down to two dresses and made my final decision based on comfort.

I tried on 2 the second one being my dress

I literally grabbed 5 dresses my first go and #3 out of the 5 was mine ❤
WeddingWire celebrates love
...and so does everyone on our site!
Learn more
Groups
WeddingWire article topics