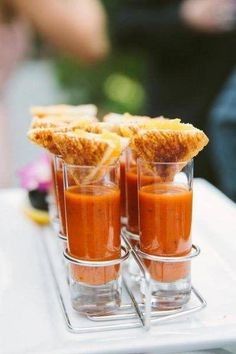 My FW and I are getting married this Halloween at our favorite winery and looking to finance almost the whole thing ourselves - so we are on a bit of a budget. Our venue is pretty new to weddings so they provide the site and thats about it - we provide tables, and chairs, and tents, and mobile bathrooms, and, and, and... we don't mind at all because it is our dream venue at a great price but it does mean trying to cut some costs where we can and plated/sit down dinners seem to be quite pricy.
We both agreed we were not interested in the idea of doing a sit down plated dinner. At our preferred reception, we would serve heavy appetizers of comfort food, filling but quick to eat - bites of grilled cheese with shooters of tomato soup, mac n cheese cups, maybe some sliders, etc. Have some tall standing tables for guests to set down plates and drinks for a short time and some shorter tables for older or tired or introverted guests to sit and relax.
TLDR; we want more of a cocktail hour type of reception not a sit down "chicken or fish" kind of reception.

Does anyone have experience planning this kind of reception? Any pros or cons we should consider? Would this type of reception be less expensive than a "per plate" option?
Thanks in advance!