So I'm looking into framing my wedding dress. I've attached two pictures. Has anyone done this? Did you do it at home or have it done professionally? Did it preserve the dress just like normal preserving would?
I'd like to fold the dress in half like the pictures online I put below, I've seen ones full sized but I just don't think I need that. I'd probably put my veil, garter, hair piece, and my dress in the shadow box then put it on our closet wall (we have enough space that it wouldn't be in the way).
Thoughts? Experiences?
My dress isn't very big so I'm not sure a shadow box this thick would be needed.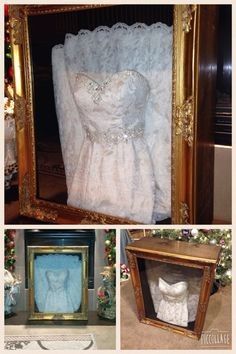 I like this one more than the top one, but I just included both for reference.