First look vs. altar
Hi all - I am getting married in a few weeks and the finance and I are still debating between a first look. He would like one and I would love the alter. Our timeline is extremely slim, with a ceremony at 6 and reception ending at 10. I feel like it doesn't leave a lot of room for photos or time at the reception for us. The photographer assures us they'll make it work but we definitely won't get all the really good photos as we really only have an hour to do everything. Has anyone sacrificed the alter for a first look and did you regret it? Thank you all 😊
Latest activity by Marissa, on March 29, 2021 at 3:02 PM
One of my best friends was anti-first look until her photographer talked her into it. Her husband didn't care either way. Because it was a later ceremony, they had a time crunch on top of that. She said the first look was awesome and calmed their nerves, and did not take away any magic at the altar. Plus they could go straight to reception and spend as much time as possible with guests.

I initially was against a first look, but after talking to our photographer, I am super excited for our first look! It'll save us some time by doing the photos before the ceremony, and we'll be able to attend cocktail hour with our guests, and it'll be a nice moment between just my fiance and I, instead of in front of all our guests. I think it's totally personal preference: if you really don't want to do a first look, you'll definitely find a way to get all the photos after the ceremony done in time! Otherwise, the first look is a nice opportunity to spend some time with just your fiance on your wedding day.

Yes. We are doing a first look as it will save us so much time and give us a lot more time to be with our guests at the reception. I will say though him only seeing me at the aisle for the first time was never important to me. I love first looks a lot better because I love seeing them in wedding videos.
If you feel that him seeing you for the first time walking down the aisle is important then you have to go with what you feel is best, but to be honest, I feel like the first look is the most special because it's literally just you and him and the photographer/videographer just taking in that moment. And it saves you A boatload of time. But you have to do what you feel is best and what's in your heart


I really wanted to see my husband first at the alter, but we wanted to do the first look. After a lot of thinking and talking with our photographer I decided to do the first look. It helped saved time during cocktail hour, helped with my nerves and gave my husband and I more time together. If you don't want to do a first look maybe do other photos in advance such as you with your bridesmaid while your fiancé takes separate photos with his groomsmen. This way you'd only need to do group photos during cocktail hour.

We did a first look and loved it! Not only are the first look photos and video great, it was just a really special moment to spend together. Logistically, it works better, especially in your situation. You would be able to get all of your photos done before the ceremony, allowing you to attend your reception right away. I am, and always have been, team first look.

We were anti-first look until speaking with our photographer. She highly suggested doing one so that we could get most of not all of our photos done before the ceremony, which really won us over. Doing that will allow us more time to spend with our guests during cocktail hour! Plus, my hair and makeup will be it's best before the ceremony since it'll be freshly done!

So many of our friends have done first looks and they don't regret it at all!

If you talk to your photographer and can find the time to do it, I would! I was very anti-first look up until a couple of weeks ago when I realized how much more intimate and private that moment will be with just you and your partner, and how nice it will be to see them beforehand and knock out some pictures before the ceremony. But in the end it's completely up to you!

We decided not to do a first look and I 100% regret it. We got all the picture we wanted in 1 hour after the ceremony (I don't think you need to worry too much about not having enough time). But it would have been SO nice to have just a relaxing, chill 30 minutes or so with the two of us before all the craziness. Once the ceremony was over it was all about hte guests (as it should be!). We didn't want our bridal party waiting too long and didn't want guests waiting too long, and were hungry and excited to talk to everyone and honestly didn't spend much time alone once the whole shebang started. I really wish we would have taken a bit of time before the ceremony.

In this situation, I think it is best to do what the groom wants. My fiancé is very emotional, and I already know he is going to cry, so I made sure that he is comfortable with what we choose. He ultimately decided to not do a first look, and we are both excited about it!

I'm also struggling with this idea. I think we will do first look since we will get the intimate photos of just us and I won't have to worry about my hair or make up being messed up since they will have just been done

Team first look 100%. If your timeline is already slim, then you probably don't want the added stress of having to squeeze all of your formal photos into cocktail hour.

We're keeping things old school and waiting until the alter! I'm not a fan of first look photos, I feel like the groom can't take in his bride fully when she's standing directly behind him so the "surprise" photos look anticlimactic to me 🤷🏻‍♀️ I also don't want our wedding photos to be of me and my fiancé, I want us to be husband and wife and his ring to be on in our wedding photos.


That being said, we prepared well in advance for ample time for photos so if you are in a time crunch, a first look may be the way to go for your situation!

View Quoted Comment

Totally agree with Meg! These are the reason why we're doing one, even though we're in the minority coz from what I read on "all first look threads", most brides want to do one and most grooms don't but my bride initially was against and I did want to do one from the get-go!

My FH suggested a First Look and I debated on whether we were doing it or not. I've always had this vision of him seeing me walk down the aisle for the first time. But the more we discuss it, the more I see the perks of doing a First Look. We'll have two photographers so it shouldn't take long anyway but I think we might go this route as well.

We took everyone's advice and did first look. I am so happy we did! We ended up having so much more time, and the privacy of the emotional day to see one another for the first time was really special. We still both cried at the alter as well, so it never took away from the special moment!
Related articles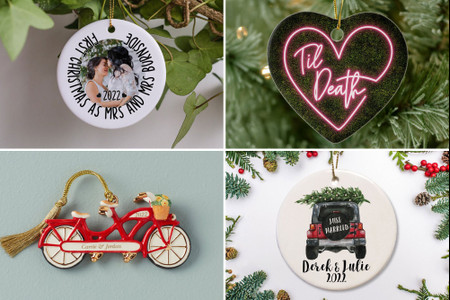 WeddingWire celebrates love
...and so does everyone on our site!
Learn more
Groups
WeddingWire article topics