Post content has been hidden
To unblock this content, please click here

Family issues
So my parents doesn't approve me to getting married in July and my fiancé said he doesn't care wat they say cause he's still gonna do the wedding no matter what! So can my parents stop me from marrying him and force me to stay at their place and call the cops on my fiancé for taking me away from my parents?? I am tired of them treating me like I'm jail and I can't do stuff cause I can do stuff but I need alil pushed to start. I need advice what to do cause I really don't need any drama and stress from my parents on my wedding day......
How old are you? If you're 18 or older, you are free to marry someone without their consent.

View Quoted Comment

I am 30 years old. Well my parents won't let me leave cause if I do I won't get wat I have right now living with them. They kept saying I won't have this or that and I'm like I know and I think they trying to scared me and make me rethink and stay with them and won't get married. I am just so devastated that they won't be in my wedding or be happy for me cause the way I'm doing this well I am in love and ready to start a new chapter with my fiancé

I'm sorry but no. Nobody, absolutely nobody should dictate your life but you. You will regret living life to the beat of other people's drums. I read about a study about older patients on their death beds who were asked about their biggest regret in life. The majority said their biggest regret was living life caring about what others think instead of just living it exactly the way they wanted to. Please don't do this to yourself. Happiness is the highest level of success. Go go go! Material things don't mean anything if you are unhappy. Good luck!

Unless there is some really important reason for which your parents have an issue with you getting married in July, it sounds to me like they'll likely have a problem with other details of your wedding on the basis that they are trying to dictate how you live your life.

In the absolute worst case scenario at the time of the wedding you are still living with your parents and they call the police (a) you are a grown adult capable of making your own decisions and (b) there is no crime in 'taking someone away' who wants to be taken.

You're 30 years old. You getting married to another consenting adult on your wedding day is not a crime. The police would be mad at your parents for wasting their time. Get married when you want.

" I can't do stuff cause I can do stuff but I need a lil pushed to start." Your little push to start should be this situation. They would waste the cops time trying to call them. What do you have there that you couldn't have or work for in the future?




You're 30, they cannot FORCE you to stay, like someone previously posted your over 18, you are free to walk any time. I would much rather have very minimal things than live under the roof of someone threatening to call the cops if I leave.

Something about this seems off. Are you financially dependent on your parents? Do you work? Are you prepared to not rely on them? Can your FH and you support yourselves on your own?


As others have stated, at 30 years old your parents can't force you to stay in their home. They can, however, pull any financial help they give you.



View Quoted Comment

I agree with this. Dani, are you financially and legally independent of your parents?

I do work and pay my bills but they keep saying if I make this choice to marry him I won't be able to come back to them cause I choose him and I want them to be happy for me but they not cause my fiancé been through a lot and it's a lot that my parents didn't like of him cause they want someone to take care of me in emotionally and physically and they think he can't cause he goes day by day and he has a job but not a good paying job and lives in a room he's renting and my parents never went through that ever and they don't want me too either.... 😭🤦‍♀️🤔

Legal standing - do your parents have conservatorship or any other legal guardianship of you? If that's the case, you will need to get that taken if before getting married.


Financially - are you and your fiancé able to support yourselves? If so, do what you can to lay the groundwork for preparing an apt/house, and when all that is done, go there. If they try to physically stop you, have a plan in place to call the police.
However, if your parents have any sort of guardianship, you are going to have to figure out how to get out of that before doing anything, or your fiancee can face legal trouble for removing you from their care.

View Quoted Comment

What u mean guardianship? We both are not financially ready but we're both working hes full time I'm part time.

View Quoted Comment

For some people, the courts decide that even though someone is a legal adult, they should have someone else make major decisions for them for their own safety. That means that a person would not be able to make decisions like getting married or signing a lease on an apartment.

View Quoted Comment

It sounds like your parents want you to both be more stable before getting married. I think it's a valid concern but they are going about it the wrong way. Maybe talk to your fiancé about finances and how this will all play out? Samantha's idea of getting an apartment ready is a great idea!

View Quoted Comment

It's expensive to live in apartment in Florida that's why he's renting a room cause it's cheaper for him and he's doing fine with it.

View Quoted Comment

No they don't have guardianship of me I do watever I want whenever I need to. It's just I don't drive and not financially yet.

View Quoted Comment

If you don't drive and you two aren't financially capable of taking care of yourselves yet, why are you rushing to get married? Honestly as a mom, I'd have a hard time letting my daughter get married knowing she wasn't capable of affording to live on her own/get herself around places. I wouldn't threaten to keep her in my home and call the police, but I can understand your parents' concerns.

So what I am hearing is: (correct me if I am wrong)

the guy rents a ROOM and does odd jobs daily. and parents are questioning if he can support you physically and provide for you.

YOU live with your parents, YOU have a steady job ...

if you marry this guy, 1. WHERE WILL YOU LIVE??? (sounds like the parent's said if you choose him you can't come back to stay with them then.) and sounds like you will loose some comforts in live "down grading" to renting just 1 room from someone vs. a whole house or apartment..

sounds like YOU need to get your butt in gear and figure some things out and do some leg work here. Sounds like they also want to make sure you are provided for... if you are going to be the main "bread winner" then clearly tell your parents that, that you are fine with that, and this is your plan, X, Y, AND Z...

View Quoted Comment

I told my parents I love this guy he's the one for me and I'm getting married to him and they just like to say stuff that hurts me and I'm tired of it. I want to have a life too not be with my parents forever!

View Quoted Comment

So you know what you need to do - you and your fiance need to work on financial independence. Even if you do get married in July, your parents don't have to let him live in their house so that should be your first goal. Full time employment, probably a second job to get the savings started. You'll need a decent amount of money to get an apartment to start.

It can take a while but if you show your parents that you have a plan, they may be more supportive.

View Quoted Comment

This is what I am wondering as well. I find it odd that parents would call the authorities over a 30 year old leaving the home with her fiancé unless they had a valid reason to do so, such as legal guardianship.
Related articles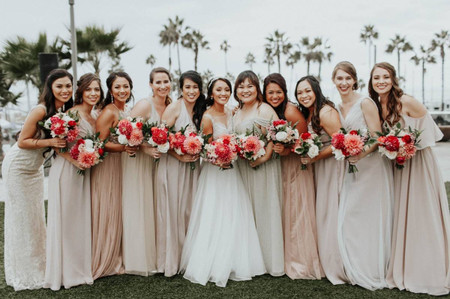 WeddingWire celebrates love
...and so does everyone on our site!
Learn more
Groups
WeddingWire article topics